The South African
Military History Society


---

Die Suid-Afrikaanse Krygshistoriese Vereniging
---
Military History Society
Military Miscellany
TOBRUK42
Author Kevin Rogers MHSA (Western Australia)
- received by e-mail in February 2020

REF : CMDR 13 CORPS BRITFOR (LTGEN GOTT)
Some years ago, while researching 9 DIV (AUS) actions in the El-Alamein sector JULY 1942 in the German Military Archives, I came across an information directive issued by the then 13 CORPS CMDR (LTGEN GOTT) to all Officers and men of the Tobruk Garrison, signed and dated 15 JUNE 1942, just 5 days before the DAK attack and subsequent surrender by MAJGEN KLOPPER 1 DIV(SA)
Apparently this "directive" was not a formal order, but was posted throughout the garrison. The document I retrieved (copies attached) is not an original, rather a transcript by DAK at the time, discovered after the surrender. The hand-written note in the top right corner is feint, my best translation is :
"Original from Battle Command(er).
Captured on 20.VI.42 from Officers Mess bunker
southeast of crossroads Tobruk."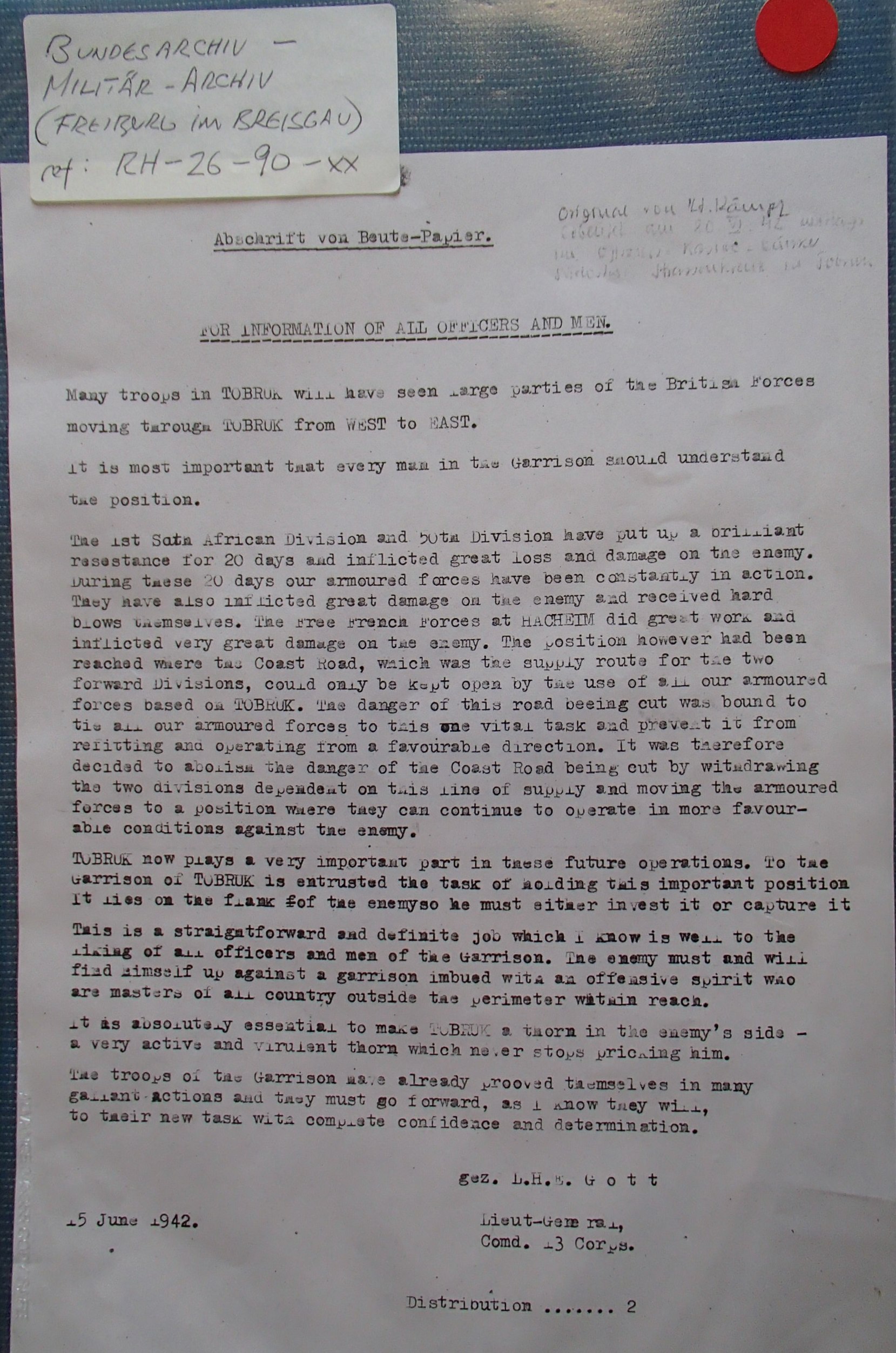 Front page
This may or may not explain the confusion of whether Tobruk was to be held at all costs, defended to the last man, temporarily used as "thorn"to delay DAK advance, or if invested attempt to break out ? In any case I hope this will of use/interest to SA Military historians.
The access reference at the Bundes Archiv-Militär Archiv (Freiburg im Breisgau) is RH-26-90-xx This file contains a very partial/incomplete collection of 90 le DIV (DAK) papers.
---
Return to Journal Index OR Society's Home page

South African Military History Society / scribe@samilitaryhistory.org