The South African
Military History Society


---

Die Suid-Afrikaanse Krygshistoriese Vereniging
---
Military History Journal
Aircraft at War 100 Exhibition - December 2003 - January 2004
Aircraft at War supplement
This exhibition, 9 December 2003 to 8 January 2004, commemorating the centenary of flight, also pays tribute to two of South Africa's greatest talents in the field of illustrating aviation, painter Ron Belling and photographer Herman Potgieter. Tragically, the life and work of both these men was cut short; Belling through cancer and Potgieter in an air crash in Kenya. However their status as the premier exponents in their fields remains unaltered. They set a standard to which others can aspire and established an international reputation of which we can be very proud.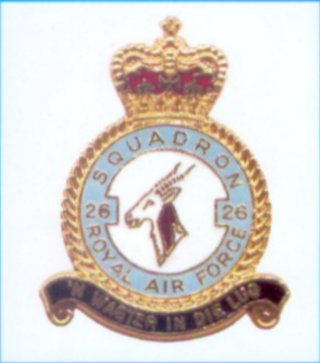 Brooch 26 (South African) Squadron RAF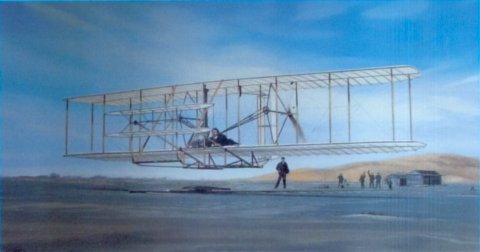 "THE FLYER" - WRIGHT BROTHERS
Herman Potgieter collection
On December 17th, 1903, two little-known bicycle-makers of Dayton, Ohio, made the first successful powered and controlled flight
from Kitty Hawk, South Carolina. The Wright Flyer is at the Smithsonian Air and Space Museum, Washington DC.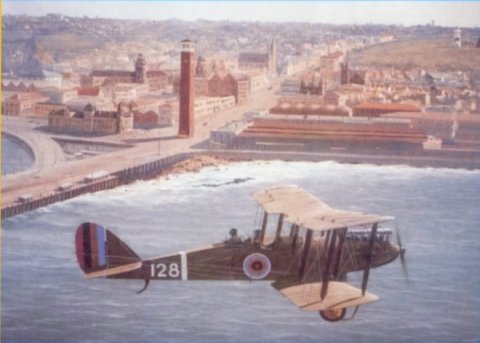 HAWKER HARTBEES
Ron Belling
Licence-built in South Africa at the Aircraft Depot as a local version of the Audax and used initially as a trainer,
several served in East Africa in 1940. The last surviving example is at the War Museum (SANMMH). Johannesburg.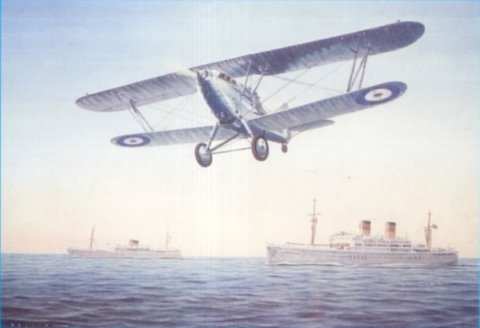 DE HAVILLAND 9
Ron Belling
A successful bomber in the First World War, the British Airco DH-9 was a 'wind-in-the-wires' era
wood and fabric biplane which became the workhorse of the fledgling SAAF in the 1920s.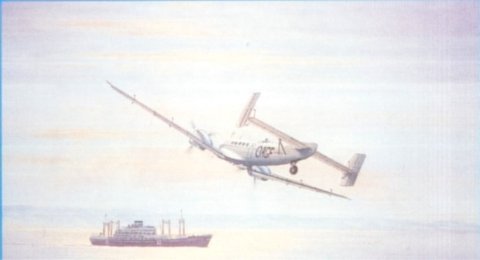 JUNKERS JU 86
Ron Belling
In 1939, then in use by the SAA as a ten-seater passenger airliner, the JU 86 was immediately converted to military use.
It served in coastal reconnaissance work in South Africa and as a bomber in East Africa during the war.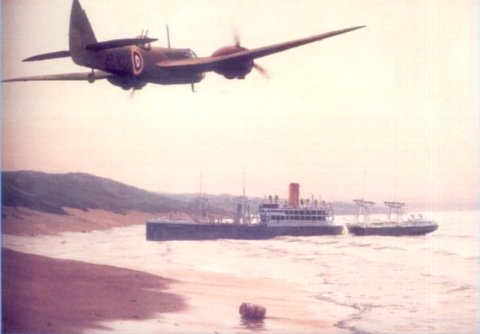 BRISTOL BLENHEIM I
Ron Belling
The first Blenheim light bomber in SAAF service, a single MkI, arrived in 1939, on the eve of the war. Subsequent
examples saw service in South Africa and in East Africa. The wreckage of one was recently found in Kenya.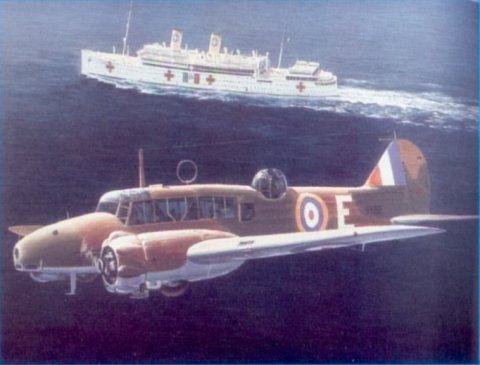 AVRO ANSON GR I
Ron Belling
Operating primarily at air schools along the coastline, this was the mainstay of the SAAF-RAF Joint Air Training
Scheme and did active coastal patrol work. A single static example is being restored at the SAAF Museum.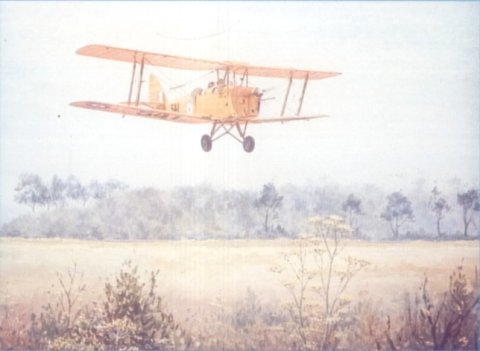 DE HAVILLAND 82A TIGER MOTH
Ron Belling
The Tiger Moth was the principal British and Commonwealth trainer of the Second World War. Powered by
a DH Gypsy Major engine, it has wooden wings and a fuselage mainly built of square mild steel tubes.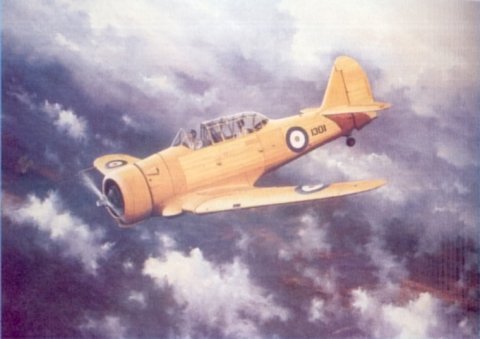 NORTH AMERICAN HARVARD I
Ron Belling
The aircraft seen here in a shallow dive through cloud is one of three ex-RAF Harvards delivered to the SAAF.
It was a popular, reliable trainer throughout the Commonwealth.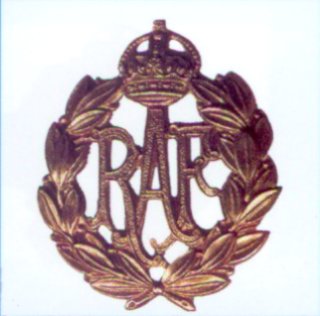 Brass cap badge, RAF, worn 1918 - 53
SOUTH AFRICAN NATIONAL MUSEUM OF MILITARY HISTORY
This museum, which is hosting the exhibition, is also the home of South Africa's official Second World War and Contemporary Military Art Collections. Some of the works in these collections, by the likes of Geoffrey Long, George Pilkington, Neville Lewis and Ron Belling, also feature in the exhibition. In its world-renowned aviation collection, the museum also holds several aircraft which are unique in the world.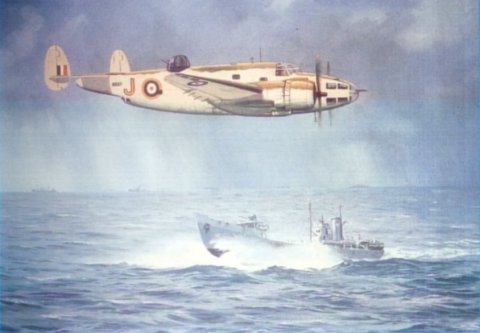 LOCKHEED B-34 VENTURA
Ron Belling
The twin-engine Ventura saw both wartime and post-was service with the SAAF, mainly in a maritime reconnaissance role,
although also used for navigator training. Surviving examples can be seen at the SAAF Museum and MOTH clubhouses.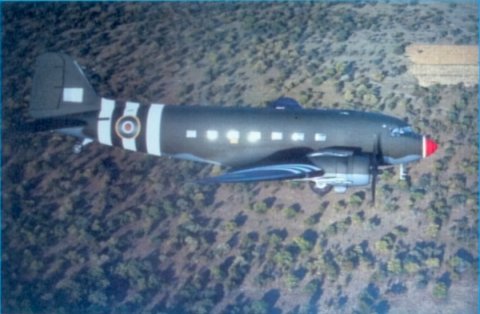 DOUGLAS C-47 DAKOTA
Herman Potgieter
The military transport version of the DC-3, an all-metal passenger aircraft of the late 1930s, the DC-47
served with all the Allied air forces during the war. The SAAF became one of its largest post-war users.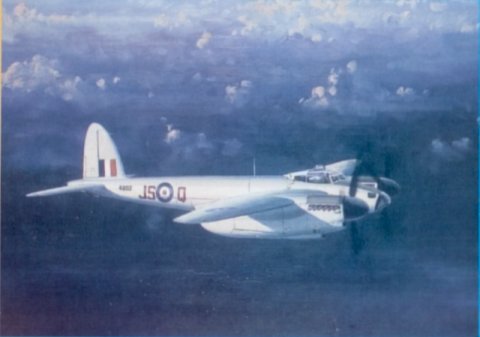 DE HAVILLAND 98 MOSQUITO XVI
Ron Belling
One of the most versatile aircraft of the Second World War, the all-wood Mosquito served as a f ighter-bomber,
anti-shipping, and in unarmed photo-reconnaissance with equal ease. An example is preserved at the War Museum (SANMMH).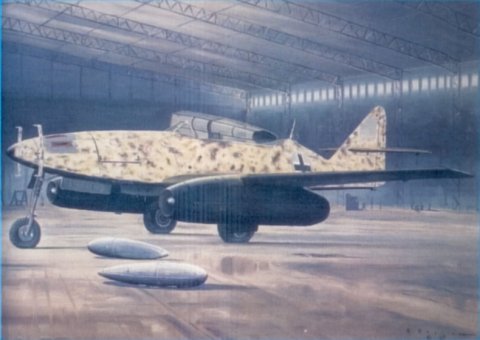 MESSERSCHMIDT Me 262 B-IA/UI
Ron Belling
The first operational German jet of the Second World War, the Me 262, with the British Gloster Meteor, heralded the arrival
of the jet age in military aviation. A unique two-seater night fighter version is preserved at the War Museum (SANMMH).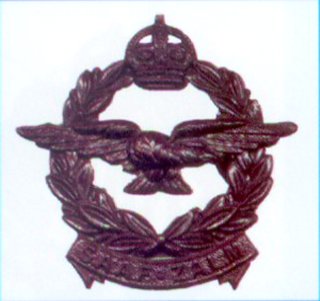 Cap badge, SAAF, c 1920 - 26
THE WORKS OF RON BELLING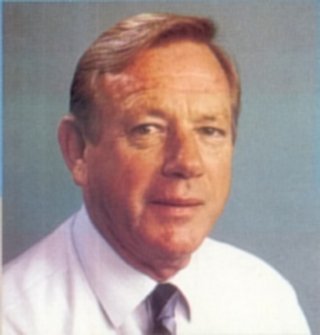 Ron Belling

Ron Belling performed the mammoth task of depicting aviation scenens now mostly lost to history. Few of the aircraft are still to be found in South Africa and many, when they were to be seen, were not photographed. Yet, even where a photographic record exists, a Belling painting offers more appeal, enabling those interested in the pre-1950s to travel back in time in full colour. Through his settings, seascape, landscape, rain-swept airfield, and any number of moody skies, Belling tells a story through his art, using ships (his other great love), people on the ground, appealing architecture or even the local vegetation as counterpoints to the aircraft.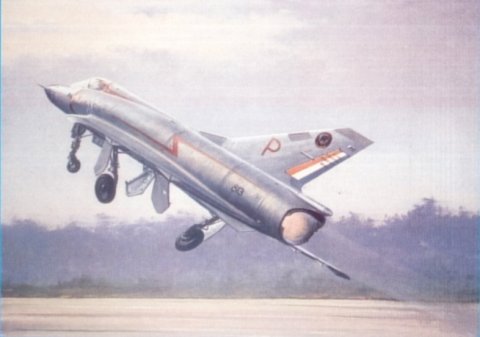 DASSAULT MIRAGE IIICZ
Ron Belling
The Mirage was the first supersonic jet to be used by the SAAF.
The aircraft seen here is currently on display at the War Museum (SANMMH).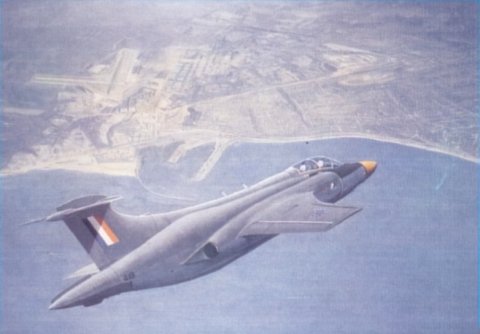 HAWKER-SIDDELEY BUCCANEER
Ron Belling
The Buccaneer was designed as a carrier-based low-level strike aircraft, which served originally with
the Fleet Air Arm, and then, until the 1990s, with the RAF. South Africa was the only other country to operate them.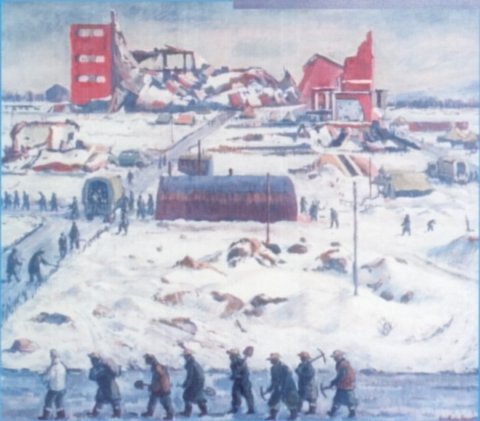 AERODROME, SAAF SPITFIRE WING, NEW YEAR'S DAY, ITALY
Geoffrey Long, (SANMMH) 1945
This painting depicts how all available men of 7 Wing, SAAF, were put onto the job
of clearing the snow around the aircraft and along the taxi lines.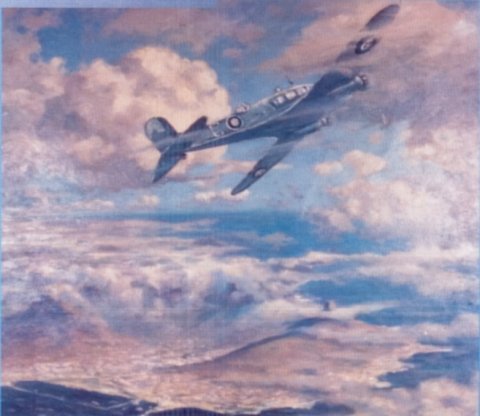 AIR RECCE OVER CAPE TOWN, AVRO ANSON
George Pilkington, (SANMMH)
Much of the responsibility of protection from Axis submarines and surface raiders
fell on the shoulders of Coastal Defence whose aircraft carried out regular patrols.
A HISTORICAL RECORD
Any aviator will recognise, in Ron Belling's work, how the elements are skilfully used to give every aircraft a sense of truly flying. Not simply an artistic exercise, however, his meticulous attention to detail in recreating the markings and shades of colour make his work worthy of being described as accurate historical iconography. The body of work now preserved in the Ron Belling Art Gallery in Port Elizabeth represents an important legacy to the nation. Perhaps not since Thomas Baines has one artist done so much to capture and recreate an aspect of our history with such a degree of authenticity. That most of the paintings are set in the Eastern Cape does not detract from this achievement.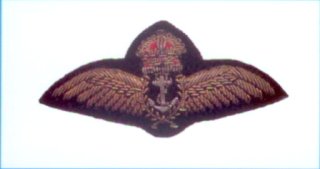 Pilot's wings, Fleet Air Arm, 1925 - 53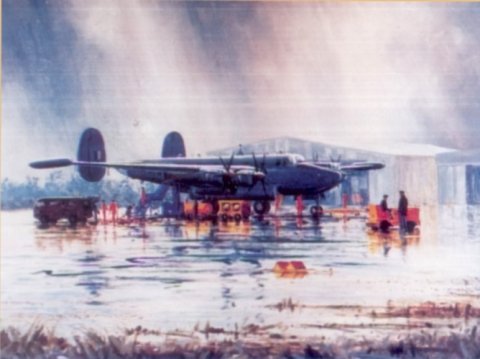 BACK AT BASE - AVRO SHACKLETON
Ron Belling (SANMMH) 1979
An Avro Shackleton of No 35 Squadron, SAAF,
lands back at its base at Cape Town Airport.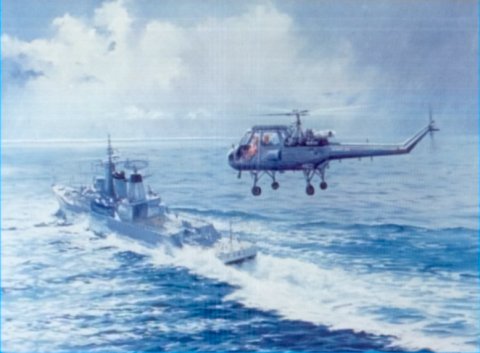 FLEET HELICOPTER - WESTLAND WASP
Ron Belling (SANMMH) 1979
A Westland Wasp anti-submarine helicopter of No 22 Squadron, SAAF,
positions itself for a landing on a President Class frigate of the SA Navy.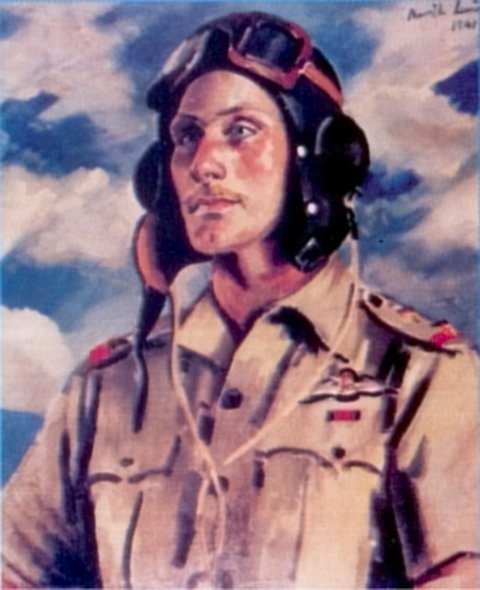 KERSHAW, LT ROBERT HAROLD CARLISLE, DSO, DFC
Neville Lewis (SANMMH) 1941
In March 1941 Lt Kershaw became the first South African pilot to be made a Companion of the Distinguished Service Order
for rescuing his flight commander Capt Jack Frost, from an Italian aerodrome in East Africa.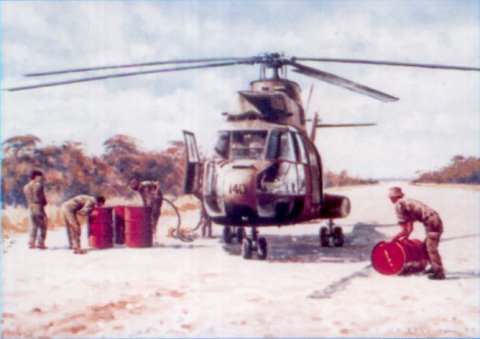 REFUELLING AT OMEGA
Ron Belling
Note by artist: "A Puma helicopter being refuelled while out on ops, April/May 1977".
AVIATION PHOTOGRAPHER, HERMAN POTGIETER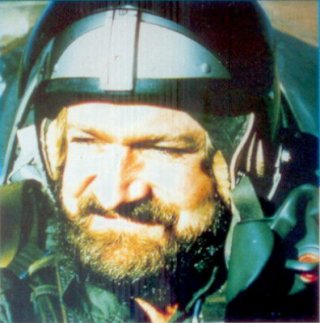 Herman Potgieter

Herman Potgieter rose to the peak of his profession in the specialised field of aircraft photography. His work has appeared in several books on SAAF aircraft and civilian aviation in South Africa, as well as in various overseas journals. His close cooperation with the SAAF helped him to create some of the most dramatic images of military aircraft ever captured on film. His portrayals of Mirages flying low over bombing ranges, Silver Falcons in formation aerobatics, Pumas in the Drakensberg, and other aircraft over the South African coastline may never be bettered. Potgieter could pose aircraft in the most spectacular landscapes and use light to create the perfect image.
Cap badge, SAAF, c1926 - 1960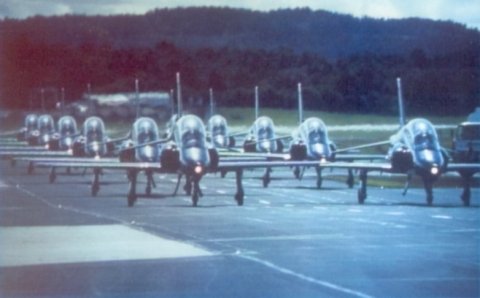 BRITISH AEROSPACE HAWK
Herman Potgieter
In a few years, the SAAF will take delivery of 24 Hawks to replace the aging Impala. The Hawk
has been demonstrated at a number of air shows and has been fully evaluated by the SAAF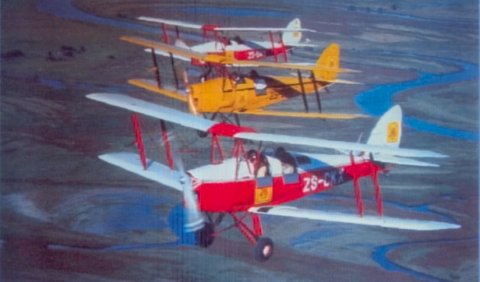 DH TIGER MOTHS
Herman Potgieter
This is the most common pre-war design still flying in South Africa. Most are ex-wartime trainers which have
been lovingly restored as prized vintage aircraft. The Tiger Moth saw pre-war service with a number of air schools.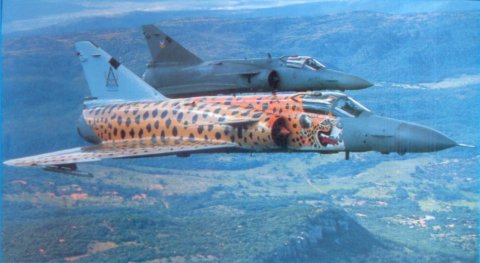 RED ARROW HAWK AND FLYING CHEETAH
Herman Potgieter
The British Aerospace Red Arrow, seen flying here with the SAAF Cheetah, was part of an RAF aerobatics team
which participated in a number of air shows in South Africa during the SAAF 75 celebrations.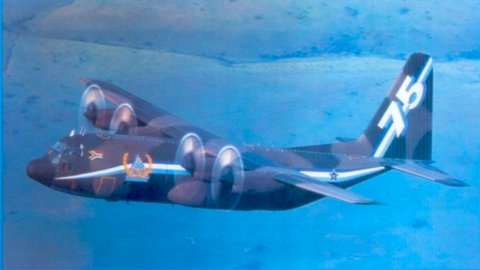 LOCKHEED C130 HERCULES
Herman Potgieter
An outstanding post-war design in military transport aircraft, the Hercules is still operated by most major air forces
in the western world. This example, flown by 28 Squadroin, SAAF, sports a special SAAF 75 tail design.
THE THINKING MAN'S PHOTOGRAPHER
Herman Potgieter meticulously planned air-to-air sorties with the aircrew, and would publish only the best photos. In the 1990s, the annual Air Report was illustrated almost exclusively with his photographs; even the advertisements were breathtakingly audacious! Potgieter's photos were always exciting; he could add flair even to slower moving aircraft through angle, banking attitude and tight framing. A specially equipped twin-engine aircraft in later years allowed him many of the most unusual views of aircraft in their natural environment, but Herman also spent many hours in cramped cockpits. We can only speculate on how many individuals in an entire generation of pilots drew their early inspiration from his spectacular images.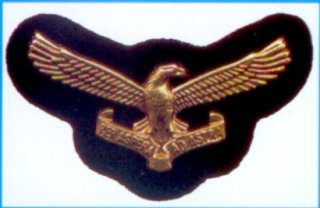 Brass cap badge, SAAF, since 1960

Return to Journal Index OR Society's Home page

South African Military History Society / scribe@samilitaryhistory.org