The South African
Military History Society


---

Die Suid-Afrikaanse Krygshistoriese Vereniging
---
Military History Journal
Vol 17 No 2 - December 2016
OBITUARY
KEN GILLINGS
'Rest in Peace, Ken'
No more do we have to wonder what life would be like without Ken Gillings. He is no longer with us and we will have to make do. Nobody on earth is indispensable but Ken came close.
For some years, a while back now, he was chairman of the KwaZulu-Natal branch of the South African Military History Society. There have since been many others in that position but they surely all have relied on his counsel and advice. Ken was the senior member of this association of people whose passion is military history, the senior member among a quite remarkable group of people who share this interest.
Ken's real legacy is in the memory of the thousands of people from all around the world who have been his audience at battlefields and places of interest dotted around this great country of ours. He was certainly the best guide in this country to all the many places that have some significance to our turbulent history. His little notebooks, which he always had with him, meant that he did not have to rely solely on his memory. His spoken word could be absolutely trusted to be the true facts. Those notebooks are a vast repository of information.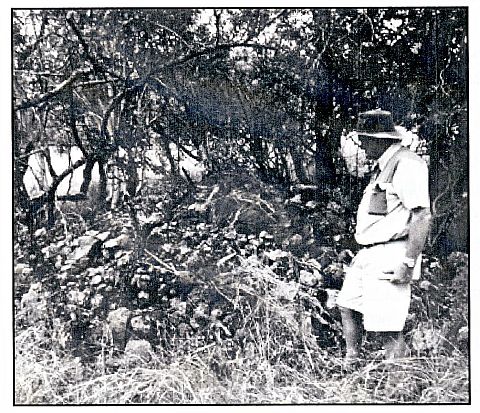 His serious interest in military history goes back decades. When he was very young he spent a whole month's salary on a copy of The Road to Ulundi - The water-colour drawings of John North Grealock. His father was horrified of course! The paintings are scenes of Zululand and the military during the Anglo-Zulu War and are a quite exceptional pictorial record of the campaign at a time when photography was still very basic. He was by then already knowledgeable about the conflict with the Zulu people and one of his recent projects was to do 'now' photographs of all of Crealock's depictions. There are very few people with enough knowledge of the topography of Zulu land to have managed to do that.
Years ago, Ken was asked to take an aged Australian man to places where he had been in the Anglo-Boer War. At one point the old man said that he recognised a particular farm and wanted to go in. The name on the gate said 'c R Swart' and Ken knocked on the front door with some trepidation to be confronted by the former State President, all two metres and a bit of him. He explained that the Australian recognised the place from visiting more than sixty years before. A voice called from inside the house and the response was: 'Nee, Mama, alles reg, hier's a man van die Engelse Oorlog!'* and he invited them in. (* 'No, Mama, everything's fine. Here's a man from the English War').
Long ago, on Spionkop, Ken had another survivor of the war. This old Boer looked at the newly-erected sign that supposedly indicates the spot where Major-General Edward Woodgate was fatally wounded. 'No!' he said, 'we didn't shoot him here. It was way over there.' How did he know? Because they had made a little pile of stones on the spot and he pointed it out - sure enough it was still there then!
Ken had no enemies that I know of, his credibility as a battlefield guide depending to a great extent on his being able to get on well with people of all persuasions. His life was not just military history and he was an active camper and caravanner. He only became a grandfather quite late in life - young people do not marry young these days - and his Facebook posts were often of the new family member doing things with Gramps.
A most remarkable military historian has passed on - we will not see his like again.
Robin Smith, Howick, December 2016
---
Return to Journal Index OR Society's Home page

South African Military History Society / scribe@samilitaryhistory.org