The South African
Military History Society


---

Die Suid-Afrikaanse Krygshistoriese Vereniging
---
Military History Journal
Vol 16 No 5 - June 2015
70TH ANNIVERSARY OF VE DAY
A tribute to veterans of the Second World War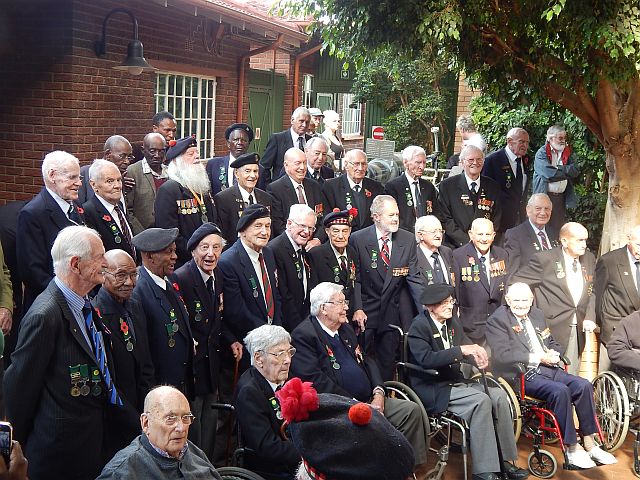 'I say that in the long years to come not only will the people of this island but of the world, wherever the bird of freedom chirps in human hearts, look back to what we've done and they will say: "Do not despair, do not yield to the violence and tyranny, march straightforward and die, if need be unconquered ... "'
British Prime Minister Sir Winston Churchill, VE Day, 8 May 1945, London
On Saturday, 9 May 2015, a tribute to Second World War veterans was held at the Ditsong Museum of Military History, and several committee members represented the South African Military History Society at this event. The Tribute served to salute the men and women who served in the Second World War, and the sacrifices made by their families, in effecting victory in Europe against Nazi Germany on 8 May 1945. The Tribute was organised by the South African Legion of Military Veterans, the Military Associations of Gauteng and the Council of the City of Johannesburg.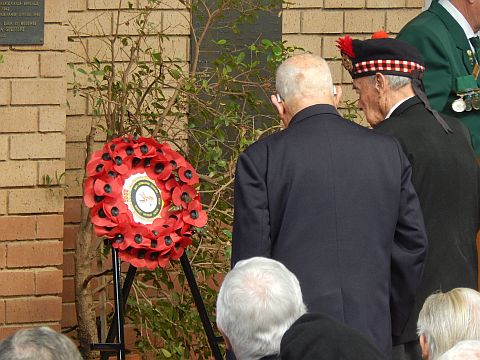 On this sunny autumn morning, the gathering was held in the Museum's Dan Pienaar Gun Park, and as well as veterans and representatives of veterans' organisations, many children and grandchildren of veterans also came to honour their relatives. The simple ceremony was conducted by Lgr Godfrey Giles, National President of the SA Legion, the Last Post and Reveille were sounded, and a special address was given by Col J A McCardle, UK Defence and Military Adviser to South Africa, who quoted from the great speech made by Sir Winston Churchill on VE Day in 1945, and acknowledged the presence of Second World War veterans at this tribute. After a short wreath-laying ceremony, special commemorative medals were presented to veterans and family representatives on behalf of the City Council, and the audience showed their appreciation to the veterans who were present by their prolonged applause.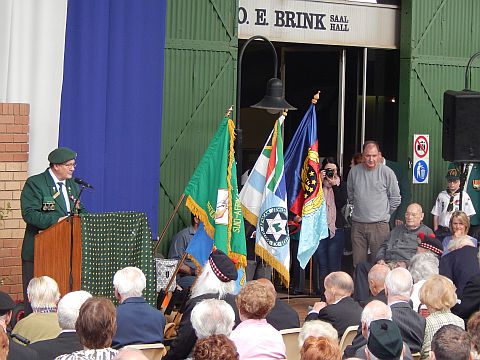 At the conclusion of the formal Tribute guests enjoyed a splendid finger lunch sponsored by the City Council.
---
Return to Journal Index OR Society's Home page

South African Military History Society / scribe@samilitaryhistory.org