The South African
Military History Society


---

Die Suid-Afrikaanse Krygshistoriese Vereniging
---
Military History Journal
Vol 16 No 4 - December 2014
FORGOTTEN CASUALTIES OF THE 1914 REBELLION
Zandfontein 476 KQ, 8 November 1914
By Richard Wadley
Introduction
The farm Zandfontein 476 KQ straddles the district road that runs between Thabazimbi and Modimolle immediately to the south of the Hoekberge range, some 17km southwest of Rankin's Pass and 15km north-east of the old Rooiberg tin mine (Chief Directorate, Surveys & Mapping, Department of Rural Development & Land Reform: 1:50 000 topographical sheet 2427DB Rankin's Pass, 1st Edition, 1968).
On 8 November 1914, there was a skirmish in this area between a unit of the Union Defence Force (UDF) and a rebel group, which was opposed to South Africa's entry into the war against Germany and supportive of other rebel initiatives around the country, particularly in South West Africa. This so-called Maritz Rebellion had been fomented by several former Boer leaders then serving in the UDF, including Lt-Col Manie Maritz and Major Jan Kemp, as well as by Captain Josef ('Jopie') Fourie and Boer General Christiaan De Wet. The rebellion, which had originally been planned as a coup in AugusUSeptember 1914 by disaffected Boers to regain their independence, commenced in October and lasted until mid-December 1914, by which time all the different rebel units across the Free State, Transvaal and Northern Cape had been defeated, captured or dispersed - with the exception of a group near Upington (Spies, 1986; Oakes et al, 1992).
Maritz had been involved (with great reluctance, given that he had covertly reached an agreement with the Germans to support the planned Boer coup), in a battle on 26 September 1914 that took place in southern South West Africa at Sandfontein - also known as Zandfontein - near Warmbad. There, outnumbered UDF troops had surrendered after having their horses captured and shot, sustaining about 70 casualties (Spies, 1986, p 237). The severity of this military setback, as well as the similarity of names, Zandfontein and Warmbad, to those of the Waterberg incident six weeks later, may have led to the latter being overlooked in most literature. Shortly afterwards, on 9 October, Maritz and a group of over a thousand men formally crossed the border to join the German forces, thereby triggering the rebellion.
To add to the confusion, on Sunday, 8 November, the very same morning on which the battle at Zandfontein in the southern Waterberg took place, a group of rebels under De Wet clashed with a UDF force on the Sandrivier, between Winburg and Ventersburg in the Free State (almost at the site of the famous Sand River Convention of 1852) (Scholtz, 1942, 2013, P 167).
The details of the Waterberg Zandfontein skirmish were summarised in the book, The Capture of De Wet, by Philip Sampson (1915), which, however, undoubtedly described the incident very much from the perspective of the government (Sampson, 1915, pp 187-9). Evidently, a large group of rebels, variously reported to have been under the leadership of ex-Major Pienaar, ex-Captain Fourie or Commandant Jan Harm du Plessis and Veldkornet Koos Niemandt, gathered in the southern Waterberg in early November and laagered on Zandfontein (De Wet, 1940; Scholtz, 1942, 2013, P 146). As will be seen later, there is no evidence to suggest that either Pienaar or Fourie was present at the time of the actual battle; perhaps they had already moved on.
According to the official Defence Headquarters communiqué, released on Monday, 9 November 1914 and published the next morning in the Pretoria News (Tuesday, 10 November 1914):
'Lt-Col Dirk van Deventer (Australian and New Zealand newspapers referred to Commandant van Deventer as "Colonel Kirk Van Der Venter"! Poverty Bay Herald, 14 November 1914), with his commando, the Waterberg Commando under Commandant Geyser, a Pretoria commando under Commandant Jones and a portion of the commando under Acting Commandant Theunis Botha, reports as follows: 'Yesterday [Sunday November 8] we drove the enemy from Weltevreden over Zandfontein in the direction of Rietfontein and took a portion of their laager at Zandfontein, about thirty miles west of Warmbaths. The fight took place at about 3pm and about 120 of the enemy were killed or wounded, and 25 were captured. The loss on our side was 12 killed and eleven wounded, three slightly. The officers and the men conducted themselves very bravely. The heaviest fighting took place under Commandant Geyser of Waterberg and a portion of the commando under Acting Commandant Theunis Botha, under Veld Cornet Hoffman and Captain van Coller. The left wing was held by Commandant Jones and the right by Commandant Geyser and Acting Commandant Theunis Botha. All the men were smart and brave. Veld Cornet Hoffman, although wounded, led his men throughout the engagement. I wish to make special mention of the officers and men killed. Of our officers and men who were killed all, with a few exceptions, were shot with dum-dum bullets and suffered frightful wounds. Details of our casualties are being furnished to the Press today. This rebel commando is supposed to be under "Jack" Pienaar, an ex-Major of the Permanent Force Staff.'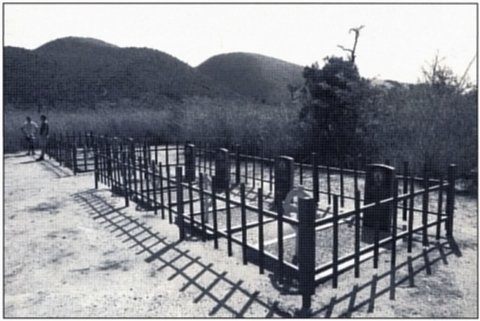 The main cemetery at Zandfontein, comprising two groups of graves
of Union Defence Force burghers who fell during the skirmish with rebels
(Photo: By courtesy, Richard Wadley).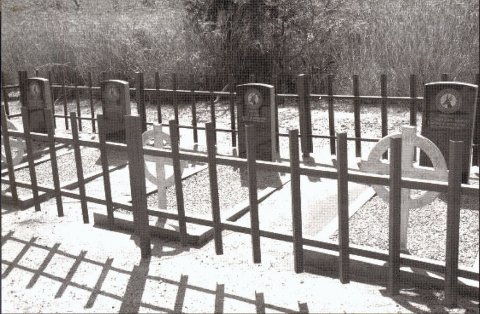 Graves (from left to right): Burgher Devanner,
Captain Geldenhuys, Burgher Nel and Burgher van der Merwe.
The following day, Wednesday, 11 November, the paper published the officially released list of casualties, as follows (Pretoria News, Wednesday, 11 November 1914):
'West of Warmbaths, on Sunday, November 8: Killed:
Captain E J Geldenhuys, Lieut A W Wrighton, F J Botes, Piet Cronning, F J J du Preez, H Hitchcock, W S Johnson, J D Nel, and A C de Wilde (all of Commandant Geyser's Commando), Jan Nagel (Commandant Jones' Pretoria Commando), J C van der Merwe, jun and D J E Opperman (Commandant Theunis Botha's Commando).
Wounded:
Sergt M Morris (Commandant Geyser's Commando), A Butcher, D Linsley, and G H Roberts (Commandant Geyser's Commando), J Chain and H Lorentz (Commandant Jones' Pretoria Commando), P G Prinsloo, J van Schalkwijk, J C van der Walt, and D Woolonsky [Wolaitsky?] (all of Commandant Theunis Botha's Commando), and Veld Cornet Hoffman (Commandant Van Deventer's Commando).'
A genealogical researcher, Annamarie Folkus, visited the battle site on 10 July 2006 and photographed ten graves, which she posted on the website of the Genealogical Society of South Africa:
http:/www.eggsa.org/library/main.php?g2Jtemld=711095.
(According to Mrs Folkus, in personal communication in February 2014, her husband is a descendant of Jeremiah Daniel Nel, one of the burghers buried here; he and his own son still carry these family names.)
A visit to the grave site on 23 March 2014 revealed that the cemetery is actually in two parts, one containing eight graves; and the other, some 330 m to the west, a single grave with the headstones of two soldiers. The two sites are clearly visible on Google Earth imagery and have the following co-ordinates:
Main Site (eight graves): South 24° 39' 53.43"; East 27° 48' 38.09";
second site (two graves): South 24° 39' 54.12"; East 27° 48' 26.50".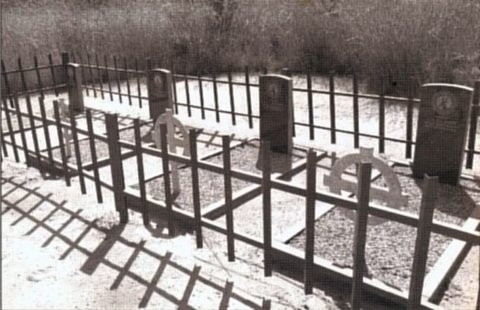 Above: The graves of Burghers Bates, Cronning, du Plessis
and de Wilde in the main cemetery at Zandfontein.
The main cemetery site comprises two groups of four graves (eight in total), neatly laid out with headstones, each group surrounded by a stout low palisade fence. The first group contains the remains of the following men: F J Botes, Burgher (citizen), Geyser's Commando; P Cronning, Burgher, Geyser's Commando; F J J du Preez, Burgher, Geyser's Commando; and A C de Wilde, Burgher, Geyser's Commando. The second group comprises H J Devanner, Burgher, Geyser's Commando; E R J Geldenhuys, Captain, Geyser's Commando; J D Nel, Burgher, Geyser's Commando; and J C van der Merwe, Burgher, T Botha's Commando.
Some 300 metres to the west of the main site lies a single grave containing the two headstones of J Nagel, Burgher, Jones' Pretoria Commando and A Wrighton, Lieutenant, Geyser's Commando, respectively.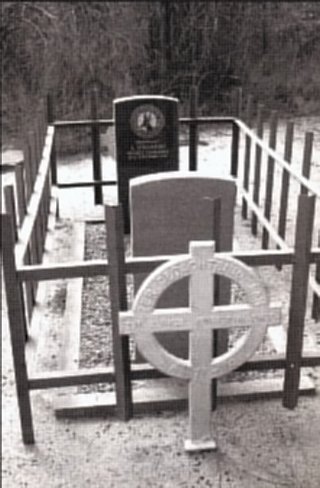 The joint grave of Lt Wrighton and Burgher Nagel,
located 300m west of the main cemetery.
Note that whereas the official report stated that there had been twelve UDF fatalities on 8 November, there are only ten graves at the site - and one of these is of a Burgher Devanner who had died two days before the skirmish. The graves of the three other casualties from 8 November (Burghers D J E Opperman, Hitchcock and Johnson) are elsewhere, as described below.
The following information about each of the ten men buried on Zandfontein has been collated from various sources (Genealogical Society of South Africa; Commonwealth War Graves Commission:
www.cwgs.org/find-a-cemetery/cemetery/4007210/ZANDFONTE/N%20FARM%20BUR/AL%20GROUND).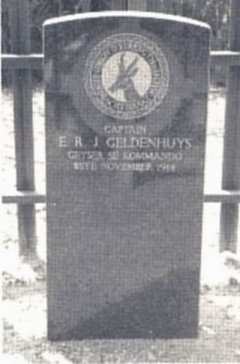 E R J Geldenhuys: Captain, Geyser's Commando, killed in action,
Zandfontein, 8 November 1914, the most senior casualty.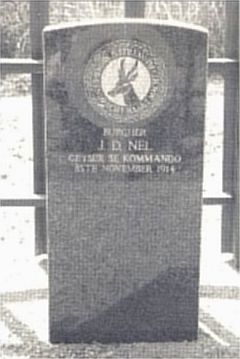 Jeremiah Daniel Nel: Burgher, Geyser's Commando, killed in action,
8 November 1914. (Death Notice TAB 25629). Nel was born in Port Elizabeth,
married in Nylstroom to Johanna Helena Fourie. He had seven children,
ranging in age at the time from seventeen years to only four months.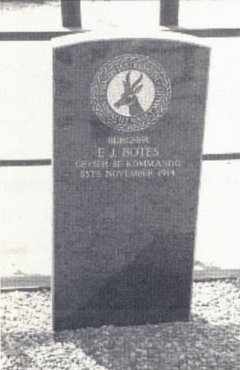 Frederik Johannes Botes: Burgher, Geyser's Commando,
killed in action, Zandfontein, 8 November 1914. Botes was born c1896
in the Pretoria district. His mother was Catharina Philipina Standers
(Estate TAB . MHG 12532). His parents lived in Nylstroom. He had a
step-brother, Coert Nicolaas Grobler, and a step-sister, Magdalena Maria.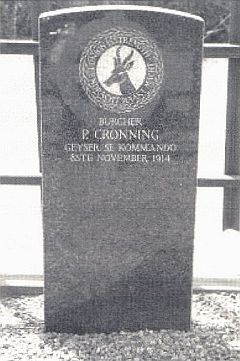 Bartholemew Peter (Piet) Cronning: Burgher, Geyser's Commando, killed in action,
Zandfontein, 8 November 1914. He was born c1885 in Zastron, Orange Free State
(Estate TAB MHG 25692). He was married to Anna Maria Johanna du Plessis
who died in 1957 (Estate TAB MHG 1745/57).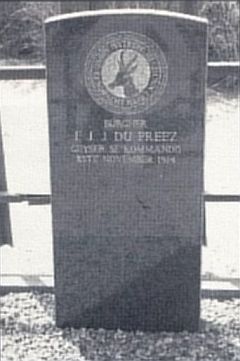 FJJ du Preez: Burgher, Geyser's Commando, killed in action,
Zandfontein, 8 November 1914.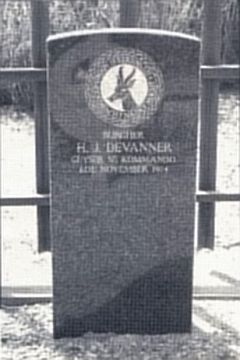 H J Devanner: Burgher, Geyser's Commando, killed in action, 6 November 1914
(Note: not killed at Zandfontein, but two days earlier, presumably nearby).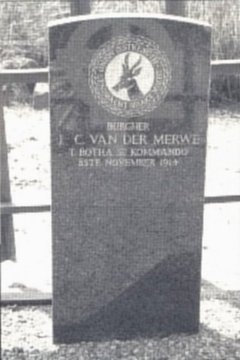 J C van der Merwe, Jr: Burgher, Theunis Botha's Commando,
killed in action Zandfontein, 8 November 1914.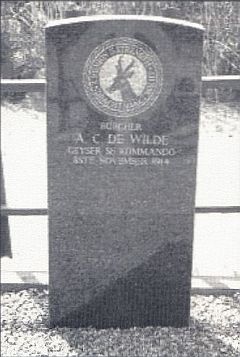 Albert Cornelis de Wilde: Burgher; Geyser's Commando,
killed in action Zandfontein 8 November 1914.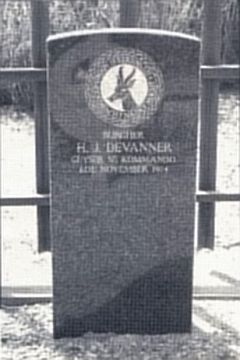 H J Devanner: Burgher, Geyser's Commando, killed in action, 6 November 1914
(Note: not killed at Zandfontein, but two days earlier, presumably nearby).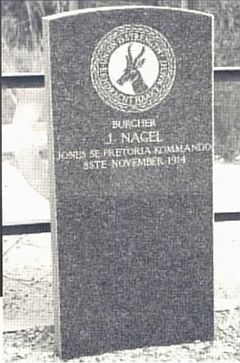 Jan Nagel: Burgher, Jones' Pretoria Commando,
killed in action Zandfontein 8 November 1914.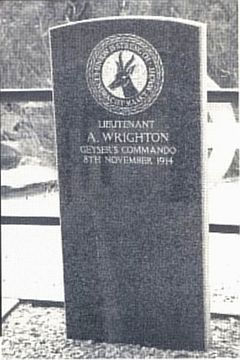 Albert William Wrighton: Lieutenant, Geyser's Commando, killed in action, Zandfontein,
8 November 1914. He was born c1879 in Buckinghamshire. He was the husband of Annie Wrighton.
His parents were from Aynho, Northamptonshire. He was related to four other Wrighton men, all from Aynho,
who were to die later in the War, at Delville Wood in 1916 and at Vimy Ridge and Cambrai in 1917.
In addition to the ten men listed above, nine of whom died in the battle on 8 November, there were three other fatalities that day:
Daniel Johannes Elardus Opperman: Lieutenant, Theunis Botha's Commando, killed in action, Zandfontein, 8 November 1914. The son of Commandant Opperman, he was given a funeral with full military honours, attended by General Smuts, and approximately 800 mounted men of the Botha Commando, at the Dutch Reformed Church in Pretoria on 15 November, followed by burial at Rebecca Street Cemetery. Commandant Opperman gave a stirring, patriotic speech at his son's graveside, reported in full in the Pretoria News the next day (Monday, 16 November 1914, p4: 'A Burgher's Funeral; Impressive Ceremony; Father's stirring address').
Herbert Henry Horatio Hitchcock: Burgher, Geyser's Commando, killed in action, Zandfontein, 8 November 1914. He was born in England in 1879. He worked as a miner at Rooiberg and resided on the neighbouring farm, Olievenbosch, 15km south-west of Zandfontein, where he was buried on 9 November 1914. His first wife, Sarah Susanna Brink, had died early in 1914; he remarried, but his second wife, Filippina Suzara Helberg (22), had died only two weeks before the battle.
William Stonewall Johnson: Burgher, Geyser's Commando, killed in action, Zandfontein, 8 November 1914. Johnson was originally buried at Warmbaths, where he lived. His remains, together with those of two colleagues, Mapham and Dewrance (see below), were later mistakenly exhumed and re-interred in the British Garden of Remembrance in the cemetery at Pietersburg (Polokwane).
Two other fatalities in the Warmbaths area at about the time of the Zandfontein battle were also originally buried at Warmbaths, but later re-interred, together with Johnson, in Polokwane, namely:
George William Mapham: Burgher, Geyser's Commando, who died on 5 December 1914, Warmbaths, 34 years of age, the husband of Mrs G Mapham of Warmbaths (his name appears on the Town War Memorial, Bedford, Eastern Cape), and
Herbert John Dewrance: Burgher, Geyser's Commando, killed in action near Warmbaths on 6 November 1914.
In addition to the above, there were at least two other UDF casualties in the Waterberg region in the course of the rebellion:
Burgher Albert S A Opperman from Potgietersrust, Geyser's Commando, who died on 25 November 1914 after an action under Commandant Geyser that resulted in the capture of several rebel leaders and men in the Waterberg (Pretoria News, 26 November 1914). He is buried at the Rhenosterpoort Farm Burial Ground just north of Rankin's Pass, about 18 km northeast of Zandfontein, and
Sergeant F J J Scheepers of Waterberg Commando, who was shot by rebels on 20 November 1914 after his capture on 11 November. He is buried at Grootvlei farm cemetery, between Modimolle and Kranskop.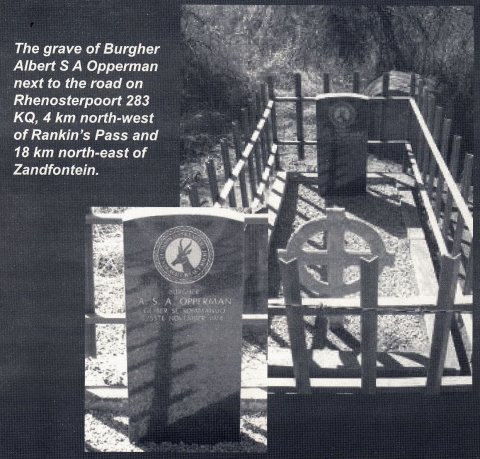 The Zandfontein battle site and cemetery are now located within a large private game reserve (the Meletse Game Reserve), on a separate concession within the reserve owned by Mr N van Emmenis. The owner maintains the grave sites in excellent condition.
Considering that there were twelve Union Defence Forces' casualties (including two officers and seven men of Geyser's Waterberg Commando) in the Zandfontein incident, as well as a large number of rebel casualties, it is surprising that there is so little information about, or reference to, the battle in the literature. For example, Scholz (1942,2013), in his definitive, though partisan, book on the rebellion, does not even mention the Zandfontein skirmish. There have been unconfirmed reports that many records relating to the 1914 Rebellion were subsequently destroyed, because they reflected several instances of families being divided by the conflict,which was not conducive to nation-building.
Only two eye-witness accounts have come to light so far. In an article published in the journal Historia in 1960, J H van den Bergh recounts how a survivor of the battle from the rebel side, J H ('Oom Jan') van Wyk, remembered aspects of that day when he was brought to the farm Zandfontein in 1955, which happened at that time to be owned by his son (Van den Berg, 1960):
'On a still Sunday morning in November 1914, the rebel commando under Commandant Jan Harm du Plessis (Oom Rooi Jan) with Oom Koos Niemandt as Veldkornet,' was outspanned in the bed of the Sand River on the farm of the same name. They were busy burying a certain Roos, who was killed in action the previous day near Warmbaths. His body was later exhumed and re-buried by his family on the farm Rooikoppies in the Brits district.
The ground was very hard and they couldn't dig the grave deep enough. Veldkornet Niemandt instructed that enough stones be stacked on the grave "want môre is miskien my beurt" (because perhaps tomorrow is my turn), he said.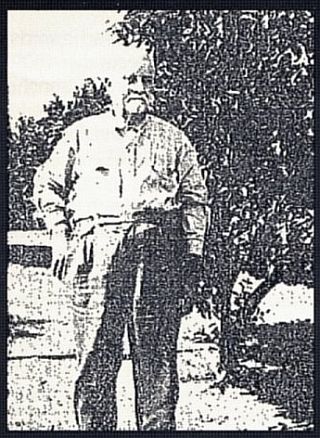 Mr J H ('Oom Jan') van Wyk in 1955, when he recalled
the dramatic events of 8 November 1914.
Suddenly, they received news that the Government forces were approaching. They immediately set off along the road but nevertheless, the Government forces overtook them; and, at the upper end of a cultivated field, the battle broke out. Christiaan Liebenberg, Frans Roos, Willem Cronje, Manie du Plessis and a certain Grobler were wounded during this battle. The latter died the same night and it is assumed that it was he who was buried on the neighbouring farm Weltevreden.
The late Liebenberg, who was also wounded here, was a brother-in-law of Oom Jan van Wyk, the narrator of the story, who came out of the battle without a scratch. Several Government troops were killed in action during this battle and many were wounded. Mr van Wyk was of the opinion that many more of the "other side" [the rebels] died in the battle, but because it was the last battle of the rebellion in this area, many family members came to the site after the fight to collect their relatives for burial elsewhere.' [Mr JH van Wyk in 1955].
'During the battle, the utterance of Veldkornet Niemandt during the morning's funeral came true - and he died five paces away from Oom Jan van Wyk. A large portion of the rebel force had already been taken prisoner. The rest of them fled into the mountain and fired back at the attackers from the crest of the ridge. In order to establish a position on the mountain, they had to run across a bare cultivated land and Oom Jan told how "die koeels soos warm vet om hom gegons het" (the bullets spattered around him like hot fat). It was nothing less than a miracle that he reached the mountain without injury. The [surviving] rebels headed back along the mountainside towards their laager.
The rebel laager had consisted of approximately eight hundred able-bodied men, with wagons, oxen and horses. None of the forces had artillery at their disposal; and all the casualties were the result of small-arms fire.'
The second eye-witness account is from the opposing side of the battle. In its edition of Friday, 11 December 1914, the Pretoria News published a letter it had received, dated exactly a month earlier:
'Rooiberg, 11/11/14:
My dear Father,

Just a line to let you know I'm still kicking. Since we left Krugersdorp the column has been moving about practically all the time and this is the first opportunity for mailing that has come my way.

From Krugersdorp we went to Brits Station where we tried to get in touch with the rebel commando under Rooi Jan du Plessis. We shelled a couple of his men out of the kloof at Wagen Drift (on road to Kameeldrift), but besides knocking up our horses and ourselves we did nothing. Most of the men living along the river in the vicinity of Brits are rebels.

Rooi Daniel (Opperman) [Lt Opperman of Botha's Commando] and I fed our horses on Rooi Jan du Plessis' forage and annexed a light buggy of his, but Col VD [Col van Deventer] would not let us take it. From there we went to Warmbaths and arrived a couple of hours after the rebels had passed through the place. We followed them up and came up with them one evening. We drove them from a very good position, but as darkness fell, we were unable to follow up our advantage.

We took spoor again and followed through very dense and treacherous country. We came up with the rebel commando on Sunday at about 2pm. Their position seemed impregnable. However, Col van Deventer decided to charge and I went back and gave orders to charge. We charged and broke them and they cleared after about three hours. Our charge only drove them from their good position. As you will have seen by the papers, our loss was 13 killed and 12 wounded. They shot us with soft-nosed bullets like one would shoot vermin. Rooi Daniel was killed.

Their loss we estimate at 120 killed and wounded. We took 26 prisoners. Had we seen what was waiting for us when we returned to the ground over which we charged, there would have been no taking of prisoners. As it was, we wanted to shoot them in cold blood when we saw our dead. However, we are all determined to settle the account when we catch up again ...

Love to yourself, Concie, Frank and Aunt Mabel.
Edward'.
The author of this letter is unknown, although he is likely to have been a fellow officer with Lt Opperman in Theunis Botha's commando. Many of the details correspond with those of the official report, although he numbers one additional fatality - which could mean that one of the wounded men subsequently died (although the records show only twelve dead). The alleged use of softnosed, or 'dum-dum' bullets, if true, was entirely contrary to all agreed military engagement conventions - and was unlikely to have been authorised by the rebel leaders, who themselves had a military background.
An editorial in the Rand Daily Mail (Wednesday, 11 November 1914) makes the following comment about the rebellion:
'The fuller reports now being supplied by the authorities indicate very clearly the hopeless nature of the revolt. As far as the Transvaal is concerned, all that remains to be done is the dispersal of the bands of malcontents still wandering aimlessly about the more remote areas. That this task is being effectively undertaken by loyal commandoes is shown by the details of the gallant little fight at Zandfontein in the Warm baths district. A burgher force attacked the rebels in a most spirited manner, and though unfortunately they sustained twenty-three casualties - twelve men being killed, a high percentage indicative of the fierce nature of the battle - they routed the enemy with far heavier loss and captured a portion of their laager. The doings of the past week have proved conclusively that the mass of the Dutch people themselves are resolved to stand by the Government, and maintain law and order in this country. They appreciate the fact that they have enjoyed the widest possible form of self-government. The Union Government was elected by them and they are determined that its authority shall be upheld. Rebellion under the patronage of Germany does not appeal to them. Painful as the task must be to them, they are ready to do their duty and suppress a movement which threatens their country with anarchy.'
Although the rebellion was small and of limited duration (in total, 190 rebels and 132 Union men were killed over a three month period), it and incidents associated with it caused serious and lasting damage to efforts by former Boer leaders like Botha and Smuts to build a united nation around the concept of the Union. It fuelled the rise of Afrikaner Nationalism in Transvaal and the Free State, adding to the still-powerful legacy of bitterness over the consequences of Kitchener's draconian policies (concentration camps, burning of homesteads, etc) in the closing phase of the Anglo-Boer War little over a decade before. These grievances. provided ideal material for writers of emotive, pro-Nationalist propaganda, using the newly-born written medium of Afrikaans (as opposed to Dutch or English).
The much-loved General de la Rey, sympathetic to, but not actively part of the rebellion, was inadvertently killed when the car in which he and General Beyers were travelling failed to heed a roadblock set up by police to intercept a notorious gang of thieves (the Foster Gang) on the run outside Johannesburg. A shot fired by a policeman apparently ricocheted off a wheel and entered De la Rey's heart, killing him instantly. He was 67. Many rebels believed the (false) rumour that De la Rey had been killed deliberately by orders from Botha or Smuts.
De la Rey was renowned for his superb military skills, gracious character, sense of chivalry and natural leadership, notwithstanding his inclination to be guided by an eccentric soothsayer ('Siener' van Rensburg). On 7 March 1902, in one of the last military actions of the Anglo-Boer War, a motley British relief column under Brigadier General Methuen had been surprised by De la Rey near Tweebosch in the western Transvaal. This engagement inflicted on the British the worst defeat of the guerrilla phase of the war: 200 men killed or wounded, and 600 captured. In the course of the battle, Methuen was severely wounded in the side and thigh, an injury compounded when his horse fell onto his leg, crushing it. When De la Rey found Methuen, he ordered that he be taken to the nearest British field hospital and, under a flag of truce, despatched a message requesting that a telegram be sent to Methuen's wife expressing his concern about the gravity of her husband's wounds (Kruger, 1977).
De la Rey and Methuen had crossed swords before. At the battle of Magersfontein (11 December 1899), it was De la Rey's innovative, pioneering use of trenches that had halted Methuen's attempt to relieve Kimberley, with the loss of almost a thousand men, and forced a temporary retreat (Pakenham, 1979, pp 201-6).
Beyers, was, like De la Rey, sympathetic to those of his countrymen who opposed entering the war on the side of the British against the Germans in South West Africa. However, his loyalties were split between his affection for his fellow Boer rebels and his devotion to the new country being forged under the leadership of former comrades Botha and Smuts. He had, after all agreed to be appointed as Commandant-General of the new Union Defence Force in 1910. The attorney H S Webb, who defended General de Wet in his trial after the rebellion, recounts a fascinating story that epitomises the internal conflict endured by Beyers at this time: '9 November 1914 [the day after the battles at Zandfontein and Sandrivier]: Beyers met General Hertzog at Onze Rust [the residence of ailing former Free State President Steyn]. During the visit to Onze Rust, General Beyers had a conversation with General Hertzog in the grounds near the house, in the course of which Gen Hertzog pointed out the dangers of a fratricidal civil war. Gen Beyers pointed to his bandolier, which held its full complement of cartridges, saying, "I have not fired a shot yet, and by God's help, I never shall". His body, when found [following his drowning in the Vaal River on 10 December 1914, while attempting to evade a government patrol], still had his bandolier with the full number of cartridges. He had never fired a shot.' (Webb, 1915, p 95).
The story is corroborated by a similar account of the meeting, in Scholtz's biography of this fine South African patriot and leader (Scholtz, 1941, P 374). The English media did not share these sentiments, however: The Pretoria News, in a special edition on 11 December 1914, merely announced 'the death, by drowning in the Vaal, of the rebel Beyers'. This prompted an immediate letter of admonishment from Mr Tielman Roos, a leading Transvaal Nationalist, pointing out Beyers' honourable behaviour, which, in turn, led to a flurry of hostile correspondence from both the Editor and other Union loyalists, who accused Beyers of treachery and worse (Pretoria News, 11-14 December 1914).
Generals Kemp (after helping Maritz to capture Upington on 25 January 1915) and De Wet were captured. Maritz, the instigator of the rebellion, fled to Angola for the duration of the war (Muller, 1977, pp 388-90). Fourie, who may not even have been in the Waterberg in early November, was captured on 15 December in the Magaliesberg at Nooitgedacht (the scene of the famous battle in December 1900, when combined Boer forces under De la Rey and Beyers had inflicted a crushing defeat on a British column led by General Clements). He was court-martialled, because he alone had failed to resign his commission before joining the rebels, and had foolishly continued to wear his Union uniform. He was found guilty of treason and shot by firing squad on 20 December. Thus did this otherwise unremarkable junior officer become a martyr and hero in the eyes of his sympathisers. While Fourie's execution was undoubtedly militarily justifiable under the prevailing martial law conditions, it turned out to be a serious political mistake by Smuts, who lost valuable support from the Afrikaner community, a loss which would ultimately contribute to costing him the election of 1924.
Kemp and De Wet were sentenced to seven and six years' imprisonment respectively, but were released within two years. Maritz eventually returned to SA in 1924. He was tried and sentenced to three years in jail, only to be released a few months later when the new Nationalist government under General J B M Hertzog (in which General Kemp was a cabinet minister!) came to power (Spies,1986, p 238).
What of Commandant Geyser, whose commando suffered such heavy casualties at the battle of Zandfontein? It seems almost certain that he was Commandant Andries Hermanus Geyser who, as a young Veldkornet, had been among the signatories to an emotional statement presented to General Beyers by his former Boer officers in the Waterberg on 9 June 1902, shortly after peace had been declared. This opened with the words: 'Wij ondergeteekenden, Officieren van de districten Zoutpansberg en Waterberg wenschen van deze gelegenheid gebruik te maken UEd Gestr namens onszelven en onze burgers onzen hartelijken dank toe te brengen voor wat gij gedurende dezen zwaren en noodlottigen oorlog voor ons geweest zijt' (Scholtz, 1941, pp 99-101).
In 1918, Major A H Geyser was one of several UDF officers to receive a Distinguished Service Order (DSO) from King George V 'for distinguished service in the field and in connection with the campaign in German South West Africa, 1914-1915'. In 1920,Geyser was to receive a similar honour - the Dekoratie voor Trouwe Dienst (DTD) - in respect of his service as Veldkornet during the Anglo-Boer War (Supplement to the London Gazette, 22 August 1918, Issue 30857, p 9798; and Forsyth, D R, 'Dekoratie voor Trouwe Dienst, 1899-1902' in Military History Journal Vol 1 No 1 [December 1967] and Vol 1 No 2 [June 1968]. The writer is grateful to Peet Geyser, a descendant of Commandant Geyser, for having directed his attention to these two sources. Instituted in terms of Government Notice No 2307 of 21 December 1920 and published in the Union of South Africa Government Gazette of 24 December 1920, the award of Dekoratie voor Trouwe Dienst [DTD] was made to a total of 655 officers of the former Zuid-Afrikaansche Republiek and the Oranje Vrijstaat who, being citizens of these two republics, had rendered distinguished and especially meritorious service during the Anglo-Boer War of 1899-1902).
The same A H Geyser, who was by then a lieutenant-colonel in charge of the Potgietersrus Commando, signed the register at the Sandrivierspoort Hotel between Nylstroom and Vaalwater, 45 km north-east of the battle site, on 27 July 1925 (Sandrivierspoort Hotel Register, 1925-1935, loaned by Mrs Anne Howe, 2013).
Concluding remarks
The skirmish on Zandfontein was a bitter, violent and ultimately (like so many such battles) quite pointless incident, in which many men lost their lives, from which there were no positive consequences and many, lasting negative impacts. Little did anyone know, at that time, of the horrendous events that were to unfold in Europe over the next four years, the most devastating war in the history of humankind, and about which much the same conclusions could be drawn.
BIBLIOGRAPHY
Chief Directorate, Surveys & Mapping, Department of Rural Development & Land Reform: 1:50 000 topographical sheet 24270B Rankin's Pass, 1st Edition, 1968, Government Printer, Pretoria.
Spies, SB, 'Unity and Disunity, 1910-1924' in T Cameron (ed), An Illustrated History of South Africa (Johannesburg, Jonathan Ball, 1986).
Oakes, D et al (eds), Illustrated History of South Africa - The Real Story (Readers' Digest Association of South Africa, 1992).
Scholtz, GD, Die Rebellie, 1914-1915 (Pretoria, Protea Boekhuis, 1942, 2013 reprint).
Sampson, PJ, The Capture of De Wet: The South African Rebellion, 1914 (London, Edward Arnold Publisher, 1915).
De Wet, JM, Jopie Fourie: 'n Lewenskets (Pretoria, Voortrekkerpers, 1940).
Poverty Bay Herald, 14 November 1914 (National Library of New, Zealand: www.paperspast.natlib.govt.nzlcgi)
Pretoria News, November/December 1914.
Genealogical Society of South Africa: http:/www.eggsa.org/library/ main.php?g2jtemld=711 095
Annemarie Folkus, personal communication, February 2014.
Commonwealth War Graves Commission: www.cwgs.orglfind-acemetery/cemetery/400721 O/ZANDFONTEIN%20FARM %20BURIAL %20GROUND
Van den Berg, JH, 'Eensame simbole van een van die bloedigste gevegte in Transvaal tydens die Rebellie van 1914' in Historia 5 (1) 1960, pp 53-55. Translated from the Afrikaans by Dr C Sievers and R Wadley.
Rand Daily Mail, Wednesday 11 November 1914.
Kruger, Rayne, Good-bye Dolly Gray: The Story of the Boer War (London, Pan Books, 2nd edition, 1977).
Pakenham, T, The Boer War (Johannesburg, Jonathan Ball, 1979).
Webb, HS, The Causes of the Rebellion (Pretoria, Northern Printing Press Co Ltd,1915, sourced at Bodleian Library, Rhodes House, Oxford University).
Scholtz, GD, Generaal Christiaan Frederik Beyers, 1869-1914 (Johannesburg, Pretoria, Potchefstroom, Voortrekkerpers Beperk, 1941 ).
Muller, CFJ (ed), Five Hundred Years: A History of South Africa (Pretoria, Cape Town, Academica Press, 1977), pp 388-390.
Supplement to the London Gazette of 22 August 1918 (Issue 30857), p 9798
(https://thegazette.co.uk/London/issue/30857/supplement/9798)
Forsyth, DR, 'Dekoratie voor Trouwe Dienst, 1899-1902' in Military History Journal Vol 1 No 1, December 1967 and Vol 1 No 2, June 1968 (https://samilitaryhistory.org/journal.html)
'Sandrivierspoort Hotel Register, 1925-1935' loaned by Mrs Anne Howe, 2013.
---
Return to Journal Index OR Society's Home page

South African Military History Society / scribe@samilitaryhistory.org