The South African
Military History Society


---

Die Suid-Afrikaanse Krygshistoriese Vereniging
---
Military History Journal
Vol 16 No 4 - December 2014
A STORY IN PHOTOGRAPHS
DON KALLAWAY'S WAR JOURNEY
Part Two: Italy, 1945
By Peter Kallaway
School of Education, University of Cape Town
Editor's note: Part One of this article appeared in Military History Journal Vol 16 No 3 June 2014, pp 103-7. It shows how Don Kallaway enlisted with the South African Engineer Corps in his home town of East London ,where he worked as a professional photographer. After undergoing some initial training, he was transferred to the South African Air Force. He went 'Up North' in 1944, serving in Egypt, Palestine and Libya with 9 Squadron, South African Air Force. His diary ends in early 1945, so we pick up the rest of his wartime journey through his camera lens and a collection of other photographs, souvenirs and official documents that relate to his service.
With 16 Squadron, South African Air Force
On 31 January 1945, Don Kallaway was posted from 9 Squadron, SAAF, to the South African Air Force Base Depot, presumably for his transfer to 16 Squadron for service in the Italian Campaign. He underwent further training at the SAAF Advanced Training Centre in February. On 14 March 1945, he was transferred to 16 Squadron, SAAF. This was a coastal patrol squadron which conducted reconnaissance patrols mainly over the Adriatic from a base at Biferno, near Foggia in south-central Italy.
The core of Kallaway's collection from this period focuses around the photographs, mainly aerial shots that he took with 16 Squadron, South African Air Force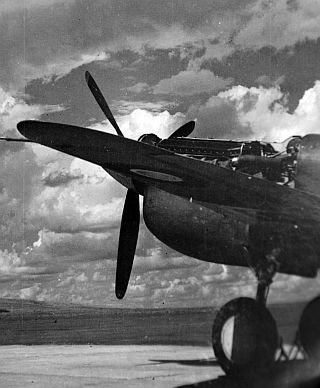 Don Kallaway did not fly in the sorties. His work was
in the photographic laboratory back at the base.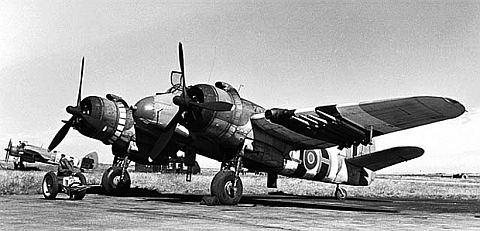 The rocket-firing Bristol Beaufighter was flown
by 16 Squadron SAAF mainly over the Adriatic and Yugoslavia,
where they supported the partisans by disrupting German supply lines.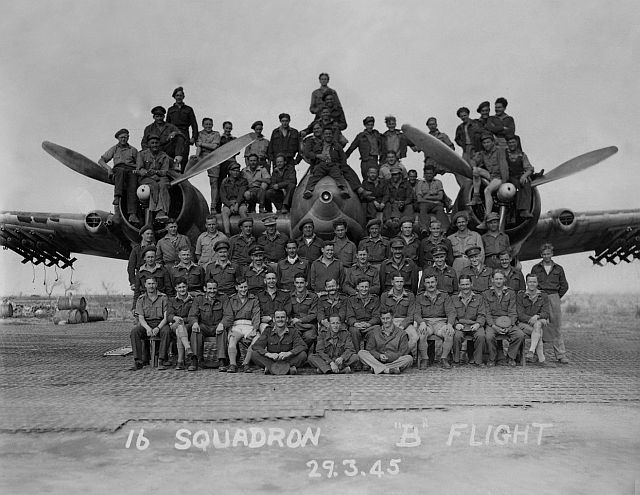 16 Squadron 'B' Flight. Don Kallaway is on the extreme left, third row, under the left propeller
of the Bristol Beaufighter. Note the eight rockets under the wings.
The core of Kallaway's collection from this period focuses around the photographs, mainly aerial shots that he took from cameras located in the Beaufighter aircraft of No 16 Squadron. These rocket-firing Beaufighters operated over the Adriatic and Yugoslavia and their operations were focused on the support of partisans and the disrupting of Nazi supply lines during the extended retreat in the first half of 1945. The photograph of 'B' Flight, 16 Squadron, dated 29 March 1945, was taken only a couple of months before the end of the war, presumably at the Allied air force base at Naati near Foggia, Italy. A record of the operations of 16 Squadron in Italy is to be found in H J Martin and Neil Orpen, Eagles Victorious: South African Forces in World War II, Volume 6: The SAAF in Italy and the Mediterranean (Cape Town, Purnell, 1977), especially Chapter XXIV.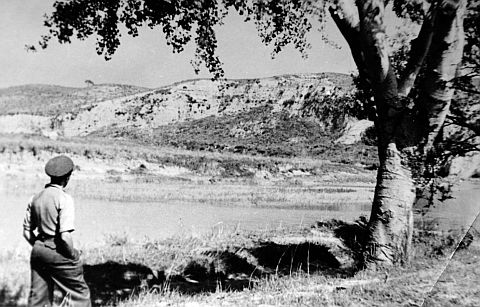 Italian landscape.
No 16 Squadron had had an erratic existence since the start of the Second World War. It had been formed in Germiston on 14 September 1939, and transferred to Walvis Bay in the then South West Africa (now Namibia) to conduct maritime patrols. At this time it consisted of three Junkers JU 862s, ex-South African Airways. At Walvis Bay, it became 'B' Flight of 32 Squadron. Later, 16 Squadron reappeared on 1 May 1941 at Addis Ababa, flying Junkers JU 86 and Marylands, but was then again disbanded when the Italians surrendered in August 1941. Again the squadron reformed in September/November 1942 to operate in conjunction with the Royal Air Force (RAF) in Kenya and in the Madagascar campaign against the Vichy French. The squadron moved to Egypt in April 1942, and was used for anti-submarine duty in the Mediterranean.
Four SAAF squadrons (1,12,21 and 24) took part in the invasion of Sicily from Malta in mid-1943. Up to the end of 1944, the SAAF, including 16 Squadron, operated from Tocra (El Tokra), Misurata (Misratah) and Berca (Marsa al Buraygha) in Libya and had a significant role in disrupting Nazi shipping in the Mediterranean and the Aegean seas.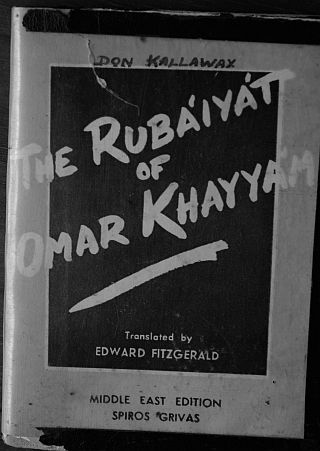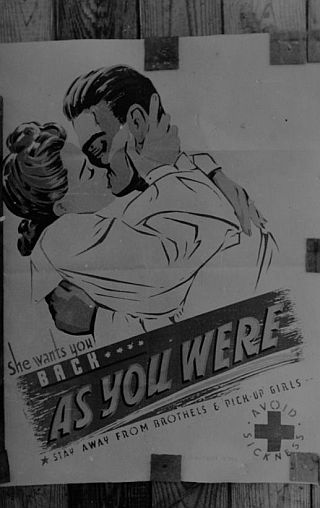 A warning to Allied soldiers on leave
From August to September 1944, 16 Squadron moved to Italy and featured significantly in the actions of the Balkan Air Force, which was set up at this time to disrupt Nazi communications in the Aegean and the Adriatic, and to operate in support of partisans in Yugoslavia from bases at Naati and Biferno at the Allied Air Force complex near Foggia. Other South African Air Force squadrons were also based here, including 31 and 34 Squadrons, which formed part of RAF Group 205 and were deployed on bombing raids into Poland.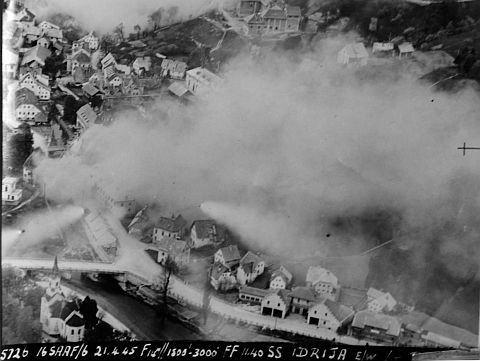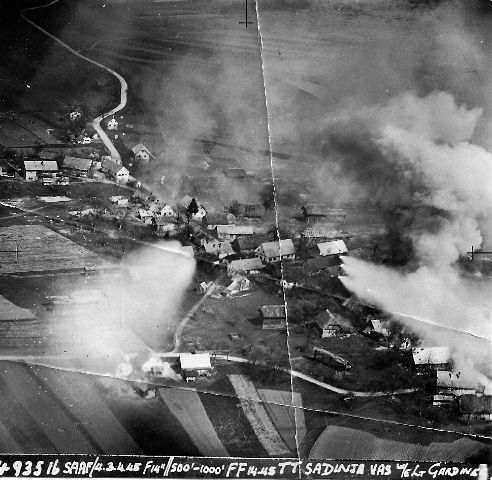 This dramatic photograph shows the 16 Squadron SAAF rocket attack over Sadinja Vas, as photographed
attack on Idrija, 21 April 1945. from the aircraft of Lt Gardiner, 3 April 1945.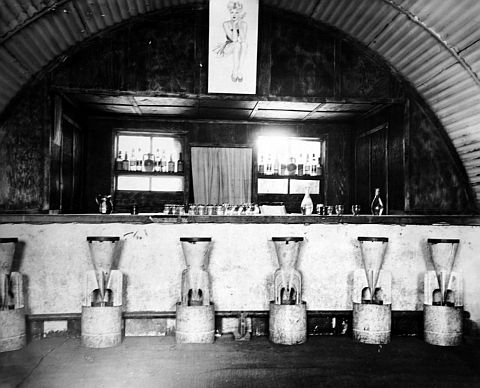 The Mess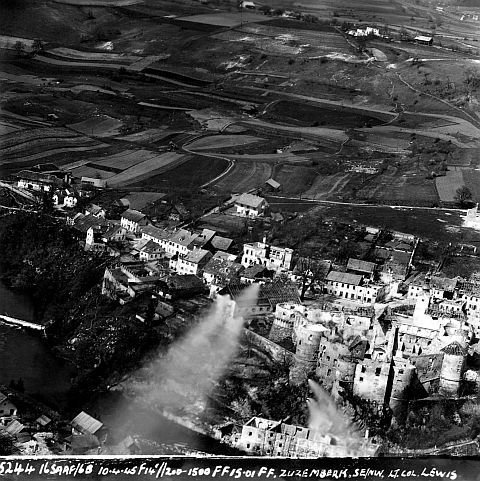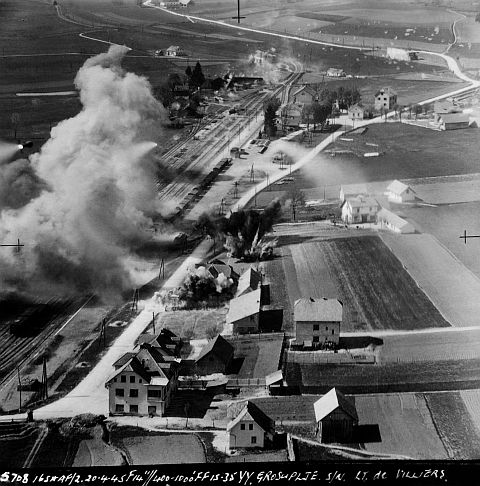 This shows rockets racing for their targets at Zuzemberk A rocket attack on the railway line at Grosuplje, photographed
on 10 April 1945, Lt Col Lewis, 16 Squadron. from the aircraft flown by Lt de Villiers, 16 Squadron.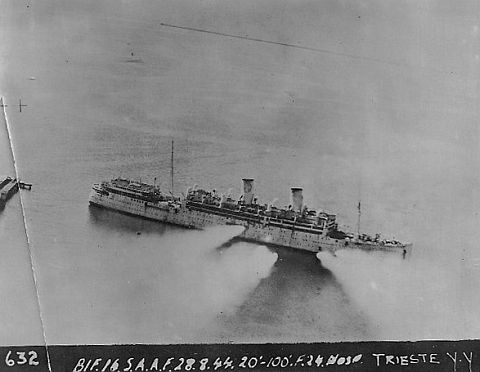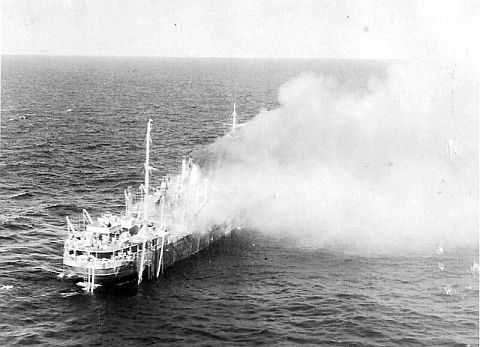 In this photograph from Don Kallaway's collection,
rockets fired from a SAAF Beaufighter aim for the 23 000 ton An unidentified ship under rocket attack.
Guilio Cesare near Trieste on 28 August 1944.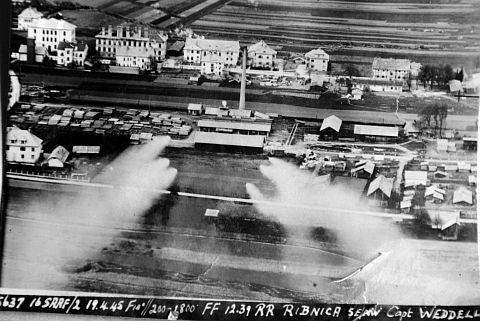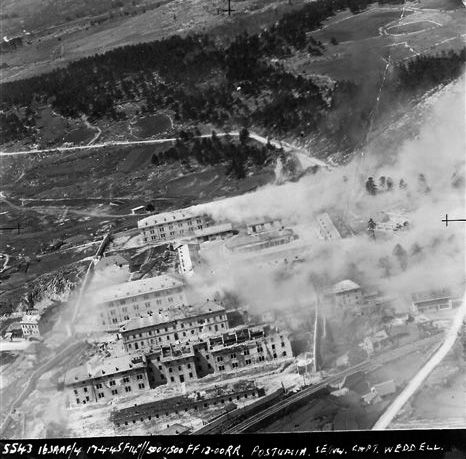 SAAF rocket attack on Ribenca, 19 April 1945, This photograph shows an attack on the enemy barracks in the Postumia area
by Capt Weddell, 16 Squadron. by Capt Weddell, 16 Squadron, South African Air Force, on 19 April 1945.
Operations with the Balkan Air Force, 1943-1945
The photos used in this article are all that we have been able to salvage from a large collection Don kept in a tin trunk in the 1970s in Queenstown. Fortunately these official photographs are all indexed so they provide a rough index to Don's activities during this time. Most of the photographs are of military targets - action photos taken from the Beaufighters. As it was difficult to select a few representative images from the collection, the criteria for selection related to the quality of the photography or the drama of the scene depicted. Most of these photographs are of targets in northern Yugoslavia, where 'B' Flight, 16 Squadron was assisting the RAF and partisan troops on the ground in rolling back the retreating German army in the closing months of the war.
No 16 Squadron SAAF was first based in Libya, initially at Misurata from November 1943, and then at Berca III, near Tobruk, in 1944 (Martin & Orpen, 1977, p 309). The squadron flew sorties over the Aegean Sea with newly converted Beaufighter X heavy fighters under the command of Lt Col J Lorentz, as part of AHQ, RFA Eastern Mediterranean (Martin & Orpen, 1977, p140). With the formation of the Balkan Air Force in June 1944, 16 Squadron SAAF moved from Libya to Italy and, at Biferno, was one of numerous Allied squadrons based near Foggia from early in August 1944. From 16 August, the Beaufighters of 16 and 19 Squadrons flew 98 sorties with 219 flying hours in 19 days of operations, according to Martin and Orpen (1977, p 310), mainly with a view to cutting German supply lines in the Balkans, the northern Adriatic, Yugoslavia, Albania and Greece.
The visual material that follows represents fragments of a picture of the operations over the Adriatic and Yugoslavia during the advance of the Allied and Russian armies into the Balkans from late 1944 to the end of the war in April 1945. The bulk of these photographs relate to episodes in that campaign when the Beaufighter crews were seeking to cut the Nazi supply lines in the Aegean and Adriatic and on the Yugoslavian mainland in collaboration with the partisans operating on the ground. The images are primarily a record of numerous rocket attacks on targets in Yugoslavia - shipping, railways and buildings. It is not always clear from the pictures what the purpose or precise targets of the attacks were.
The Beaufighter
The Beaufighter was a British long-range heavy fighter equipped with eight armour rocket projectiles under the wings (replaced by 60lb high explosive rockets in 1945 [Martin & Orpen, 1977, p 141]) and 20 mm cannon. They also had rear machine guns (Martin & Orpen, 1977, p 141). Don Kallaway does not seem to have flown on these missions, but loaded the cameras prior to a mission and then processed the films when the aircraft returned.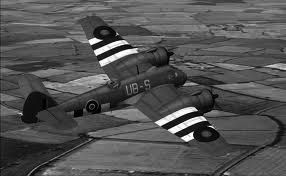 A Beaufighter.
Apart from the military photographs which speak for themselves, and have the merit of being carefully marked regarding the time, date and place of the attack, relatively few of Don's other pictures of Italy have survived.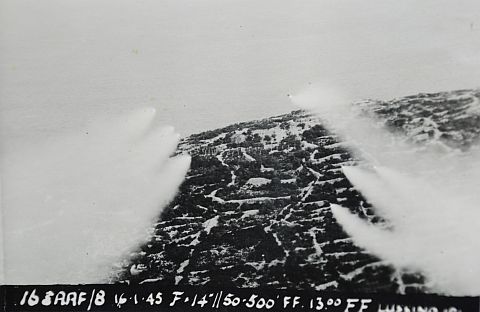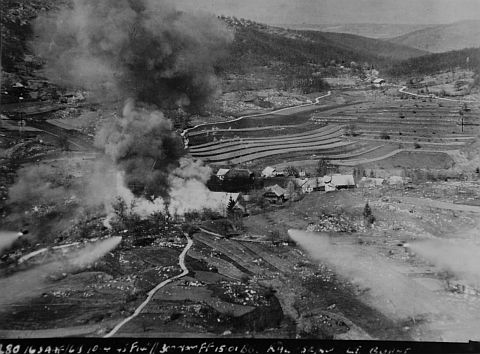 These two photographs show SAAF rocket attacks over Lussino Island, 16 January 1945 (left) and an unidentified target on 10 April 1945 (right) respectively.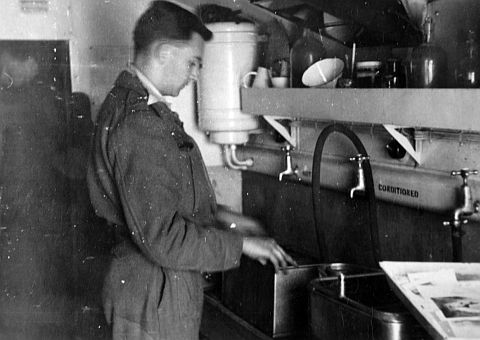 The photographic laboratory at Naati near Foggia
Photographer Don Kallaway's role in the Second World War was entirely technical in nature and he is unlikely to have seen any frontline action. Nevertheless, his role remained crucial, providing technical support and information that allowed for more effective action by the air force. The lack of obvious targets in the images is probably due to the fact that the partisans in Yugoslavia identified specific strategic targets from the ground. In this photograph Don is seen happily at work in his laboratory near Foggia and his dedication to his role as photographer is evident in his inclusion of Dr Richard M Stafford's humorous poem, 'Behold the photographer', in his diary.
Don in Italy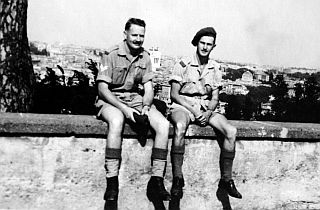 On the banks of the Tiber.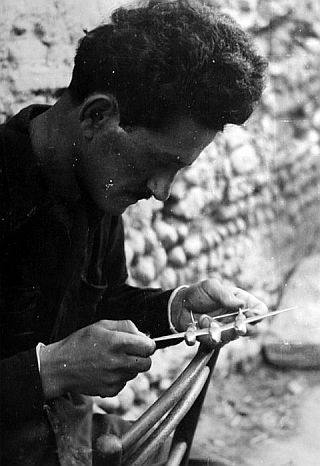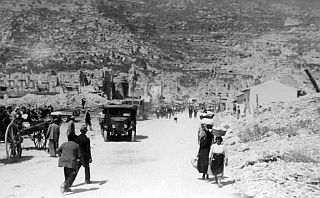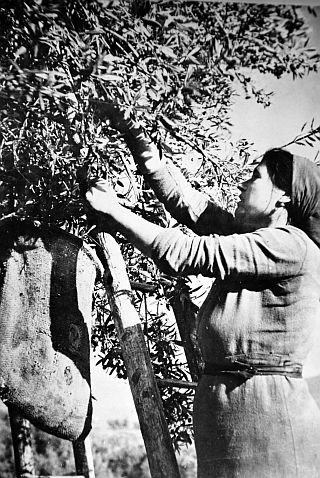 Scenes from Italy.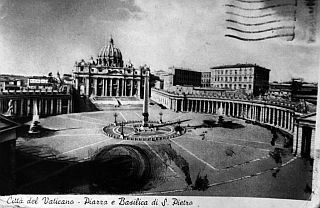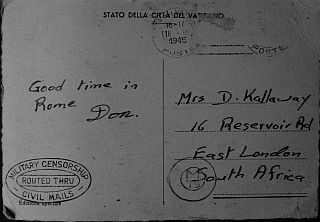 A postcard back home to Em from Don at the Vatican, 18 May 1945.
Don seemed to take maximum advantage of being in Italy to see as much as he could. For the rest of his life, he spoke glowingly of his experiences there. We know little of what opportunities he had to travel, although there is evidence that he visited Rome. There are aerial pictures of Venice, but these were probably salvaged from military archives. Songs, poems, music and speeches are listed in his diary and he includes a humorous sketch from Sergeant Abe Berry on life in the army in Italy in 1945.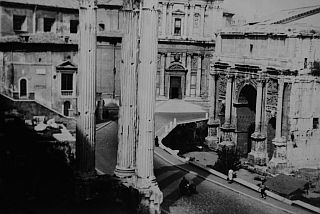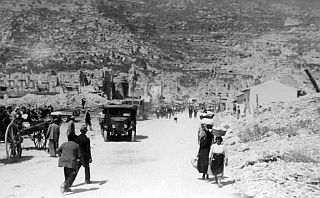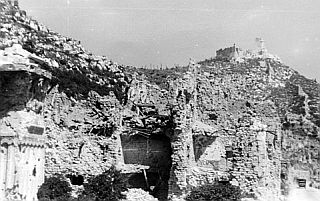 Various scenes of Italy in wartime, preserved in Don Kallway's photographic collection.
Home
On 15 June 1945, 16 Squadron was disbanded and Don Kallaway returned again to the SAAF Base Depot via the Advanced Training Centre. He was later posted to 27 Squadron and, early in 1946, he returned to South Africa for demobilisation. From Voortrekkerhoogte, Pretoria, he was posted to the Union Defence Force Assembly Area Wood brook, East London, for discharge. On his discharge on 15 May 1946, he received payment of a cash allowance of £30 for civilian clothing and an immediate grant of £1 00, and applied for a further £950. For his war service, he was awarded the Italy Star, British Defence Medal, the War Medal (1939-1945), and the Africa Service Medal. He returned to civilian life as a photographer in East London and Queenstown.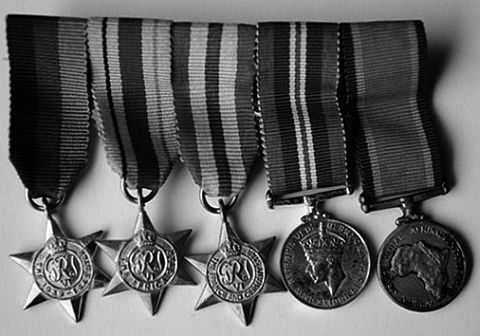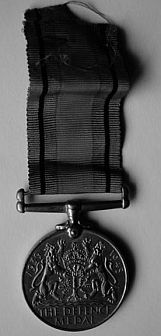 Don Kallaway's medals.
---
Return to Journal Index OR Society's Home page

South African Military History Society / scribe@samilitaryhistory.org