The South African
Military History Society


---

Die Suid-Afrikaanse Krygshistoriese Vereniging
---
Military History Journal
Vol 16 No 4 - December 2014
LETTERS TO THE EDITOR
ANOTHER SCHOOLBOY MEMORY
Les Pivnic's article on Durban harbour, 1942-1945 (Military History Journal Vol 16 No 3 June 2014) sparked many memories in another schoolboy who spent some time there too during the War. May I share some memories?
My father volunteered in 1940. He worked for the Standard Bank in Pietermaritzburg where I was born in 1936. He was not immediately taken in. He was 31 and married with a child. However, after Tobruk, he was called up in September 1942. My mother and I were dispatched to Kimberley to stay with his parents 'for the duration!'
My father found himself in the South African Air Force as an anti-aircraft gunner and was posted to Durban where he spent about a year before going to Egypt in 1944 and then to Italy by way of Gibraltar. During that year, my mother and I used to travel to Durban during the school holidays to be with him. He was located first at a gun site at the bottom of Point Road at the left of the harbour gates and then at a site on top of a warehouse overlooking the harbour. I spent many happy and intriguing hours clambering around the Bofors gun [it was manually operated for traverse and elevation] and peering through the predictor gun sight. I sat in darkened rooms honing my aircraft identification skills. I think I can still pick out a Dornier He 111, a Mitsubishi Zero or a Betty. Sunderlands, Catalinas, Venturas and Ansons were easy! We used to stay at the Rydall Mount Hotel and troop off to the ack-ack gun site just about every day.
All the buildings on the Marine Parade, mainly hotels, were sandbagged up to about ten feet. There was a blackout and the neon-lit pylons along the Beach Front were blacked out as well. Some evenings we used to visit the 'Fun Park' on the Marine Parade - a sort of subterranean and blacked out location. There were Dodgem cars and all the other attractions of the fair. I am sure my parents must have hated this but I suppose they buckled to a small boy's demands!
One evening, when we were returning to the hotel, a military truck stopped next to us. My father was told to get aboard, no reasons given. Puzzled and a little apprehensive, my mother and I walked home. Later we were told that there had been a 'scare' - there was thought to have been a Japanese submarine in the harbour!
I did not own a camera and the taking of photographs around the harbour was forbidden so I have no records, but I remember the tugboats, Sir William Hoy and the twin-funnelled Sir David Hunter. The Bofors gunners used to have practice shoots at drogues towed by Avro Ansons. I watched these with intense pride, knowing my father was manning one of the guns. If the enemy had seen the result of this shooting, I have no doubt that they would have attacked without delay!
My father's crew were an interesting group of English and Afrikaans-speaking South Africans who treated me as a mascot with much affection. I still have a signed menu card from the Royal Hotel Christmas Dinner of 1943. One of their number, Tinkie van der Merwe, came from, I think, Beaufort West. When he went home on leave, he had to change into 'civvies' as his family was opposed to the war and his participation in it.
When they moved the gun site to the top of a harbourside warehouse, we had a very good view of the harbour and the great variety of ships there: battleships, cruisers, destroyers, troopships, and merchant ships. I am afraid I cannot identify any of them. What I do remember with great clarity is 'The Lady in White', Perle Siedle Gibson, singing to departing troopships with hundreds of men lining the rails. She had a powerful voice, having been an opera singer, which was boosted by a megaphone. I can still hear her hauntingly echoing rendition of 'Wish me luck as you wave me goodbye'. There is a memorial to her, which I have not seen, and a memorial plaque donated by the Royal Navy.
I must digress here to recount an earlier childhood memory of wartime Durban. We must have been on holiday in Durban in November 1940, or possibly we had gone down from Pietermaritzburg especially to see it. I so well remember going down to the South Beach near the West Street jetty and seeing a huge ship stranded in the surf about fifty metres from the beach. The Ovington Court, a 6 000 ton merchant ship, had dragged her anchor and washed aground during heavy sea and wind on 26 November 1940. What excitement! I recall sitting on my father's shoulders as he waded out to what seemed, to a five year old boy, to be a gigantic ship, then climbing aboard up a rope ladder which had probably been used by the crew in a hurried exit. She had been carrying a cargo of sugar and obviously one of her holds was breached. For days afterwards, the sea was a brownish colour and very sticky.
At about this time, the South Beach was covered in barbed wire entanglements and we had blackouts in Pietermaritzburg. I had a cork on a piece of string around my neck, which was to be gripped between one's teeth to avoid the jarring from a bomb explosion. This exercise was to be conducted under a bed where one had hidden to avoid the collapsed roof after the bomb had struck! There is no record of any bombing of Pietermaritzburg!
There is an interesting aspect to the Ovington Court story. Her sister ship, the Kensington Court, was one of the first British merchant ships to be sunk in the War. On 18 September 1939, she was stopped by U32 about 120 miles from Land's End. She was sunk by gunfire after the 34 members of the crew had got into lifeboats. They were rescued by an RAF Sunderland from 204 Squadron. This was also the first rescue operation by a flying boat.
I hope we can start a Durban War Recollection Club as a result of Les's article!
Bill Yeowart
(PO Box 8---, White River, 1240, Cell: 083 --- 5711)
UNCERTAINTY ABOUT WARSPITE
Les Pivnic's article, 'Durban Harbour, 1942 to 1945: The war-time memories of a schoolboy during the Second World War' was read with much interest in the recent journal (Military History Journal, Vol 16 No 3, June 2014, pp 825). In view of the uncertainty about Warspite (pp 84-5), a relevant photograph is forwarded. This comes from the 50th anniversary publication, The Navy League of South Africa, Natal Branch, Golden Jubilee, 1896-1946. This visit to Durban took place in late 1943 when the Warspite was returning from the Mediterranean, en route to the UK. As you can appreciate, during the Salerno landings (9 September 1943) there had been significant damage to Warspite from the newly introduced radio controlled German bombs. By the time she was ready to support the D-Day landings (6 June 1944) from her UK base, she had been partially repaired.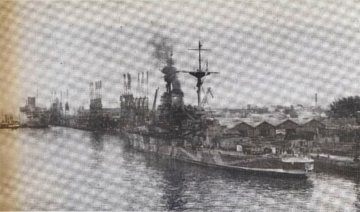 H.M.S. Warspite and transport "Mauretania" at Durban.
It is of interest to compare the progress of the white camouflage painting of the hull. On the photograph in the June 2014 journal, the white area near the waterline at the rear is evident. The Navy League photo, which definitely states the ship to be Warspite, shows progression of the white camouflage lines. This could well be part of the repair work and overhauling done. Both photos show the battleships in the deeply dredged dock area, adjacent to the T-jetty, for large warships. With review of the funnel, the presence of the cowl and the white paint ring at the base appears the same on both photos.
In his article, Les Pivnic also mentions the visit of HMS Ramillies to Durban. This would have been earlier; in 1942 after the damage by the Jap mini-sub in the early stage of the Madagascar operation. In 1942, Warspite was in the northern hemisphere.
John Buchan
Military History Society, Durban Branch member (Tel: 031 2011693)
Warspite NOTES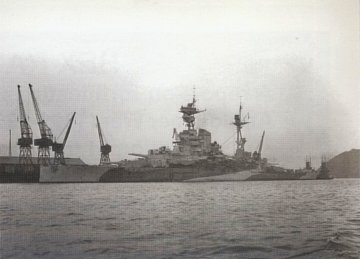 Les Pivnic's photo of the battleship.

Les Pivnic's suggestion that HMS Warspite may have been modified to look like an 'R' Class battleship (MHJ Vol 16 No 3, June 2014, p 85) is incorrect. HMS Warspite was extensively rebuilt between the World Wars and received a tower-like bridge structure which differed markedly from that of the 'R' Class. In addition she never received a funnel cap. The 'R' Class battleships received funnel caps as follows: Resolution in 1924 (Raven and Roberts, p 140); Revenge in 1939 (Raven and Roberts, p172); Royal Sovereign between 1939 and 1941 and Ramillies between 1941 and 1942 (Raven and Roberts, p189). Pictures of Warspite (Raven and Roberts, pp 225 and 235) and a sketch in Janes' Fighting Ships 1939 (p15) clearly show the tower bridge structure. Online images of the wreck of HMS Warspite also clearly show the tower structure. Sources: Raven A and Roberts A, British Battleships of World War Two (Arms and Armour Press, London 1976); Jane's Fighting Ships 1939 (Sampson Low, Marston, London, 1938).

Hamish Paterson,
Ditsong National Museum of Military History

Return to Journal Index OR Society's Home page

South African Military History Society / scribe@samilitaryhistory.org