The South African
Military History Society


---

Die Suid-Afrikaanse Krygshistoriese Vereniging
---
Military History Journal
Vol 16 No 3 - June 2014
THE SOUTH AFRICAN MILITARY HISTORY SOCIETY
Did South African heroes miss out on getting the George Cross?
By Paul Street, Victoria, Australia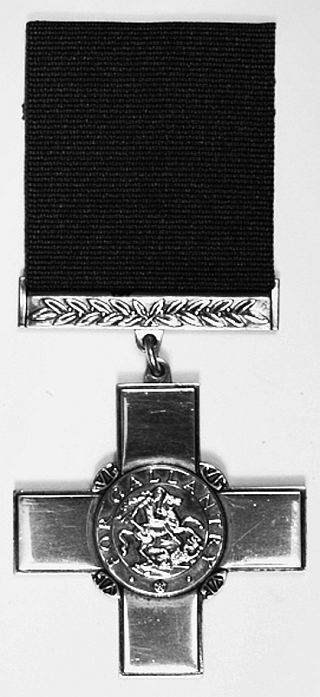 George Cross
In January 1972, it was announced in the London Gazette that any holders of the Albert Medal and Edward Medal, alive in October 1971, would be considered holders of the George Cross. They could exchange their medals for the George Cross or keep their original awards. As the exchanges were not widely publicised, even in the United Kingdom, and some of the recipients of these medals were very old by then, it is possible that some who qualified for the exchange, still alive in South Africa at the time, were unaware of it.
The Albert Medal was created in 1866, originally to reward acts of saving a life at sea. In 1877, the medal was extended to cover acts of lifesaving on land and was known as the 'civilian VC'. Only four South Africans were awarded the Albert Medal, the last being to Andries Muller Heyns, who rescued his nephew when he was attacked by a shark at Mossel Bay, Cape Province, in 1927.
Twenty-nine South Africans were awarded the Edward Medal between 1908 and 1927. This medal, created in 1907, rewarded acts of bravery in mining accidents and was later extended to cover industrial accidents. The Edward Medal was held in high regard and was known as the 'miners' VC'.
The question remains: Were any of these South African recipients of the Edward Medal still alive in 1971: Aaron (1909), Isaac Barnard (1919), John Barnard (1919), James Brack Barnes (1909), Harry Bennetts (1909), Arthur Torr Blakemore (1909), Coco (1909), William Dickson (1908), David Easton (1913), Elias (1909), Alfred Francis (1909), Robert Greenless (1911), Robert Henderson (1913), James Hepburn (1913), Isaac (1909), John Jones (1908) John Jones (1909), Benjamin Kelly (1909), Martinus (1909), Thomas Menzie (1909), William Thomas Oxen ham (1910), Joseph Graham Richardson (1909), Coert Hattingh von Straate (1927), Thomas Teasdale (1908), Thomas (1909), Joseph Johannes Venter (1915), James Wagenaar (1913), James Walsh (1919), and James Armstrong Wright (1911).
The British writer, Allan Stanistreet, who has written Heroes of the Albert Medal on the 250 military recipients of the medal who did not exchange their awards for the George Cross, is now working on a new book covering the civilian recipients. His address is 12 Normandy Avenue, Watchet, Somerset, TA23 OTU, England. He would be interested in hearing from any readers with information on South African recipients of the Albert and Edward medals and particularly those known to be alive in 1971. No South African is known to have exchanged his award for the George Cross.
---
Return to Journal Index OR Society's Home page

South African Military History Society / scribe@samilitaryhistory.org