The South African
Military History Society


---

Die Suid-Afrikaanse Krygshistoriese Vereniging
---
Military History Journal
Vol 16 No 3 - June 2014
A STORY IN PHOTOGRAPHS
DON KALLAWAY'S WAR JOURNEY
Part one: Egypt, Palestine and Libya
By Peter Kallaway, School of Education, UCT
Donald Howard Kallaway served as a photographer in the Second World War, enlisting with the South African Engineer Corps and later transferring to the South African Air Force. His service records, kindly supplied by Mrs H J Strydom at the South African National Defence Force Documentation Centre in Pretoria, show that he enlisted for service with the South African Engineer Corps on 19 September 1942, at the age of 26. He was a photographer by profession, a resident of East London, married to Elma Blanche Kallaway (whom he referred to as 'Em'), and father of two young children. His records also show that he had previously spent two years with the Royal Naval Volunteer Reserve (RNVR). He is described as fair with grey eyes and brown hair, with tattoos marking both arms. He kept a list of his photographs in a small diary. This article is an attempt to reconstruct his war experience from these sources.
Author's note
This attempt to piece together Don Kallaway's experience of the Second World War in North Africa and Italy is divided into two parts. Published here is the first part of his story, which relates to the period from 19 September 1942, when he volunteered for service with the Union Defence Force in East London, to the beginning of 1945, when, with No 16 Squadron, South African Air Force, he was about to cross the Mediterranean Sea for service in the Italian Campaign. A key source of his account for this period is a small diary in which he kept notes of the photographs he took on six reels of film. In addition to the very brief information on his travels and impressions of what he saw, the diary also includes some snippets of his concerns, comments and interests, including the romantic ideas of a young man at war, some of which are included here to give a sense of the person behind the story. Unfortunately relatively few of the photographs listed in the diary have been located. (A second part of this article, which deals with Kallaway's service in Italy, principally as a photographer with No 16 Squadron, South African Air Force (SAAF), from March 1945 to the end of the war, will appear in the next issue of the journal, Volume 16 No 4, December 2014).
The story of Don Kallaway's war experiences has been pieced together from the small diary that he kept from 1943 to the beginning of 1945 and the photographs recovered from his children, Roy Kallaway and Denise Webber (Kallaway) and from Marc Kallaway, Roy's son. These are the remains of a larger collection that the family remember was located in a tin trunk in his house in Queenstown in the 1960s. Since most of the pictures were uncaptioned, it is difficult to establish with certainty when and where they were taken, but, with a careful reading of the diary, along with a degree of guess-work relating to this period, the author has attempted to compile a personal account of one man's experience of the war. Despite the loss of most of the images that Don Kallaway took through his lens, it has been possible to piece together a rough story/chronology of his experiences during this period relating to his movement and activities travelling up the East Coast to the theatre of war and his stay in Egypt, Palestine, Syria and (briefly) Libya.
Given the circumstances of wartime, it was clearly difficult to take any personal photographs that might have been considered to be of strategic value, so there are many tantalizing issues that lie on the edge of the lens and at the edge of Don's own comments - but we have no way of entering that censored world. There are intriguing glimpses of his personal life and love for Em back home with his children, Denise and Dee Dee, and also his interest in the world about him wherever he travelled. For those of us who knew Don after the war, we have an abiding sense of the significance of this experience in his life. It was something that opened him up to wider appreciation of the meaning of life (music, art, literature) in the midtwentieth century, and something that influenced all of us who knew him in subsequent years.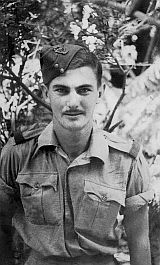 In his SAAF uniform, Kallaway proudly displays his red tabs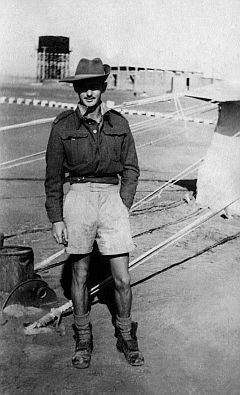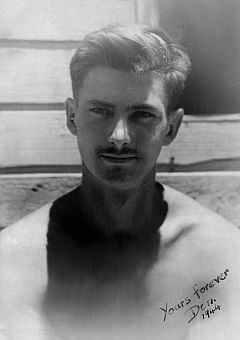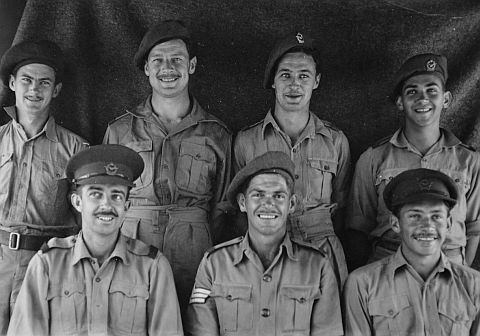 SAAF personnel. Don Kallaway can be seen at top left.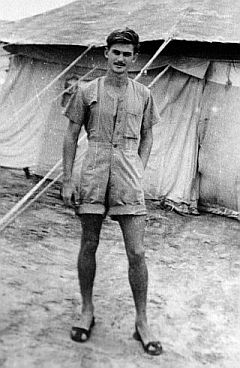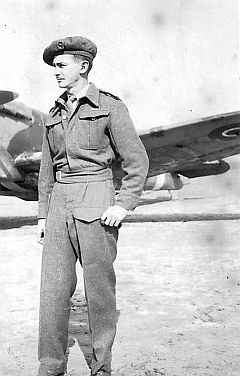 Introduction
Donald Howard Kallaway enlisted with the South African Engineering Corps (SAEC) on 19 September 1942, and was classified as a 'Photographer, Class A'. As a Sapper, he did his engineering training at Sonderwater Training Camp near Pretoria. He was briefly at the large base depot and transit camp at Hay Paddock, Pietermaritzburg, which was under construction from mid-1942 and housed a large number of foreign allied troops awaiting shipping from nearby Durban. His record of service shows that he remained in the Union until after his transfer to the South African Air Force, with the rank of air mechanic (a/m), and after completing various photographic courses at 67 Air School, Zwartkop. After passing his trade test at 67 Air School on 29 February 1944, he was recommended for re-mustering as Photographer, Aircraft. (He had passed the initial Photo Course 20 with a mark of 86% in December 1943). Soon thereafter, he completed a course in photo survey at 24 Air School, where he was probably trained in service flying.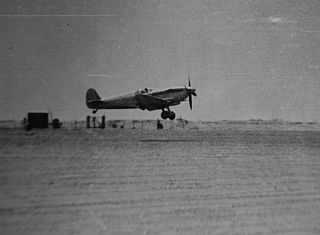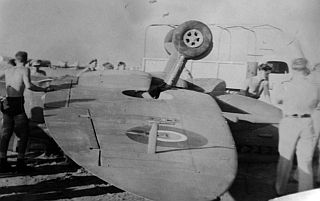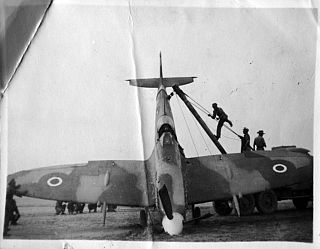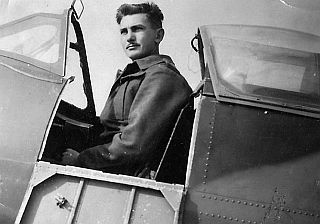 Aircraft, especially Spitfires, were a favourite subject of Don Kallaway's wartime lens
After completing his initial training, Kallaway left the Union for the Middle East. By then, March 1944, the War had already ended in North Africa, although Libya would still be used as a base for allied air attacks on Greece and the Adriatic for some time to come. The question of whether South African troops were to serve outside of Africa was still moot! (The recruitment form for the volunteer units of the Union Defence Force specifically indicated that recruits were only volunteering for service 'anywhere in Africa'.)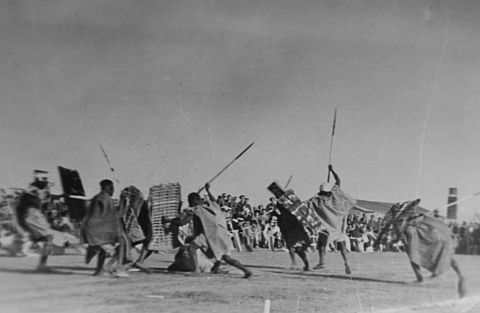 African troops entertain their wartime comrades while on service in North Africa.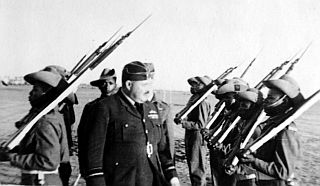 Proudly turned out men of the Native Military Corps are inspected
by an air force officer during a parade in the desert.
In his diary, Don Kallaway reported that he travelled to Egypt by ship up the east coast of Africa. He captured aspects of the journey in film with his Panatomic X camera, recorded in his diary (p3). There were pictures of the journey on the ship and the shipboard entertainment. Mombasa, Aden and Port Said are mentioned, but none of the pictures have survived. Orpen & Martin (1982, p62) describe a typical journey at the time: 'The voyage north in tightly packed ships was unbearably hot and uncomfortable, but the sea remained mercifully calm, and after lying at anchorage in Aden for some time, the ships of the convoy slipped out singly and ran up the Red Sea.'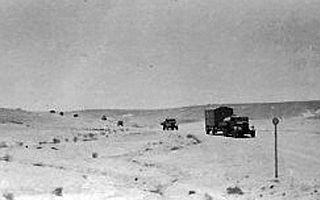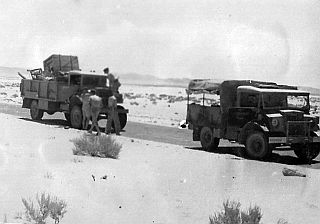 First photos outside Africa, taken on a convoy from Elmaza in Egypt to Minnigh, Syria, June 1944
Aden
Although they did not land there, Don took photos of Aden and the activities in the harbour from the ship somewhere between 6 and 27 March 1944. He was clearly sufficiently intrigued by Aden, the first place he had seen outside of Africa, to seek out an article in Life magazine of 5 June 1944 and copy it into his diary: 'The ancient city of Aden lies dreaming as it has for centuries at the mouth of the Red Sea. In the days of the Roman Empire it was a major port on the old spice route to India. Now a British Colony, Aden has been an important coaling and trans-shipping station since the opening of the Suez (Canal). Nesting in the barren crater of an extinct volcano, Aden is one of the hottest and driest cities in the world. Upon it barely an inch of rain descends from year's end to year's end. Water is brought in from beyond the mountains by a long aqueduct.'
Egypt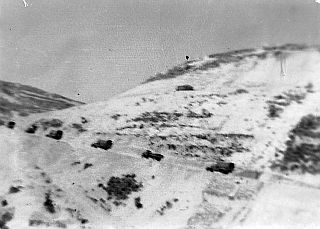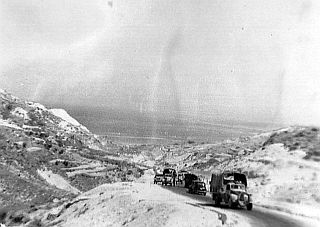 The Chekka By-Pass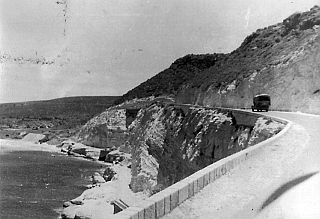 This road was built by South African and other Allied engineers in record time
- 100 days - after retreating Vichy troops blew up the original road in 1943.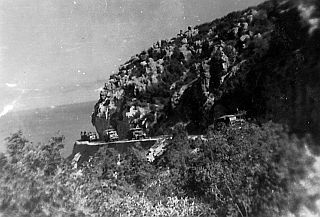 Don arrived in Egypt on 28 March 1944 and was moved from MAFD (Mobile Air Force Depot) to SAAF Base Depot near Heliopolis, not far from Cairo. On 29 May, he was posted from SAAF Base Depot to No 9 Squadron and was awarded the Africa Service Medal (diary, p53). He was clearly fascinated by Egypt and took many pictures of antiquities like the sphinx and the pyramids, of Islamic architecture and the streets of Cairo, as well as of the Nile and the countryside. The Pole Nord Cafe and the Shepherd's Hotel were included in his photographs of significant places. There were also some views of a 'police round-up in a Cairo alley - I think it was a dope den!' Roxy Gardens Cinema on a Saturday night was clearly a centre of social life. There was also a picture of Ahmed at the American YMCA, which he captioned 'Welcome House, Heliopolis, Cairo'. Few of these images survived, unfortunately. Pictures of Heliopolis - the army headquarters and views of the army camp and life, including the social life in the army at Heliopolis - suggest a sense of enjoyment, however cryptic the notes he left in his diary.
Palestine and Syria
On 1 June 1944, Don Kallaway began a new Dupont film, 'taken on a convoy from Elmaza in Egypt to Minnigh (on the Syrian/Turkish border)'. The convoy stopped beside a Nile canal in the morning and in the late afternoon they halted in the Arabian desert en route to Palestine. Here Don notes his 'first photo outside of Africa'. There is no explanation for the journey either in his diary or in his war record, but presumably his squadron was being posted to the Syrian/Turkish border as a precautionary measure. The army convoy proceeded north to Haifa, which they reached on the third day. He took photographs of scenes along the way. Conditions were hard for developing photographs in the Syrian desert. In his diary, he notes, 'photographic developing in a bundu tank. Tin for water supply. Steel helmet for washing film.'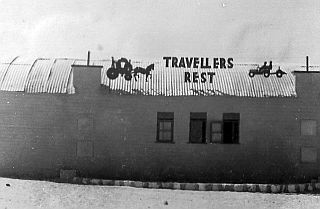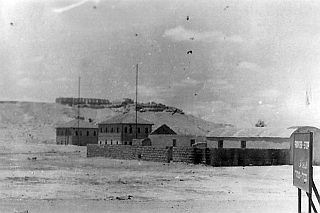 Syria. Scenes along the way, captured on film.
They then proceeded north up the Mediterranean coast and across the Palestinian/Syrian border. Here Don photographed and recorded their first swim in the Mediterranean: 'fellows swimming naked - water was warm and the sea was as smooth as a pond. Had a lovely time.'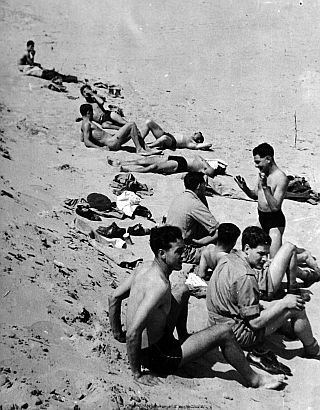 At a halt on the Syrian/Palestinian border, the men
of 9 Squadron enjoy a swim in the Mediterranean
Aleppo and the Turkish border
They continued on to Aleppo, where Don took more photographs. They camped at Minnigh, within sight of the Turkish border. Here, No 9 Squadron was based for a brief time, on high alert in case they were needed on the Syrian border with Turkey, but there seemed to be little action. Don used a telephoto lens to photograph the mountains and describes the conditions under which he worked. He mentions a photograph of the tent and his colleagues and notes in his diary that it was while he was in this camp that he first heard a broadcast of Lili Marlene. He was obviously intrigued by the song and its meaning and he later transcribed - 'a free translation' - the words of the Italian version of the popular German song. Don also notes 'The opening lines of the Jerry [German] version [of this song]' and his translation of this and the second verse:
In front of the barracks,
Before the heavy gate
There stood a lamppost, and if it's standing yet,
There we shall meet there once again
Beside the lamppost in the rain.
As once, Lili Marlene, as once, Lili Marlene

The lamppost knows your footsteps, so lovely and so free
For you it burns unceasingly, but it's forgotten me.
And if I don't return again
Who'll stand beside you in the rain?
With you, Lili Marlene, with you, Lili Marlene.
Clearly fascinated by the song, he notes that it 'was made famous by a Swedish [sic - German] girl, Lale Anderson, in Germany. It has become popular all over Europe and with all armies. Eighth Army listened to it in the desert from Belgrade, Yugoslavia from where it was broadcast by Germans. I first heard it on the Turkish border in Syria, being broadcast from Sofia, Bulgaria'.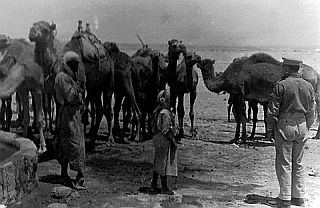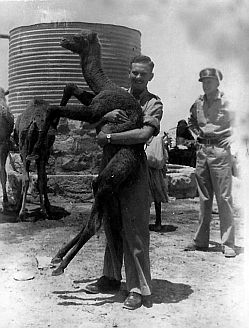 Making memories, the airmen interact with local peasants and their camels.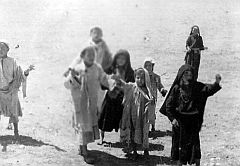 Syrian children ask for 'baksheesh'.
Don Kallaway was unsure why the squadron was in Syria, as hostilities had long since ceased in the area. Soon after their arrival, the allied authorities determined that there was no need to remain on high alert in the area and the squadron departed at the beginning of July 1944, travelling back through Syria. Don took more photographs of the countryside, 'Arab farming' and the people by the wayside. They returned through Syria to Homs and Tripoli, and proceeded via the newly-built Chekka By-Pass (which replaced the coast road that the Vichy French had destroyed in retreat). There are numerous pictures of this, presumably as the South African Engineer Corps had been involved in the construction, carried out in 1943. They passed through Beirut, 'Rameles', the Sinai Desert and eventually arrived back in Port Said, Egypt.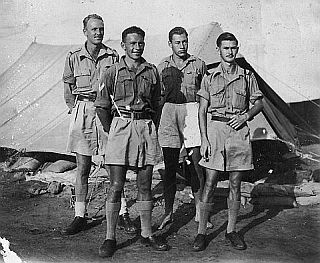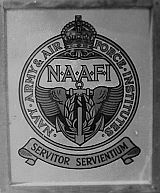 Kallaway with his tent occupants, thought to be in Minnigh, Syria; NAAFI emblem.
Back in Egypt and on to Libya
From July to December 1944, Don Kallaway continued to take many photographs, mainly of aircraft and military activities in North Africa. Spitfires were of particular interest. Until September 1944, 9 Squadron was based at EI Gamel, near Port Said, where it was chiefly involved in patrols over the Suez Canal and Nile Delta, flying Supermarine Spitfires. Here, once again, there are signs of Don's interest in social issues. He takes pictures of the garbage dump and the children rooting for food there; also pictures of a man by the seashore, 'sifting the sand for shellfish'. His comments are not particularly sympathetic in tone, but he demonstrates an awareness of issues that might be rather unusual. Unfortunately, few of these social commentary photographs have survived. Most of what we have is of military and air force subjects.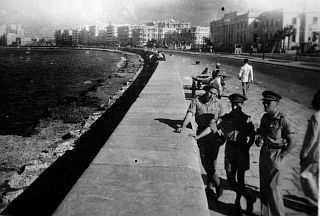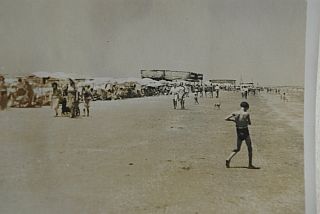 Left possibly Alexandria, right hand view thought to be of the beach at Port Said.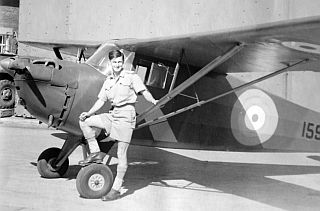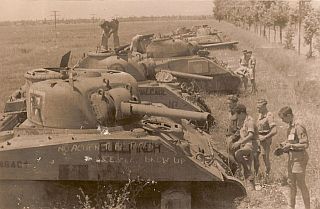 Scenes from Egypt and Libya.
In September, the Squadron moved to Libya, where it flew sorties over the Mediterranean and Crete. Don records that he travelled by road to Libya via Halfaya Pass, where much of the action had taken place around the great battle of Tobruk in mid-1942. He also made a brief visit to El Tokra (near Benghazi, Libya). He had photographs of Tobruk and Benghazi, desert views, and Roman ruins viewed along the way. He was in Tokra on Christmas morning, 1944, presumably being recruited to No 16 Squadron, SAAF, because of his background/training in photography. He then returned to Egypt.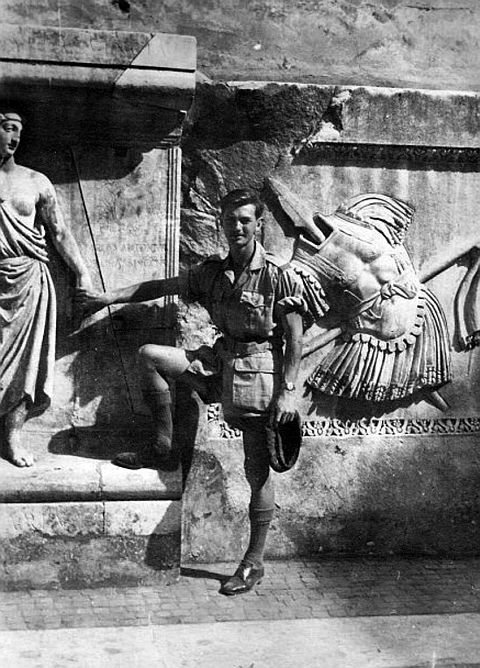 Don Kallaway at El Tokra, Christmas Day, 1944.

His service records show that, in January 1945, Don Kallaway was re-posted to the SAAF Base Depot to undergo further training in photography and, on 14 March 1945, he was posted to 16 Squadron, South African Air Force. This was a maritime patrol squadron which was, by then, based in southern Italy and performing convoy protection and anti-submarine duties in the Adriatic.

The last pages of the diary of Don Kallaway show that he travelled by train to Port Said and then went by ship to Italy. The last entries in the diary concern photographs taken from the ship at Toronta [Taranto], Bari and Foggia, the site of the great Allied air force bases in south-east Italy where No 16 Squadron was based.

The diary ends early in 1945. After that, the only clues I have to Don's life come from the photographs he tookboth official photography of military operations and a few personal photographs of Italy - and from his official record. (These will be appear in the next issue of Military History Journal, Volume 16 No 4, December 2014).

Additional sources

Neil Orpen & H J Martin, Salute the Sappers (South African Forces in World War II Volume 8, Johannesburg: Sappers Association, 1982).
Neil Orpen & H J Martin, Eagles Victorious: The SAAF in Italy and the Mediterranean, 1943-1945 (South African Forces in World War II, Volume 6, Purnell, 1977).

Return to Journal Index OR Society's Home page

South African Military History Society / scribe@samilitaryhistory.org