The British strategy in the past year had been to keep driving the Boer commandos into the north-west Cape, while the bane of the British troops' lives was also having to escort convoys of supplies and fodder through enemy-held territory along roads under constant surveillance, to distant garrisons at Calvinia, Williston, Sutherland, Carnarvon and Fraserburg (Shearing, 2000, pp153-4).

The movement of Boers in the north-west Cape

As the British authorities were uncertain how far eastwards the Boer movement might extend, a force under Lieutenant-Colonel EMS Crabbe was sent from Piquetberg Road to Beaufort West. As these tactics became operational in mid-January 1902, two British columns were ordered to the north and south of Crabbe's force: The first, under Lieutenant-Colonel C E Callwell, was ordered to Prince Albert Road and the other, under LieutenantColonel B Doran, was sent to Victoria Road. A Boer force was observed to be gathering in the region between Sutherland and Fraserburg. Commanded by Colonel D Haig, and based in Sutherland, Major F T Lund and Lieutenant-Colonel T Capper were ordered to carry out a converging movement northward from Sutherland. [See Table 1].
TABLE 1
[From Maurice, History of the War In South Africa. Volume IV, p 474)
Column
Mounted
troops
Infantry
Artillery
Machine
guns
Destination
Lt-Col CE Caldwell
350
0
2
3
Prince Albert Road
Lt-Col B Doran
385
0
2
3
Victoria Road
Lt-Col EMS Crabbe
500
80
2
1
Beaufort West
Lt-Col T Capper
530
18
2
1
Sutherland
Maj FT Lund
350
0
2
1
Sutherland
On 30 January 1902, one hundred men of the 4th Battalion, West Yorkshire Regiment under the command of Major H W G Crofton, in charge of a donkey convoy, accompanied by 50 men of the District Mounted Troops (DMTs), departed from Beaufort West for Fraserburg, 130 kilometres away. Since it was known that Boers were in the area, a column under Crabbe, comprising more than 495 troops, which had arrived in Beaufort West, was ordered by Major-General T E Stephenson to move in advance of the convoy. General Stephenson, who was subordinate to Lieutenant-General Sir J D P French, the overall commander of mobile columns in the Cape Colony, was based in Clanwilliam. [See Table 2].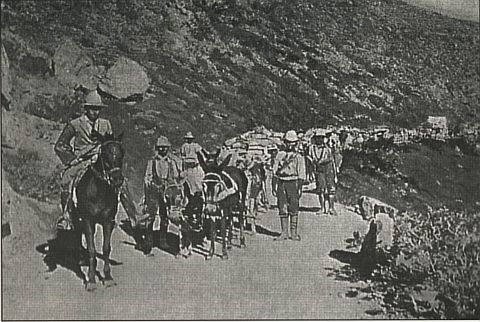 Mule convoy en route to Fraserburg, having departed from Beaufort West in the Nuweveld Mountains (Source: After Pretoria, Volume 2)
TABLE 2
[From L S Amery (ed), The Times History of the War In South Africa, Volume 5, P546]
Unit
Men
Notes
16th Lancers
122
Guards Mounted Infantry
114
Drawn from Grenadier Guards, Coldstream Guards, Irish Guards
Imperial Yeomanry:
132
4th Bn, 104th Company
24th Bn, 94th Company
South African Irregular Mounted Force
39
Cape Medical Staff Corps
10
Royal Fusiliers
78
88th Battery Royal Field Artillery (2 guns)
Not specified
Attacked on 1 February, Crabbe's force repulsed the Boers and then camped the night at Rietfontein [See Map 2]. Advancing the next day, his force was attacked again and, finding that he was unable to advance further, he camped that night at Waterval, having suffered 21 casualties.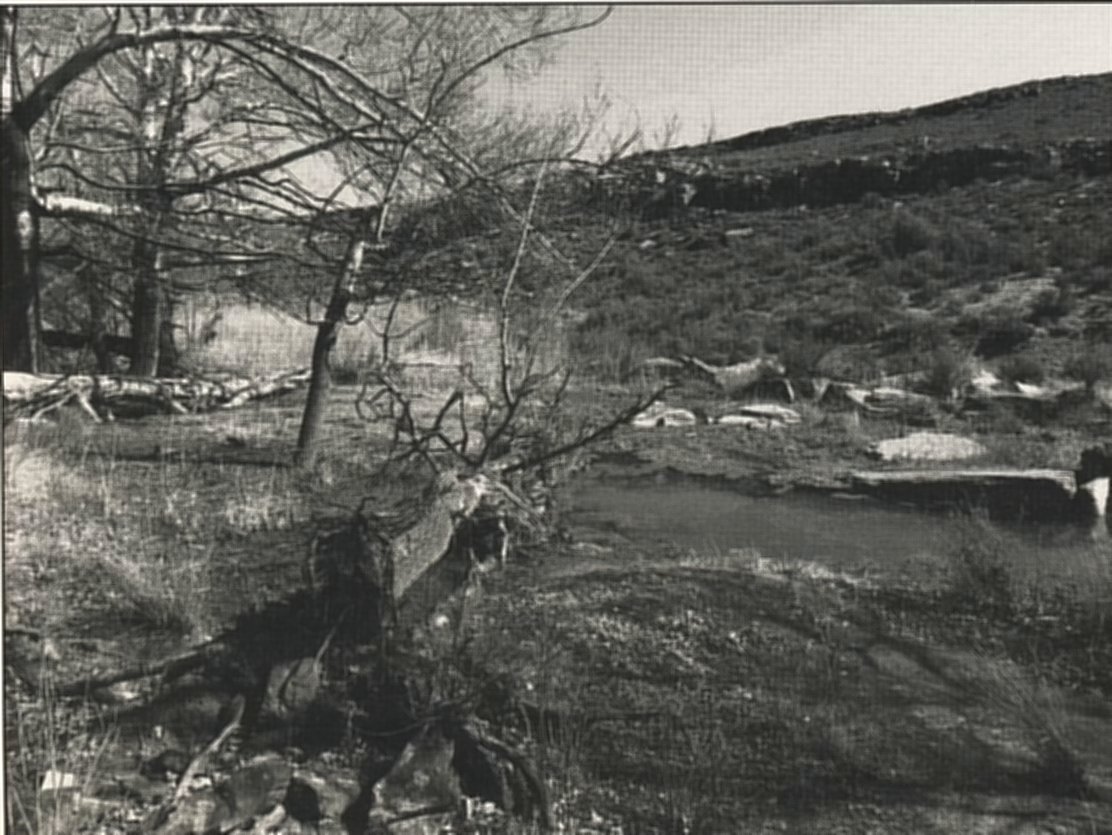 The Sak River, near the site where Crabbe's force rested on 2 February 1902
(Photo: Reho Lerische)

Soon after midnight, Crabbe filtered through the Boer lines and returned to Rietfontein at 06:00 on 3 February. He then ordered an ambulance wagon into the Boer lines, requesting permission for the wounded to proceed to Fraserburg. According to [General Wynand] Malan, Crabbe took advantage of this special request to send military reports in the company of a doctor. Upon receipt of these in Sutherland, British reinforcements under Capper and Lund hastened to the scene (Pieterse, 1946, pp 295-6). The Times History of the War in South Africa gives a different view: 'Malan, however, made a mistake. Having captured a British doctor the previous day [3 February], he had sent him through with the British wounded to Fraserburg, Crabbe's danger being thus made known. Capper and Lund, who were at Sutherland, marched rapidly to his assistance and, on the evening of the 4th [February], relieved all pressure'.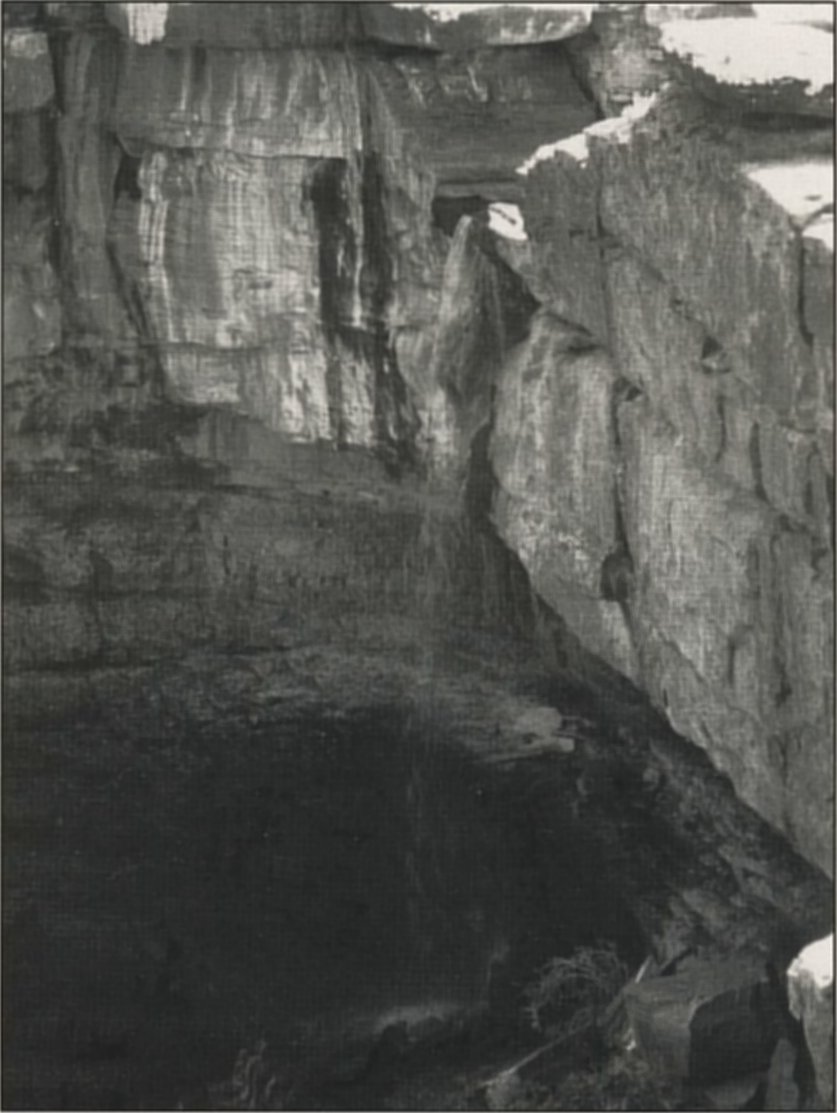 The waterfall on the Sak River, near to the spot where Col Crabbe
rested on 2 February 1902 and left a force of 200 men
during the fight with Malan's men on 5 February 1902
(Photo: Reho Lerische)
Uitspanfontein/De Pannen
Some 23 km south-east is Uitspanfontein, which was occupied by Crofton's force. Messages from Crofton reached Crabbe on 3 and 4 February, reporting that the convoy was safe. At 06:00 on 5 February, Crabbe, leaving a detachment at Waterval, advanced with 200 men on Uitspanfontein and found Crofton's force captured and Crofton killed. According to the Times History, '[t]he truth seems to have been [that] on the 3rd and 4th [February], Crofton had been pinned down by a demonstration. Leaving a screen imposed upon him, Malan with Hugo, van Reenen and Pypers had hurried back to join Smith in attacking the donkey convoy' (Amery, 1907, pp 547-8; Maurice, 1910, p 456).
By 3 February, Crofton's force had occupied two koppies on a lozenge-shaped hill at Uitspanfontein, on which sangars were constructed and food and water taken up to each. The 63 wagons were parked at the foot while, nearby, a kraal held the donkeys. [See sketch by Smith]. During the afternoon a small force of DMTs was sent out to reconnoitre, but failed to return. Later, some Boers advanced on the British position and were at once fired upon at a range of 900 yards [810 metres]. This action lasted about one hour. Fearing an imminent attack, Crofton's men were ordered to make each sangar more secure.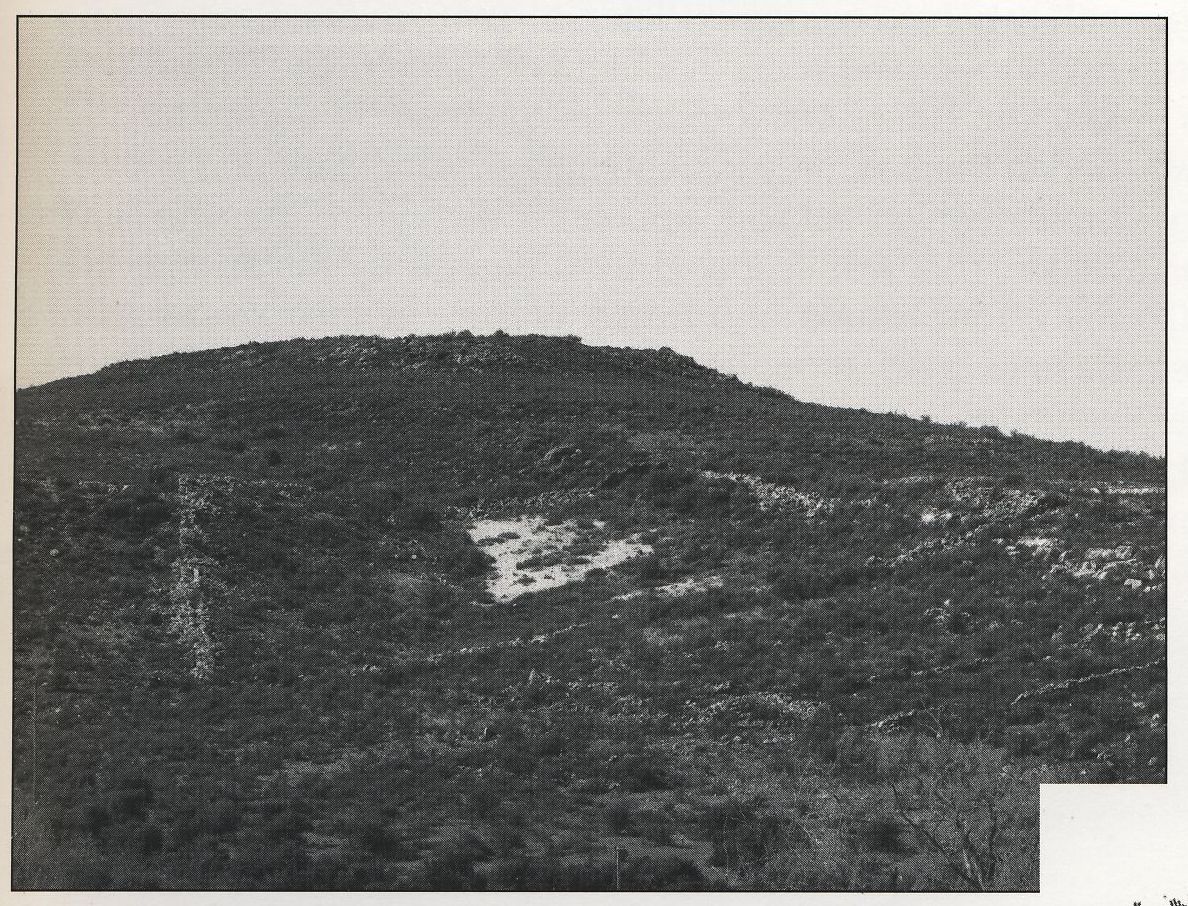 Stone kraal under Uitspanfontein koppie,
where the supply wagons of Crofton's force were parked
(Photo: Reho Lerische)
Meanwhile, the Boers had not been idle. Their scouts reported Crofton's position. On the evening of 4 February, the Boer commander, General Wynand Malan, called upon his 80 men to prepare to attack. Cmdt Smith (1939, P 106) relates that they received a directive to go forward and to ensure that nobody was to go astray, no noise was to be made and there was to be no striking of matches. No mention was made of their destination and the task that lay ahead.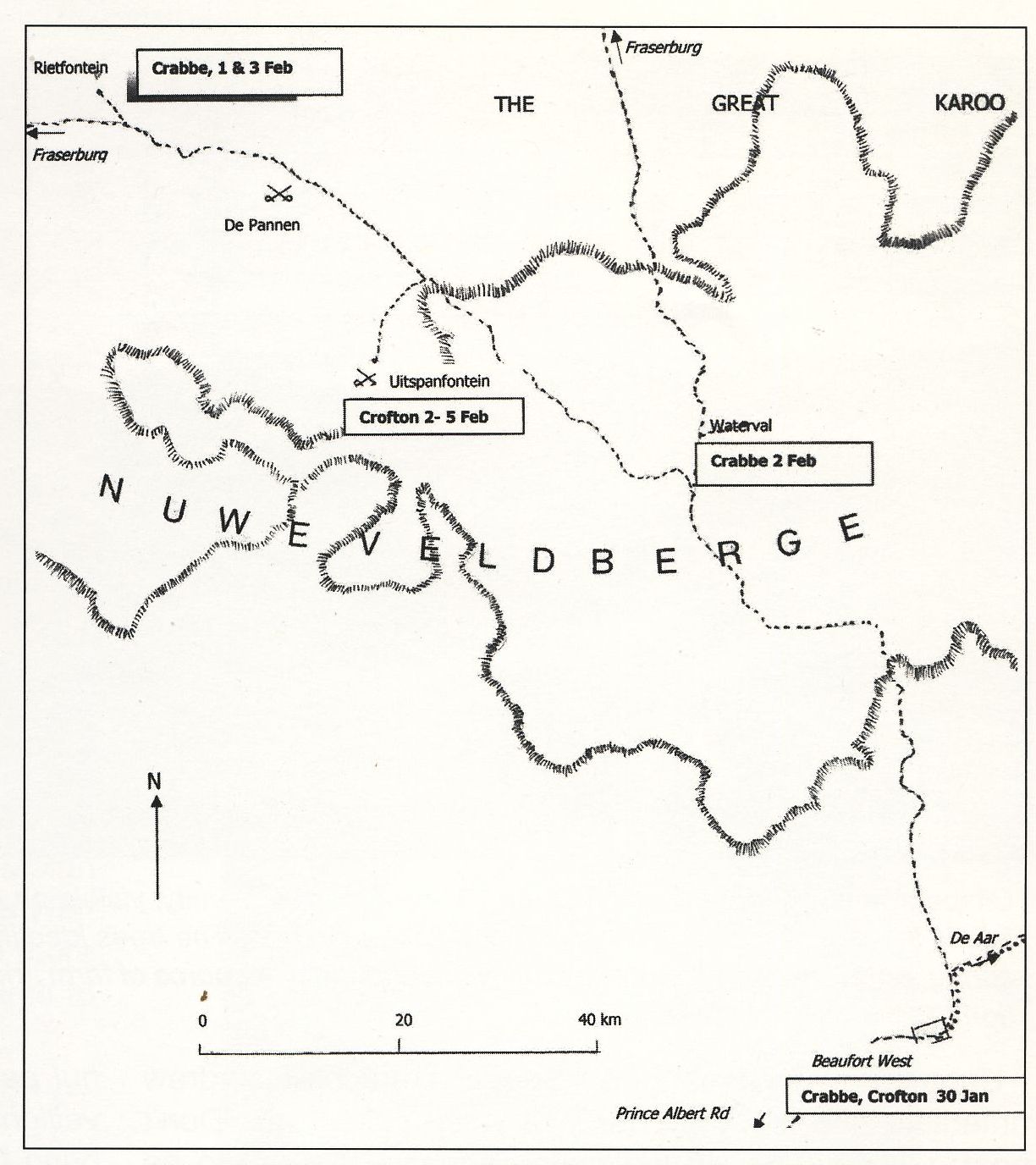 Map 2: Uitspanfontein & De Pannen (adapted from a map
by the Government Printer, 3122 Victoria West, 3222 Beaufort West, 1988)
The Boer force advanced on Uitspanfontein. By 21:00, they had passed by two stone walls leading to a farmstead, 50 metres beyond which they came into contact with Crofton's men posted forward of the main position. Shortly afterwards, a voice called out, 'Here they are!' The Boers immediately shouted back, 'Hens op, hens opt' ('Hands up, hands up!') Someone called out: 'Hey, you rascals, you are sitting there for nothing; the horses in the kraal are mine'. At about midnight, a heavy rifle fire was directed on to the koppies; one of the attacking forces being led by Smith and the other by Cmdt Hugo, while the neighing of the donkeys added to the din. To shouts of 'Storm! Storm!' the Boers charged up to the British position. Small groups on both sides became engaged in close combat, the Boers capturing each sangar in turn. The 4th Battalion West Yorkshire Digest (p 51) offers a vivid description of what ensued: 'The firing got hotter and closer-the night was pitch dark and it was impossible to see or gauge the direction it came from. There was such a noise that it was impossible to tell what each sangar was doing, but as the noise gradually got less, it soon became evident to the occupants of the sangar that each was being captured in detail and so it turned out, each was stoutly defended ... The Boers had to get on top of the wall of each and make use of revolvers and the butt end of their rifles'.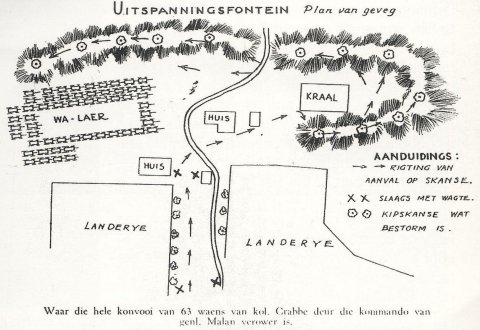 Smith's sketch of Uitspanfontein (Source: Smith, Ek Rebelleer)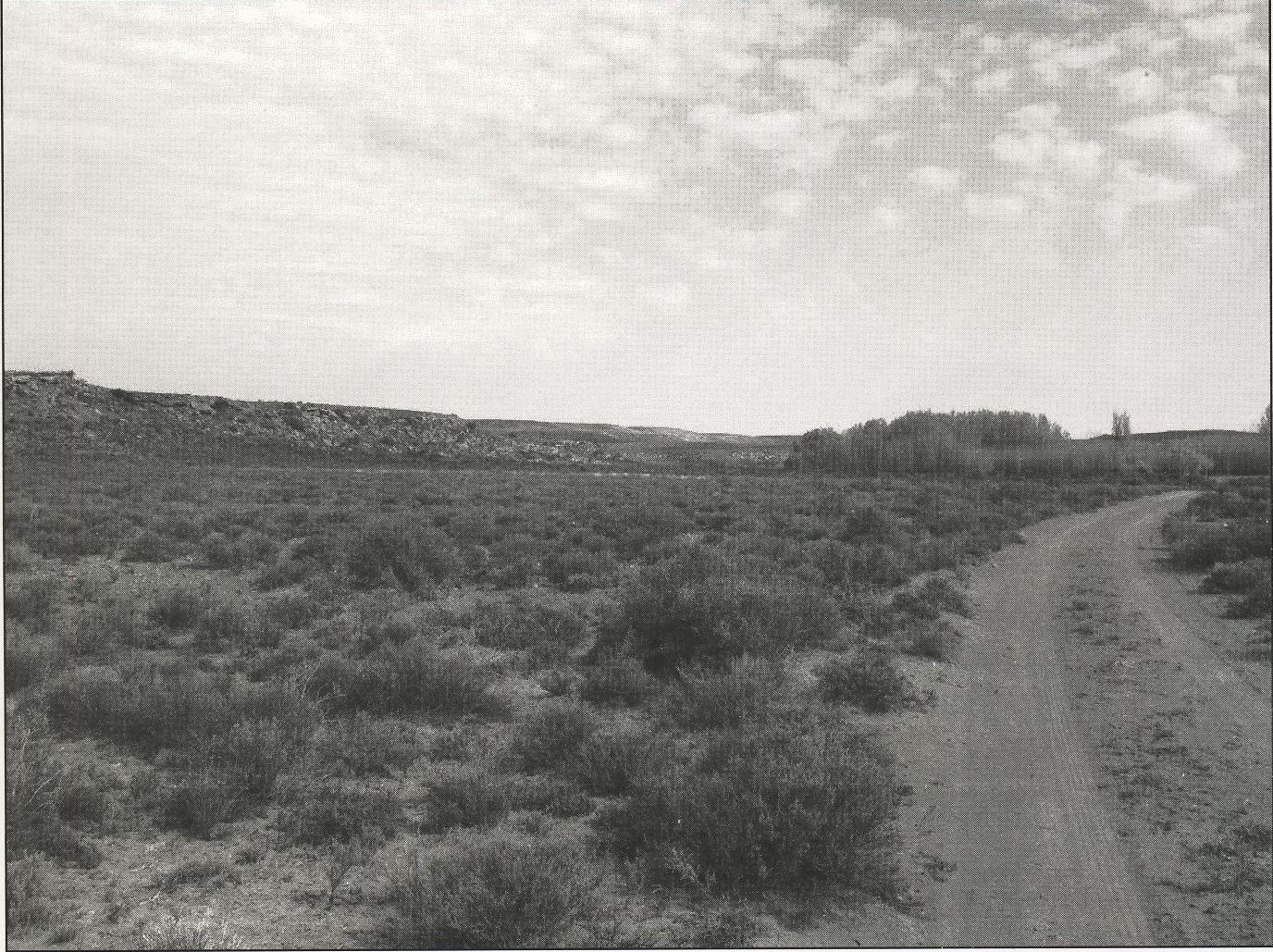 Uitspanfontein Koppie, looking south. The western extremity, visible on the left,
is the site of the sangar occupied by Major Crofton. The trees identify a spring,
once a watering place for travellers and today a source of farm irrigation.
(Photo: Reho Lerische)
Upon occupying a sangar, a Boer lit a match which drew immediate rifle fire. Suddenly, a voice called out: 'Don't shoot; you'll kill us.' In the main sangar - the last to be captured - were Major Crofton and nineteen men. The Digest continues: ' ... the Boers rush[ed] in and fir[ed] over the sangar wall. Major Crofton, seeing that further resistance was useless, stood up and said, "You have done well, lads. It's all over now. Hold up your hands", [then] the poor fellow fell dead, shot through the head. Our men continued firing until the Boers fell upon them and seized their rifles. Poor Crofton had been hit about two hours previously, but [had] said little or nothing about his wound. Our casualties are recorded, but it is impossible to say how many Boers were killed or wounded-some graves were seen after the fight, but the Boer commandants would not say how many men they [had] lost'.
Some British surrendered; others offered resistance. With the approach of daylight, the Boers collected their prisoners and marched them to a farmstead, singing the 'Volkslied'. Many of the British wounded suffered from injuries caused by rock splinters as a result of bullets hitting the rocks. Cmdt Hugo, in conversation with a British officer remarked that' ... [the Boers] had been waiting for the convoy and meant capturing it at all costs. A stout resistance was made and it was as good a fight as he had been in during the last two years, but there was not much resistance offered on the part of the DMTs' (Digest, 1902, p 51; Smith, 1939, pp107-9). The Boers then commandeered the horses from a stone kraal and wagons containing animal feed, ammunition, liquor and war provisions, three of which were detached for use to despatch the British wounded to Beaufort West (Smith, 1939, pp 112-3).
Later that day a large dust clouded heralded the arrival of Crabbe's column. With the wagons safely in their hands and with little time available to taste the fruits of-their labours, the Boers encountered Crabbe's force on a wide front. Crabbe's men beat off two charges but not before engaging in hand-to-hand combat during which the Boers tackled some soldiers, dragging them from their mounts. The Boers, realising that there was little time available to take captives, rendered the British impotent instead by removing their rifle bolts. The British then withdrew, leaving some dead and riderless horses roaming the plain (Pieterse, 1946, p 290; Smith, 1939, p 114).
The Boers followed up their success. Coming under rifle fire from a stone kraal, a charge at their quarry forced the occupants to surrender. The Boers continued to advance for some ten kilometres, eventually coming under artillery fire, but not before the captured convoy became the target of the British artillery. Malan surmised: ' ... blykbaar in die hoop dat hulle dit tot stilstand bring, dog hierdie taktiek het gedien om die donkies hul pas laat versnel, sodat die konvooi gou agter 'n bult veiligheid bereik het.' (They did so apparently hoping to bring [the convoy] to a halt, yet this tactic only served to accelerate the pace of the mules bringing the convoy to safety behind a ridge') (Pieterse, 1946, p 290; Smith, 1939, p 114). Coming within shouting distance of the British artillery, the Boers called upon the gunners to surrender. Ignoring the call, they instead sought sanctuary of a koppie, behind which soldiers opened a heavy fire into the Boer ranks. This was followed by a charge by Malan and two men, Piet Naude and Eddie Wilson. In their over-eagerness to bring about the capture of the artillery, Malan was wounded in the hip. Naude volunteered to rescue his commander by removing him from the line of fire and Wilson was left facing the artillerymen. Wilson's horse was shot from under him and he found himself standing and firing at the enemy as fast as he could. He survived the ordeal and, with ammunition nearly depleted, he left the battle terrain as fast as his legs could carry him to safety. Malan takes up the story: 'Hulle het eers probeer om ons bedreiging te verydel deur ons onder skroot te steek, maar dit was tervergeefs. Toe hulle omswaai word ons geweervuur op hulle verskerp.' (They first tried to frustrate our threat by firing grapeshot, but it was in vain. When they turned around, we intensified our rifle fire upon them.') The Times History (1907, p 548) records that '[s]pecial praise is due to Lieutenant R H Ayton and the gunners of the 88th Battery, who, with scarcely any support, had covered the retreat in gallant style.'
Emboldened by the arrival of Capper and Lund's forces, Crabbe went onto the offensive to attack a group of Boers in a defile. Driven from their position, the Boers, with Malan out of action, then abandoned the terrain. The Times History stated that ' ... [t]he column beat a retreat; once more Capper and Lund were sent for and arrived just in time to avert a disaster'.
TABLE 3: UITSPANFONTEIN LIST OF CASUALTIES
REGT NO
RANK
NAME
INITIALS
REGIMENT
CASUALTY
PLACE
DATE INTERRED
536
PTE
BYRNES
J
IRISH GUARDS,1
DOW
UITSPANFONTEIN + BEAUFORT WEST
13-02-1902
BEAUFORT WEST, THOMSON ST
438
PTE
CAIRNS
TJ
IRISH GUARDS,1
KIA
UITSPANFONTEIN
05-02-1902
UITSPANFONTEIN, DE PANNEN
37869
PTE
CLARKE
CE
SOUTH AFRICAN MTD IRR FORCES
KIA
UITSPANFONTEIN
05-02-1902
UITSPANFONTEIN, DE PANNEN
MAJOR
CROFTON
HWG
EAST SURREY,3
KIA
UITSPANFONTEIN
05-02-1902
BEAUFORT WEST, BLYTH ST
4368
PTE
CROOKS
W
WEST YORKSHIRE,4
DOW
UITSPANFONTEIN + UK, NETLEY
16-07-1902
UK,SOUTHAMPTON,NETLEY
8867
PTE
DREW
A
GRENADIER GUARDS,X
KIA
UITSPANFONTEIN
05-02-1902
UITSPANFONTEIN, DE PANNEN
38157
TPR
HANNAH
C
BRABANTS HORSE
DOW
UITSPANFONTEIN
05-05-1902
UITSPANFONTEIN, DE PANNEN
446
PTE
MacDERMOTT
J
IRISH GUARDS,1
KIA
UITSPANFONTEIN
05-02-1902
UITSPANFONTEIN, DE PANNEN
8388
PTE
PENNELL
WJ
GRENADIER GUARDS,X
KIA
UITSPANFONTEIN
05-02-1902
UITSPANFONTEIN, DE PANNEN
444
PTE
PRENDERGAST
E
IRISH GUARDS,1
KIA
UITSPANFONTEIN
05-02-1902
UITSPANFONTEIN, DE PANNEN
8889
PTE
ROBINSON
S
GRENADIER GUARDS,X
KIA
UITSPANFONTEIN
05-02-1902
UITSPANFONTEIN, DE PANNEN
9526
PTE
SEABROOK
EW
GRENADIER GUARDS,X
KIA
UITSPANFONTEIN
05-02-1902
UITSPANFONTEIN, DE PANNEN
Aftermath
No mention is made of the Boer losses either by English or Afrikaans sources. According to Malan (Pieterse, 1946, p 297), the losses of the enemy were altogether 400 killed, wounded or captured, but the Times History (1907, p 548) records the British casualties more accurately as '[e]leven of the rank and file ... killed, two officers and 39 men ... wounded and the rest ... prisoners'. Examining these results, the author concludes that twelve men were killed or fatally wounded and 27 wounded. (See Table 3).
All captives were released by 5 or 6 February. The only reference to Boer dead is mentioned in the Digest (1902, p 51): 'Our casualties [ie British] are recorded, but it is impossible to say how many Boers were killed or wounded - some graves were seen after the fight, but the Boer commandants would not say how many men they [had] lost.'
About the outcome of the engagement, the Digest states that '[t]here is little or no doubt that our position [at Uitspanfontein] was much too extensive - there was no mutual support - it was impossible to control the expenditure of ammunition and, owing to the number and isolation of the sangars, the resistance offered was not sufficient to check the Boers - it was quite impossible for the occupants of one sangar to tell what their friends in the neighbouring sangars were doing'. Concluding remarks in the Times History (1907, p 548) are that '[t]he whole of this unfortunate expedition was badly conducted; but the truth is that, under the existing circumstances, it was a blunder on Stephenson's part to have sent it out at all.' After the action, records the Digest (1902, p 51), 'Captains Constable, Ellis and our men [of the 4th Bn West Yorkshire Regt] had to come into Beaufort West from Octspanfontein [sic] where they were liberated the best way they could, arriving in a dilapidated condition, many of them minus their boots and clothes, the Burghers naturally helping themselves to what they wanted'. For the next three weeks, the Boers, joined by men from other units, engaged themselves in collecting booty, the empty wagons then being set alight and the draught animals cast free.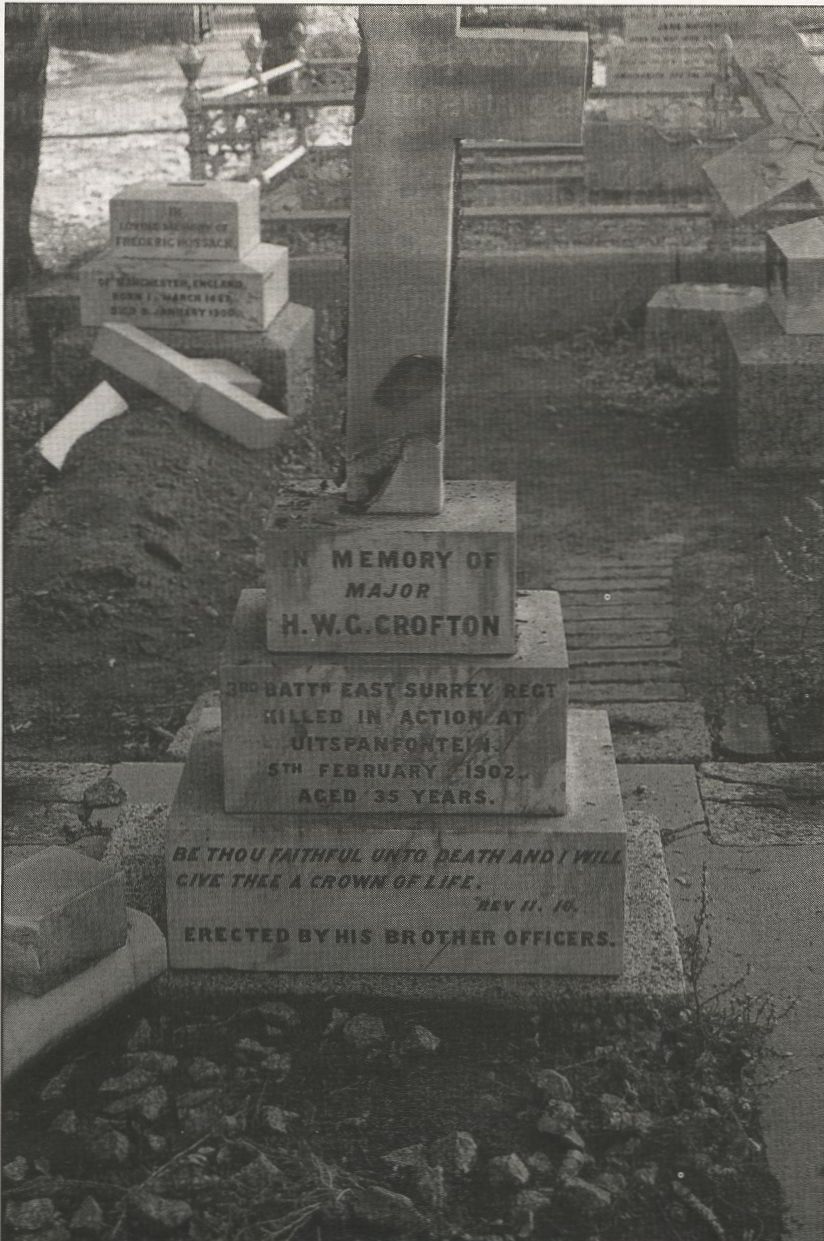 The grave of Major H W C Crofton, Beaufort West
The Site Today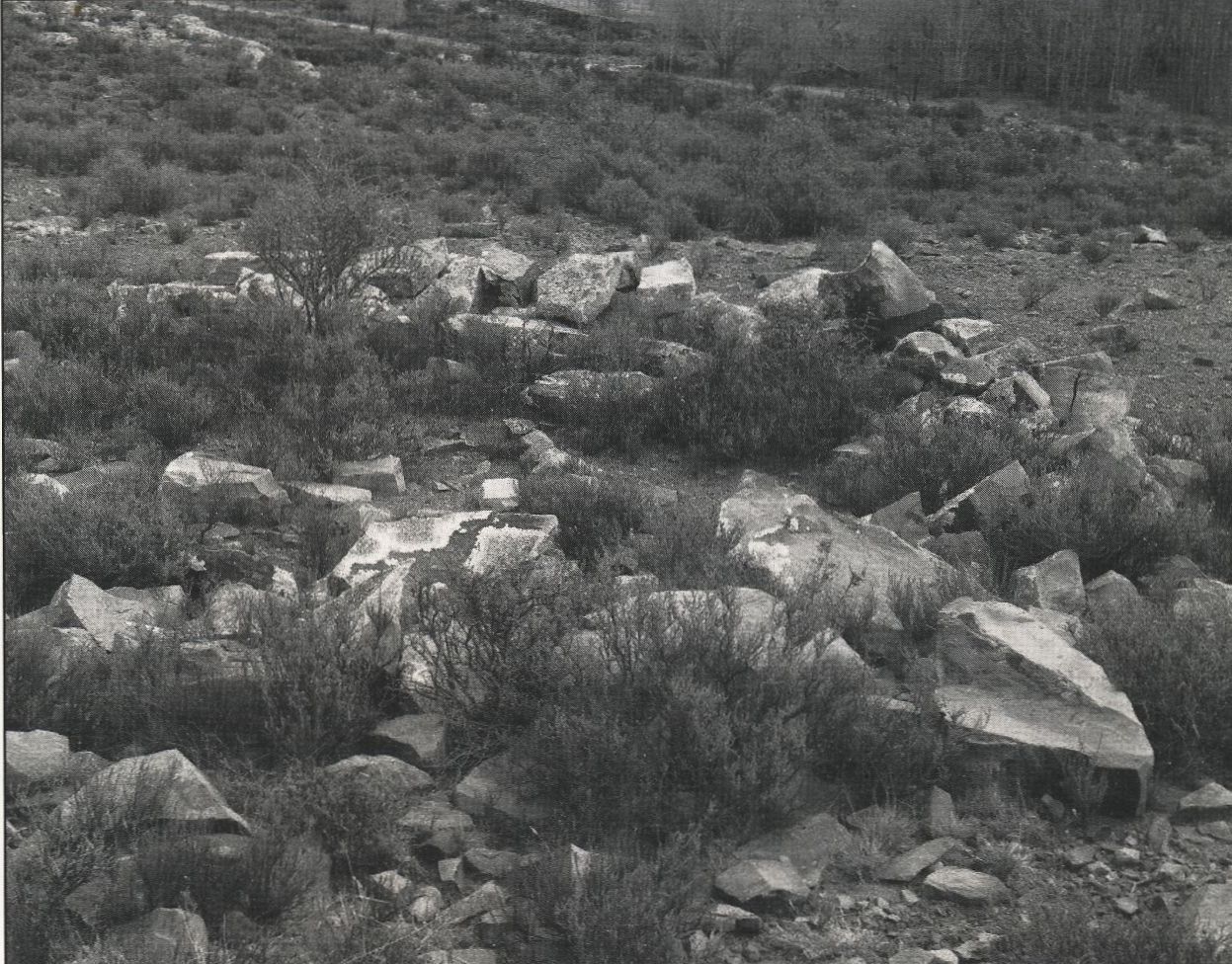 One of several circular stone sangars on the Uitspanfontien Koppie;
this one is near the western extremity in which Major Crofton was killed
(Photo: Reho Lerische)
Traces of the skirmish that took place at Uitspanfontein can be found today. On the high ground, the remains of the sangars are still there. Some ten kilometres away is the farm, De Pannen. At this windswept place with shallow pans, scalloped by the wind, is a mass grave containing nine soldiers identified by a memorial listing eleven names of Imperial soldiers who died at Uitspanfontein and De Pannen. Two of these soldiers are interred in Beaufort West. These are Major Crofton and Private Byrnes. Omitted from the memorial is Private W Crookes, who died of wounds in Britain five months after the battle. Two foreign nationals are buried at De Pannen. These are Private C E Clarke, a New Zealander, and Trooper C Hannah, from Australia. These casualties are recorded in Steve Watt, In Memoriam, published in 2000.
---
CRABBE, Eyre Macdonell Stewart (1852-1905)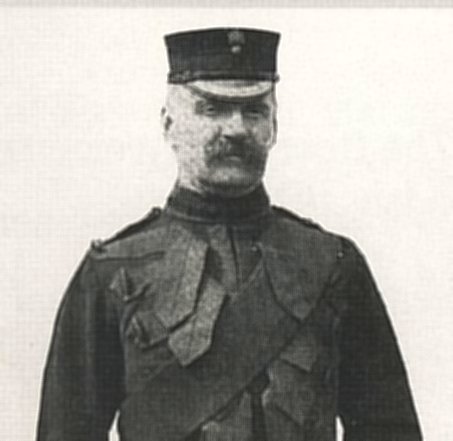 Born in 1852 and educated at the famous British school, Harrow, he joined the Grenadier Guards in 1871. He served in the Egyptian War (1882) and the Nile Expedition (1884-5). He came to South Africa as a lieutenant-colonel in the 3rd Battalion, Grenadier Guards. In command of his battalion, he was wounded at Belmont (23 November 1899) and again, this time severely, at Glen (23 March 1900). Given a command of a mobile column, he led a force which, together with others, attempted to contain the Boers under General C R de Wet during their invasion of the Cape Colony Crabbe had a confrontation, but could not prevent the Boers entering Philipstown (12 February 1901). He was unsuccessful in an attempt, while on an armoured train, to effect the capture of the Boer leader.
Crabbe was engaged along the Orange River whose force, with others, thwarted the Boers in their invasion, leading to their withdrawal across the Orange River. Given the command of 520 men, Crabbe's column joined others in the pursuit of Commandant P H Kritzinger in the northern Cape near Steynsburg, then Tarkastad, and later near Cradock (March-July 1901). He came into direct contact with Kritzinger at Zwagershoek, where he lost 200 horses (June 1901), after which he retired to Mortimer. His column, with six others, came into contact with Kritzinger near Venterstad, which led to the eviction of the Boer leader from the Cape Colony (August 1901). Whilst stationed in Beaufort West, Crabbe was in contact with a force under Commandant Pypers who headed towards Prince Albert where he was joined by General J C Smuts. He came into contact, then attacked, Commandant Gideon Scheepers (9 September 1901) at Driefontein, an action in which Assistant-Commandant Piet van der Merwe was killed. Both Lt-Gen F D P French and Lord Kitchener telegraphed Crabbe informing him of their appreciation of his exploit.
Further westward, Crabbe came into contact the Boers under Commandant Manie Maritz and Commandant J Theron in the Great Berg River near Malmesbury (November 1901). He was to remain in this region. Given the command to protect a fifty-wagon convoy en route from Clan william to Calvinia, his men successfully repelled three attacks on it (20 and 22 December 1901). As there was uncertainty about the eastward movement of Boer units in the north-west Cape, Crabbe's force was railed from Piquetberg Road to Beaufort West. Given the command to protect a convoy from Beaufort West to Fraserburg, Crabbe was attacked before and after the loss of the convoy at Uitspanfontein (5 February 1902). In his last venture of the war, Crabbe's column, together with three others, launched a 'drive' and cleared the Boers along the front Williston---Carnarvon---Victoria West during which Commandant Henry Hugo was killed. Crabbe died with the rank of brigadier-general at Aldershot, England in 1905.
---
MALAN, Wynand Charl (1872-1953)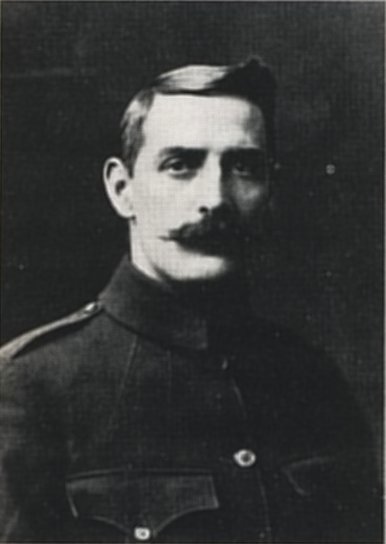 Born in the Murraysburg district, Charl Wynand Malan received his schooling at French Hoek and moved with his parents to Langlaagte near Johannesburg. His participation in the war against Mphephu in 1898 earned him citizenship of the Transvaal Republic.
At the outbreak of the Anglo-Boer War; Malan, with the Fordsburg Commando, invaded Natal, accompanying General D J E Erasmus. He took part in the advance into southern Natal under CommandantGeneral P J Joubert. He was with the Pretoria Commando in the Boer attack on Spioenkop (24 January 1900). Later; with the Krugersdorp Commando, he saw action in the Thukela Heights (February 1900). After the Boer siege of Ladysmith was raised (28 February 1900), Malan quit the Natal theatre and joined the Free State Boers in their attempt to stem the British advance under Lord Roberts from Bloemfontein. From July to August 1900 he was a burgher of the Free State Artillery which retreated across the Vaal River.
When the scouts were reorganised after the death of Danie Theron (5 September 1900), Malan was appointed as a lieutenant serving under General C R de Wet. He took part in the battle of Frederikstad Station (21-25 October 1900) and was active in De Wet's first attempt to invade the Cape Colony in December 1900. When the second invasion was attempted, Malan reconnoitred a route into the Colony and occupied Philipstown (12 February 1901), after which the main Boer force was compelled to retreat across the Orange River. Having been in a skirmish at Hamelsfontein, Malan and 24 men were cut off from the main Boer force and were obliged to advance further southwards into the Cape midlands. He encountered small enemy units while evading larger mobile columns and saw action in the districts of Aberdeen and Graaff-Reinet. Attached at times to the commandos of Gideon Scheepers and W D Fouche, Malan was engaged in destroying enemy communications, compelling them to strengthen their forces in the Colony.
In June 1901, he withstood the attempts by Colonel H J Scobell to curb his activities in the district of Cradock and ventured to attack Richmond (25 June 1901). He also encouraged rebellion amongst the fighting Boers by sending Manie Maritz (later General) to the north-west Cape. After consultations with President M T Steyn and General de Wet, Malan returned to the Cape Colony where he met General J C Smuts towards the end of September 1901. Smuts took over and reorganised the Cape Boer forces. Malan was given the command of a Boer force with the rank of Combat-General. After the skirmish at Tontelboschkolk (30 November 1901), he was returning to the Fraserburg district when he became engaged with a column under Colonel Crabbe at Uitspanfontein. Although wounded, Malan was successful in the capture of a British convoy of supplies.
On 27 May 1902, Malan attacked Aberdeen. The British garrison in the town was lying in wait for him and his men. Their objective was to commandeer horses, of which 54 were eventually captured. Commandant Carel van Heerden was killed and Malan was severely wounded, as were several other burghers. He was admitted to a British hospital just three days before the termination of hostilities. He later recovered and was eventually released.
In the first years after the war, Malan farmed in the Murraysburg district. After his marriage in 1906, he moved with his wife, father and relatives to German East Africa, where he commenced farming practices under Mt Kilimanjaro. During the First World War; he was interned by the German authorities but resumed farming after the war; becoming a respected leader in his neighbourhood and a councillor in the activities of his church. In 1938 he revisited South Africa for the first time and met H J C Pieterse who was to write Oorlogsavonture for him. Malan died in Tanganyika in 1953.
---
Acknowledgements
The author wishes to thank:
Dr Arnold van Dyk for his grateful assistance for providing access to Uitspanfontein, De Pannen and Beaufort West;
Ms Alida Vermeulen for her effort in contacting interested parties in the Uitspanfontein district prior to the author's visit;
Mr Jan Hoon and Mr George who guided the author to Uitspanfontein and De Pannen;
Reho Lerische who, on the author's behalf, visited Uitspanfontein, Waterval and the Sak River when time did not permit him to do so.
Bibliography
Amery, L S, (Ed), The Times History of the War in South Africa, 1900-1902 Volume V (london, 1907).
Dictionary of South African Biography, Volume III (Pretoria, 1976).
Digest of Services: West Yorkshire Regiment, 4th Battalion (PWO) (The Old Leeds Militia, circa 1902).
Grobler, J E H, The War Reporter: The Anglo-Boer War Through the Eyes of the Burghers (Johannesburg and Cape Town, Reprint 2011).
Maurice, Captain Grant, Harold, History of the War in South Africa 1899-1902, Volume IV (London, 1910).
Pieterse, H J C, Oorlogsavonture van Generaal Wynand Malan (Nasionale Pers, Cape Town, 1946).
Shearing, Taffy and David, General Smuts and his long ride, (Sedgefield, 2000).
Smith, T T, Ek Rebelleer (Nasionale Pers, Cape Town, 1939).
[The] South African War Casualty Roll (Suffolk, England, 1982).
Watt, Steve: In Memoriam: Roll of Honour, Imperial Forces, Anglo-Boer War, 1899-1902 (University of Natal Press, Pietermaritzburg, 2000).
---
THE DE PANNEN MEMORIAL
On the plinth of a marble cross is the following inscription:

SACRED TO THE MEMORY OF
THE FOLLOWING MEN OF THE FIRST COMPANY
BRIGADE OF GUARDS MOUNTED INFANTRY
WHO GAVE THEIR LIVES FOR THEIR KING AND COUNTRY
5TH FEBRUARY 1902
On a plaque at the foot of the plinth are recorded the names:
Major H W G Crofton, 3rd East Surrey Regt
Interred at Beaufort West
and
Pte C Hannah, SA Mounted Irregular Forces
Killed in Action
On side two:
GRENADIER GUARDS
No 8867 Private A Drew
No 8388 W Pennell
No 9256 G Seabrook
No 8899 S Robinson
On side three:
GREATER LOVE HATH NO MAN THAN THIS
THAT A MAN LAY DOWN HIS LIFE FOR HIS FRIENDS
JOHN XV 13
On side four:
IRISH GUARDS
No 444 Private E Prendergast
No 438 J Cairns
No 460 J McDermott
and
No 536 Private J Byrne who died of wounds at Beaufort West
Trooper Clarke, Brabant's Horse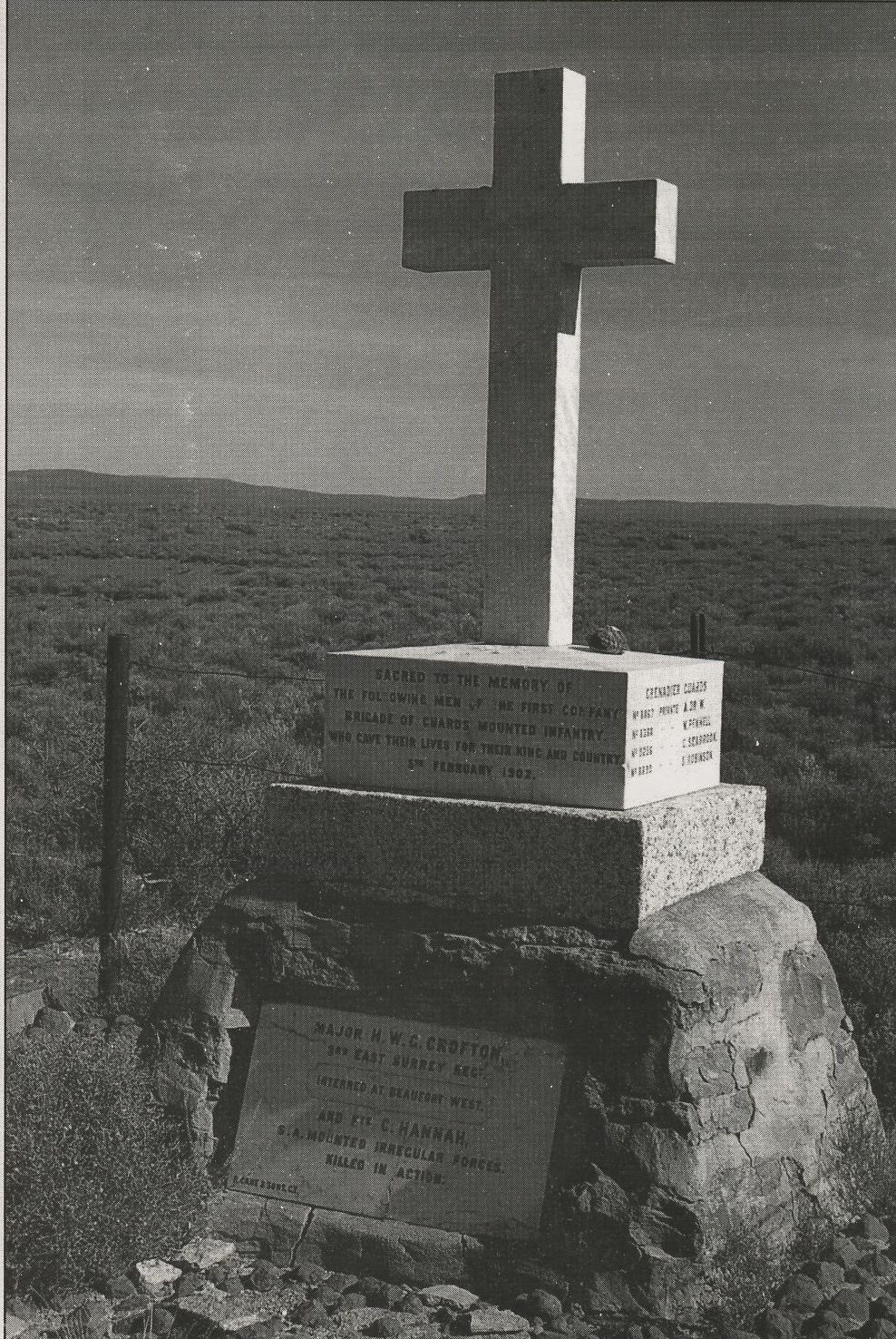 Mass grave, De Pannen, identified by this marker
---
Return to Journal Index OR Society's Home page

South African Military History Society / scribe@samilitaryhistory.org