The South African
Military History Society


---

Die Suid-Afrikaanse Krygshistoriese Vereniging
---
Military History Journal
Vol 16 No 1 - June 2013
SOUTH AFRICAN PEACEKEEPING, 1994-2012
By David Rilley-Harris, Ditsong: National Museum of Military History
Introduction
The success of South Africa's transition to democracy had raised hopes for improved African peacekeeping. The United Nations (UN) was struggling to achieve its goals in Africa, and attempts to forge cooperation between African states in continental peacekeeping were advancing slowly, if at all. South Africa's regional hegemony was no longer reserved for Cold War strategy and preserving Apartheid and could potentially be applied to more affordable (locally based) methods of peacekeeping in Africa.
Some of the success of South Africa's transition was due to the rapidly integrated and trained military personnel who kept the peace in their home country. The National Peacekeeping Force (NPKF) was trained to oversee South Africa's first democratic election in 1994, and incorporated Umkhonto we Sizwe (MK), the Transkei Defence Force, and the South African Defence Force (SADF), as well as other homeland forces. Much domestic peacekeeping was also carried out by the SADF in its own right. The soldiers had to learn quickly to work together and were being trained in new drills and doctrines drawn from police and peacekeeping forces worldwide. Where the soldiers were properly supported, they served well (Paratus, April 1994, pp 20-21). Some were injured in their work, a few were killed, but their efforts laid the groundwork of a promising future for South African peacekeeping.
While South Africa overcame its own immediate challenges, elsewhere in Africa the end of the Cold War introduced the more classical paradigm of a massive shift in power. Military conflicts began to overwhelm the United Nations (UN) peacekeeping forces, and the Organisation of African Unity (OAU) was in no position to take over the challenge. Between 1990 and 1994, the cost of UN peacekeeping missions in Africa increased six-fold (Prof T G Neethling, 2008). South Africa's transition and accompanying international acclaim revived the hope for a future where Africa would have its own effective peacekeeping force.
United Nations' peacekeeping efforts in Africa did not survive in their original form. Having weakened for the remainder of the twentieth century, African peacekeeping began to recover with African states taking on greater responsibility. By 2001, the top ten contributors to African peacekeeping included Ghana, Nigeria, and Kenya (Neethling, 2008) . South Africa initially only sent a few officers where needed, but the South African contribution has steadily increased to the point where the country has now been involved in and, on occasion, led peacekeeping missions in the Democratic Republic of Congo, Burundi, the Ivory Coast, Liberia, the Comoros, Mozambique, Sudan, and the Central African Republic.
Peacekeeping operations
In October 1998, the South African Cabinet approved the White Paper on South African Participation in International Peace Missions. Space was made to advertise ideals around African renaissance and altruism, but the White Paper was also clear in describing the common worldwide drive behind peacekeeping. Foreign policy responsibilities and national security were described as being supported by peacekeeping. The spill-over effects of foreign conflicts in their danger to South African security was mentioned along with the support that peacekeeping provides to trade and development (SA Soldier, August 2003). With a sizeable proportion of South African exports being bought within Africa, General Siphiwe Nyanda (then Chief of the South African National Defence Force [SANDF]) was able to refer to South Africa's' ... relatively speaking ... wealth of resources and capabilities to contribute ... ' to necessary peacekeeping (SA Soldier, August 2003). The crime spike which had followed liberation began to ebb and the SANDF soldiers who had been keeping peace within South Africa were becoming free to apply their skills abroad.
Early SANDF peacekeeping missions
South Africa's peacekeeping missions began with Operation Mistral in September 1999. In support of the United Nations in the Democratic Republic of Congo (DRC), South Africa sent little more than Col Hans Swart as a liaison officer. South African peacekeeping contributions advanced slowly and, after a decade, the country's presence in the DRC amounted to three military observers, twelve staff officers, and 1 200 troops ('Fourteen SA peace missions in 11 years', DefenceWeb, 2010). In Operation Espresso, which began in December 2000, South Africa was incorporated into the effort monitoring Ethiopia and Eritrea's compliance with their June 2000 peace agreement - the Algiers Peace Agreement brokered by the OAU. It was the more comprehensive version of this peace agreement, in December 2000, which saw South Africa's arrival. A lack of genuine commitment to the agreement and restrictions applied by Eritrea left South Africa unable to fulfil its mandate ('Fourteen SA peace missions in 11 years', DefenceWeb, 2010).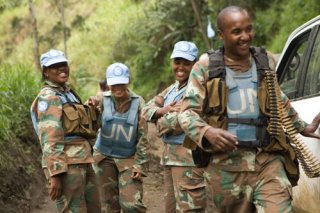 South African peacekeepers in the Democratic Republic of the Congo
(Photo: By courtesy, DefenceWeb)
Burundi
In Operation Fibre, South African peacekeepers were the first to deploy in Burundi and the last to leave. The Arusha Peace and Reconciliation Agreement of August 2000 led to between 600 and 700 South Africa peacekeepers being deployed in October 2001. Their main initial objective was to safeguard Burundi's politicians returning from exile (SA Soldier, October 2003, p14). Thereafter, two ceasefire agreements were signed, on 7 October and 2 December 2002 respectively. By this time the African Union (AU) had been successfully established and the idea of a multinational African peacekeeping force was being revived. In 2003, South Africa took on the role of lead nation in the African Mission in Burundi (AMIB) which became South Africa's first fully fledged AU peacekeeping mission (Neethling, 2008). Ethiopia assisted with support from the USA, and Mozambique assisted with support from the United Kingdom. AMIB was tasked with monitoring and verifying the ceasefire, and supporting further progress. Specifically, the mandate included maintaining contact between the rival parties, identifying and securing assembly and disengagement areas, providing continued VIP protection, and facilitating humanitarian aid delivery, disarmament, demobilisation, and reintegration of the Burundi police and military forces (SA Soldier, October 2003, p14). The mission was a partial success for which South Africa paid US$140 million to sustain its troops and provide logistical support (SA Soldier, October 2003, p14). Further success was achieved after the arrival of a larger UN force in June 2004. South Africa began to withdraw after Burundi's democratic elections in 2005. The South African Air Force (SAAF) withdrew in April 2006 and the South African Navy in October 2006. A VIP protection unit was still in Burundi the following year ('Fourteen SA peace missions in 11 years', DefenceWeb, 2010).
The Comores
Operations Triton 1 through 5 saw South African peacekeepers assisting in the Comoros between November 2001 and July 2007. Initially comprising Lt Col Charles Payne and five personnel, South Africa helped the OAU to collect weapons on the island of Anjouan. During April and May 2002, with nine military observers and nine communication technicians, South Africa helped oversee the elections. Between March and May 2004, SAAF fixed wing aircraft were employed in assisting South Africa's police training team and, by March 2006, South Africa had been asked to lead the continuing AU effort in the Comoros. Successful elections in June 2006 were assured by a surge of South African troops up to battalion size. Finally, South Africa provided administrative assistance during the Anjouan island elections in mid-2007 ('Fourteen SA peace missions in 11 years', DefenceWeb, 2010).
Later missions in Africa
In Operation Amphibian, four South African and two UN officials oversaw the withdrawal of Rwandan troops from the ORC. The beginning of Operation Amphibian in August 2002 coincided with the South African presence in Sierre Leone where 149 South Africans were a part of a peacekeeping force which included Uruguay's 1 530 troops (SA Soldier, November 2002, p17). In Operation Sunray of late 2003, South African helicopters and ground personnel took part in European Union (EU) plans for peace enforcement in the ORC and, in Operation Montego, between October 2003 and January 2005, three South African staff officers supported the UN mission in Liberia ('Fourteen SA peace missions in 11 years', DefenceWeb, 2010).
Operation Cordite began in July 2004. South African staff officers and observers arrived in Darfur, the Sudan, in order to assist the international peacekeeping effort amidst Sudanese resistance to a purely UN presence (Neethling, 2008). South Africa followed up in February 2005 with an infantry protection company and an explosive ordnance disposal unit. In the beginning of 2008, the peacekeeping mission in the Sudan became the first AU/UN hybrid mission, making available a total of 26 000 troops. The UN requested that South Africa commit more troops, which she eventually did in November 2008, when the South African contingent comprised of eight military observers, seven staff officers, and 760 personnel ('Fourteen SA peace missions in 11 years', OefenceWeb, 2010). The peacekeeping mission in Darfur (UNAMID) became the largest peacekeeping mission in the world with African states taking on a greater proportion of responsibility. In 2008, Nigeria, Ghana, and Senegal were among the top ten contributors, while African states among the top 25 contributors included Ethiopia, Benin, Egypt, Morocco, Kenya, and South Africa. Despite the unprecedented commitment, the mission was inadequately supported, both logistically and by mandate. The peacekeepers were restricted to protecting civilians with force only' when the civilians were in their vicinity. Peacekeepers began taking casualties and the conflict grew (Neethling, 2008).
In early April 2010, four South African peacekeepers were kidnapped in the hope of bringing in a ransom of US$450 000. It was also in the Sudan that four Nigerian peacekeepers were killed in late 2012. Two weeks later, Private Vincent Mthuthuzeli van der Walt of the 10th South African Infantry Battalion was killed while Corporal Kabelo Ronald Sebe and Private Thabiso Sydwell Makhetha were injured in the same attack. The South African peacekeepers had received reports of violence in Hashaba and were en route from Kutum when they were ambushed. The South Africans managed to return fire, despite mortars falling on their convoy, and forced the attackers to flee (New Age, 19 October 2012, p1).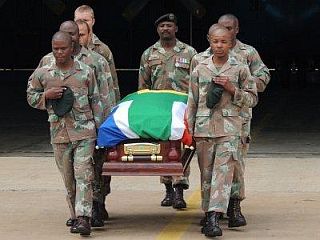 Bringing home the body of Pte Vincent Mthuthuzeli van der Walt,
killed in the Sudan during an ambush (Photo: By courtesy, Defence Web)
Within the next few months, in the DRC, a small detachment of South African peacekeepers found themselves temporarily cut off after the M23 rebels took Goma on 20 November 2012. About 300 South Africans from 121 South African Infantry Battalion remained among more than 1 000 peacekeepers in Goma who were attempting to keep the situation stable, patrolling tentatively alongside the conquering rebels. Of more than 20 000 peacekeepers currently in the DRC, South Africa contributes 800 who are stationed in the eastern region of the DRC where the fighting has occurred. As fear of an all-out war endures, the morale of the peacekeepers in the DRC is suffering. They are outgunned by the rebels, who use 120mm mortars and are said to be backed by tanks and artillery. As reported in The Times (21 November 2012, p1), the day after Goma fell to the rebels, a South African peacekeeper said: 'There is little we can do. We tried to do what we can but the fear is that if the M23s see us getting involved they will turn on the civilians ... for now it is about being polite and smiling and waving'. The M23 rebels were, within days, convinced to withdraw from Goma under a ceasefire agreement. The UN failure to hold back the rebels after repeated undecided battles came despite a peacekeeper presence of 17 500 troops from 50 countries. Two thousand additional troops have been arranged and the UN is seeking an agreement on a radical change in strategy and the use of unmanned aerial vehicles (UAVs), also known as 'drones', to monitor the M23 rebels (Oscar Nkala, 'UN to deploy 2 000 extra troops, drones to revitalise DRC peacekeeping operations', DefenceWeb, 11 December 2012).
In the Central African Republic (CAR), January 2013 saw a continuing rebel advance prompting this official South African response: 'South Africa condemns the continued attacks on several towns perpetrated by the coalition of armed groups, which undermine the Libreville Comprehensive Peace Agreement and threaten the civilian population, as well as the stability of the Central African Republic'. South Africa sent in 200 troops, reportedly well equipped, with the intention of sending more. A five year stay is expected*. Several African states, under direct threat from the same Seleka rebel coalition, each sent in 120 soldiers, all of whom now join the 400 Chadian peacekeepers who were already in the CAR protecting the key town of Damara ('SA to send 400 troops to Central African Republic', Mail & Guardian website, 6 Jan 2013).
*On 23 March 2013, thirteen South Africans were killed in a hard-fought battle with rebels at Bangui in the Central African Republic and 27 were wounded, one of whom died later. After the coup which fol/owed, the South African Government decided to withdrawal/ of its troops from the CAR in April 2013.
Conclusion
In January 2013, rebels in Mali were being heavily bombed by the French in Operation Serval, which, at the time, drew some gratitude from within the region. There is no doubt that African states have shown a willingness to contribute both blood and money to peacekeeping in Africa, but limitations in infrastructure, air power, and funding in general, ,restrict their capacity to take full responsibility throughout the continent. These resources are, however, comparatively available through the UN and plainly available within some developed states outside Africa. There are calls for AU troops to receive the same support that is enjoyed by UN troops ('Peacekeeping impasse risks Africa's wider stability' in African Armed Forces Journal, November 2010, P 10). The UN/AU intentions of bringing African states into African peacekeeping would require developing states to be able to function as well as developed states which previously attended to the peacekeeping. This becomes possible, in part, with financial contributions to African peacekeeping efforts. Such contributions are not rare, but if African states are to ultimately take over all African peacekeeping, foreign contributions will have to be such as to allow permanent increases in African military capacity. For example, the airlift capabilities within Africa could be developed and placed into the hands of African states. Internal African peacekeeping will always be potentially cheaper than transporting resources across the oceans, but there are other cost saving options too. The heavy French bombing underway over Mali is cheaper than a long term, largely passive peacekeeper presence. The UN proposed UAV deployment over the DRC would cut costs. It would be a short step to arming those UAVs and using them in the way they are being used by the USA over Pakistan and Yemen. The concern is about whether or not foreign states will maintain an active military presence in Africa. The powers-that-be can pay more for African development over the short term and lose influence in Africa, or eternally pay less to support inadequate peacekeeping. Without African states developed and organised for African peacekeeping, Western solutions will continue to be depended upon to solve African problems.
Bibliography
'14 SA peace missions in 11 years' on Defence-Web website: http://www.defenceweb.co.zalindex. php?option=com_ content&view=article&id=6351 &Item id=171
African Armed Forces Journal, November 2010.
'Fears for SA troops' in The Times, 21 November 2012.
'International peacekeeping trends' in SA Soldier, Vol 9, No 11, November 2002.
Nkala, Oscar, 'UN to deploy 2000 extra troops, drones to revitalise DRC peacekeeping operations', 11 December 2012 on DefenceWeb website: http://www.defenceweb. co.zalindex.php?option=com content&view= article&id=2 8804&catid=74&ltemid=30
Paratus, April 1994.
Prof Neethling's presentation to the SA Armour Symposium 'The multi-role deployment of armour in the African battle space' held at Cape Town, 16 September 2008.
'SA soldier killed in Sudan, two injured' in New Age, 19 October 2012.
SA Soldier, Vol 9 No 11 November 2002 and Vol 10 No 8 August 2003.
'SA to send 400 troops to Central African Republic' on Mail & Guardian website, www.mg.co.za. 6 Jan 2013.
---
Return to Journal Index OR Society's Home page

South African Military History Society / scribe@samilitaryhistory.org