The South African
Military History Society


---

Die Suid-Afrikaanse Krygshistoriese Vereniging
---
Military History Journal
Vol 16 No 1 - June 2013
A TRIBUTE TO A SOUTH AFRICAN SIGNALLER
Colonel H L L Howes, SACS (1915-2011)
By Dr Brian Austin, West Kirby, United Kingdom
The death after a long illness on 2 December 2011, at the age of 96, of Colonel 'Bert' Howes, South African Corps of Signals, brought to a close not only a very long life but a whole era of military and amateur radio communications in South Africa.
Herbert Louis Lockwood Howes was born in Cape Town, on 17 October 1915. Both the year of his birth and his imposing forenames - after Lord Herbert Kitchener and Generals Louis Botha and Henry Lockwood bore testimony to a war that was raging at the time and of those military men who had most impressed his father. Bert, as he was always known, left school with every intention of furthering a career in radio engineering at the local technical college but the Great Depression put paid to that and he had to find work. Fortunately, a well known Cape Town company required someone to assemble the Fairbanks Morse wireless sets it was importing in kit form from the USA and Bert took on the task. His skills as a self-taught radio technician were soon evident and none more so than when he designed and built, within five days, a transmitter for a ship whose crew had recently mutinied by refusing to play any further constructive part in the voyage. The skipper, with enthusiastic assistance from the able-bodied passengers, managed to bring the vessel into port but for its onward journey (and with a new crew, one presumes) he insisted on having a wireless transmitter, just in case.
While at school Bert was a member of the school cadets who were fortunate (or possibly not) in being put through their paces on the parade ground by the RSM of the 'Dukes', the Duke of Edinburgh's Own Rifles, a voluntary rifle corps and one of South Africa's oldest regiments. Howes then joined the Dukes himself at the age of 16 and soon became an accomplished shottist and a trained Vickers machine gunner. But his prowess with the Morse key and his ability to make wireless work brought him to the attention of Major A L 'Tubby' Beamish in 'Signals' and a transfer soon followed in July 1936 to 3 Brigade Signals as a radio operator. So began what was to become an illustrious career in the South African Corps of Signals (SACS) that culminated in Bert Howes being appointed, some quarter of a century later, the first Director of Signals of the South African Army.
In 1936 motor racing was most popular in Cape Town but controlling the annual Grand Prix around a large circuit was a problem. The answer lay in better communications and it was Bert Howes with his home-built VHF apparatus who provided the solution. He mounted one set in a Puss Moth aeroplane and two others, manned by his amateur radio friends, at the extremities of the track and thereby provided excellent coverage and control of the race. The fact that the private aeroplane happened to be piloted by Major C W Meredith, Chief of Staff of Cape Command and later an Air Vice-Marshal in Rhodesia, was fortuitous for not long afterwards enthusiastic press reports (and presumably the major's too) brought the possibilities of airborne wireless to the attention of the South African Air Force (SAAF). The SAAF soon took steps to try out VHF communications and, once again, Private Howes found himself airborne, this time in a SAAF Wapiti, with microphone in hand and earphones clamped to his head. Fortunately for him - and his amateur radio licence too - the Postmaster General's concerns about the rather irregular use to which amateur radio had been put were assuaged by the technological leap Bert's efforts had conferred on the Air Force.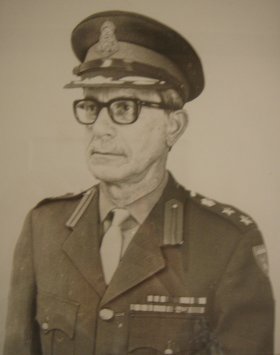 Later that year the Union Defence Force, as it was 'known in those days, took delivery from England of the new Wireless Set No 1 and it was necessary to have a well-trained group of signallers to operate the sets. Howes was sent to the Military College in Pretoria for instruction and, naturally, the inner workings of the WS N01 interested him greatly. His comments, reported in this Journal quite recently, were not overly favourable when compared with the performance of his homemade apparatus! His prowess-in all matters technical soon led to greater things when in 1938 he was commissioned as an officer in the SACS and was posted to 3 Brigade Signals Company in Cape Town. At the outbreak of war a year later 2/Lt Howes was posted to 10 Infantry Brigade Signals Company then training in Potchefstroom, a military base south-west of Johannesburg. From there he made the long trek to Italian Somaliland where he served as Wireless Officer with 10 Mobile Field Force until the fall of Addis Ababa in May 1941. This victory was followed by a brief period of leave back in the Union before moving on to Egypt for intensive training. Howes was appointed 2ic of 1 SA Division Signal Coy in Libya where he served until after the battle of EI Alamein. Then followed a period of more than two years in a training role in South Africa where he served in 12 Armoured Brigade Signal Squadron, then as OC 12 Brigade Signal Squadron. Finally, before moving 'up north' again as part of the 6th South African Armoured Divison, he was acting OC 17 Brigade Signal Squadron. Howes was heavily involved in the reorganisation of all Signals matters to do with the various artillery regiments and was somewhat dismayed to discover that a new man was to fly in from the Union as Signal Squadron commander. He protested strongly to the Divisional Signals Officer, Lt Col W G Perkins, by making the point that, as he was both senior in rank and had considerably more experience than the new man, surely the position was rightfully his. Wisely, Col Perkins ordered both men to spend the weekend together in the fleshpots of Alexandria and come back to camp in Khatatba with their ranks reversed. Remarkably, this manoeuvre worked and acting-Major Howes and acting-Captain Milne not only worked extremely well together thereafter but remained close friends after the war when Sandy Milne became Judge President of Natal.
At Khatatba, Howes led the training of what he described as 'a hotchpotch of humanity' with the intention of turning them into signallers of all necessary trades and musterings. Early in 1944 the 6th SAArmoured Division, under the command of Maj Gen Everard Poole, proceeded to Italy.
By the war's end Major Howes had been 'Mentioned in Despatches' and had decided to make his career in the army. Various staff courses followed on his return to South Africa with a memorable highlight from that period being the investiture at the Military College by HM the King during the Royal Visit in May 1947. The following year the Smuts government was defeated at the polls and that ushered in the Nationalists of D F Malan, many of whom had actively opposed South Africa's very involvement in the war let alone on the side of Britain. During the subsequent 48 years of nationalist government, South Africa underwent many changes, not least of which was the 'Nationalisation' of the military with the often less than subtle breaking of so many of the old links with British military customs and traditions. Out went the crown on badges and emblems while in came ranks such as Field Cornet, Commandant and Combat General that dated from the days of the Anglo-Boer War. General Poole, the man designated by Smuts to become Chief of the General Staff, was unceremoniously sent off to Germany as South Africa's representative to the Allied Control Commission for Berlin, while below him numerous officers whose political sympathies were deemed to be suspect were summarily dismissed. But Howes survived, not for any political reasons at all but simply because he was quite indispensible as the most competent technical officer in the Corps of Signals. An article he wrote for the Defence Force magazine Kommando in 1958 in which he cast his mind forward and predicted where he thought modern electronics would lead was remarkable in its percipience. He foresaw, amongst many other things, tropospheric scatter communications, helmet-mounted radios, precise but variable frequency control at VHF and above, electro-optics and night vision technology and even unmanned airborne vehicles, the almost ubiquitous UAVs of today.
Various technical, staff and command appointments came his way during the decade after the war and in 1959 Commandant (Lt Col) Howes was appointed Officer Commanding, the School of Signals in Voortrekkerhoogte, just outside Pretoria, the largest army base in the country (previously called Robert's Heights after the British Field-Marshal who turned the tide against the Boers during the Anglo-Boer War and now known as Thaba Tshwane). In 1963, Howes was appointed Chief Signals Officer (Army) and two years later, following the renaming of that post (at his suggestion) he became Director of Signals, the first person to hold the position in the South Afrrcan Army. This was to be his last signalsrelated role in the SADF. In 1968 he became 2ic, in the rank of colonel, at Witwatersrand Command HQ in Johannesburg and he retired from the Permanent Force, but not from fulltime service, in 1972. For the next eight years he served as S02 in charge of.mobilisation at Wit Command until he finally retired, still in the rank of colonel, and returned to civilian life in October 1980 after having served 47 years and 106 days in the uniform of the UDF/SADF.
As was made evident at the beginning of this tribute, Bert Howes was an avid amateur radio operator. He obtained his amateur licence and the call sign ZS 1 AL in Cape Town in 1935. When he died 76 years later, with the call sign ZS6HS in Johannesburg, he was the longest serving member of the South African Radio League. His work both of a-technical nature and in setting numerous operating records, most particularly at VHF and above, made him a legend amongst South African radio amateurs.
Bert Howes was a remarkable soldier much loved and admired by the men who served both alongside and under him. In 1953 he married Jennifer James, daughter of Major Arthur Redvers James RFC, and later SAAF, who arrived in South Africa in 1922 with 100 aircraft plus some crews to start what would become the South African Air Force, the second oldest air force (after the RAF) in the world. Bert and Jenny had two daughters and a son who are now scattered between Australia and South Africa.
---
Return to Journal Index OR Society's Home page

South African Military History Society / scribe@samilitaryhistory.org