The South African
Military History Society


---

Die Suid-Afrikaanse Krygshistoriese Vereniging
---
Military History Journal
Vol 15 No 6 - December 2012
KRUGERFEES
A visit to Kedar Country Lodge
by Marjorie Dean
On Saturday, 13 October 2012, the Military History Society undertook its much anticipated outing to Kedar Country Lodge, on the farm 'Boekenhoutfontein', north of Rustenburg, to participate in the 'Krugerfees' and learn more about President Paul Kruger, the man. The coach left right on time, thanks to everyone arriving at the Museum car park promptly and, despite rather threatening skies, we made our way towards Rustenburg. As we arrived at Kedar, the skies began to clear and, for the rest of the day, we had excellent weather.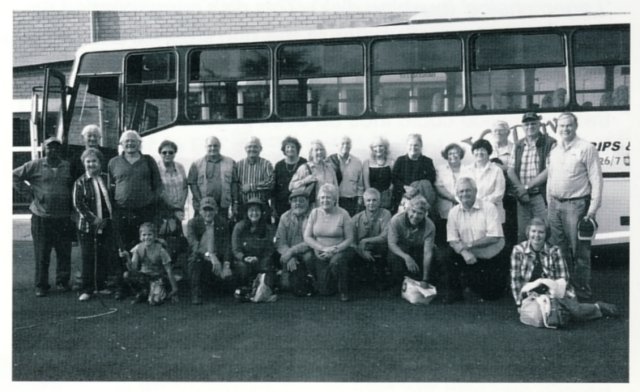 The Military History Society group at Kedar Country Lodge
Our first stop was the old schoolhouse, with its ancient beams and earth floor, not to mention antique school desks that had our youngest participant, Master Scholtz, falling about with laughter at the very idea of sitting on such an uncomfortable chair for lessons, while older members reminisced about just exactly what it felt like to write with steel-nibbed pens and ink made from powder that blotted everywhere!
We heard a most interesting presentation from Professor Johan Bergh on a new project to compile as complete a record as possible of the writings, speeches and correspondence of Paul Kruger, so that, almost for the first time, we can look at the man in the light of his own words. He is, to quote Professor Bergh, 'a famous South African about whose personal ideas very little is really known'.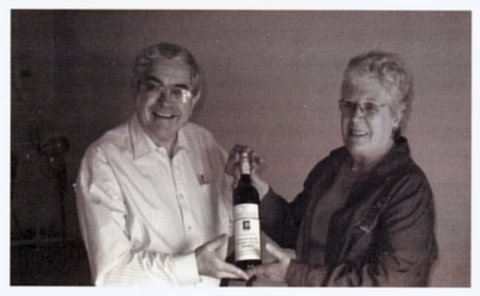 Marjorie Dean, Chairman of the Military History Society, with Professor Johan Bergh
The project, which will run over several years, is being led by Professor Bergh of the University of Pretoria in conjunction with historians at the universities of Oxford and Sheffield in England and with the participation of academic historians from other countries such as the Netherlands and Turkey. The hardest job is tracking down all the documents; the generosity of many donors is what has made it possible. We look forward to hearing more about the project as it progresses.
Outside in the sunshine, the Krugerfees, which was organized by the Heritage Foundation, was now in full swing. As many will remember, 10 October, Kruger's birthday, used to be a public holiday, and the stalls and events were a celebration of Afrikaans culture and tradition. Most of us came away with a few tasty home cooked goodies tucked into our bags!
We explored the original farmhouse, now beautifully restored, had some excellent boerewors rolls for lunch, and then made our way to the hotel at Kedar Country Lodge. The hotel has a wonderful collection of Anglo-Boer War memorabilia, weapons, maps, equipment of all kinds, uniforms, badges and medals. So we spent a happy hour or two learning more. Then it was time to adjourn to the bar for much-needed drinks, and then board the coach to come home.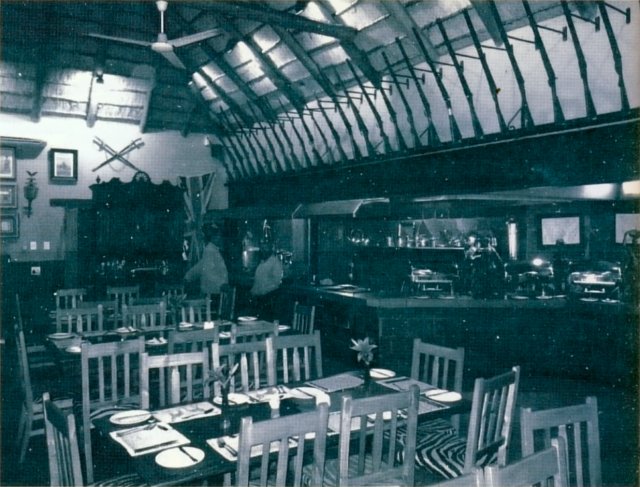 An impressive display at Kedar Country Lodge
Our thanks go to YDrive for a comfortable coach ride, with the excellent Andries as driver, and also to Kedar Country House for their hospitality and to the Heritage Foundation for waiving our entrance fees. It is quite safe to say that everyone had a great time. We learned new history and look forward to our next outing. Special thanks to Bob Smith, our tour coordinator, for all the hard work he put in to make this such a memorable day.
---
Return to Journal Index OR Society's Home page

South African Military History Society / scribe@samilitaryhistory.org