The South African
Military History Society


---

Die Suid-Afrikaanse Krygshistoriese Vereniging
---
Military History Journal
Vol 15 No 6 - December 2012
LT GEN GAGIANO AT AFRICA AEROSPACE & DEFENCE EXPO 2012
Jan Willem Hoorweg
Recently we had the pleasure of attending the return of the defence industry's Africa Aerospace and Defence 2012 (AAD 2012) Expo, the largest defence expo in Africa, at the revamped Air Force Base Waterkloof, just outside Pretoria, after an absence of eight years. On a beautiful sunny Highveld day, we were treated to wonderful flypasts and superb aerobatic displays. A magnificently organised and informative static display of almost 90 aircraft, civilian and military, of the modern and bygone eras included a large United States Air Force (USAF) representation (C-130 Hercules, KC-135 Stratotanker and a C-17 Globemaster).
As part of the AAD Air Show (22-23 September 2012) and as a tribute to him, the outgoing Chief of the South African Air Force, Lt Gen Carlo Gagiano was flown to Air Force Base Waterkloof in a two-ship Vampire formation. The CAF's aircraft - a beautiful SAAF Museum exhibit, distinctive in silver and orange - was piloted by an ex-Indian Air Force fighter pilot, Colonel Rama Iyer. On arrival, the retiring general was greeted by a massive pyrotechnic display, a very audible and visible show of appreciation by members of the South African Engineer Corps. After leaving the aircraft, Lt Gen Gagiano was given a standing ovation by the 40 000 strong crowd and greeted by his wife, Leonie, and a host of dignitaries. A number of photos were taken and everyone was very much in awe of this fighter jock, who had had such a big hand in modernising the South African Air Force to become what it is today.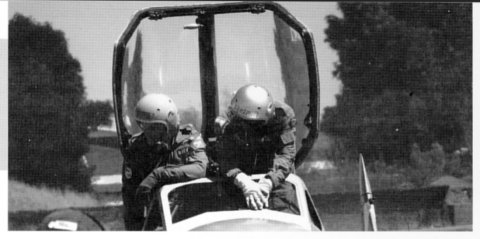 This truly was a fitting tribute to a man who has an air force career spanning 44 years, and has logged over 4000 flying hours in classic fighters like the Canadair Sabre and De Havilland Vampire, as well as more modern aircraft like the Dassault Mirage (III as well as F1CZ) and the Denel Cheetah D and E. In addition, he trained on aircraft like the much loved North American Harvard, the Aermacchi Impala and the Pilatus PC 7.
The commentator at the air show, an ex-US Navy carrier fighter pilot on Tomcats and F-18 Hornets, mentioned that it is rare indeed in modern air forces to fly so many hours on so many different aircraft types! The South African Military History Society wishes General Gagiano a wonderful retirement and pays tribute to a remarkable soldier.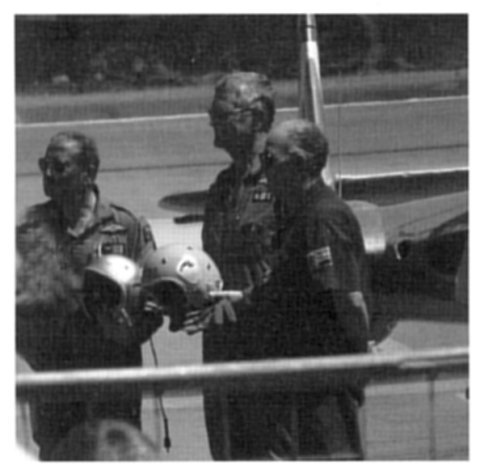 ---
Return to Journal Index OR Society's Home page

South African Military History Society / scribe@samilitaryhistory.org