The South African
Military History Society


---

Die Suid-Afrikaanse Krygshistoriese Vereniging
---
Military History Journal
Vol 15 No 5 - June 2012
THE FIRST DOUBLE VC
The search for the site where Surgeon Captain Arthur Martin-Leake
won his first Victoria Cross
By Robin W Smith
The Victoria Cross is Britain's premier award for gallantry. It was instituted by Royal Warrant on 29 January 1856 for award to both officers and non-commissioned ranks of the Royal Navy and the Army who, in the presence of the enemy 'shall have performed some signal act of valour ... '. Subsequently it has been awarded to members of the other armed forces. It is worn before all other decorations or orders. (The original Warrant is dated 29 January 1856 to which a number of additional warrants had been added, the most important being that of King Edward VII in 1902, providing for the posthumous award of the medal.)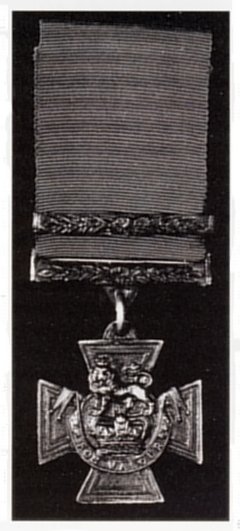 The Victoria Cross
Arthur Martin-Leake twice performed such signal acts, in the Anglo-Boer War in 1902 and again in the Great War in 1914. He was the first man to be twice honoured so as to earn the award of the Victoria Cross for each of his exploits. Only two others have since managed to emulate Martin-Leake's feat, Noel Chavasse in 1915 and 1916 and Charles Upham in 1941 and 1942.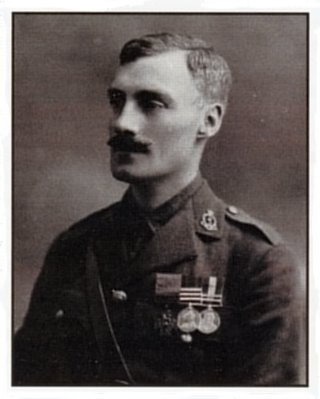 Lieutenant-Colonel Arthur Martin-Leake, Royal Army Medical Corps,
with his Anglo-Boer War medals: the VC, the QSA Medal and the KSA Medal
The site of Martin-Leake's first award
As a medical officer in the South African Constabulary, Martin-Leake accompanied a patrol seeking to locate a Boer laager that had encroached into the protected area around Johannesburg and Pretoria. The laager was discovered on the farm, Van Tondershoek, but the outnumbered policemen were forced to retire to their base. In one of the two desperate rearguard actions, Martin-Leake moved up and down the firing line attending to the wounded. All the men of this small section of the force were either killed or wounded, including Martin-Leake. For his bravery under heavy fire, Martin-Leake was awarded his first Victoria Cross.
This happened on 8 February 1902, as the Anglo-Boer War was winding down and both sides were considering making overtures about bringing hostilities to an end. No memorial or marker has ever been placed to indicate the site of this action and thereby recognize its importance. To correct this, a number of people for whom this was a concern, undertook an investigation to see just what could be identified about the movements of the SAC's reconnaissance patrol that day. The intention is to erect a substantial marker at a suitably significant location.
The South African Constabulary was formed under the leadership and command of MajorGeneral Robert S S Baden-Powell. He had become famous after his celebrated defence of Mafeking. Besieged by the Boer forces of the Zuid-Afrikaansche Republiek (Transvaal Republic), he held the town for 215 days until relieved in May 1900. Promoted to the rank of major-general, he was given the responsibility of recruiting and training the South African Constabulary, a police force for the maintenance of law and order in the Transvaal and Orange Free State, which had by then been annexed as British territory.
The SAC was formed in October 1900 and had a strength of 7 500 men when it was ready to take to the field in May 1901. Although nominally under the civilian control of the High Commissioner, Lord Milner, the force was also to serve 'as a military force in times of war'. By the end of the war, the force had grown to 9 500, including men recruited especially for the SAC in Canada and Australia (Miller, 1993, pp368-78). There were four divisions, 'A' to 'E' ('D' was the headquarters staff), located in Krugersdorp, Rustenburg, Standerton and in Edenburg in the Orange River Colony, as it was then known.
Baden-Powell had approval from the Commander-in-Chief, Lord Roberts, to obtain officers, NCOs and men from the army as well as horses and supplies. Baden-Powell's SAC paid better wages than the army and his training methods produced 'intelligent young fellows who could use their wits' (Baden-Powell, 1928, p218.) Members of the SAC had a distinctive uniform, designed by Baden-Powell, with stove-pipe leggings, serge jackets with green stripes and an American peaked campaign hat with a flat brim, which to this day is used by the Boy Scouts' movement. In spite of the army's reluctance to let go of their good men, and though horses and supplies were never abundant, they consisted of a 'remarkably - high stamp of men'(Times History, Vol V, the p82). There was no urgency to commit the force to the field since, at the time of its formation in October 1900, it was thought that the war was almost over. Intended for peacetime police duties, they consequently took to the field only in May 1901 and then were used only to man fortified posts within areas already enclosed by block-houses (Times History, Vol V, pp 325-6).
Who was Arthur Martin-Leake?
Arthur Martin-Leake was born in 1874 to a family in comfortable circumstances. He entered the University College Hospital in London in 1893 and qualified as a doctor in February 1899. As a student, Martin-Leake worked under Victor Horsley, the foremost neurosurgeon of his age, assisting or witnessing numbers of his operations on the brain and spinal cord. He qualified as a doctor in February 1899 and obtained membership of the Royal College of Surgeons.
Martin-Leake was House Surgeon at the West Hertfordshire Infirmary when war was declared in South Africa. In Britain there was great enthusiasm for the war and the Martin-Leake family shared this patriotic spirit. There were,six Martin-Leake brothers. Stephen, the eldest, was an engineer working in India. William, also in India, was with the 1st Cheshire Regiment, as was Richard, an engineer. Francis was in the Royal Navy and Theodore was training for the balloon section of the army at Aldershot. There was a widespread feeling that the war would be over by Christmas and Arthur was concerned that he might miss this great adventure. Leave from his duties was readily given by the hospital authorities who clearly shared his patriotic spirit (Clayton, 1994, pp 11-23.)
A new force, the Imperial Yeomanry, was to be raised and Martin-Leake joined the 42nd (Hertfordshire) Company. They embarked for South Africa on 3 March 1900 and finally arrived in Bloemfontein in time to march with Lord Roberts to Pretoria. The 42nd Company IY was part of Major-General Broadwood's column chasing the Boer leader, Christiaan de Wet, in the area of Pretoria. They were attached to the column which relieved the Australians and Rhodesians besieged at Elands River, but Martin-Leake was intent on gaining a position as a'doctor. He left the Yeomanry and was attached to the army as a civil surgeon, moving around a number of hospitals including Pienaar's Poort, near Pretoria, and Barberton in the eastern Transvaal (now Mpumalanga).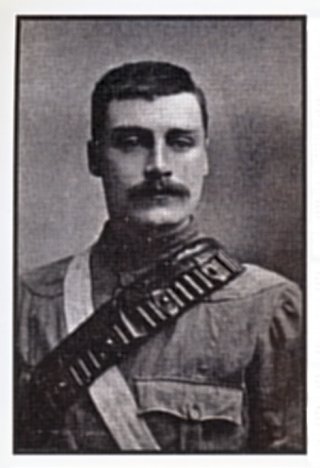 Trooper Arthur Martin-Leake,
Hertfordshire Yeomanry, South Africa 1900
South African Constabulary
Disgruntled with his pay and conditions, lack of facilities for study, prospects for advancement and reluctant to join the Royal Army Medical Corps, Martin-Leake managed to join the SAC in May 1901 and one of his letters shows how pleased he was: 'I now hold the rank of Captain. This is a bit of a knock, rather too sudden a rise from nothing. I am moving to Swartkop (near Johannesburg) which is held by the SAC. Nurses have arrived here, so I am delighted to go.' (Letter quoted in Clayton, 1994, p 59).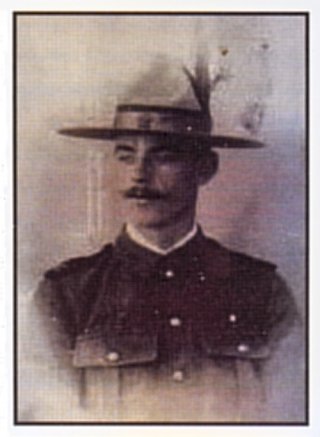 Martin-Leake as a trooper in the South African Constabulary
The SAC had a medical corporal for each troop of one hundred men, whose function was first aid. There was a doctor allocated to any area where a number of troops might be stationed. South African Constabulary hospitals were established at each divisional headquarters. Martin-Leake was, for some time, at an SAC hospital in Meyerton, south of Johannesburg, where he was less than satisfied with conditions, but he decided to stay on after his three months' trial period expired in August. In October 1901, he was transferred to Syferfontein, a short distance north of Val, a station on the main railway line from Johannesburg to Natal, as medical officer of 'C' Division of the South African Constabulary. He seems to have been fairly satisfied with this posting: 'They have made me into a travelling MO with about 50 miles [80km] of line to look after. I like the job, carry a shotgun and have lots of good duck shooting.' (Letter quoted in Clayton, 1994, p 61).
His comments about the conduct of the war indicate that he was less than satisfied with this aspect. Writing about the officers in command, he states: 'It seems to me that these people are worse than useless ... the only thing they do understand is to dress and to have a good time. I cannot understand how we can ever expect the war to come to an end; no wonder the Boers can walk all round us. The line of blockhouses ... is a perfect farce; the country behind, which is supposed to be clear, is full of Boers. We must have captured and killed, during the last year, more Boers than ever existed, but yet their numbers in the field seem to increase rather than diminish. Their army as an organised force (has) ceased to exist...but yet we hear now that De Wet has 5 000 men and guns in the Free State.' (Letter quoted in Clayton, 1994, p 62).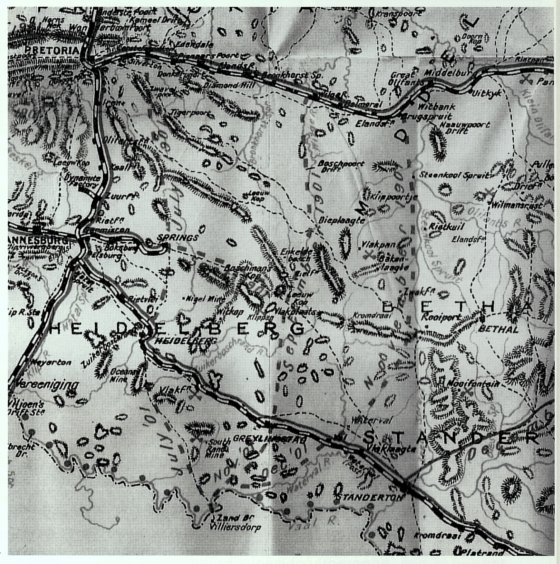 The line of SAC police posts from Pretoria to Standerton.
(Source: Times History of the War in South Africa, Vol V, Transvaal Map)
The commanding officer of 'C' Division of the SAC was Major J Fair of the 21st Lancers, based at Heidelberg. The 'C' Division manned a line of police posts which stretched between the two main railway lines, the Johannesburg-Natal and the Pretoria-Delagoa Bay lines. Originally the line of Constabulary posts connected the railway lines from Eerstefabrieken, east of Pretoria, to Heidelberg. In September 1901 the line was moved further east to between Wilge River Station and Greylingstad. In November, it was moved still further east from Brugspruit on the Delagoa line to Waterval on the Natal railway, with an extension to Villiersdorp (today Villiers). The area west of the line was the so-called 'protected area' and was supposedly clear of Boers (Times History, Vol V, pp 361, 398).
Intelligence reports, probably from local African inhabitants, persistently indicated that a Boer force had encroached into the protected area. Although these were mostly discredited, an order from the Commander-in-Chief, General Lord Kitchener, for the line of posts to be moved further forward, caused Major Fair to order a reconnaissance preparatory to making such a move. The party consisted of 150 men drawn from three troops of 'C' Division under the command of Captain Algernon Essex Capell.
They assembled at the large farmhouse of Syferfontein (or Cyferfontein), that had been taken over by the SAC as a fortified post. The large stonebuilt house, which still stands, was close to the Waterval River, which meant that it had a reliable supply of fresh water. It was a very large house with many rooms. A lady of the house once complained that the food was cold by the time it reached the dining room from the kitchen! The surrounding ground was flat and the house was fortified, probably with sandbag redoubts, as there is little stone within easy reach.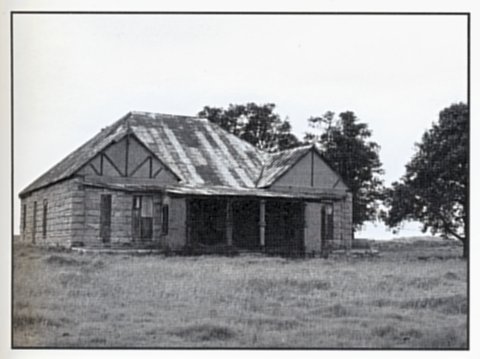 The abandoned farmhouse at Syferfontein, which was one of the police posts of 'C' Division of the SAC
The SAC casulaties were buried nearby until reinterred in the Standerton Cemetery some time in the 1960s.
Constabulary Patrol
The patrol set off from Syferfontein at 04.00 on 8 February 1902, at least forty-five minutes before it would even start to get light. They proceeded northeast towards the neighbouring farm, Vlakfontein. (Vlakfontein is an extremely common farm name and there must be more than twenty farms in the Transvaal with this name. It is not to be confused with another Vlakfontein to the west of Johannesburg, where there was a battle on 29 May 1901). From Vlakfontein, they headed towards Van Tondershoek. The intelligence was specific that it was on this farm that they might find the Boer laager. The intelligence proved to be accurate. The Boers were hidden in a deep hollow fed by a stream which, even today, has running water all year. A short distance from the hollow was the original Van Tondershoek farmhouse.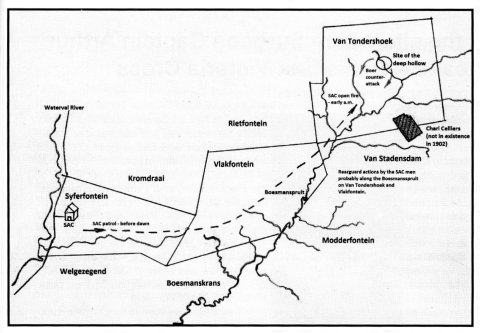 Route of the SAC patrol on 8 February 1902 over the farms Syferfontein and Vlakfontein to Van Tondershoek.
The deep hollow where the Boer laager was concealed is a short distance to the north of the modern small town of Charl Cilliers.
The SAC retired to Syferfontein and their rearguard actions were probably
running fights along the Boesmanspruit on Van Tondershoek and Vlakfontein farms.
The Boers in the hollow were General Piet Viljoen's men. After suffering severe losses from British raids at Trichardsfontein and Witkrans, General Viljoen had returned to his base at Vaalkop, north of Bethal. Thus his strategy was to move west into the protected area. With 200 men, Commandant Joachim Prinsloo and Field Cornet J C Duvenhage made the first incursion into the protected area to be followed on 24 January by another 400 men of the Pretoria, Germiston and Heidelberg commandos. This force, now consisting of perhaps 600 rifles, was what was uncovered by Captain Capell's patrol (Times History, Vol V, pp 460-61).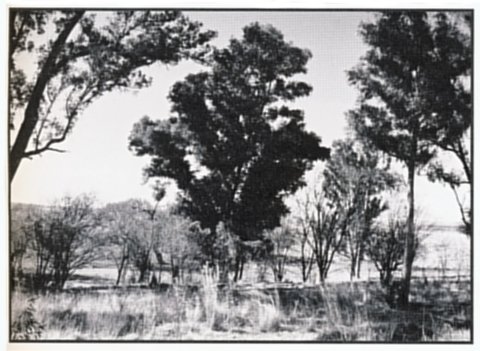 The deep hollow on Van Tondershoek where Commandant Prinsloo's
Boer commando lay concealed from sight for more than two weeks.
Capell's men seem to have rather injudiciously opened fire on the laager, but his 150 men were greatly outnumbered. How many Boers were in the laager is a matter of some conjecture. Some accounts say 800, almost certainly an exaggeration, but 600 is credible. If Capell's patrol was able to get as close as 400 yards (365m) without detection, it is likely that the Boers lay hidden until the last possible moment. When it became obvious that their lair had been detected, they returned fire and attempted to outflank the policemen on both sides.
What followed was an orderly retirement back to base at Syferfontein. There were experienced fighters on both sides and a running fight took them back over Vlakfontein. There, the left and right flank guards were fiercely attacked by the Boers and found themselves unable to join the rest of Captain Capell's men, who got away safely. Capell managed to get most of the left flank away, but eight men, a sergeant, an officer and the medical officer, Captain Martin-Leake, were unable to find a way to escape. They were engaging some Boers at a distance of 1 600 yards (1 462m) and seemed to be secure until a group of Boers crept up a small donga and opened fire from a flank. All eight men were quickly killed or wounded.
Martin-Leake attended to a number of the men, dressing their wounds and controlling bleeding, all that could be done while under fire. Sergeant Waller was hit in the leg and severely wounded. Martin-Leake attended to him, apparently oblivious to the heavy close-range fire. When Lieutenant Abraham was wounded, suffering a mortal injury, Martin-Leake ran over to him in an attempt to make him more comfortable and ease his pain. It was here that the doctor was shot three times, being wounded in the right hand and left thigh.
The Boers overran the little group, but were not inclined to take prisoners. They left them where they lay, expressing regret that they had shot the doctor, and disappeared back the way they had come. The dead and wounded lay where they had fallen for some hours. Help arrived, probably after dark, bringing stretchers, blankets, bandages and water. Men, when severely wounded, quickly develop a raging thirst and lying for hours in the hot sun must have been agonising. There was at first a limited amount of water, but Martin-Leake refused to take his share until all the others had been served.
The right flank was under the command of Lieutenant Swinburne, who apparently had 24 men with him. A message from Capell did not reach him, the orderly entrusted with its delivery having been shot, but Swinburne's force managed to hold the Boers off until nightfall, when they made their way back to Syferfontein. Nevertheless, there were additional casualties, Lieutenant Blackett being killed and a number wounded (see, for example, the accounts of the battle in Clayton, 1994, pp 64-65 and Uys, 1973, pp179-184, who also quotes from a report by Baden-Powell). The dead and wounded were brought back to Syferfontein, where the dead were buried. (In about 1965, the remains were reinterred in the Garden of Remembrance in the Standerton Cemetery).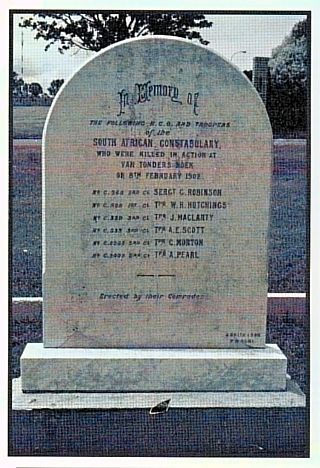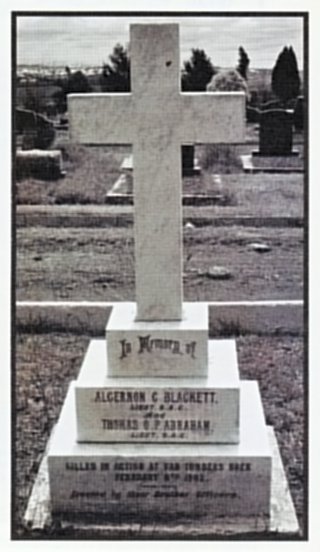 Standerton Cemetery, Garden of Remembrance: SAC casualties shown as killed at Van Tondershoek
and the memorial headstone of Lieutenants Algernon Blackett and Thomas Abraham.
They were all originally buried near the Syferfontein farmhouse.
Martin-Leake was taken to hospital in Heidelberg, where his thigh wound healed easily as did his hand, except for the fact that the ulnar nerve had been severed, causing the hand to be paralysed. This was a disabling wound for a man wishing to become a surgeon, but an operation in England in June by Sir Victor Horsley joined the nerve ends and seems to have been partially successful, leaving him with a permanent loss of flexibility. The Victoria Cross was conferred on Martin-Leake by King Edward VII at Windsor Castle on 2 June 1902, at the very first post-war ceremony for the presentation of awards and medals.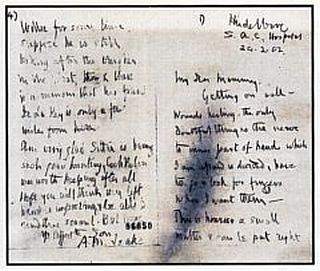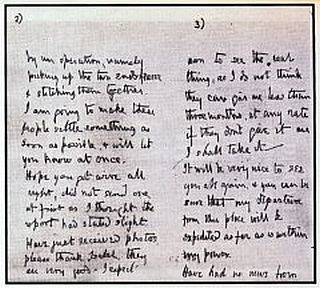 Martin-Leake's letter to his mother, written while in hospital at Heidelberg
with his left hand since his right hand was paralysed as a result of his wound
The Boers did not pursue the SAC patrol. Their hiding place had been discovered and they moved away from Van Tondershoek to the north-west, where the same men were involved in a much larger clash with the Scots Greys at Klippan on 18 February (Times History, Vol V, p 462). This force was later joined by more Heidelbergers under General Hendrik Alberts at the end of February. On 1 April 1902, a patrol of the Queen's Bays, newly arrived in South Africa, 'stumbled to their great astonishment on a large Boer laager' (Times History, Vol V, p 559). Badly outnumbered, they made their way back to base at Boschman's Kop after suffering severe losses.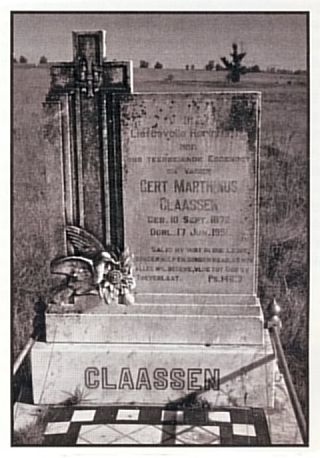 Boer Commandant Gert Claassen's grave
in the family cemetery on Syferfontein
General Lord Kitchener then mounted an extensive operation in the area in March-April 1902. The British undertook a drive with nearly 15 000 men to trap the elusive Piet Viljoen and his men. The operation failed to net either of the Boer generals or any of their men and by then negotiations were underway to end the war.
Identifying the site
The facts concerning the battle where Martin-Leake won his first VC are fairly well documented. There is a short account of the action in the official history by Maurice (Volume IV, pp 512-13), but the Times History makes no mention of it. Ian Uys's For Valour has a good description gleaned from a number of sources, and even a reproduction of a painting from the Royal Army Medical College. Ann Clayton's Martin-Leake Double VC has even more detail and makes use of evidence presented to a board of officers convened by Major Fair 'for the purpose of enquiring into the reported gallant behaviour of Capt Leake MO SAC'. Nowhere does a sketch map of the scene of the engagement appear.
Maps in the Times History and other publications show the lines of police posts stretching between the two main railway lines of the Transvaal. The posts themselves were placed 'several miles apart at convenient strategic points'. They merely allowed the SAC to maintain a presence in the area since, 'as a physical barrier they were valueless' (Times History, Vol V, pp 325-26). The 'protected area' was not made totally secure by the line of police posts which was easily penetrated by the Boers.
The various posts utilised a variety of buildings and structures as police stations. The farmhouse at Syferfontein was ideal for the purpose. From there, the exact route of the SAC patrol can only be inferred, but certainly they would have proceeded from Syferfontein across Vlakfontein to Van Tondershoek. These farms have today been subdivided for modern commercial farming. The deep hollow where the Boer laager lay hidden has since been dammed to exploit the stream which always has water. The Boers would have had very few wagons, if any, and the body of horsemen would have been hidden to any but a close-up observer. There are a number of trees in and above the hollow, some of which clearly date from before the time of the Anglo-Boer War. One massive blue-gum in particular has a girth and height of exceptional size. Even several hundred men and their horses would have been invisible from a distance among the trees.
The exact locations of the rearguard actions are well-nigh impossible to locate with any certainty. The Boesmansspruit runs in a south-westerly direction along the Vlakfontein boundary. Its high banks would have been the sort of area which would offer numbers of defensible positions. There are several small streams that branch off the Boesmansspruit which could also have afforded cover to the policemen and their Boer adversaries.
Members of the South African Military History Society intend to erect a granite monument at the entrance to Syferfontein farm with the following inscription:

Surgeon Captain Arthur Martin-Leake
1874-1953
In the early morning of 8 February 1902, a patrol, consisting of about 150 policemen of 'C' Division of the South African Constabulary, set out from here on Syferfontein to establish the whereabouts of a Boer force under the command of Commandant Piet Viljoen. They came upon Viljoen's men hidden in a deep hollow on the farm Van Tondershoek. The SAC men opened fire, but finding themselves outnumbered, were forced to make a fighting retirement back to their base at Syferfontein. Two rearguard actions took place on Van Tondershoek and Vlakfontein. Surgeon Captain Arthur Martin-Leake was present with a force of eight men commanded by Lieutenant Abraham. Abraham and his men fought until all had been either killed or wounded. Martin-Leake tended the wounded under heavy fire and was himself shot in three places while attempting to make Lieutenant Abraham, who had suffered a mortal wound, more comfortable. The Boers expressed their regret at having shot the doctor. When relief arrived after some hours, Martin-Leake refused water until all the others had been attended to. For this action he was subsequently awarded Britain's highest award for valour, the Victoria Cross.
While serving as a lieutenant in the Royal Army Medical Corps at Zonnebeke in Belgium, Martin-Leake was awarded a second Victoria Cross in 1914 for rescuing, while exposed to constant fire, a large number of wounded who were lying close to enemy trenches. He was the first man to be honoured with two VCs and only two others have been similarly decorated.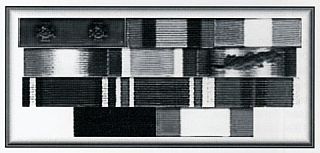 Lt-Col A Martin-Leake, RAMC ribbon bar for medals and decorations: Victoria Cross and Bar;
Queen's South Africa Medal with Clasps: Cape Colony, Transvaal, Wittebergen;
King's South Africa Medal with Clasps: SA 1901, SA 1902;
1914 Star with Clasp: 5th Aug - 22nd Nov 1914; British War Medal; Victory Medal with MID;
George V - Silver Jubilee Medal; George VI - Coronation Medal; Elizabeth II - Coronation Medal;
Colonial Aux Forces Officers' Decoration; Order of the Red Cross - Montenegro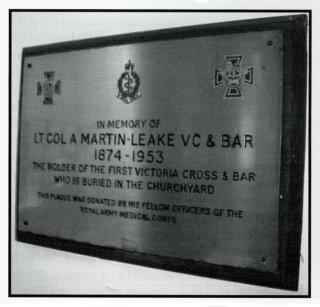 Commemorative brass plaque to Lt-Col A MartinLeake, VC and bar,
inside St James's Church, High Cross, Hertfordshire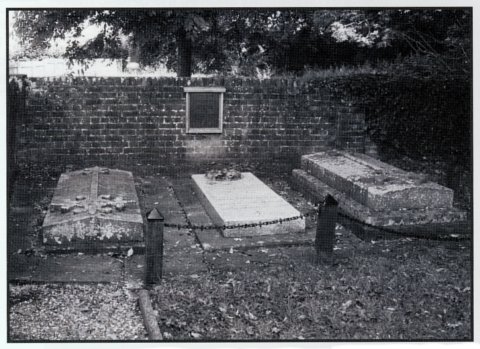 The Martin-Leake family plot in the churchyard
at St James's Church in Hertfordshire
Bibliography
Baden-Powell, R S S, Lessons from the Varsity of Life (Herbert Jenkins, London, 1928).
Childers, Erskine (ed) The Times History of the War in South Africa, Volume V (Sampson Low, Marston and Co Ltd, London, 1907).
Clayton, Ann, Martin-Leake Double VC (Leo Cooper, London, 1994).
Grant, Captain Maurice Harold, History of the War in South Africa Vol IV (Hurst and Blackett Ltd, London, 1910).
Hertford Library Archive: Letters of Martin-Leake.
Kohler, Karl, 'Some Aspects of Lord Baden-Powell and the Scouts at Modderfontein' in Military History Journal, Vol 12 No 1, June 2001, pp 16-21.
Malan, Jaques, Die Boere-Offisiere 1899-1902 (JP van der Walt, Pretoria, 1990).
Miller, Carman, Painting the Map Red: Canada and the South African War 1899-1902 (McGill-Queen's University Press, Montreal & Kingston, 1993). Uys, Ian S, For Valour (Ian S Uys, Johannesburg, 1973).
Wellcome Collection, London: Letters and documents of Arthur Martin-Leake.
---
Return to Journal Index OR Society's Home page

South African Military History Society / scribe@samilitaryhistory.org