The South African
Military History Society


---

Die Suid-Afrikaanse Krygshistoriese Vereniging
---
Military History Journal
Vol 15 No 5 - June 2012
The Moses Bridge: An ingenious design
by Richard Tomlinson
Readers might appreciate this gem, submitted by Richard Tomlinson from Port Elizabeth:
The heritage sector in the Netherlands has come up with a unique solution to help visitors across an existing moat to access a seventeenth century fort at Waterlevel, without disrupting the appearance of the moat. This is the Moses Bridge, designed by RO&ADArchitects. The ingenuity of the design is that, seen from afar, the moat appears complete, this despite the fact that the bridge actually parts the water, hence the name. It is made of a specially treated, durable hardwood.
Fort de Roovere lies near Halsteren, a village in the Dutch province of North Brabant. It is one of a series of strategically-placed earthen fortresses built in the seventeenth century to protect the Netherlands from invading forces from the south. During the Austrian War of Succession, in 1747, it was besieged by French forces until the capture of a nearby fortress, Bergen op Zoom. Cannonballs from the siege have been a regular find in the area. Owing to the shallow moat, Fort de Roovere was difficult to access, and it became neglected over time. In 2010, it was restored and the Moses Bridge added to a deepened moat to afford access to visitors without drastically affecting the appearance of the original structure.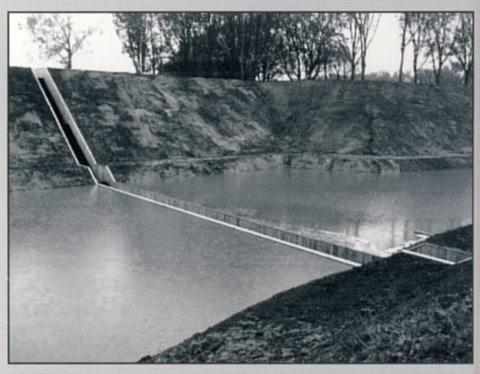 The sunken Moses Bridge, which allows adult visitors to cross
the moat to the old fort with only their heads protruding at water level
---
Return to Journal Index OR Society's Home page

South African Military History Society / scribe@samilitaryhistory.org