The South African
Military History Society


---

Die Suid-Afrikaanse Krygshistoriese Vereniging
---
Military History Journal
Vol 15 No 5 - June 2012
THE TEN-CLASP QSA MYSTERY RESOLVED
By Meurig G M Jones, MA
About the author
Meurig Jones studied African History at Sussex University and the University of London. He has been researching the Anglo-Boer War, 1899-1902, for over twenty-five years and is also an avid medal collector. For many years, he ran the Anglo-Boer War Memorials Project. Working in IT, he is passionate about the use of databases to collate and disseminate information for medal collectors, military historians and geneologists. Meurig runs the Register of the Anglo-Boer War 1899-1902 website, www.boerwarregister.com. He can be contacted by email at meurig@casus-belli.co.uk
Introduction
In the June 1972 issue of the Military History Journal an article was published entitled 'Queen's South Africa Medal with ten bars' by G R Duxbury. Regrettably, Colonel Duxbury JCD FSAMA died in June 2011 (see Military History Journal, Vol 15 No 3, June 2011), so he will not see the answer to the question that he posed in that article.
The medal in question, with ten clasps, is named to Trooper M(oses) Wilson, Damant's Horse. The medal was part of the Ronnie Hunt collection on permanent loan to the South African National War Museum, which is now the Ditsong National Museum of Military History. Ten-clasp Queen South Africa (QSA) medals are unheard of and this one attracted the attention of the foremost South African medal collectors of the time.
In his article, Duxbury outlined his efforts, assisted by other medal authorities, amongst them the late Dr F K Mitchell JCD, then Honorary Curator of the Medals and Numismatics Department, to verify Wilson's ten clasps: 'Belmont', 'Modder River', 'Paardeberg', 'Driefontein', 'Johannesburg', 'Diamond Hill', 'Wittebergen', 'Relief of Kimberley', 'South Africa 1901' and 'South Africa 1902'. The roll for Damant's Horse (WO 100/244, p70) verified the eight battle clasps, but not the two date clasps. Duxbury and the others reported that the medal appeared 'normal in every way and that it has not been tampered with'.
Duxbury's question: Is Wilson's ten-clasp medal correct or not?
In his original article, Duxbury could not answer the question with the available evidence and, in conclusion, surmised that Wilson might have served in another unit to earn the two date clasps. Not only was Duxbury missing verification for the date clasps, but he also had no way of knowing if the trooper was even eligible for the date clasps on the QSA or if he should have been issued a King's South Africa (KSA) Medal. To earn the KSA, Wilson would have had to serve more than eighteen months. A record of Wilson's service in the war would help to answer this question. In 1972, Duxbury did not have the luxury of a database to consult, which makes queries such as these easy to answer.
Forty years have passed and the computer age makes QSA research very easy and it is now possible to answer Duxbury's question. The first port of call is the indexed QSA medal rolls on Ancestry.co.uk. Unfortunately, their slightly odd indexing did not immediately show M Wilson, Damant's Horse (with no service number, as was the case with this unit). Not wishing to trawl through 12 900 hits, the author went to the Register of the Anglo-Boer War 1899-1902 (www.boerwarregister.com) and this site quickly showed Trooper Moses Wilson, Rimington's Guides (which became Damant's Horse), Nesbitt's Horse and French's Scouts. For the latter two units, Wilson had service numbers, so the Ancestry.co.uk search was now more likely to yield positive results.
Wilson's entry on a Supplementary Roll for Nesbitt's Horse (WO 100/262 p362) prepared in 1903 shows that he is entitled to the clasps' South Africa 1901' and 'South Africa 1902' and there is also a 'Yes' correcting a 'No' in the column for the KSA. A note on the roll states that, on 8 June 1905, two clasps were issued with the medal and eight other clasps to Cape Town: '2 cis issd (with med & 8 cis) to CTn'. The two date clasps were issued with Wilson's medal with eight battle clasps and this explains the existence of the ten clasp medal in the museum. Who fixed the date clasps to the QSA, Wilson himself or the issuing authorities? Given Duxbury's belief (supported by others who had viewed the medal) that there had been no tampering and that the medal was 'as issued', perhaps Wilson received a QSA with ten clasps in 1905. Clearly the authority that issued the medal did not have Wilson's service record to hand to determine if the date clasps should go on the QSA or if a KSA should be issued. Such issuing errors are not uncommon with the QSA.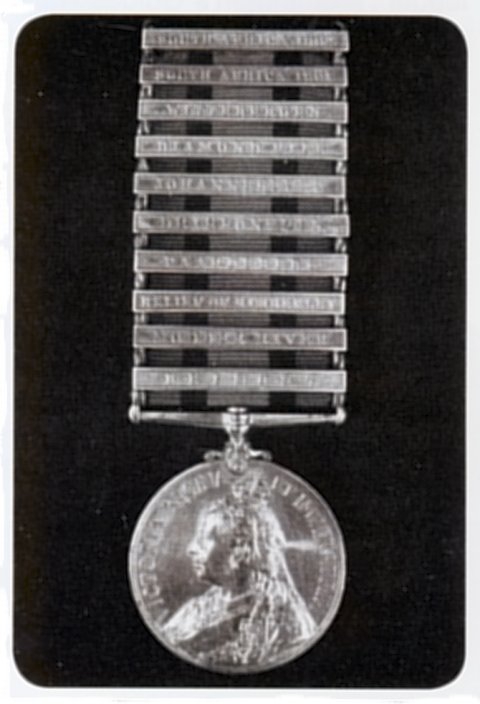 The ten-clasp Queen's South Africa Medal, awarded to Trooper Moses Wilson.
(Photo by courtesy: Ditsong National Museum of Military History)
The Roll also shows a later correction, dated 19 January 1907, indicating that Wilson was entitled to a KSA, which was issued. On a KSA Roll for Nesbitt's Horse (W0100/363 p 247), prepared in 1906, Wilson's entry is annotated 'clasps issd' indicating that he was sent a KSA with no clasps on 25 January 1907. What prompted the issue of the KSA is not clear, but perhaps Wilson requested a KSA when he saw others wearing theirs.
The KSA Roll shows Wilson's dates of service with the three units. He enlisted on 12 October 1899, the day after war broke out, and served until the end of the war with a break of no more than seven weeks:
Rimington's Guides (12 October 1899 to 16 October 1900); French's Scouts (4 December 1900 to 16 August 1901) and Nesbitt's Horse (20 August 1901 to 1 July 1902). The story does not end there. On the KSA Roll, there is a further note stating that, on 20 February 1919, a KSA and two clasps were issued to 'Mr Moses Wilson, 3A Wolmaran St, Johannesburg'. This would be a second, or duplicate, KSA with two clasps affixed. Both KSAs would have been named to Nesbitt's Horse and this could explain why it is not with the QSA, which is named to Damant's Horse.
In conclusion
Wilson's ten-clasp QSA is judged to be as issued, but represents an error by the authorities; the date clasps should not have been issued with the QSA but held over to be fitted to a KSA. But, as we know and love the QSA, it is riddled with such anomalies.
In addition, Duxbury published a list of 98 men who, like Wilson, earned the eight-clasp medal with Rimington's Guides. Two earned the 'Belfast' clasp instead of the 'Wittebergen' clasp. On reviewing Duxbury's list against the medal roll, two men are missing: Trooper E D Forster and Sgt C V Foster. This brings the total to a hundred men, which neatly coincides with Stirling's statement (1990 reprint, p151) that in November 1899, the 'corps numbered about 150 ... many were detached to act as guides ... only about 100 remained with their leader'. Rimington's Guides were disbanded in January 1901 when their commander, Lt-Col M F Rimington (6th Dragoons) was given command of a column. The men were re-formed as Damant's Horse in February, commanded by Major F H Damant and served until the end of the war. Wilson never served in Damant's Horse; he was with French's Scouts in February 1901. His medal is thus named to a unit with which he never served.
Bibliography
'QSA and KSA Medal Rolls', class WO100, the National Archives, London (accessed via Ancestry.co.uk)
Stirling, J The Colonials in South Africa 1899-1902 (J B Hayward & Son, Suffolk, 1907, reprint 1990)
'The Register of the Anglo-Boer War 1899-1902', www.boerwarregister.com
Special note: Sandi Mackenzie, Curator of Medals and Numismatics at Ditsong National Museum of Military History, may have found the missing connection in the Anglo-Boer War service record of Trooper Moses Wilson, recipient of the museum's ten-clasp Queen's South Africa Medal. It seems that, on 16 October 1900, he was transferred from Rimington's Guides to the Rudepoort (Roodepoort) Police.
---
Return to Journal Index OR Society's Home page

South African Military History Society / scribe@samilitaryhistory.org