The South African
Military History Society


---

Die Suid-Afrikaanse Krygshistoriese Vereniging
---
Military History Journal
Vol 15 No 4 - December 2011
OBITUARY:
In Memory of Lieutenant-General Jack R Dutton SSAS, SD, SM, MMM
Jack Raymond Dutton was born in Tulbagh in the Cape in 1928 and was schooled at Rondebosch High School, matriculating in 1945. Two years later he enlisted in the Union Defence Forces. He became an officer in 1949, stationed at Potchefstroom, where he was made an Officer Instructor in the 1st Special Services Battalion (1 SSB), the only armoured regiment in the South African Permanent Force at the time. The School of Artillery and Armour in Potchefstroom received the first two Centurion Mark III tanks delivered to South Africa. Jack Dutton would later serve on Centurion tanks in the Korean War (1950-53), and so had the opportunity to acquaint himself with the mechanism of these armoured vehicles.

In 1953, as the youngest and most inexperienced of twelve officers sent to Korea - and the only one not to have seen active service in the Second World War (1939-1945) - he was seconded to the Royal Tank Regiment as a tank commander with the rank of second lieutenant for a year. For his service in Korea, he received the SA Korea Medal (1953), the United Nations Service Medal with the Korea Clasp (1953), and the Korean War Medal (1953).

In 1964 he was promoted to commandant and appointed Officer Commanding 1 Special Service Battalion. He received the Permanent Force Good Service Medal. hi 1967 he was promoted to colonel and in 1968 he became Officer Commanding Eastern Province Command with the rank of brigadier. He received the Southern Cross Medal in 1971 and, in 1973, was promoted to major-general. He was appointed Chief of Army Staff Operations and, later, Director-General Staff Operations. In 1976, he was promoted to lieutenant-general and became Chief of Staff Operations.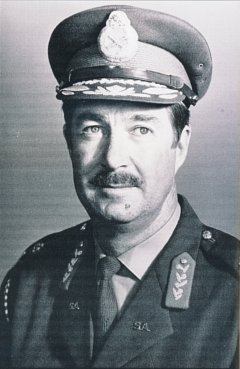 In 1981, whilst retaining his army rank, he was sent as the First Ambassador Extraordinary and Plenipotentiary to Chile for three years. On his return in 1984, he retired after 37 years of service. He was awarded the Order of Bernardo O'Higgins by the Chilean Government. (Bernardo O'Higgins was the man who freed Chile from Spanish rule in 1811.)
In 1984 Jack Dutton was appointed as an executive director of Sandock-Austral (part of the Gencor group) where he stayed until his retirement.
I had the pleasure of spending time with this distinguished soldier during 2001 and 2003 when I was completing research on the Korean War. He was a true example of an officer and a gentleman. Extraordinarily polite, he would evade answering questions that had any political overtones by merely focussing on other events. There was never a trace of bitterness concerning the fact that promotions had been withheld for protracted periods of time due to his English background, that he had been overlooked for the highest rank in the defence force, and that he had been side-lined by being sent to Chile. It is with fondness that I recall the sparkle in his eye on my arriving with a bottle of Laphroiag whisky and the many stories and the time he took explaining tactical manoeuvres to a novice in his field.
The news of his death on 29 November 2011 from melanoma was met with sadness and dismay by those who knew him. As Aaron Kilbourn said, 'The dead soldier's silence sings our national anthem'. Lest we forget this man!
Sandi Mackenzie
Ditsong National Museum of Military History
---
Return to Journal Index OR Society's Home page

South African Military History Society / scribe@samilitaryhistory.org