The South African
Military History Society


---

Die Suid-Afrikaanse Krygshistoriese Vereniging
---
Military History Journal
Vol 15 No 4 - December 2011
OBITUARY: H W (Nick) Kinsey 1918-2012
Havelock William Kinsey, the son of a minister of religion, was born in Kimberley on 20 October 1918. He had two brothers and two sisters. He was named after a famous Indian Mutiny general, so no wonder that Nick was to make his mark as a military historian of note in South Africa. He spent his formative years in Kimberley at the Christian Brothers College, before moving to Witbank.

After matriculating, he joined the Chamber of Mines in Johannesburg. Nick married Isobel and they had a daughter, Pamela. He was a founder member of the Military History Society of South Africa in 1966 and played a leading role on its committee in organizing speakers and tours and getting its journal off the ground. He was appointed assistant editor of the Military History Journal in June 1978.

Nick served as chairman of the Military History Society from 1981 to 1983. He and Maurice Gough-Palmer, who for many years was the secretary of the society and representative of the Commonwealth War Graves Commission, travelled widely as they researched battlefields in detail.

Nick wrote many articles for the Military History Journal, inter alia: The capture of Lotter's commando' in Volume 1 No 5, December 1969; The Sekukuni Wars' (Parts 1 and 2) in Volume 2 Nos 5 and 6, June and December 1973, respectively; 'Fort Amie!' in Volume 3 No 2, December 1974; 'Baron Richard von Stutterheim' (co-authored by J H French) in Volume 3 No 4, December 1975; The lonely graves of Zululand' in Volume 5 No 1, June 1980; 'Nourse's Horse at Elandsfontein Ridge, 16 January 1881' in Volume 5 No 2, December 1980; 'Churchill and Ladysmith' in Volume 7 No 3, June 1987; The South African Military History Society - an historical outline' in Volume 7 No 5, June 1988; The Brandwater Basin and Golden Gate surrenders, 1900' in No Small War, the special centenary issue, Volume 3&4, October 1999; and The Moolman Spruit Action, 20 April 1902' in Volume 12 No 1, June 2001. Amongst numerous other contributions to the journal over many years, he also produced a mini-index of Volume 8 in 1992 and a mini-index of Volume 9 in 1995.

His expert knowledge was passed on to members in his quiet, unassuming manner. His knowledge and incisive search for historical truth made him a sought-after book reviewer. At the Chamber of Mines, Nick served as Secretary of the TAC (Technical Activities Committee). He retired after 47 years' service. He was deeply involved in Scottish pibrochs and organized pibroch competitions, which included hosting overseas judges. Years after his divorce he married his secretary, Meryl Wood, in 1985 and moved to live on the West Rand.

His friendly manner and guidance were an inspiration to us younger researchers. On a memorable occasion about thirty years ago he, Maurice, Major Darrell Hall and I took a train trip to Kimberley for a guided battlefields tour by Fiona Barbour. His sense of humour kept us in stitches, and turned an unpleasant milk-train run into a rollicking carriage of laughter and set the tone for the visit.

In his later years, Nick continued his interest in the South African Military History Society. He sadly wrote the obituaries of many of his friends, inter alia, Maurice Gough-Palmer, Darrell Hall, Don Forsyth, Will Carr, Teddy Winder, Prof Johan Barnard and Lionel Wulfsohn. In 2006, on the occasion of the society's 40th anniversary, he was made an honorary life member.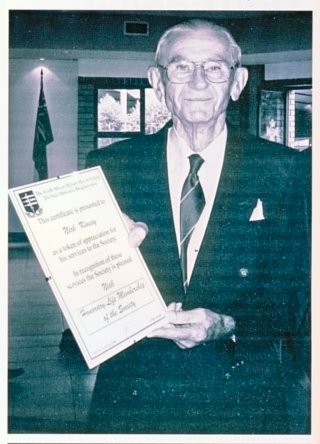 In recognition of Nick Kinsey's contribution to the South African Military History Society,
he was awarded Life Membership on the occasion of the Society's 40th anniversary in December 2006
Nick was intelligent, able and reliable and possessed great energy and determination as well as his great sense of humour. In his last years, Meryl recalled that he was in his study daily, researching military history and assisting others wherever possible.
After a fall, he was hospitalized and passed away on Sunday, 27 May 2012, aged 93. A well-attended memorial service was held at the Country Club Johannesburg, Auckland Park. Attendees learnt that he had four grandchildren and four great-grandchildren. He was a gentleman in every sense of the word, who will be sorely missed by all.
Ian Uys
---
Return to Journal Index OR Society's Home page

South African Military History Society / scribe@samilitaryhistory.org