The South African
Military History Society


---

Die Suid-Afrikaanse Krygshistoriese Vereniging
---
Military History Journal
Vol 15 No 4 - December 2011
OBITUARY: Brigadier-General Richard 'Dick' Lord, SAAF (Ret)
Brigadier-General Richard ('Dick') Stanley Lord passed away peacefully in his sleep on Wednesday evening, 26 October 2011, after a long illness. It took its toll of his health, but not his spirit and joy of life. Brig-Gen Lord was a staunch and valued member of the Cape Town Branch of the South African Military History Society for many years and will be remembered for his warm and friendly personality, as well as his excellent lectures.

Dick Lord was born in Johannesburg on 20 June 1936. He grew up with a father away to war, serving in the Imperial Light Horse, who was captured at Tobruk and did not return home until 1946. Dick Lord completed his schooling at Parktown Boys' High, before travelling to Britain to join the Royal Navy as an Air Cadet in 1958. He qualified as a fighter pilot flying Sea Venoms and Sea Vixens from the decks of the aircraft carriers Centaur, Victorious, Hermes and the famous Ark Royal on service around the world. In the mid-60s, he was selected for a two-year exchange tour with the US Navy, flying A-4 Skyhawks and F-4 Phantoms out of NAS Miramar, San Diego, California. He completed tours of air warfare instruction flying Hunters from the naval air stations at Lossiemouth, Scotland and Brawdy, Wales. He returned to South Africa in the early 1970s and joined the SMF, flying Impalas, Sabres and Mirage Ills. During the Border War, he commanded No 1 Squadron, flying Mirage F1AZs. His last tour of duty was as commander of the Air Force Command Post. He was mentioned in dispatches and awarded a Distinguished Service Cross for his role in the very successful rescue of all 581 people from the ill-fated cruise-liner Oceanos in 1991. Before retiring in 1994, he was tasked to organise the fly-past at the inauguration of Nelson Mandela as President of South Africa.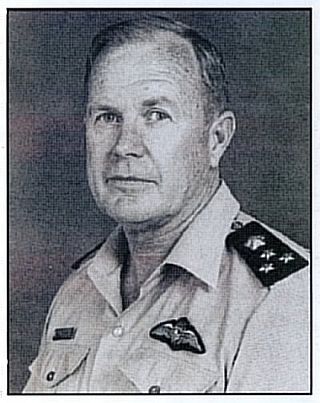 Upon retiring he took up a very active and successful career in writing, documenting his military career in a number of popular books. His first book was Fire, Flood, and Ice: Search and Rescue Operations of the South African Air Force, published in 1998. This was followed by Vlamgat: The Story of the Mirage F1 in the South African Air Force (2000), From Tailhooker to Mudmover: An Aviation Career in the Royal Naval Fleet Air Arm, United States Navy and South African Air Force (2003), From Fledgling to Eagle: The South African Air Force during the Border War (2008), a second impression in paperback edition of Vlamgat (2008), and Standby! South African Air Force Search and Rescue (2010) (an updated edition of Fire, Flood and Ice).
Brig-Gen Lord is survived by his wife, June Rosalind, eldest son Richard, his wife Heather and their three children (two daughters and a son); and Michael, the youngest son. Richard lives in Somerset West while Michael, who is still single, lives in Johannesburg.
He will be missed and remembered by all those whose paths crossed his.
Johan van den Berg
Chairman, Cape Town Branch, SA Military History Society
---
Return to Journal Index OR Society's Home page

South African Military History Society / scribe@samilitaryhistory.org