The South African
Military History Society


---

Die Suid-Afrikaanse Krygshistoriese Vereniging
---
Military History Journal
Vol 15 No 4 - December 2011
LETTERS TO THE EDITOR
Five Afrika Korps graves in Cape Town
The deaths of the five German soldiers referred to in Mr Klause Kuhne's letter published in the 'Letters to the Editor', Military History Journal Volume 15, No 3, June 2011, would have been bizarre had their unnatural deaths not taken place under such tragic circumstances.
The five were part of a contingent of prisoners of war transported on the Cape Town Castle from North Africa via the Suez Canal to Cape Town, en route to Canada. The ship lay at anchor in False Bay, off Simon's Town in May 1942. The POWs were members of Field-Marshal Erwin Rommel's Deutsches Afrika Korps, who had been captured in North Africa. While at anchor on 3 May 1942, the five managed to escape and at least four reached the shore alive, but completely exhausted from the long swim and immersion in the cold water. Apparently they were discovered amongst the rocks by a roving patrol of Naval Police (another account states that the alarm was raised when they escaped and that the policemen were waiting for them on the beach, should they make it and set foot on land) and the defenceless escapees were then assaulted with rifle butts and/or bayoneted. Two apparently died immediately, or shortly thereafter, while two survived the assault but subsequently succumbed to their injuries in early August. A Coloured fisherman by the name of Van Wyk was eyewitness to this cold-blooded assault. He was, apparently, fishing illegally in the bay and hiding amongst the rocks to prevent being discovered by the Naval provosts.
A local newspaper, the Cape Times, briefly reported that five POWs had escaped. However, on 8 May, while Die Burger reported that the authorities had no knowledge of the successful escape of German POWs, it was reported in the same newspaper that two German POWs had been buried on the previous day, 7 May, in the Woltemade Cemetery! On 9 May, Die Burger carried a short report on the death of what appeared to be a drowned German soldier, who had been washed ashore at Fish Hoek (a township between Simon's Town and Muizenberg). He had apparently been dead for some time, tied to a rescue buoy and clothed in a military shirt only. Two days after that, Die Burger recorded the burial of a third German soldier in the Woltemade Cemetery on Saturday, 9 May. All three were buried by the local Lutheran pastor, Hoberg. According to newspaper reports, some eighty members of the local German community attended the funeral service held on 7 May and about 160 people were present at the service on 9 May. The remaining two German soldiers died about three months later, ostensibly as a result of the injuries they had sustained in May. They were buried on 3 and 7 August respectively (It is interesting to note that they both died within a short space of each other) Of these latter burials, no trace could be found in any of the local newspapers.
Other than the short newspaper reports during May, the whole affair is surrounded by an air of mystery, conjecture, and hearsay, with suspicions of a cover-up. It is believed that the bodies were held in the police mortuary, but no autopsies appear to have been performed. It also seems that no police reports relating to the incident have survived; they may have been destroyed during the great record burning by the Smuts government after the Nationalist Party victory in 1948. All this added to the mystery We do know that in 1990 the original graves were excavated along with a large number of others, to make way for major road improvements. On 24 April 1990 the remains of the five unfortunate young men were re-interred in the Commonwealth War Graves section in separate graves, not far from their original gravesites, where they rest to this day.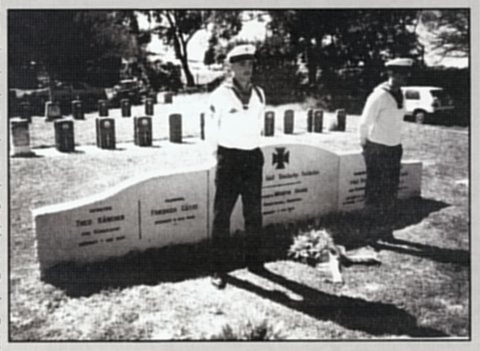 It was rumoured that the perpetrators of this foul deed were Coloured members of the armed forces. This was disproved when Mr van Wyk came forward to tell his remarkable story of being eyewitness to the event some 45 years before. He also made the disclosure that not only were the perpetrators white, but that they spoke Afrikaans!
The known facts regarding the five soldiers are that they were:
Unteroffizier (NCO) Martin Kraus from Schiffsweiler, Rhine Province, who died on 3 May and was buried on 7 May 1942;
Gefreiter (Lance-Corporal) Theo Karcher from Dusseldorf, who died on 4 May and was buried on 7 May 1942;
Feldwebel (a rank between sergeant and sergeant-major) Friedrich Gatze, who probably drowned on 3 May and was buried on 9 May 1942;
Gefreiter Willi Kalz from Magdeburg, born 5 May 1919, who was buried on 7 August 1942; and
Leutnant (Lieutenant) Gerhard Laug from Breslau, who was buried on 7 August 1942.
Most of the information relating to the deaths of the German paws was relayed to the writer by the late Mr Artur Painczyk, who undertook voluntary maintenance of the graves when he became aware of their existence in 1946 upon his return from internment for the duration of the war, lasting 6% years. He also organised the annual commemoration and gathering at the gravesides by the local German community on Volkstrauertag (National Day of Mourning), accompanied by wreathlaying by veterans of the Second World War. On rare occasions, when members of the German armed forces visit Cape Town, wreath-laying ceremonies are also arranged through the German Consulate. The tradition of commemoration is carried on even now that the surviving veterans are getting fewer by the year, with only a handful faithfully attending the annual service each November.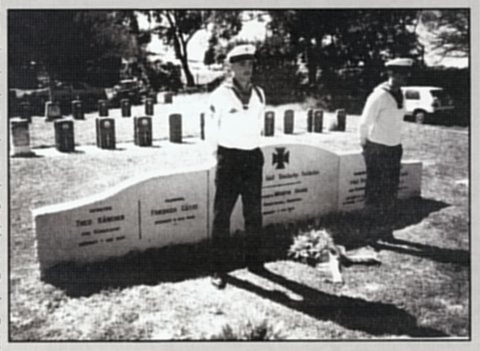 My infatuation with military history and professional specialisation as a heritage planner led to my interest in the fate of these five men. I have researched known sources and the burial records of the deceased, having been fortunate to work in close conjunction with the cemetery management while still employed as a spatial planner by the responsible local authorities.
Johan van den Berg
Branch Chairman: South African Military History Society (Cape Town)
---
The battle of Blaauwberg revisited ...
I refer to your Military History Journal Vol 13 No 4, December 2005, in which an article was written on the Battle of Blaauwberg. I believe your information is incorrect, especially in reference to Sir David Baird and his brother, John. Lt-Col Joseph Baird was the brother of Sir General David Baird, who fought at Blaauwberg. John Baird was a nephew who was an Ensign on one of the ships but never took part in the battle as a soldier. .. I have done a keen study on the Baird family, as my great great grandfather was Ensign John Baird, who became the first landdrost of Beaufort-West.
Lindi Baird
Durbanville
---
Jewish Palestinian soldiers on board the Erinpura
I read Norman Clothier's interesting article about 'The Erinpura: Basotho Tragedy' (published in Military History Journal Vol 8 No 5 June 1991). In that disaster, the Jewish Palestinian 462 General Transport Company, Royal Army Service Corps, lost 140 soldiers. Every year, around 1 May, we commemorate them in a national ceremony in their memorial place in Jerusalem. On our website, http://www.jwmww2.org, we collect information about Jewish soldiers in the Second World War, including the story of the Erinpura. In our films, there is a very interesting interview - in Hebrew - with one of the survivors, Haim Ast. In addition, we have a lot of information about that tragedy and about Jewish soldiers from South Africa who served in the Second World War. We would like to share it with you and create cooperation.
Brig Gen (retd) Zvi Kan- Tor
Association for Establishing the Museum of the Jewish Soldier in World War II,
Kiryat Ono, Israel
(Editor's note: The SS Erinpura was a troopship sunk by a German attack on 1 May 1943, with the loss of 943 lives, of whom 633 were Basotho soldiers serving in the African Auxiliary Pioneer Corps.)
---
Sir John Cecil Power, buried in Lindley
Steve Watt's otherwise excellent article, 'The Lindley Affair', published in Military History Journal, Vol 15 No 3, June 2011, contains two errors regarding the identity of Sir John Cecil Power. The caption to his photograph describes him as a 'whiskey baron from Ireland'. This is incorrect. He was the Fourth Baronet of Kilfane in Co Tipperary. There was, at the time, a whiskey baron named Sir John Talbot Power. He was the owner of a large whiskey distillery but was the Third Baronet of Edermine in County Wexford. Sir John Elliot Power was succeeded by his brother, Captain Sir Elliot Derrick Power, 1/Rifle Brigade, who died of enteric fever at Standerton on 20 January 1902.
Further on, the article states that the 'British casualties during the five days' fighting amounted to 80, of whom 23 were fatal. Amongst these was Lord Craigavon, Sir John Power, a whiskey baronet.' In fact, Captain James Craig, son of a whiskey baron, was captured but later released as having a burst eardrum. He was later created the first, and only, Lord Craigavon in 1927.
Brian Kennedy
Durban
---
Return to Journal Index OR Society's Home page
South African Military History Society / scribe@samilitaryhistory.org