The South African
Military History Society


---

Die Suid-Afrikaanse Krygshistoriese Vereniging
---
Military History Journal
Vol 15 No 3 - June 2011
SKIRMISH AT VREDEFORT
A DISPUTE OVER FIVE WAGON-LOADS OF FLOUR 24 July 1900
PART ONE
by Dr Johannes J Retief
'Man shall not live by bread alone, but by every word of God' - Luke 4: 4 (KJV)
A note on sources: A full bibliography will appear at the end of Part Two of this article, which will be published in Military History Journal Vol 15 No 4, December 2011.
A sharp encounter between Boer and Brit occurred outside Vredefort on 24 July 1900. The casus belli was the possession of five wagon-loads of flour. De Wet had sent wheat to be milled at Vredefort, to supplement his burghers' diet of tough meat. During the wagons' return journey, Broadwood's men pursued and captured them. This led to a counter-pursuit by the Boers, which developed into a fierce fire-fight. The confrontation ended in a stalemate, when reinforcements for both sides arrived. Total casualties were nine killed, several wounded and eighteen Boers taken prisoner of war.
INTRODUCTION
The town of Vredefort in the northern Free State Province of South Africa is best known today for the bolide impact crater named after it. The two billion year old Vredefort Dome was proclaimed a World Heritage Site in 2005. Well known for more than a century amongst geologists, it has recently become one of the seven areas recognised internationally as part of South African heritage (Rei mold and Gibson, 2005).
Vredefort was founded on 21 May 1881 by the Volksraad (House of Representatives) of the Republic of the Orange Free State. By 1899, it served a thriving community with a church (1882), a school (1883), various residences (Ferreira, 1982), as well as two general dealers and a bakery (Howland, 1901, P 132). Flour was provided by one Mackenzie of Water Street, where a mill had been operating since 1884 near the spruit (stream), which flows through the town.a
The Anglo-Boer War was in its tenth month by mid-July 1900. The military situation was becoming increasingly unfavourable for the Boers. The capitals of both Boer Republics had fallen into British hands. The bulk of the armed forces of the Orange Free State, as well as the government, found themselves partially encircled by British forces under the command of Lt-Gen Sir Archibald Hunter, in the Brandwater Basin at the foot of the Drakensberg Mountains (Pretorius, 1976, pp 1-12).
---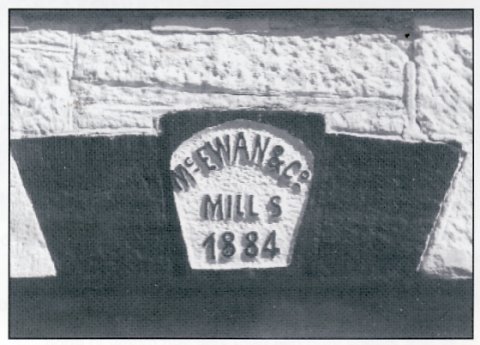 Lintel stone of building at No 9 Water Street, Vredefort.
a The lintel stone of a recently restored building at No 9 Water Street (Erf 47), Vredefort, bears the inscription 'McEwan & Co, Mill, 1884'. According to the Office of the Registrar of Deeds in Bloemfontein, the property was registered in the name of Arthur McEwan in 1884, but sold in 1891. It probably housed the offices of the mill, as there would have been less flour dust there. Mackenzie's mill itself was on the property across the street at No 10 Water Street (Erf 17), where the foundations may still be seen.
---
THE FIRST DE WET HUNT
General Christiaan Roedolfb de Wet, Chief Commandant of the Orange Free State Commandos, conducted a krygsraad (council of war) near Retief's Nek inside the Brandwater Basin on 11 July 1900 (Delport, 1972, pp 148-50). The immediate goal of de Wet was to escape from the British forces that were closing in on the Boers trapped inside the Brandwater Basin. The burghers (citizens)c were to leave in three separate detachments, the first one being led by de Wet himself over Slabbert's Nek on 15 July (De Wet, 1902, pp 177-8).
This objective de Wet accomplishedd, but he found himself hotly pursued by Brig-Gen Robert G Broadwood, commanding the 2nd Cavalry Brigade, who had been joined on 17 July by Brig-Gen C P Ridley and the 2nd Mounted Infantry Brigade (Pretorius, 2001, pp 45-6). It was the beginning of what became known as the First De Wet Hunt (Amery, 1906, pp 414-33).
---
b De Wet's second name is misspelled on his birth certificate. He usually wrote 'Rudolph' (Scholtz, 2003, p 13).

c The Boers did not consider themselves soldiers. Adult males were called 'burghers' in times of peace as well as war. The term 'soldier' was despised and reserved for members of the British Army (Hillegas, 1900, pp 61-2).

d The majority of the burghers comprising the other two detachments eventually also left the Brandwater Basin, but as British prisoners of war. As a result of the conduct of Marthinus Prinsloo, as well as of deficiencies in the military system of the Orange Free State, the burghers spent many days electing a new Chief Commandant, when they should have been executing de Wet's plan. By the time that Prinsloo, in a controversial manner, had been elected as Acting Chief Commandant, the British forces had sealed off all but one escape route. Prinsloo, with 4 400 burghers, ignominiously laid down arms on the farm Verliesfontein, afterwards known as Surrender Hill, on 30 and 31 July 1900 (Delport, 1972).
---
Skirmishes occurred at Witklip near Bethlehem on 16 July and at Paardeplaats near Lindley on 19 July, during de Wet's trek north-westward until 23 July. Also on 19 July, rearguard actions were fought across the farms of Karoospruit, Palmietfontein, and Tierbank in order to keep Broadwood's cavalry and mounted infantry at bay (Pretorius, 1976, 2001).

De Wet's trek, which took place during the coldest time of the Highveld winter, was hard on both man and beast. The burghers spent long hours in the saddle with very little sleep. Meals had to be prepared and eaten hastily, if at all. Since leaving the Brandwater Basin, their diet had consisted almost exclusively of lean, tough meat without salt; bread or roosterkoek (griddle scones) were mere dreams. This is according to Oskar Hintrager, a German observer with the Boer artillery (Oberholster, 1973, pp 84, 91).

THE BOER FORCE

De Wet's force of about 2 000 men consisted largely of commandos from the northern Orange Free State, namely Bethlehem (Cmdt Michael Prinsloo), Frankfort (Cmdt Alex Ross), Heilbron (Cmdt Lucas Steenekamp) and Kroonstad (Cmdt Frans van Aardt), selected so that the burghers could encourage dissident family and friends along the way to rejoin the commandos (Pretorius, 2001, p 29; Oberholster, 1973, p 90). To these were added a veldkornetskap (field-cornetcy) from Boshof (Field-Cornet Christoffel Badenhorst), some forty rebels from Griqualand West (Field-Cornet Jacobus van Zyl), as well as approximately fifty burghers from Potchefstroom (Pretorius, 2001, pp 27-8).

For reconnaissance, de Wet relied on the about 165 men of Theron's Verkenningskorps (Theron's Scouting Corps), or TVK, raised by Capt Danie Theron (Breytenbach, 1950, pp 180-95). He could also depend on approximately thirty scouts under Capt Gideon Scheepers. In order to engage the enemy at longer distances, de Wet had two Krupp guns and two Armstrong guns (Capt W H Muller and Lt Piet Strydom) at his disposal. Nominally this force was placed under Gen Philip Botha (Assistant Chief Commandant)e, but with the Chief Commandant being present, de Wet was de facto in command (Pretorius, 2001, pp 27,34).

De Wet's primary objective was to engage the enemy actively by wrecking the Bloemfontein-Pretoria railway line. These actions would disrupt the supply and communication lines of Field-Marshal Lord Frederick Sleigh Roberts, Commander-in-Chief of the British Forces in South Africa, who had occupied Pretoria on 5 June. Bloemfontein fell on 13 March, and a krygsraad was held at Kroonstad on 17 March, at which Presidents Kruger and Steyn, as well as Generals de Wet, de la Rey and Joubertf were present. At this meeting it was decided in principle to abandon defensive trench warfare in favour of guerrilla or mobile warfare (Pretorius, 2001, pp 8-9).

In addition to these strategic considerations, de Wet had to contend with a large wagon laager. When he eventually reached Olifant's Nek in the Magaliesberg, some Transvaal burghers were astonished by the sheer size of the laager (Pretorius, 2001, p185). It initially consisted of about 460 wagons and carts, drawn by oxen and mules. De Wet was immensely frustrated by the presence of the wagon laager, but was powerless at the time to do anything about it (De Wet, 1902, pp 184-5). For the protection of the laager while on the move, Theron and the TVK had to fight a series of rearguard actions.
---
e In May 1900 the government of the Republic of the Orange Free State abolished the rank of vecht generaal (combat general) and replaced it with assistent hoofkommandant (assistant chief commandant). Senior officers, such as Christiaan and Piet de Wet, Christoffel Froneman, Philip Botha and Paul Roux, all of whom had been vecht generaals, were previously referred to and addressed as 'general'. In Afrikaans, the Afrikaner vernacular, this situation continued unchanged. The titles 'chief commandant' and 'assistant chief commandant' were used for the office of an incumbent rather than as a rank (Retief, 1994).

f In a telegram sent by President Kruger to President Steyn on 31 May 1900, he urged the latter to meet him in Machadodorp to discuss a more effective war strategy. This meeting, which eventually occurred on 25 August 1900 at Waterval Onder, led some authors to believe that it was one of de Wet's original objectives. It was, in fact, decided upon only after the escape from the Brandwater Basin (Pretorius, 2001, pp 29, 204).
---
THE BRITISH FORCES
On 16 July, Broadwood's 2nd Cavalry Brigade included the Composite Regiment of Household Cavalry, the 10th Hussars, 12th Lancers and the 5th Corps Mounted Infantry (950 men in all), as well as 'Q' Battery, Royal Horse Artillery (Maurice and Grant, 1908, pp 325, 527; Amery, 1906, p 505). On 18 July, he was reinforced by the 1st Derbyshire Regiment (450 men) and one section (two guns) of the 76th Battery, Royal Field Artillery (Amery, 1906, p 416; Broadwood, 1900, p 96).
Ridley's 2nd Mounted Infantry Brigade (700 men) included, amongst others, the 2nd Corps Mounted Infantry, which had attached to it a squadron of a colonial unit, the 4th Western Australian Mounted Infantryg (Broadwood, 1900, p 97; Stirling, 1907, p 457). Ridley also commanded the 6th Corps MI (Lt-Col Legge), which included a locally raised volunteer unit, Kitchener's Horse (Tylden, 1954, p 105). The brigade division of artillery was 'P' Battery, RHA (Maurice and Grant, 1908, p 528; Amery, 1906, p 505). When Ridley joined Broadwood on 17 July, he had with him two squadrons of another colonial unit, the 4th South Australian Imperial Bushmen (200 men), which had been detached from Maj-Gen Arthur H Paget's 20th Brigade (Broadwood, 1900, p 95). Therefore, on 23 July, the eve of the skirmish, Broadwood commanded a force of 2 300 men and fourteen guns (Broadwood, 1900, p 96; Maurice and Grant, 1908, p 325).
On 17 July, Lord Roberts had ordered Lt-Col M a Little, acting commander of the 3rd Cavalry Brigade, to assist Broadwood and Ridley in the pursuit of de Wet (Pretorius, 2001, p 48). Due to poor communications and a lack of supplies, he was unable to make contact with Broadwood before 23 July (Pretorius, 2001, pp 50, 76). His force consisted of the 9th, 16th and 17th Lancers (740 men in total), as well as 'R', Battery, RHA (Amery, 1906, p 504; Maurice and Grant, 1908, p 326).
---
g The officer commanding, Maj George Hatherley Moor, was killed in action at Palmietfontein on 19 July 1900 (Coulthard-Clark, 2001, p 82).
---
THE SITUATION ON 23 JULY 1900
Orientation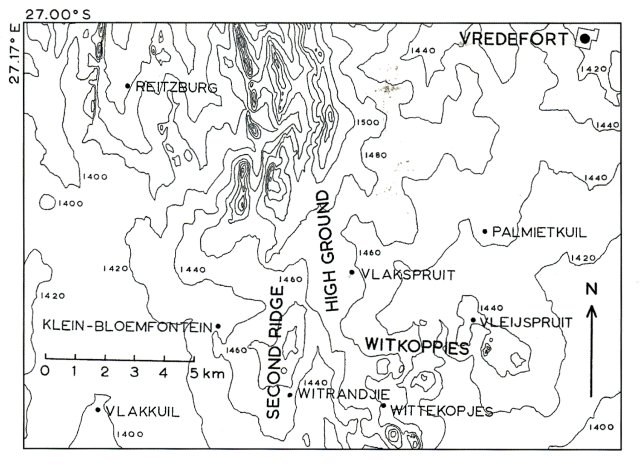 Map 1: Skirmish at Vredefort. Government Printer: Topographical Maps SA 1:50 000, 2727 AA Reitzburg and 2727 AB Vredefort.
Map published with permission from the Chief Directorate of National Geo-Spatial Information of the Department of Rural Development and Land Reform.
The contour interval equals 20 metres. The small black roundels indicate farmsteads.
The north-western half of the inner ring of the Vredefort impact crater is the only part that is visible today, in the form of a series of hills through which the Vaal River meanders (see Map 1). The south-eastern half, where the town of Vredefort is situated, forms part of the undulating terrain that is typical of the Free State Province. The first hills are found about 9 km due west of Vredefort. To the south-west, 13 km from Vredefort, are the first of a few isolated hills collectively known as the Witkoppies (White Hills) (Kriel, 1957, p 29). In between the hills at the Vaal River and the Witkoppies is a 6 km stretch of high ground running from north-north-west to south-south-east (hereafter referred to as the 'high ground') and extending over parts of the farms Vlakspruit (1180) and Wittekopjes (169). West of this high ground and to the south, is a broad valley followed by another ridge, which is approximately 20 metres higher (hereafter referred to as the 'second ridge'). It is situated on the farm Witrandjie (1187) and is about 14 km from Vredefort. The ridge consists of a conical hill, Witrandjie, with an unnamed flat topped hill about a kilometre in length and half a kilometre wide immediately to the north. These two hills provide a clear view over the plains towards Vredefort (Van Schoor, 1990, pp 189). The topography of the terrain also explains why the road from Klein-Bloemfontein to Vredefort, to this day, passes the farms Witrandjie and Wittekopjes.
Final movements
De Wet and his force crossed the Bloemfontein-Pretoria railway line north and south of Serfontein Siding during the night of 21/22 July. During this crossing, burgher Emel van der Heide of the Bethlehem Commando was mortally wounded (Pretorius, 2001, P 66; Ver Loren van Themaat, 1903, p 157). The next morning they halted briefly on the farm Mahemspruit, where Danie Theron was promoted to the rank of commandant. The Boers trekked on and spent the following night (22 July) near the farm Wonderheuwel (173), 19 km due south of Vredefort. At midday on Monday 23 July, de Wet arrived at the farm Klein Bloemfontein (7), which belonged to Koos Uys, 16 km south-west of Vredefort and 2 km west of the second ridge (Van Schoor, 1990, p 18; Lombard, 1939, p 65). The greater part of his force, including Theron and the TVK, camped near the retaining dams at Vlakkuil (152), a farm 5 km further to the south-west (Pretorius, 2001, pp 70, 78; De Wet, 1902, p 187; Ver Loren van Themaat, 1903, map facing p 144 [see Map 2]).h
Later that day, de Wet sent five wagons of wheat with an escort of eighteen burghers to Mackenzie's mill in Vredefort to be ground into flour. Among these men were a number from the Vredefort vicinity, who knew the area intimatelyi (see Table 1). They proceeded in part via the Old Coach Road from Kroonstad to Vredefort, which used to pass through the Witkoppies. (The remains of this road, which used to pass a fountain (27.11000° S, 27.30476° E) on the farm Wittekopjes, was indicated to the author on 29 April 2008, by Mrs Alida van der Lingen, the present owner. In 1902 it was recorded that the farm belonged to Gottlieb Wilhelm Bruchner van der Lingen (Farm List Orange River Colony by Districts, March 1902 - published by the Field Intelligence Department, Bloemfontein: Confidential). De Wet himself undertook a reconnaissance with fifty men in the direction of Vredefort (Van Schoor, 1991, P 18; Lombard, 1939, p 65). It was a bitterly cold and rainy day (Lombard, 1939, pp 64-5; Ver Loren van Themaat, 1903, p 160).
Around noon on the same day, Broadwood finally made contact with Little and ordered him to join his force the next day at Vredefort. That night Broadwood and Ridley camped near a drift on the farm Shepstone (130), 19 km south-east of Vredefort, while Little was near the Rhenoster guard-post at Koppies Station (Amery, 1906, p 418; Colvin and Gordon, 1904, p 132).
---
h It is interesting to note that the dates given by the diaries of Hintrager and Ver Loren van Themaat for de Wet's stay at Klein-Bloemfontein and Vlakkuil are one day late in both cases (see Pretorius, 1976, Inleiding [Introduction]). Coincidentally, the dates given by de Villiers are also late by one day. All three sources describe the events of 24 July 1900 as having taken place on the 25th.

i The burghers of Vredefort formed the veldkornetskap Lower Rhenoster River, which was part of the Kroonstad Commando (Breytenbach, 1969, p 34). Upon mobilisation, for some inexplicable reason, half the Kroonstad Commando, including the Vredefort burghers, was sent to Natal, while the rest went to the Western Front (Hopkins, 1963, p 52). With the collapse of the Natal Front, the veldkornetskap Lower Rhenoster River (Field-Cornet Abraham Peens), was ordered to assist in guarding the Drakensberg passes. From then on it seems to have acted as an independent entity (Kriel, 1957, p 29). During their stay at Klein-Bloemfontein, Chris van Niekerk was elected as commandant (Hopkins, 1963, p 76). The Vredefort burghers were not part of the Kroonstad Commando which became separated from de Wet's force on 19 July during the skirmish at Paardeplaats, only to rejoin him on 29 July at Rhenosterpoort (Pretorius, 2001, pp 49, 103).
---
PHASES OF THE SKIRMISH ON 24 JULY 1900
The British Pursuit
The vanguard of Broadwood's force entered Vredefort at about 09.00 on Tuesday, 24 July 1900. A few kilometres to the left, five wagons were observed moving at top speed, having left Vredefort in a hurry. A mounted patrol was dispatched in pursuit and soon afterwards, shots were fired. This rifle fire gave the Boer brandwachten (pickets) in the Witkoppies ample early warning. The British patrol, however, proved unable to apprehend the wagons (Howland, 1901, pp 131-2).
Ridley then ordered Lt-Col Norton Legge, who was on the British left flank, to intercept the wagons. Legge, with 300 to 400 men of the 6th Corps MI, took up the chase over the treeless Orange Free State plains (Pretorius, 1977, p 22). Meanwhile, Broadwood proceeded towards Vredefort with the rest of his force.
The drivers of the flour-laden wagons headed in the direction of Klein-Bloemfontein via the Witkoppies, whence they had set out the previous day, and where they hoped to receive assistance. They made good progress according to Frederick Howland, an American reporter with the 6th Corps MI, but the mounted infantrymen were much faster than the loaded wagons. Howland noticed that they began shooting when coming within effective firing range from the wagons. He commented: 'The chase grew most exciting as the horsemen, taking snap shots now, drew nearer to the wagons, which in their turn were rapidly approaching their own goal' (Howland, 1901, P 133).
After a strenuous race drawing near to the first hills of the Witkoppies, the wagons and their escort were captured by members of Kitchener's Horse under Maj G A Cookson (Broadwood, 1900, p 100) (Table 1). The capture of the wagons probably took place in the vicinity of the low lying areas of the farms, Vlakspruit (1180) or Vleijspruit (370), near the Witkoppies, where burgher Johannes du Plessis, a Cape Rebel from Colesberg, was shot through his lungs (Ver Loren van Themaat, 1903, p 161).
The wagons, with the flour intended for baking bread for the hungry Boers, were turned around and the weary oxen began pulling them back to Vredefort (De Wet, 1902, p 188). The British now had the impediment of slow-moving wagons ...
---
j Broadwood states that the wagons were captured at 4 to 5 miles (between 6 and 8 km) from Vredefort, which is in the vicinity of Palmietkuil. It is more probable that the wagons were captured close to the Witkoppies and that the fire-fight took place near Palmietkuil. Recorded distances in the literature of that period have to be approached with great care. Relevant questions that require answers are: Who did the measurements and how were they done? Where were the beginning and end points? Were artillery rangefinders or members of a Survey Company, Royal Engineers, involved? In this article, distances are given 'as the crow flies'.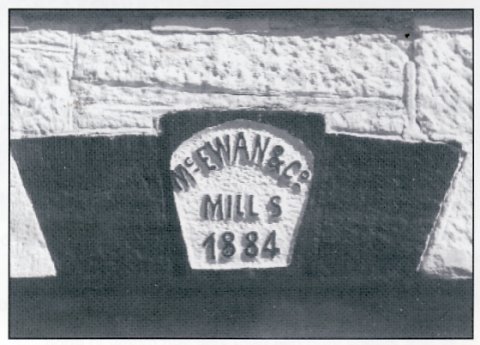 Marker stone on the Old Coach Road indicating the fountain at Wittekopjes
Table 1: Prisoners of War captured by the British Army in the vicinity of Vredefort on 24 July 1900 (Source: War Museum of the Boer Republics, Bloemfontein)
POW NO.
SURNAME
NAMES
AGE
ADDRESS
DISTRICT
FIELD-CORNETCY
WHERE CAPTURED
WHEN CAPTURED
POW CAMP
COUNTRY
7429
Eybers
George van Werfling
60
Klipstapel
Kroonstad
Vredefort
On farm
24 July 1900
Groenpunt
SA
7450
Schulbach
Coert
44
Heilbron
Heilbron
Heilbron
Vredefort
24 July 1900
Unknown
Unknown
7451
Van Coller
Andries Lucas
22
Serfontein
Heilbron
Heilbron
Vredefort
24 July 1900
Unknown
Unknown
7452
Haasbroek
Sarel Francois
20
Spruitfontein
Heilbron
Parys
Vredefort
24 July 1900
Unknown
Bermuda
7453
Celliers
Gert Daniel
28
Bloemfontein
Heilbron
Parys
Vredefort
24 July 1900
Diyatalawa
Ceylon
7455
Viljoen
Christoffel Jacobus
30
Wildehondefontein
Heilbron
Parys
Vredefort
24 July 1900
Unknown
Unknown
7457
Human
John Gerhardus Christiaan
45
Palmietkuil
Kroonstad
Vredefort
On farm
24 July 1900
Groenpunt
SA
7458
Loggenberg
Andries Phillipus
32
Vlakspruit
Kroonstad
Vredefort
On farm
24 July 1900
Groenpunt
SA
7459
Uys
Dirk Cornelius
28
Vlakspruit
Kroonstad
Vredefort
On farm
24 July 1900
Kroonstad
SA
7460
Mattheit
Willem Burger
16
Palmietkuil
Kroonstad
Vredefort
On farm
24 July 1900
Groenpunt
SA
7461
Mattheit
Daniel Jacobus
18
Palmietkuil
Kroonstad
Vredefort
On farm
24 July 1900
Groenpunt
SA
21946
Human
John Gerhardus Christiaan
45
Palmietkuil
Kroonstad
Vredefort
On farm
24 July 1900
Groenpunt
SA
Note: The Field-Cornetcies Vredefort and Parys should be Lower Rhenoster River.

End of Part One. This story will continue in Military History Journal Vol 15 No 4, December 2011.
---
Return to Journal Index OR Society's Home page

South African Military History Society / scribe@samilitaryhistory.org