The South African
Military History Society


---

Die Suid-Afrikaanse Krygshistoriese Vereniging
---
Military History Journal
Vol 15 No 2 - December 2010
In Memory ... Men from Both Sides Remembered as Brothers
A speech by Professor D F S Fourie
On 11 December 2009, Professor Deon Fourie was invited to unveil and attend the rededication of the rebuilt monument to the fallen of the Rifle Brigade and the new monument to the Boer fallen, who died in the nocturnal raid on Surprise Hill or Vaalkop or Mdaka, on the night of 10/11 December 1899. The guard of honour and sentries were provided by the 5th South African Infantry.
Deon Fourie, formerly a senior lecturer in Public Administration, became Professor of Strategic Studies at the University of South Africa (1968 to 1997). He taught courses on Strategy, Revolution and Civic Education for Staff Courses at the South African Naval Staff College from 1981 to 2001 and at the Defence College from 1980 and also periodically at the South African Army College and the South African Air Force College from 1968. He has been an occasional speaker at the US Army War College, the US Naval PostGraduate School, the Argentine Defence College, the Chilean Air Force Staff College, the International Institute of Strategic Studies and the Royal United Services Institution for Defence Studies in London, the Institut Frangais des Relations Internationales, Paris, and at various universities and other institutes. He has delivered papers at various South African and foreign conferences and contributed to books and acpdemic journals in the field of strategic studies. He was an ad hoc adviser in 1977 on the introduction of Strategic Studies at the NATO Defence College, Rome. From 1995 until 2006 he was a member of the Ministerial Civic Education Evaluation and Advisory Board. In the Reserve Force he was Officer Commanding, Pretoria Regiment (1975-1980), SDS (CF) at the South African Defence College (19801988) and Director, CF Liaison, Army Headquarters (1988-1994).
Memorials
In the film, 'The History Boys', the young schoolteacher, thinking that war memorials are raised by governments, tells his class that memorials are built not to remember but to make people forget. In fact, most war memorials are raised by people who care, who want to remember. They are raised by regiments, by old comrades, by soldiers' home towns, by thoughtful people.
The two monuments at Vaalkop/Surprise Hill/Mdaka were built, side by side, by considerate people who have contributed money, time, work and sympathy, honestly to remember plucky men of two sides, who fell in an unnecessary and unwanted war that began 110 years ago and left tragic and devastating results in our country.
Ongetwyfeld is ons dank verskuldig aan diegene wat die leiding gene em het en wat bygedra het tot die herstel en oprigting van die gedenkstene, nl, Amafa AkwaZulu-Natali, The Rifles, Commonwealth War Graves Commission, Ladysmith Belegmuseum Trust, die Ladysmithse Historiese Genootskap en die Suid-Afrikaanse Joodse Raad van Afgevaardigdes.
Die werk van Dr Eugene Campher en die trustees van die Ladysmith Belegmuseum Trust, veral die Surprise Hill subkomitee, onder leiding van Jan Human, getuig dat, terwyl mens die verlede moet onthou, ons in Suid-Afrika die bitterheid wat daaruit spruit, laat vaar het, en die toekoms in 'n gees van vriendskap en versoening tegemoet gaan.
War
Deneys Reitz, the seventeen-year old Boer who fought in the Pretoria Commando on that night 110 years ago and, in the First World War commanded the 1st Royal Scots Fusiliers in France, sub-titled his famous book, Commando, 'a lamentable tale of things done long ago - and ill done'.
War is sometimes the only obvious way to deal with a serious problem. However, few wars achieve their intended goals. Few wars have praiseworthy aims. Often, they result from politicians' ambitions, their lack of humanity, ignorance or foolishness. The outcomes are invariably personal tragedies for ordinary people. (Too late, after losing his own son to the First World War, which he supported fervently, Rudyard Kipling wrote in his poem, 'Epitaphs of the War': 'If any question why we died, tell them, because our fathers lied.')
The Anglo-Boer War cost the lives of some 21 840 British soldiers and 6 189 republican soldiers, and both sides included many black South Africans as well. The War also cost the lives of some 45 000 black and white civilians as well as the destruction of 30 000 farms and forty towns and villages. It left orphans and widows and decades of resentment in its wake. Wars leave many wounds in the mind - long after the wounds of the body have healed. Nevertheless, to shape the future, to build and to unite, we must always be prepared to heal and to use memory constructively.
In our 'beloved country', as elsewhere, there is too much to lose from continuing resentment and so much to gain from putting the past behind us and in making the greatest efforts to advance together in friendship and cooperation. The initiative to raise memorials to erstwhile enemies together, and to join one another for the commemoration of an event of war, signals great maturity and good sense. It is the stuff of which the new South Africa can be built.
Dit is werklik aangrypend dat die nageslag van die Boer en Britse krygers van 1899, vandag hier bymekaar kan staan om hierdie twee gedenkstene te onthul - ter nagedagtenis aan die gesneuweldes van beide kante.
The Raid
Although five companies of Riflemen took part, the action at Surprise Hill/Vaalkop/Mdaka was not a great battle. It was only classed as a raid. It did not qualify for a battle honour. However, for the besieged force in Ladysmith it was important, almost essential. British morale was low and needed stimulating in the light of the defeats and losses suffered. General White's attempts in October to capture the Staatsartillerie's guns as the Boers encircled the town failed, with losses of 1 200 killed, wounded and captured, and the siege of Ladysmith began. The professional, disciplined British force in Ladysmith had been bottled up by a force of civilians, whose commander, Gen Piet Joubert, though Commandant-General of the ZAR, was himself a civilian rather than a professional general. He had no military training, nor experience of modern conventional war, other than the Majuba campaign twenty years before.
The British reverses between 9 and 15 December 1899 at Stormberg, at Magersfontein and at Colenso, in what was called 'the Black Week of the war', did nothing to improve morale in Ladysmith. There was no gadfly of a Baden Powell in command here. Instead, Lieutenant-General Sir George White was a rather pedestrian, unimaginative and cautious type of general. Initiative would have to come from lower down in the ranks. Capt John Gough of the Rifle Brigade wrote in his diary: 'God knows, we need a success', and Col Sir Henry Rawlinson (later Chief of the Imperial General Staff) wrote much the same in more, staid official language in a report he compiled. Clearly, the atmosphere in Ladysmith would give the raid extraordinary importance for the besieged garrison.
Rawlinson eventually prevailed on General White to allow sorties - including one against the Boer guns on Gun Hill and another on Surprise Hill or Vaalkop. On the Boer side, honour was partly tarnished at Gun Hill on the night of 8 December when some Royal Engineers, with the Natal Carbineers, Border Mounted Rifles, the Natal Police and Imperial Light Horse, disabled a 155 mm (6 inch) Long Tom and 12 cm (4.7 inch) Howitzer, belonging to the ZAR's Staatsartillerie.
Dulce et decorum est pro patria mori ...
The men we remember today were victims of the war, but they were courageous men.
The Riflemen were from the Rifle Brigade, created almost a hundred years before to meet the need for camouflaged sharp-shooting skirmishers. Almost poetically, 1899 found them defending a town named after Juana Maria de los Dolores de Leon, Lady Smith, the Spanish wife of a famous founding member of the Rifle Brigade and governor of the Cape, LieutenantGeneral Sir Harry Smith. The men - one an officer - who fell on the night of 10/11 December 1899, were all Regulars, not adventurous colonial or Yeomanry volunteers. They were Lt G C D Fergusson, Rfn F Haines, Colour Sgt W Saunders, Sgt R Patterson, Rfn J Hughes, Rfn A Knight, Rfn E W Beard, Rfn T Beswick, Rfn C Brooke, Rfn J Broomhead, Rfn W Enright, Rfn J Knowles, Rfn R Maxwell, Rfn D Russell, Rfn S Sugden, and Rfn H Weeks. Soldiering was not necessarily their first career choice - often it was chosen out of necessity - but it was the ordinary British soldier, a man such as these, who created Queen Victoria's Empire. Today Riflemen are again fighting and dying in Afghanistan.
The loss of the sixteen men whose names appear on the memorial stone was small in comparison to the hundreds who died, were wounded or captured at Stormberg, Magersfontein, and at Colenso during 'Black Week'. But, for besieged Ladysmith, the action was significant. Five companies of the 2nd Battalion, the Rifle Brigade, some others and, of course, the Sappers to do the damage, nearly 500 men, came out of the town in the dark to lift the morale of the besieged and to weaken the fire power of the besiegers. On the night of 10/11 December, they came to 'Surprise Hill' to disable a 12 cm (4.7 inch) howitzer that had become a threat and a nuisance to the town. If it could be put out of action, the town and the garrison would be the happier.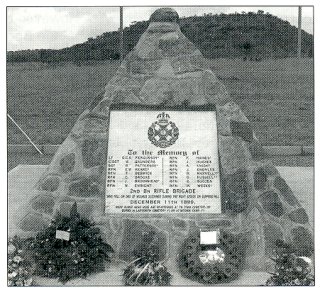 Old panel in a new setting.
The new memorial to the men of the Rifle Brigade.
(Photo: E Campher).
The Staatsartillerie gunners guarding the howitzer were bayoneted, and, despite a misfire, the charges placed in the muzzle and the breach eventually disabled it. (The Staatsartillerie was the only regular force in the ZAR and comprised a siege battery and a variety of field guns and howitzers, a field telegraphy detachment, a medical detachment and a logistics detachment). On their return to Ladysmith, one flank of the Rifle Brigade ran into a wall of rifle fire - from an ambush laid by some twenty men of Cpl Izaak Malherbe's Corporaalschap of the Pretoria Commando. The ambush was laid to stop the raiders, to strike back, to regain some honour. Fifty-two Riflemen were wounded in the exchange of fire. Several fell on the field of battle, others died of wounds later. Deneys Reitz, one of Malherbe's men, describes it all quite dramatically from the Boer side in his book, Commando.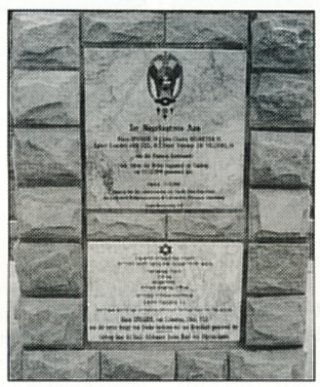 The new memorial to the Boers
who fell at Vaalkop/Surprise Hill/Mdaka.
(Photo: E Campher). .
Four republican soldiers fell and in their memory a new monument has now been raised. Who were these men? They knew nothing of warfare. They were not professional, trained soldiers. They were ordinary civilians under arms - burghers serving in the Pretoria Commando. They had come to defend the independence of the state of which they were citizens. They were: Desire de Villiers, aged 18, who came from the Victoria College (Stellenbosch University) to fight; Egbert Leander 'Sampie' van Zyl, aged 30, a civil servant; Harry Spanier, aged 59, born in Columbus, Ohio, and a naturalized burgher of the ZAR, and John Charles Niemeyer, aged 31. They now lie interred where some of their former enemies lie - in the Old Pretoria cemetery. Van Zyl and Spanier and Niemeyer lie under plain stones. Harry Spanier, at whose funeral President Kruger delivered an oration, was one of about two to three hundred Jews in the Republican commandos - a fair number in a small population of Jews. His gravestone bears the Magen David, the Shield of King David. Desire de Villiers lies under a magnificent image of an armed Boer, crumpling as a bullet robs him of his young life. Of finely carved marble from Carrara, in Tuscany, it is the most beautiful gravestone in the Old Pretoria Cemetery; it could almost have been worked by Michelangelo.
The stuff of soldiering
This was the stuff of soldiering: surprise, attack and counter-attack, courage, fear, pain and death. Often, in such actions, not much of significance can be achieved. However, on that night, what the Riflemen did and what the Boers did had to be done, for duty, for patriotism, for honour, and it was done well. Today we remember all these men as soldiers do - as comrades-in-arms, as brothers in death. They left us lessons of courage and devotion to duty. No one dies gladly - in spite of what some memorials and some nineteenth century poets would suggest. The men we remember today, soldiers from both sides, gave their lives simply doing what was expected of them as riflemen and as commando burghers, not heroes, but warriors for the working day. For their devotion to duty, for their comradely loyalty, for their love of country and for the sacrifice they made, we pay homage to them, and to their fellows who served in those armies, now long gone, Boer, British, black and white.
Selected References
Bryant, Arthur, Jackets of Green (Collins, London, 1972).
Chisholm, Ruari, Ladysmith (Jonathan Ball, Braamfontein, 1979).
Pakenham, Thomas, The Boer War (Abacus, London, 1994 [1979]).
Reitz, Deneys, Commando - A Boer Journal of the Boer War (Jonathan Ball, Braamfontein, 1990 [1929]).
Saks, David, 'Jews on Commando' in Saullssroff (ed) Southern Africa Jewish Genealogy (SA-SIG, 2005, http://www.jewishgen .0rg/SAfrica/ commando.htm).
---
Return to Journal Index OR Society's Home page

South African Military History Society / scribe@samilitaryhistory.org