The South African
Military History Society


---

Die Suid-Afrikaanse Krygshistoriese Vereniging
---
Military History Journal
Vol 15 No 2 - December 2010
61 Mech Bn Group Veterans Angola Battlefield Tour 2010
By Dave Fell
On 11 October 2010 a group made up mainly of 61 Mechanised Battalion Group veterans, led by Maj Gen Roland de Vries (retd) and Col Jaap Steyn, left on a seventeen-day odyssey of Remembrance to the Border War battlefields of Angola.
After spending the first night at Kang, in central Botswana, the group crossed the border into Namibia and rushed headlong into an 'ambush' set up by 61 Mech veterans in Windhoek. There they were met by the Head of the Namibian Defence Force, Gen Martin Shali, Brig Gen Karel Ndjoba, Col Bob Khadila, and the group's guide, Koos Moorcroft, retired former Sergeant-Major of the South African Army and the proprietor of African Bushcraft & Survival Adventures.
The next morning, on 13 October, on a hill outside Windhoek, Heroes' Acre was opened for a poignant ceremony in which Gen Roland de Vries presented to Brig Gen Karel Ndjoba a Cross in Remembrance of all who died on both sides in the Namibian/Angolan conflict.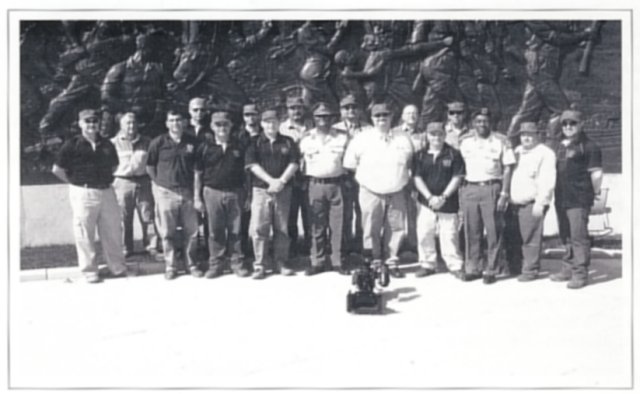 The group visits Heroes' Acre, Windhoek.
(Photo: Terence Doyle).
The group then proceeded to Tsumeb to be met by yet more welcoming veterans. After a night of reminiscing, they set off the next morning on a tour to the site of 61 Mech HQ, the Minen Hotel, and Sikkelbos Club, amongst others. A Remembrance Cross was presented, which is to be kept in the Tsumeb Museum.
On the following day, a visit was made to the former 61 Mech Base at Omuthiya and the Equestrian Base at Okatopi, with an overnight at Ondangwa.
On 15 October, after a five-hour delay at Calueque caused by Angolan officialdom, the group crossed the Border for their first taste of an Angolan main road. This is an area where 61 Mech were involved in operations against the Cubans. That night was spent in a beautiful 'Bush-Camp' between two Baobab trees, where a Cross was placed in Remembrance of Operation Super in which Capt 'Blackie' Schwartz of 32 Battalion lost three close comrades.
Thereafter the route was to Xangongo, where the Chinese have built a new bridge, and areas where Operations Reindeer and Daisy took place, then onwards, via Mongua to Ondgiva, and then via Mupa - and its church from which an organ had been 'misappropriated' and then returned by 61 Mech during the war - on to Evale, Cuvelai. Here they examined eighteen wrecks caused by 61 Mech's ambush on the road to Tetchamutete. At Cassinga, with its two mass graves, numerous AK 'doppies' and a Dragunov magazine were picked up around the numerous trenches. This was the scene of Operation Reindeer in May 1978 and Ops Meebos, Sceptic and Askari also took place in this area.
The group also visited Jamba, in the vicinity of which Recce Ops Firewood and Coliseum took place. They went via the church in Cubango to Menongue where they camped in 'luxury' at a building company compound.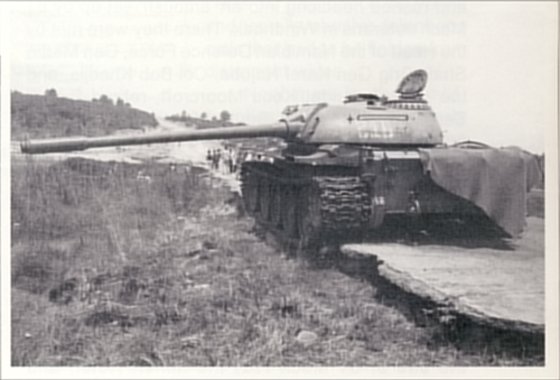 Knocked-out Soviet T55 tank, Longa River
(Photo: Mike Beyl).
On 21 October, en route to Cuito Cuanavale, the group arrived at the Longa River, where they found knocked out Soviet T55 main battle tanks, BRDM-2 light armoured cars, numerous GAZ and URAL trucks, and even an Mi-24 Hind gunship. The veterans surveyed the battlefield and crossed the bridge, but because of the mine fields could not go further to Tumpo 1, 2, and 3 where there are the remains of three Olifant tanks. A Remembrance Cross was presented to the Administrator. The group then passed the memorial that is being built at Cuito Cuanavale, to which they were denied access. They then returned to Menongue. In this area, Ops Congress II, Modular, Hooper and Packer took place.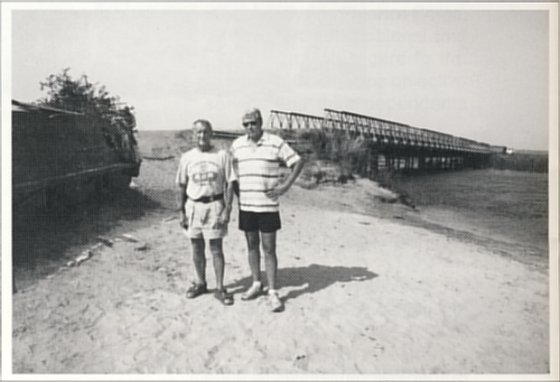 WO 1 Koos Moorcroft and Maj Gen Roland de Vries
at the bridge at Cuito Guanavale
(Photo: Mike Beyl).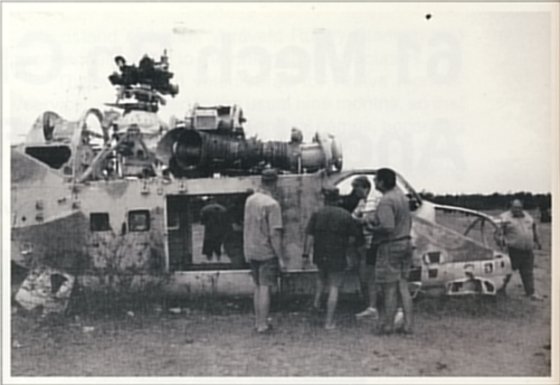 The wreckage of an Mi 24 Gunship
(Photo: Mike Beyl).
From Menongue, the veterans' tour proceeded via Caiundo to Savate on the Okavango River, where 32 Battalion's Operation Savate took place. They crossed out of Angola at Calai and overnighted at Sarasunga Lodge, Rundu. The next day, they continued, via Bagani, to 32 Battalion's Buffalo Base, which remains a beautiful wildlife conservancy. In a moving ceremony, a Cross was placed on a tree where Campbell Uys died.
---
Return to Journal Index OR Society's Home page

South African Military History Society / scribe@samilitaryhistory.org