The South African
Military History Society


---

Die Suid-Afrikaanse Krygshistoriese Vereniging
---
Military History Journal
Vol 14 No 6 - December 2009
OBITUARY: PHILIP REINARDUS (FLIP) HOORWEG
1933-2009

It is with great sadness that the Society has bid farewell to former chairman Flip Hoorweg, who passed away in September after a year-long battle with lung cancer.
Flip was born in Utrecht, the Netherlands, on 1 December 1933. The outbreak of the Second World War in 1939 severely disrupted the normal, daily routine of the family. The harshness and futility of warfare affected Flip for life and he often used to reminisce about the impact that these years had on his parents and the stress that it caused his father, who had to find a way to feed the family, especially during the long winters when food was scarce. Flip and his brother Hans had to ride through Hilversum on bicycles without rubber tyres in search of emergency schools. There were no toys, but Flip used to read a lot, even at that early stage in his life. Karl May's Wild West stories used to fascinate him. He completed his schooling in Utrecht, Hilversum and Breda.
Flip's sense of adventure was finally rewarded when he joined the Royal Dutch Air Force (KNLM) as part of the reserve officers' training programme. As a commissioned officer with the rank of second lieutenant, he was stationed in Zeeland as a member of the elite Corps of Observers. He became very proficient at spotting different types of aircraft and was soon regarded as one of the best in the Netherlands, notwithstanding the fact that he had only one good eye!
The KLM Royal Dutch Airlines proved to be a logical step after the Air Force, and he was soon stationed in branch offices around the world. Through KLM, he met his wife-to-be, Hilde, and came to places like New York, where he lived for six months, and Los Angeles. Flip saved small amounts of money every month, in a drawer in his room, so that Hilde could join him abroad. Flip and Hilde married in the Netherlands on 17 September 1960. The wedding was a spectacular affair, with horse-drawn carriages and the presence of two senior Army generals. (Hilde was the daughter of a senior officer in the Dutch colonial army in Indonesia).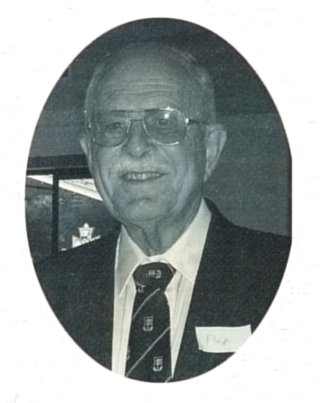 The young family immigrated to South Africa in 1964, where Flip took up a position with the Nederlandsche Bank (later Nedbank). Stints with Sanlam, Volkskas and Price Forbes followed. The family moved from Johannesburg to Pretoria, Bloemfontein, and finally back to Johannesburg. In Bloemfontein, Flip studied for a BA in History and Political Science at the University of the Orange Free State. This was followed by a BA (Hons) degree in Strategic Studies at the Rand Afrikaans University (RAU).

In addition to his work with Price Forbes (later Alexander Forbes), he was the Honorary Consul of the Netherlands in the Free State for several years. His early and unexpected retirement from Price Forbes at the age of 60 opened new doors for him. Throughout his life, he had nurtured a love for books on history, art, autobiographies and war. Churchill, Stalin, Hitler, Gromyko, Gorbachev, and Reagan became household names and his love for military history brought him to the South African Military History Society. He presented curtain raisers and main lectures to the Society on no fewer than seventeen occasions. His subjects ranged from Yugoslavia to the Mexican War of 1846, but his favourite topics were without a doubt the Second World War and the American Civil War.

His involvement with the Military History Society gave him many hours of joy, sharing his interests with people who were as committed to them as he was. The highlight was when he was elected National Chairman of the SAMHS from 2006 to 2007. He played an integral role during the celebrations held to commemorate the fortieth anniversary of the Society in 2006, which culminated in a special lunch held on 19 November 2006 at the South African National Museum of Military History.

Flip was generous and kind. He loved his friends and he adored his family. He loved animals and nature. The family used to spend many hours in South Africa's National Parks. He had an incredible memory for historical figures and dates, something which stood him in good stead as a military history buff. He was also a serial prankster, loved wearing hats and was often the soul of the party.

Flip will be sorely missed not only by those who knew him well at the Society, but also by his wife Hilde, son Jan Willem, daughter Marleen and son-in-law, Danie. Rest in peace, Flip!

Jan-Willem Hoorweg

Return to Journal Index OR Society's Home page

South African Military History Society / scribe@samilitaryhistory.org