The South African
Military History Society


---

Die Suid-Afrikaanse Krygshistoriese Vereniging
---
Military History Journal
Vol 14 No 6 - December 2009
The unique and historic POLAR MEDAL to COMMANDER FRANK WILD, veteran of five Heroic Age Antarctic Expeditions
by Glenn M Stein, FRGS (Polar Historian), 2009
Through the kindness of Robert Stephenson, coordinator of the website 'The Antarctic Circle' (www.antarctic-circle.org), and polar book author Angie Butler, I have been corresponding and speaking with the family of Commander John Robert Frances 'Frank' Wild, CBE, RNVR, FRGS (18731939). After Frank Wild's widow died in 1970, his British War Medal and Victory Medal (LIEUT. F. WILD, R.NVR.), geographical society medals, British National Antarctic Expedition Sports Medal (FRANK WilD), and a dress miniature Polar Medal with clasps Antarctic 1902-04 and Antarctic 1907-09, along with a quantity of original documentation, were sold at Sotheby's in June 1971. They were last sold at Dix Noollan Webb on 13 December 2007, and are now part of a London physician's collection.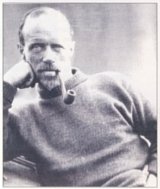 Frank Wild (F Hurley).
It has been known for many years that Wild's unique Polar Medal with clasps Antarctic 1902-04, Antarctic 1907-09, Antarctic 1912-14 and Antarctic 1914-16, remained with his family in South Africa. The medal was issued officially engraved 'A.B. F. WILD. "DISCOVERY"'. Only two four-clasp Polar Medals have ever been issued, the other being to Ernest Joyce, featuring the clasps Antarctic 1902-04, Antarctic 1907-09, Antarctic 1914-16 and Antarctic 1917. Joyce also received a duplicate medal and both medals are known to exist.
Wild's Commander of the Order of the British Empire (CBE, New Year Honours List, 1920) and dress miniature medals accompany his Polar Medal. The miniatures are mounted for wear: CBE, Polar Medal with four clasps, British War Medal, Mercantile Marine War Medal and Victory Medal.
Wild's family sought my advice concerning parting with the medals, since various interested parties in South Africa and the United Kingdom have attempted to acquire them over the years. I strongly recommended that the best way to preserve Frank Wild's memory and the medals' provenance was to auction them through the leading London firm of Dix Noonan Webb. Consequently, the family informed me that the CBE and Polar Medal would be offered in the rooms of DNW, 17-18 September 2009. The miniatures were originally to have been sold as well, but the family withdrew them from the auction. The CBE and Polar Medal sold for £110 000 (before commissions), the successful bidder being the London physician holding Wild's other medals.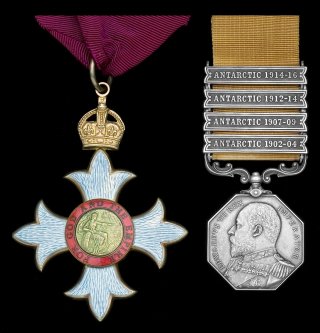 CBE and Polar Medal of Frank Wild (Photo: By courtesy, DNW, 21 August 2009).
Frank Wild had more Antarctic experience than anyone else during the Heroic Age of Antarctic exploration (1895-1922), participating in five expeditions between 1901 and 1922. Wild's work and leadership were universally respected byhis Antarctic comrades, who virtually never had a critical word to say or write about the Skelton, Yorkshire, native.
Wild first went to Antarctica as an Able Seaman with Scott during the British National Antarctic Expedition of 1902-04, having had twelve years in the Merchant Navy before joining the Royal Navy in 1900. He took part in several sledge journeys, including the tragic first attempt to reach Cape Crozier. His spirited leadership brought several men back to the ship after the death of Able Seaman George Vince, who drowned after slipping down a steep ice slope during a blizzard. Scott thought highly of Wild's service and specially mentioned him in despatches; thus, Wild was duly promoted to petty officer. During the expedition, Wild struck up a friendship with the third lieutenant, Ernest Shackleton.
As a member of Shackleton's Nimrod Expedition (1907-09), Wild was placed in charge of provisions, and was one of the four-man sledge party to reach just 97 miles (156 km) from the South Pole. Fellow Yorkshireman and expedition geologist Douglas Mawson afterwards wrote that his experiences during this time, 'acquainted me with Wild's high merits as an explorer and leader'. Upon his return, Frank Wild left the Royal Navy by purchase.
Though Scott asked Wild to join his second Antarctic venture, Wild declined, as he felt Scott was 'too much the navy man'. Instead, he joined Mawson's 1912-14 Australian Antarctic Expedition as a sledging expert and was appointed leader of the Western Base. Under him were seven untried men, none of whom had previously served in the polar regions. In spite of terrible sledging conditions, Wild led successful sledge parties to open up a new region, Queen Mary Land.
Wild then played a vital role as second-in-command of the Endurance during the Imperial Trans-Antarctic Expedition of 1914-17. After the ship sank, the men made their way by sledge and boat to land on the desolate Elephant Island. Here, Wild's leadership abilities were tested to the fullest, as he was left in charge while Shackleton went on his epic boat journey to get help on South Georgia. Wild never gave up hope that Shackleton would return to rescue them, and whenever the sea ice cleared, he would say, 'Roll up your sleeping-bags, boys: the boss may be coming today.'
On returning home, Wild volunteered for duty and was made a Temporary Lieutenant, Royal Naval Volunteer Reserve. After taking a Russian language course, he became the RN transport officer at Archangel, superintending arriving war materials during the Allied Intervention in Russia.
After the war, Wild went to southern Africa where he farmed with two former Antarctic comrades. They worked the soil in British Nyasaland (now Malawi) until 1921, when Wild's final Antarctic adventure began. They cleared the then virgin forest and planted cotton, and loved the life, though suffering from intermittent bouts of malaria.
From 1921 to 1922, Wild was second-in-command of the Shackleton-Rowett Expedition, a poorly equipped venture with no clear plan and a small ship, the Quest. Shackleton died of a heart attack on South Georgia, and Wild took over and completed the journey, combating unfavourable weather to Elephant Island and along the Antarctic coast.
He returned to South Africa to continue to farm. Frank Wild died on August 19, 1939, in Klerksdorp, where he was employed as a storeman at the Babrosco Mine. He was cremated on August 23, 1939, in the Braamfontein Cemetery in Johannesburg.
Frank Wild's younger brother was also a polar explorer. Petty Officer Harry Ernest Wild, RN, looked after the stores and dogs of the Ross Sea Party during the Imperial Trans-Antarctic Expedition. Harry Wild died of typhoid in 1918, and in 1923 was posthumously awarded the Albert Medal (Second Class/Land) for the expedition. His Albert Medal, Polar Medal with clasp Antarctic 1914-16 and Italian Messina Earthquake Medal (1908) exist together, while his First World War Memorial Plaque is known in a separate collection. Harry E Wild was also entitled to the Antarctic 1917 clasp, and though sent to brother J R Wild in 1921, it was never attached to his Polar Medal.
---
Return to Journal Index OR Society's Home page

South African Military History Society / scribe@samilitaryhistory.org