The South African
Military History Society


---

Die Suid-Afrikaanse Krygshistoriese Vereniging
---
Military History Journal
Vol 14 No 5 - June 2009
MEDIUM A (WHIPPET) TANK IN SOUTH AFRICA, 1919-2009
By Richard Henry
Curator of Armoured Fighting Vehicles, SA National Museum of Military History
The Whippet Tank, capable of speeds up to 14km/h, was named after the whippet dog. Two hundred Whippet tanks, numbered between A200 and A 400, were manufactured by William Foster & Co Ltd of Lincoln, England, from October 1917. Armed with four Hotchkiss machine-guns, they were designed to exploit break-through situations created by the heavy tanks. Their first action was in France on 26 March 1918.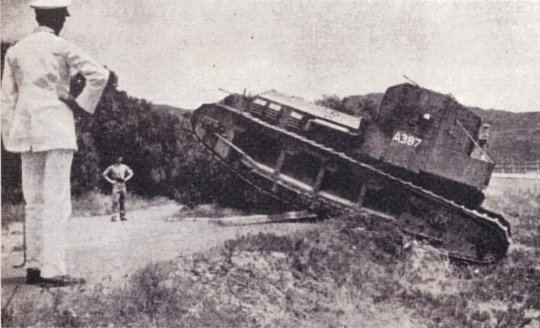 The Whippet had two, four-cylinder, 45hp Tylor petrol engines.
The interior was hot, noisy and cramped. The tank was difficult to
drive and steer as each engine drove one track and the driver faced the task
of controlling two engines and two gearboxes simultaneously. This photograph
shows the tank on a test run at Simon's Town Naval Dockyard.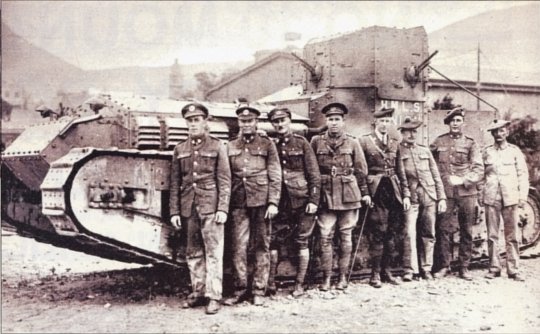 Eight members of the 2nd, 3rd and 4th South African Infantry, who were in England at the end
of the First World War, served as the two crews of the Whippet during its five-month long tour of
the Union of South Africa in 1919. The four men on the left, Privates Stuckey, Lang and Brown,
and Second Lieutenant I Rees, formed one crew. The second crew comprised Sergeant Fraser and
Privates Mackenzie and Hubbard, commanded by Lieutenant K Mackenzie.
When the First World War ended in November 1918, tank technology was new and of great public interest. The Union of South Africa requested a tank to assist with raising funds for the Governor General's Fund. This fund, initiated in August 1914 by Mrs Annie Botha, the wife of the Prime Minister of South Africa, aimed to assist all soldiers and their families affected in any way by the war. Lord Buxton, Governor-General, representing King George V in South Africa, strongly supported the fund.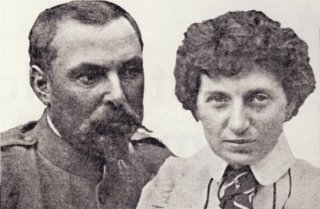 Boer General (later Prime Minister) Louis Botha and his Irish wife, Annie (nee Emmett), c 1900.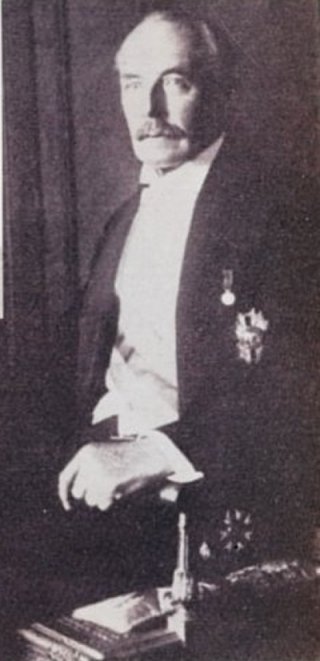 Lord Sydney Charles Buxton, second Governor-General (1914-1920)
of the Union of South Africa and chairman of the Governor-General's Fund,
a national fund-raising initiative aimed at alleviating suffering caused
by the First World War.
Throughout the Union, about 120 local committees headed by mayors or magistrates held numerous fundraising events. People of all races contributed what they could afford. In Natal, many Indian flower merchants co-operated by not selling flowers on fund-raising days. The first black South African in Natal to express his support and loyalty to the Union was Chief Mgqoma, who donated £40 on behalf of his people on 8 October 1914. Other chiefs followed and, by 10 April 1916, Chief Steven Mini, President of the Natal Native Congress of Edendale, had donated the huge sum of £1 102 to the fund. Others sent livestock to the local magistrate.
The Whippet Tank A387 was shipped aboard the SS Umvuma from England and arrived at Simon's Town in January 1919. After a trial run it was renamed HMLS (His Majesty's Land Ship) UNION by Lord Buxton. Starting on its countrywide tour in Cape Town on Friday, 31 January, the Whippet Tank drew huge crowds at the major towns of the Union of South Africa. In Pietermaritzburg, businesses closed and residents donated nearly £1 000 towards the Governor-General's Fund. Large amounts were also collected in Durban, Johannesburg and Pretoria. In July 1919, after the fund-raising drive, the Whippet was stored in Pretoria.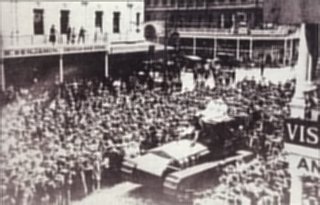 Citizens of Johannesburg clamour for a closer look at HMLS Union
as the tank makes its way along Pritchard Street on 9 May 1919.
When the miners' strike on the Witwatersrand turned to armed revolt on 10 March 1922, HMLS UNION was despatched from the Aircraft and Artillery Depot in Pretoria to help eject the entrenched and barricaded strikers from their headquarters in Fordsburg, Johannesburg. The Whippet's track became jammed on a tram track. While attempting unsuccessfully to free the tank, one crew member, Corporal Johns, was killed, and Private Richards was injured by sniper fire.

On Tuesday, 14 March 1922, at about 12.00, after an hour long artillery bombardment, HMLS Union drove down the 'Fordsburg Dip' in support of the final infantry assault on the Rand Strikers' headquarters. This photograph shows its recovery by a municipal truck after a track became jammed in a municipal tram line.
The Whippet, having broken a drive shaft, was recovered by a Johannesburg municipal steam truck and returned to Pretoria. In 1934 it was repaired. At the start of the Second World War (1939-1945), it was again used in fundraising and recruitment drives before being retired to serve as a memorial at the South African Military College in Pretoria.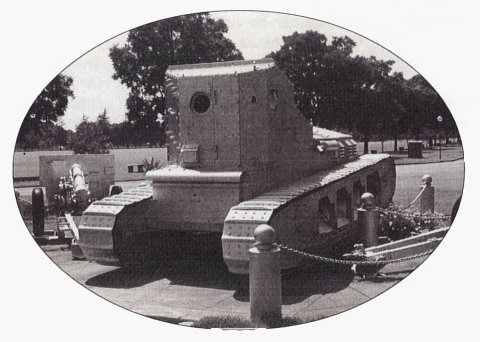 Today, the Whippet Tank stands as a memorial at the South African Military College
'In proud memory of past students who, in response to the call of duty, gave their lives during the Great War, 1914-1918'.

Based on an information panel on display in the Maj Gen W HE Poole Hall of Armour at the South African National Museum of Military History, Saxon wold, Johannesburg.

Return to Journal Index OR Society's Home page

South African Military History Society / scribe@samilitaryhistory.org