The South African
Military History Society


---

Die Suid-Afrikaanse Krygshistoriese Vereniging
---
Military History Journal
Vol 14 No 5 - June 2009
Weston Horse Memorial
Weston dedicates memorial to animals in military service, 31 May 2009
By Ken Gillings
Weston Agricultural College, KwaZulu-Natal
The Weston Farm and the 'Weston Common' on which Weston Agricultural College, near Mooi River, stands today, was the site of No 6 Remount Depot, established from 1899 to 1913 for use during the Anglo-Boer War of 1899 to 1902. The Depot also served the 1906 Poll Tax ('Bhambatha') Rebellion. It is estimated that approximately 30 000 horses and mules died or were destroyed during the war, and were buried on this farm and the surrounding area. In May 2009 a special memorial at Weston Agricultural College was dedicated to the memory of all these animals that lost their lives in service.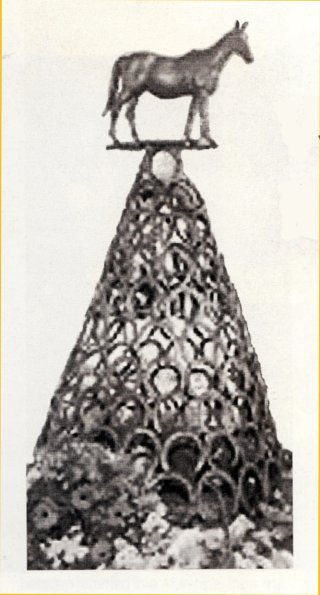 The students at Weston have helped to recover horse shoes and weld them together to form a rounded Obelisk, which is mounted onto a decorated plinth that forms the base of this Memorial. Various regiments and societies were invited to contribute their own memorial in the form of a horse shoe plaque to be fixed to a Memorial Wall, and the South African Military History Society decided to support the memorial by donating a special horse shoe in its name. The plaque features the Society's name and bears the words: 'Remembering the horses, mules and oxen that perished in the Anglo-Boer War'. The horse shoe was presented on the Society's behalf by Ken Gillings of the KwaZulu-Natal Branch.
Weston Agricultural College can be visited by arrangement, as some of the original buildings are still in use. Many of the wood and iron buildings were erected as part of the Depot in 1899. The following Remount Depot buildings are still in use on the farm: The Officers' Mess, the Doctors' House and Nursing Quarters, and the Commanding Officer's house. Other Remount Depot buildings include a two hundred horse stable block, officers' stables, old feed sheds, and the old toll house/ post office (built in 1854), which is now the farm stall. Some of the original existing beautiful red brick College buildings were erected in 1914.
The Unveiling Ceremony took place over the weekend of Saturday 30 and Sunday 31 May 2009. This coincided with the anniversary of the end of the war (31 May 1902). The ceremony began at 14.10 to replicate the time of the final meeting during which the Peace Treaty of Vereeniging was agreed.
The College hosted the Ceremonial proceedings, assisted by the Cavalry Association representing Traditional Mounted Regiments. On this occasion, Natal Mounted Rifles and Umvoti Mounted Rifles were the assisting regiments. There were a number of related activities planned prior to the ceremony, including talks by renowned Tour Guide and SAMHS Durban member Ken Gillings and historian Maureen Richards. The UMR Tent Pegging Team, a tour of the College, its Museum, significant sites on the property and static displays by the Society for Preservation of Militaria were also available. Regiments were invited to display their Colours.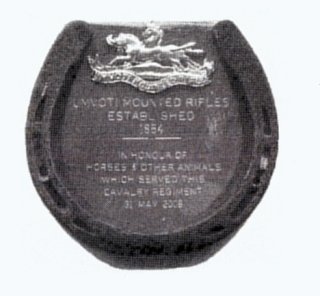 Horse shoe plaque to represent the Umvoti Mounted Rifles.

Weston Agricultural College can be contacted by email at contact@weston.co.za or by phone at 033 263 1828.

Return to Journal Index OR Society's Home page

South African Military History Society / scribe@samilitaryhistory.org