The South African
Military History Society


---

Die Suid-Afrikaanse Krygshistoriese Vereniging
---
Military History Journal
Vol 14 No 4 - December 2008
Killed during the Zeebrugge Raid
Paul Kendall (London), published his first book, The Zeebrugge Raid 1918: The finest feat of arms in April 2008. The second edition was published in August. In the book, the author included a piece on South African-born Harry Bennewith, who served with the Royal Navy in the First World War and was fatally wounded during the Zeebrugge Raid. The following is an extract from the book:
Ordinary Seaman Harry Bennewith J51070 RN.
Harry Randall Bennewith was born on 28 September 1899 in Uitenhage, Cape of Good Hope, South Africa. His occupation is listed as a school boy on his service record. Harry enlisted to join the Royal Navy on 12 January 1916 as a Boy Sailor. He spent the first sixteen days of his naval career aboard the Cape Station flagship, HMS Hyacinth, before being transferred to HMS Powerful on 29 January 1916. Later that year, he was drafted to serve on the armoured cruiser, HMS Carnarvon. He served on this vessel from 23 August 1916 until 28 February 1918, when she was deployed to the West Indies and North America. During this draft, he reached the rank of Ordinary Seaman. Harry volunteered for the hazardous operation to block Zeebrugge in 1918. During the operation, Harry belonged to the fore gun crew aboard HMS Vindictive. It was reported in the Johannesburg Star that Harry and the entire gun crew was blown to pieces by German shell fire. Harry was fatally wounded by this shellfire.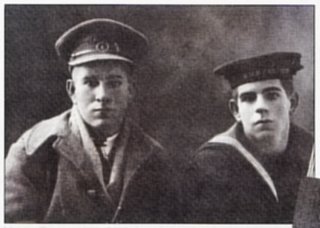 Harry Bennewith (right) with his brother, Walter (left),
a survivor of the epic battle ofDelvilie Wood.
On St George's Day, Harry's mother, Ada, had a premonition that Harry had died on that day ... Harry was buried in St James's Cemetery, Dover. He is thought be one of the unknown sailors buried within the cemetery. His name is commemorated along with fifteen other Zeebrugge raiders who were brought home, but whose remains could not be identified, on the Cross of Sacrifice in St James's Cemetery, Dover.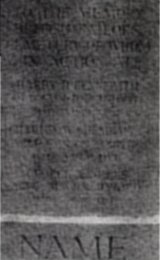 Names on the Cross of Sacrifice,
St James's Cemetery, Dover

Return to Journal Index OR Society's Home page

South African Military History Society / scribe@samilitaryhistory.org