The South African
Military History Society


---

Die Suid-Afrikaanse Krygshistoriese Vereniging
---
Military History Journal
Vol 14 No 3 - June 2008
A brief account of the 1st Cape Corps' fight at Square Hill, 18 to 21 September 1918
by ex-Lance Cpl Moses Jordan,1st CC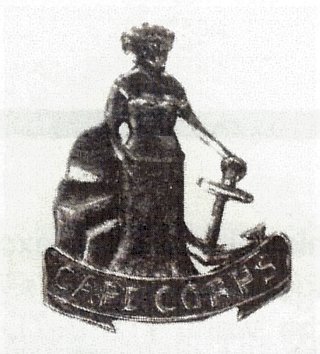 We were, indeed, thoroughly 'salted' - as one of our officers put it - to the conditions of the difficult country in which we were operating. Away to the east lay the Dead Sea; to the south, one could just make out Jerusalem; to the west, a long range of hills stretched seaward; and, to the north we knew only too well - the firing line. Our Regiment was bivouacked just under a hill known as Cheshire Ridge.

On the night of the 17th September, we were marched down a kloof called Borthwick Wady (the word 'wady' meaning 'river-bed', but in Egypt and Palestine it is widely applied to a kloof) and here we put on our war-paint. Ammunition was distributed, and great preparations were made for the next day's work.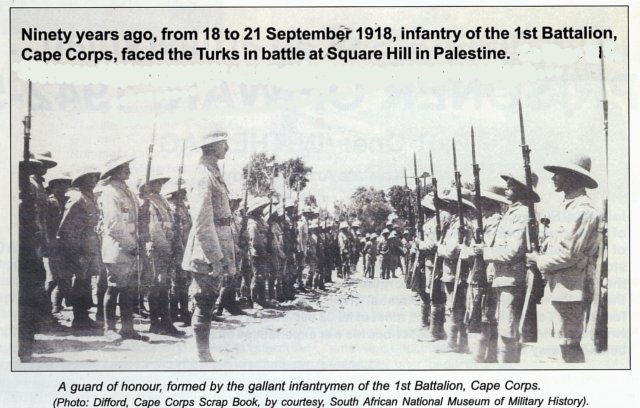 The next evening we were ordered forward. About eight o'clock our Battalion crossed into No-Man's Land. This was a beautiful wide glen down which a clear stream was meandering. Crossing this, we climbed halfway up, then round a very high hill. No sooner had this been accomplished than the Indian Regiment (Punjabis) charged at the enemy who was entrenched on Chevrons' Hill, just in front. After a short struggle, the Indians won their objective. The 1st Cape Corps, under support of artillery fire, now advanced. 'B' Company, with 'A' in reserve, secured the next ridge, Chip Hill. 'D' Company, with 'C' in reserve, moved on and captured Dhleb Hill. It was then about one o'clock. This was as far as we were supposed to have gone, but some clever person found out that the next position was stronger.

So we were detailed to take it. At four, we moved off and after meeting with a little opposition, we secured Square Hill. Day broke, and now the fight began in earnest. All day on the 19th, it was pandemonium. Bullets rained and shells whistled over our heads. On the 20th, 'C' Coy was sent round our right to take the enemy in the flank. They advanced in great style, but could not hold the part of the Gallows Hill they had taken as they were greatly outnumbered by the enemy.

On the morning of the 21 st, 'A' and 'B' Coys were sent round our left to engage the enemy on his front. They had no artillery 'preparation' and had to depend for the safety of their advance on our Lewis machineguns only. Their forward move was most orderly and, in pressing home their attack, they did splendid bayonet-work. But they, unfortunately, were outnumbered too, and had to retire also. Worse still, both their company commanders (Major Cowell and Captain Harris) along with several of their junior officers, were killed. In spite of this, their retreat was quite as orderly as their advance had been. It was during the advance of these two companies, that our Colonel [Lt-Col G A Morris] was wounded.

The remainder of our Brigade (160th Infantry Brigade) then swept forward and drove the enemy from Gallows Hill. The fight was over then, and we were relieved by some other troops. We did not know how much we had contributed to the 'Wizard's' (so the Turks had named General Allenby) Great Advance, but when the Turks had been driven out of Palestine, we found that:

We had initiated the Great Advance;
We had turned the enemy's left flank;
We had forced him back a good six miles [9,6km]; and
We had compelled him to shorten his front.
The Brigadier-General was highly pleased with our bit, and reported to Headquarters that the Cape Corps 'fought like tigers'.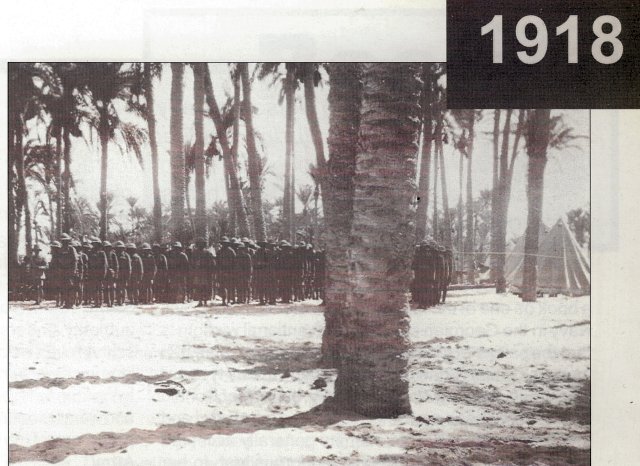 Church parade of the 1 st Battalion, Cape Corps, at El Arish, Egypt, after the battle
(Cape Corps Scrap Book, SA National Museum of Military History).

Return to Journal Index OR Society's Home page

South African Military History Society / scribe@samilitaryhistory.org