The South African
Military History Society


---

Die Suid-Afrikaanse Krygshistoriese Vereniging
---
Military History Journal
Vol 14 No 2 - December 2007
THE IMPERIAL YEOMANRY
Part Three 1902
By Steve Watt, Pietermaritzburg
Parts One and Two of this article were published in Military History Journal, Vol 13 No 6, December 2006, and Vol 14 No 1, June 2007, respectively. In Part Two, which brought us to the end of 1901, the author dealt with the transition to guerrilla warfare and the British strategy to cope with this. His focus was on the second contingent of the Imperial Yeomanry, which could not measure up to the first. At the end of 1901, the reduction in the ranks of the Imperial Yeomanry was so serious that plans were underway to raise a third contingent, taking to heart the lessons learnt in raising the second. The story continues with the second contingent still in the field ...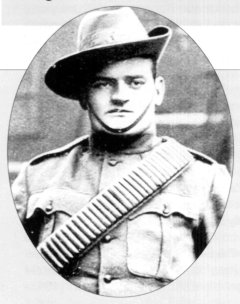 McIlwraith, Trooper John Clifford (c1877-1900), 6290, 34th Company, 11th Battalion Imperial Yeomanry, died on 17 December 1900. He came to South Africa with the first contingent in April 1900 and saw action at Senekal in May, when he was captured. He eventually returned to his unit in October 1900. Mcllwraith took ill with enteric fever and was hospitalised in Reitz, where he died ten days later. He is buried in Reitz. He was the brother of James Howard McIlwraith, who is buried at Winburg.[see below]
(Photograph: Corner, W, 1902).
Klerksdorp drives
In February 1902, several mobile columns, controlled by Lord Kitchener, rolled on a wide front. These 'drives' were set in motion to capture any Boers who were in the path of the sweep. Of the three drives in the Free State, one was partially successful. However, both De Wet and Steyn, whose capture was sought by the British, escaped and, by mid-March, they had forded the Vaal River,' crossed three lines of block-houses and touched hands with De la Rey in the Western Transvaal. Kitchener, too, had his eyes on this region, considered wild and inhospitable. Here there was no blockhouse system; it was impractical to build blockhouses where water was not in abundance. Instead, Kitchener had moved to Klerksdorp, which had been made the base of operations. Here, 16 000 mounted troops converged in thirteen columns, the most important of which was the column under Lt-Gen Lord Methuen. Their job was to hunt down De la Rey in the region bounded in the west by the Vryburg-Mafikeng Railway and in the north by the Magaliesberg.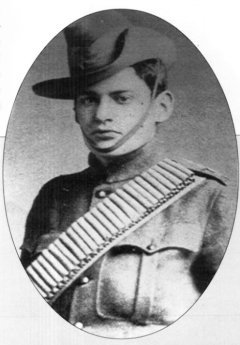 Mcllwraith, Trooper James Howard (c1879-1901), 34th Company, 11th Battalion Imperial Yeomanry, came to South Africa in April 1900. He took ill with enteric fever at Sterkfontein Farm in early January 1901, and was sent to hospital in Winburg, where he died on 22 January. He is buried in Winburg. He was the brother of John Clifford Mcllwraith, who also succumbed to enteric fever and is buried in Reitz (see above).
(Photograph: Corner, W, 1902).
Disaster at Elandslaagte
On 24 February 1902, a convoy heading for Klerksdorp bivouacked on the farm, Elandslaagte, between the Yster and Jagd Spruits, 25km south-west of Klerksdorp. The convoy was escorted by 230 Imperial Yeomanry of the 5th Bn (13th, 14th, 15th, 16th, 100th, 101st, 102nd Coys), 9th Bn (88th Coy) and 10th Bn (40th Coy), as well as regular soldiers, mounted infantry and artillery. In all, there were 770 troops.
Early the following morning, the march resumed, with both the advance guard and the rear guard, including Yeomanry and infantry, covering the movement. After the convoy had proceeded 3km, 250 Boers under Gen Liebenberg attacked its front, while Gen J Kemp, with 250 men, attacked its left flank. This assault was beaten off with artillery and rifle fire. A second attack was met with the same result. A third assault, by Gen J G Celliers with 100 men, came from the rear, the Boers charging through the defensive ring of infantry. Some of Celliers' men then attacked on the right flank, while Kemp renewed his attack. This broke the outer defensive ring and, shortly afterwards, resistance collapsed on every side. The wagons were stampeded towards the Jagd Spruit, where they became stuck in the muddy waters of the stream and were captured. Some mounted infantry escaped to Klerksdorp, where the alarm was raised and reinforcements gathered. They hurried to the scene, but, on arrival, confronted by Kemp and his men, they could only report back that the disaster had been complete. British losses were 73 men killed or mortally wounded, 110 wounded, 270 taken prisoner. Thirty-two men of the Imperial Yeomanry lost their lives. Of greater importance for the Boers was the capture of 156 wagons, 1 500 mules, four artillery pieces, 2 000 rifles and half-a-million rounds of ammunition. The Boer casualties were twelve dead and 42 wounded (Van den Bergh, 1996, pp136-43; Amery, Vol 5, pp947-9; Wilson, Vol 2, pp951-6; Watt, 2000).
Worse was to follow ...
With the news of De la Rey's success at Elandslaagte farm, Lord Methuen believed that the Boer leader would take advantage of the gap between Lichtenburg and Mafikeng that had not yet been closed by blockhouses. Methuen sought to prevent this by concentrating a sufficiently large force at Rooirantjiesfontein. His column included 700 men from eight different units under Maj A Paris. To these were added 600 men, including regular troops and artillery, drawn from six units. There were 800 mounted troops, including Imperial Yeomanry (11th Coy, 3rd Bn; 100th Coy, 5th Bn; and 43rd Coy, 12th Bn), irregular colonial levies and some fresh Yeomanry drafts of 86th Coy, 22nd Bn IY. The 1 500-strong force, with a train of 85 wagons, left Vryburg on 12 March 1902. At the same time, a second column under Col H M Grenfell also commenced its march towards Rooirantjesfontein. Methuen, moving north-eastwards, marched in stages dictated by the availability of water. His column went into camp on the farm, Tweebosch, near the confluence of the Little Harts and Great Harts rivers, on 6 March. During the day, an insignificant skirmish at the rear of the screen, by 100 men under Gen van Zijl, found the Colonial and Yeomanry force totally inadequate, lacking discipline and driven to the verge of panic. Returning to the area, Gen de la Rey, with 700 men, resolved to attack Methuen's column before it effected a junction with Grenfell's force.
At 03.00 on the following morning, the column was on the move, divided into two. Ox-drawn transport accompanied by infantry and mounted irregulars departed first, followed, an hour later, by the more mobile mule-drawn wagons with mounted men, including the untried irregulars under Maj Paris. At dawn, the head of the column reached the farm, De Klipdrift, 4km south-west of Sannieshof. The two groups were almost 2km apart when Paris's rearguard was attacked. He rushed his vanguard to the threatened sector, but it never arrived. The men of 5th Bn Imperial Yeomanry, committed to protecting the flank, were soon embroiled in the fight. The irregulars panicked and the only resistance came from the artillery until all the mules were shot down. The rear column was urged to join up with the front column, but, before this could be effected, the Boers under Gen J G Celliers and Cmdt Wolmarans charged the right flank of the disjointed column and penetrated the British screen of mounted troops before they could make good their escape. Everywhere, resistance collapsed, the ox-wagons remaining stationary, while the mule-wagons stampeded in all directions.
The rout, started by the Colonial troops, spread to the Yeomanry and then to the infantry. There was a headlong rush through the Great Harts River. The Yeomanry (86th Coy, 22nd Bn) and the Cape Police, who joined the flight, never fired a shot and came to a halt 5km away.
Between them, Kemp and Van Zijl managed to turn back many of the fugitives when the wagons were crossing the Great Harts River. Maj Paris and some forty Yeomanry and Cape Police not only managed to occupy a kraal and two houses, but, for two hours, defied their adversaries before they were shelled into submission. With the artillery officers killed and Methuen wounded, all resistance ceased. De la Rey took Methuen and the rest of his column prisoner. (Methuen was treated for a fractured thigh and allowed to leave in his own wagon for Klerksdorp).
British casualties were 82 killed (including sixteen of the Imperial Yeomanry), 118 wounded and some 600 captured. Most of the wagons, 120 in all, were captured, many being stuck in the river through which they had attempted to flee. In addition, 519 horses were rounded up and six artillery pieces and thousands of rounds of small arms ammunition fell into Boer hands. Boer losses were eight killed and 26 wounded (Van den Bergh, 1996, pp13643; Wilson, Vol 2, pp144-54; Wulfsohn, 1992, pp34, 179; Watt, 2000).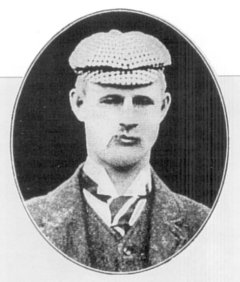 Murray, Capt and Brevet Lt-Col, the Hon Andrew David (1863-1901), of Lovat's Scouts was killed in action at Quaggafontein in the engagement with Gen P H Kritzinger's commando on 20 September 1901. Shortly before the outbreak of the Anglo-Boer War, Murray was appointed to the command of Lovat's Scouts. During the Boer attack on their encampment at Quaggafontein, Murray rallied the survivors for a bayonet charge but was shot dead while doing so. He was buried at Elandskloof near Zastron, but his remains were subsequently taken to the UK and interred in Scone Palace, Perth, Scotland. His gravestone, however, is in Aliwal North, where all who fell in the action were later re-buried.
(Photograph: Graphic/Illustrated London News).
Roodewal
The battle of Boschbult on 31 March 1902, an action that did not involve the Yeomanry, was perceived by the British as another failed attempt to deprive De la Rey of the strategic initiative. A new opportunity to strike a decisive blow against the commandos was formulated, with Lt-Gen Sir I S M Hamilton in overall command of five columns. At Brak Spruit, on the farm, Roodewal, adjoining the Harts River, an attempt was planned to drive the Boers southwards and then to sweep them eastwards into a column on the Vaal River near a line of blockhouses. Having taken up its position at Brak Spruit, Col S B von Donop's column was ready to move southwards.
In deciding to attack Von Donop, the Boers did not anticipate the late arrival of Lt-Col H M Grenfell's column, which would bring the number [of] men at the Brak Spruit to 3 000, including 480 Yeomanry (108th Coy, 6th Bn; 25th and 26th Coys, 7th Bn; and 39th Coy, 10th Bn). Accordingly, on 11 April 1902, when the 800 Boers under Combat-Gen J C G Kemp advanced on a wide front to attack Von Donop, they came up against concentrated rifle and artillery fire from both columns.
Lieut Carlos Hickie, Grenfell's signalling officer, had left to tell the commanding officer to laager up, when he saw a mob of panicking Yeomen galloping back. 'I tried to get hold of these faint-hearted ones to line them up on the flank, but nothing would stop them. It takes a strong man to shoot one of his own men, but I thought I should be driven to it that day ... The galloping men stampeded the convoy.'
The Boers, driving in both screens, encountered concentrated fire but did not waver until they were within 100m of their goal. There, they faltered, then withdrew in an orderly fashion, but not before losing Cmdt FJ Potgieter, who fell 70m from the British lines. In a follow-up operation, starting late, a few Boer stragglers were captured. The British losses amounted to thirteen killed or mortally wounded and 75 wounded. Amongst them were four Yeomen killed. The Boers lost 43 killed and fifty wounded (of whom forty were captured) and another 36 taken prisoner. As it turned out, Roodewal was the last major battle of the war. Hamilton led his columns backwards and forwards over the following four weeks, without netting any significant number of additional Boer prisoners. (Pakenham, 1979, pp556-60; Van den Bergh, 1996; Amery, Vol 5, pp527-37; Watt, 2000).
Table 1: Imperial Yeomanry
Battalion
3rd Contingent
25
115 116 117 118
26
119 120 121 122
27
123 124 125 126
28
127 128 129 130
29
131 132 133 134 175 176
30
135 136 137 138
31
139 140 141 142 177
32
143 144 145 146
33
147 148 149 150
34
151 152 153 154
36
159 160 161 162
37
163 164 165 166
38
167 168 169 170
39
171 172 173 174
LOVAT'S SCOUTS
178
33-39 Bns arrived in South Africa after the
termination of hostilities (31 May 1902)

Arrival of the 3rd Contingent, Imperial Yeomanry (see Table 1)

When the peace treaty was being signed on 31 May 1902, the third contingent of Imperial Yeomanry began to arrive in South Africa. This contingent comprised fifteen battalions plus one company, 7 135 all ranks, who had already received some training. They remained in the country long into the following year, 1903, helping with the post-war stabilisation process, many members settling in the country permanently.

Altogether, 36 353 men of all ranks served with the Imperial Yeomanry. The Times History of the War states that '35 250 Imperial Yeomanry went to South Africa. Of this number probably at least 2 000 went out a second time and so have been counted twice over. On the other hand ... a certain number of enlistments took place in South Africa, while 833 officers and men were raised at home under Imperial Yeomanry conditions for a corps raised partly in South Africa and partly at home.'(Amery, Vol 6, p272; Asplin, Vol 2, p8).

Lovat's Scouts

Closely associated with the Imperial Yeomanry, Lovat's Scouts was the brainchild of Lord Lovat. After the disasters of 'Black Week' in December 1899, he had approached the British War Office with the idea of raising a group of men trained as scouts. Three contingents were raised. The first contingent was enlisted as a special service unit of the 2nd Bn, Royal Highlanders (the Black Watch), but was always known by the commanding officer's name. The second contingent was formed under the umbrella of the Imperial Yeomanry, comprising the 113th and 114th companies. The third contingent, the 178th Company, Imperial Yeomanry, was too late to see action in South Africa.

The second contingent landed at Port Elizabeth and was sent by rail to Aliwal North. Its main job was to actively patrol the border along the Orange River to prevent Boer commandos from entering the Cape Colony. Lord Lovat was worried about the inexperience of the second contingent and wrote that 'our advance guards are hardly the things of joy and safety that our old men made.'

On the night of 19/20 September 1901, the Scouts suffered their only major disaster in the war. The two companies were operating about 8km apart, each with a 15-pounder gun. Lieutenant-Colonel the Hon A D Murray had moved with one company to Quaggafontein Farm, 23km south-east of Zastron, and Lord Lovat, with the other company, was encamped 6km northwest of Elandskloof. In an attempt to join Asst Chief-Cmdt J C Smuts in the Cape Colony, Asst Chief-Cmdt P H Kritzinger's commando attacked Murray's camp. The pickets were completely surprised and the Boers were in the encampment before a shot was fired. They poured two volleys into the officers' tents, turned and raked the other ranks' tents, and then directed their heavy rifle fire into the horse lines. There was chaos and confusion in the dark, the. screaming of dying men and horses, shooting, and horses galloping. Murray was shot while leading a bayonet charge and his adjutant, Capt E O Murray (no relation), was also killed. A party of 35 men made their way, under cover of darkness, to Lord Lovat's camp. The Boers remained in the camp for about an hour, collecting food, clothing and ammunition and, when they departed, they took the gun and the wounded with them.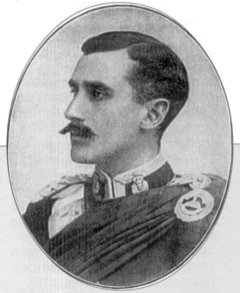 Murray, Capt the Hon Edward Oliphant (1871-1901), of Lovat's Scouts, was killed in action at Quaggafontein in the engagement with Gen P H Kritzinger's commando on 20 September 1901. In early 1901, Murray was appointed adjutant of Lovat's Scouts and, after training the new corps, he proceeded with it to South Africa. During the Boer attack on the Scouts' encampment, Murray was killed in the first burst of rifle fire directed at the officers' tents. He was buried at Elandskloof, near Zastron, but his remains were later exhumed and taken to the United Kingdom and re-interred in Blackbarony, Eddleston, Scotland. His gravestone, however, is in Aliwal North, where all who fell in the action were later reburied. Capt Murray was not related to his commander with the same name (see above), who fell in the same action.
(Photograph: Graphic/Illustrated London News).

Lord Lovat, on hearing the firing, stood to arms and, at dawn, descended onto Quaggafontein. The dead were brought away and buried at Elandskloof. Col A Thorneycroft of Thorneycroft's Mounted Infantry, learning what had happened, arrived at the scene and set off at once in pursuit of Kritzinger. The next day, he recovered the gun and 10 000 rounds of small arms ammunition and succeeded in killing two Boers and taking twenty prisoners. The action cost the British 54 casualties, of whom eighteen were killed (11 Lovat's Scouts) and 36 wounded (Melville,1980, pp17-18). The bodies of Lt-Col Murray and Capt the Hon E O Murray were later exhumed and sent to Scotland.

After the news of the disaster, there was a demand by the Scouts in Scotland to be allowed to take the place of those who had been killed and wounded. Of 400 applications received, 125 were recruited in October 1901. They arrived in Cape Town in late December 1901 and entrained for Aliwal North, where they joined their comrades in the second contingent. Lovat's Scouts continued to harry and round up surviving Boer commandos. For the remainder of the war, there was much hard riding, some fighting and a few casualties (Melville, 1980, p19). Imperial Yeomanry Hospitals
(For more information, see S Watt, 'Deelfontein' in MHJ, Vol 7 No 4, December 1987)

The Imperial Yeomanry Hospitals owe their origin to Lady Chesham and Lady Georgiana Curzon (who later became the Countess Howe), two women who felt strongly the need to mitigate the horrors of war. An Imperial Yeomanry Hospital Committee was established and convened its first meeting in January 1900. Both the British War Office and the Red Cross Society sanctioned the scheme, on condition that the proposed hospital not be kept exclusively for the Imperial Yeomanry. The Committee agreed to this. Lord Roberts, Commander-in-Chief of the British forces in South Africa, decided, for strategic reasons and the difficulty of transport, that the Imperial Yeomanry Hospital be established on the railway at Deelfontein, 46km south of De Aar. By the third week of March 1900, the hospital was opened, comprising both prefabricated buildings and tents, all manned by a medical staff of 191 people. By the end of the month, 300 patients had been hospitalised.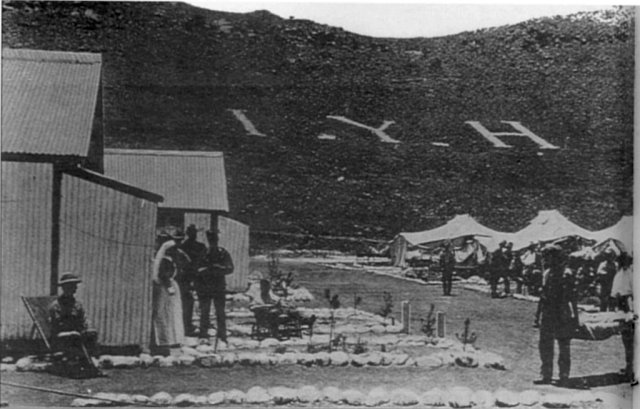 Imperial Yeomanry Hospital, Deelfontein (Photo: Countess Howe).

With the acquisition of additional funds, the Hospital Committee decided to enlarge the hospital and, by January 1901, it could accommodate up to 800 patients. A demand for medical assistance in Cape Town led to the establishment of a Yeomanry Depot there, a hospital with 100 beds at Mackenzie's Farm in Maitland. This was followed by a Yeomanry Field Hospital and Bearer Company, which accompanied the various columns, but privations in the field soon led to most of the personnel of the Bearer Company becoming ill or suffering from fatigue and, accordingly, it ceased to exist from April 1901. The fall of Pretoria to Lord Roberts's forces (including a considerable number of Yeomen) on 5 June 1900 led the Committee to establish an additional hospital in that city. The Yeomanry Hospital was opened in August 1900 and served under the control of the Yeomanry authorities until October 1901, when it became No 22 General Hospital. A convalescent home for Yeomanry officers was established in Johannesburg in March 1901 and remained opened until October that year, when the use of the building reverted to its owner. A new hospital was also opened at Elandsfontein, near Germiston, in June 1901. It was eventually equipped with 138 beds and passed into the hands of the army medical authorities in December 1901.

Nurse Katherine Nisbet joined the Imperial Yeomanry Hospital in January 1901. In her correspondence with an officer, she recorded her observations about the Imperial Yeomanry: 'These new Yeomen are for the most part undersized, pale, seedy-looking youths of 18 and 19 years old. This hospital is already full of them and they come up from Elandsfontein in daily batches of twenty or thirty. Many are being returned home as unfit and they say, quite openly, almost braggingly, that they came out for the trip for their health. Many have heart disease, some phthisis [sic], some no teeth, others are surgically unfit and won't be operated on for fear they might become fit. It really is a scandle [sic] and ought to make bother at home'. Nurse Nisbet also had something good to say, however: 'Lt Chesham and Capt Darley were here a few days ago and they say the same thing, but they say that there is one brilliant exception and that is the Sharpshooters ... they say they are a very fine, picked set of men almost exceptionally fine and Lord Kitchener went specially to see them the other day' (Watt, 1987; Carver, 2000, pp137-8).

On termination of the Committee's contracts with the hospital staff, negotiations for the transfer of the hospital at Deelfontein were entered into with the military authorities. The transfer took place on 1 April 1901, a little more than a year after opening, with most of the staff returning to Britain. By then, Deelfontein Hospital had admitted 6 093 patients, of whom 81 had died (including 26 from the Imperial Yeomanry regiments and hospital staff) and are interred at the site. After the transfer, the hospital became known as No 21 General Hospital. It continued its function until after the cessation of hostilities on 31 May 1902. The last patient death was recorded in September 1902.

Findings of the Royal Commission of Inquiry into matters connected with the War in South Africa

Several commanding officers referred to the first contingent of Imperial Yeomanry as the best. Lord Methuen, who perhaps commanded the largest number, said that 'The Yeomanry gained in military knowledge to a surprising extent during the campaign. They bought their experience, rather expensively at first, but I could place implicit reliance in them after a short time. This good result was due to their individual intelligence, their independence, and the confidence they with justice placed in the leading of many of their officers. The first Yeomanry had the great advantage of having men in the county whom they knew, and therefore there was a thorough county esprit de corps' (Minutes of Evidence, p72).

In the case of the second contingent, however, the men did not receive any preliminary training in their own districts, but were sent at once to Aldershot. Colonel Lucas had suggested to the War Office that these men, like those of the previous contingent, should have at least two months' training before arriving in South Africa. However, it was the wish of Lord Kitchener that they should have their training in South Africa. The shooting and riding test conducted in Britain must have been very perfunctory. Some commanding officers in the field, like Maj-Gen Sir Charles Warren, commented that the men of the second contingent were 'very bad ... they had no idea of riding, shooting or anything else'. Colonel E Crabbe stated that 'they were absolutely ignorant of the rudiments of soldiers; knew nothing about horses, and had not nearly so much intelligence as the first yeomanry'. Lord Chesham supposed that ' ... out of the 1901 Yeomanry, 75% never had been on a horse before they passed the test in riding at home, and about 25% had ridden very little. Kitchener never anticipated getting out of the Yeomanry men who could not ride at all, and having to train them from the very beginning for a mounted force against the Boers'. Lord Methuen's evidence states that 'when the second contingent of Yeomanry came out [to South Africa] their riding was hopelessly bad; they had no knowledge of a horse, or how to ride ... they were not in a position either through capacity of riding, shooting or discipline at first to render a satisfactory account of themselves, but by the time they had once got into working order, even those men of quite lower class had their hearts in the right place, and did their work intelligently, and I have not a single word to say against them' (Minutes of Evidence, p73).
Table 2: Burial Places of the Imperial Yeomanry
Locality
No of Burials
Re-interments from
Harrismith
126
Groenkop and district
Kroonstad, North Rd
120
Doorn River, Theunissen
Krugersdorp
66
Nooitgedacht, Vlakfontein, Cyferfontein
Kimberley, West End
60
Kimberley, West End GR
47
Griquatown, Rooidam, Fabersput, Orange River Sts, Christiana
Heilbron
54
Surrounding district
Pretoria
51
Lindley
48
Yeomanry Kop
Klerksdorp
47
Elandslaagte farm
Bloemfontein, President Ave
37
Bethlehem
36
Surrounding district
Johannesburg, Braamfontein
36
Boschkop
Standerton
36
Old Military Cemetery
Zeerust
35
Kaffir Kraal, Wilgeboom Spruit ( Kleinfontein)
Mafikeng
30
Zendelings Post
Cape Town, Maitland
29
Cape Town (Woodstock, Wynberg RC), Wellington, Stellenbosch
Deelfontein
26
Frankfort
21
Tafelkop, Schaapsrand (Dundas)
Potchefstroom
15
Modderfontein, Rietfontein 555, Frederikstad
Groot Marico
14
Vryburg
13
Old cemetery
Moedwil
12
Table 3: The IY: Asset or Liability? Statistics of fatalities
All fatalities
1 735
Killed in Action
479
Died of Wounds or Injuries
183
Died of Disease
936
Other: Accident, Drowning, Lightning, Unspecified
137
Table 4: Comparison (Percentage of total fatalities
Imperial Yeomanry
Imperial Force
Killed in Action or Died of Wounds
38.2%
31.2%
Deaths from Disease
53.9%
53.9%
Other
7.9%
14.9%
Note: While the percentage of deaths due to disease between the
two groups is identical (53.9%), the deaths from military action
differs and is worthy of comment.

In the field, the second contingent lacked organisation and the cohesion of the first contingent that an affinity with home county had provided. Squadrons from different regiments were mixed together, led by officers who were strangers to each other. An attempt at sorting the men was made at a large Yeomanry camp at Elandsfontein, near Germiston. With a shortage of trained men to do the work, for example, of pay-sergeants, it was also very difficult to establish a satisfactory pay system (Minutes of Evidence, p75).

Finally the report of His Majesty's Commissioners had this to say: 'On the whole, the Imperial Yeomanry seem to have done very good service in the war, but to have suffered from the mistake which was made in not organising a system of drafts to maintain the strength of the force, a mistake due, in no doubt, like others, to the under-rating of the resisting power of the Boers, and the belief in the speedy termination of the war. If this system had been organised upon a county basis, a steady flow of selected men trained to ride and shoot at home could have been maintained, and the necessity avoided in sending out later 17 000 untrained and unorganised men to receive their education in the face of the enemy' (Minutes of Evidence,p75).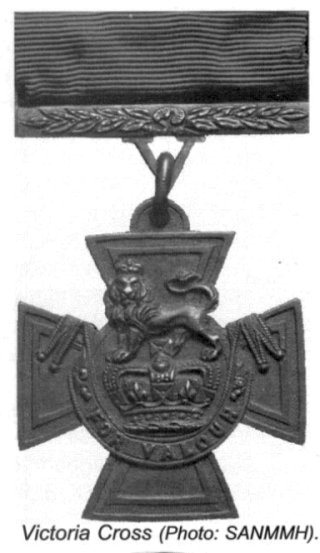 Victoria Cross (Photo: SANMMH).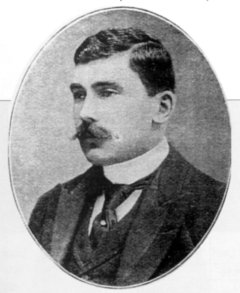 Doxat, VC, Lt (later Maj) Alexis Charles (1867-1942), of the 3rd Battalion Imperial Yeomanry, won the Victoria Cross for gallantry near Zeerust. He served with Lt-Gen Lord Methuen's advance from Boshof in May 1900 and, in September, joined Maj-Gen C W H Douglas's column. His citation reads:
'On the 20th Oct 1900, near Zeerust, Lieut Doxat proceeded with a party of mounted infantry to reconnoitre a position held by 100 Boers on a ridge of kopjes. When within 300 yards [273m] ofthe position, the enemy opened fire on Lieut Doxat's party, which then retired, leaving one of their number who had lost a horse. Lieut Doxat, seeing the dangerous position in which the man was placed, galloped back under very heavy fire, and brought him on his horse to a place of safety'.
Doxat is the only VC recipient of the Imperial Yeomanry during the war.
(Photograph: Graphic/Illustrated London News).

BIBLIOGRAPHY
Amery, L, Times History of the War in South Africa, Vols 2-7 (London, 1902-9).
Asplin, K J, Roll of the Imperial Yeomanry, Scottish Horse & Lovat's Scouts, 2nd Boer War, 1899-1902, Vols 1-2 (Salisbury, 2000).
Carver, F/M Lord, The Boer War, (London, 2000).
Corner, W, The Story of the 34th Coy (Middlesex) Imperial Yeomanry, (London, 1902).
Creagh, Sir O'M, and Humphris, E M, The Victoria Cross, 1856-1920, (reprint, Suffolk, UK,1985).
Creswicke, L, South Africa and the Transvaal War, Vols 3,7 (Edinburgh, 1900-2).
Dooner, M, The Last Post, (reprint, Polstead, UK, 1980).
Jones, H, and Jones, G M, A Gazetteer of the Second Anglo-Boer War, 1899-1902, (Milton Keynes, UK, 1999).
Maurice, Maj-Gen Sir F, and Grant, Capt M H, History of the War in South Africa, Vols 2-4 (London, 1907-10).
Melville, M L, The Story of the Lovat Scouts, 1900-1980
. Moffett, E C, With the Eighth Division, (Kingston-on-Thames, 1903).
Pakenham, T, The Boer War, (London, 1979).
Rabie, Maj J E, Generaal C R de Wet se Krygsleiding by Sannaspos en Groenkop, (Pretoria, 1980).
Register of the Victoria Cross, (This England Books, 1981).
Report of His Majesty's Commissioners Appointed to Inquire into the Military Preparations and Other Matters connected with the War in South Africa, (London, 1903).
Shearing, T and D, Commandant Gideon Scheepers and the search for his grave, (Sedgefield, 1999).
Shearing, T and D, General Smuts and his long ride, (Sedgefield, 2000).
Smith-Dorrian, Gen Sir H, Memories of Forty-Eight Years' Service, (New York, 1925).
South African War Casualty Roll The 'South African Field Force', 11 Oct 1899 - June 1902, (Suffolk, 1982).
Van den Bergh, G, 24 Battles and Battlefields of the North-West Province, (Potchefstroom, 1996).
Watkins Yardley, Lt-Col J, With the Inniskilling Dragoons, (London, 1904).
Watt, S, 'Deelfontein' in Military History Journal, Vol 7 No 4, December 1987.
Watt, S, 'Harrismith, Part 2' in Military History Journal, Vol 8 No 2, December 1989.
Watt, S, In Memoriam - Roll of Honour Imperial Forces Anglo-BoerWar, 1899-1902, (Pietermaritzburg, 2000).
Williams, W, The life of General Sir Charles Warren, (Oxford, 1941).
Wilson, H W, With the Flag to Pretoria, Vols 1-2, After Pretoria - The Guerilla War, Vols 3-4, (London, 1902).
Wulfsohn, L, Rustenburg at War, (Rustenburg, 1992).

Return to Journal Index OR Society's Home page

South African Military History Society / scribe@samilitaryhistory.org