The South African
Military History Society


---

Die Suid-Afrikaanse Krygshistoriese Vereniging
---
Military History Journal
Vol 14 No 2 - December 2007
LETTERS TO THE EDITOR
BLOCKHOUSE ACCOMMODATION
This must surely be a first for South Africa - An Anglo-Boer War blockhouse converted into a self-catering overnight stay. This is the 'Standard Pattern' South African Blockhouse at Stormberg Junction, which I first visited and recorded in 1996. At the time, I believed it to be the best preserved of any I had seen and this still holds true. It is complete with its corrugated iron roof, steel machicouli galleries, floors, wooden staircases, even an extra door at ground level, all seemingly original, probably because it was within the periphery of a large British camp protecting this important rail junction. I believe it - has survived in this state because it is off the 'vandal routes'.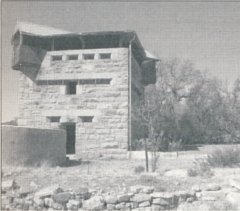 External view
The blockhouse, together with several adjacent outbuildings of a hotel, which has since been demolished, has been bought by a local farmer's wife who had to undertake minimal repair work. This entailed repainting the buildings, providing toilet and shower facilities, an extra bedroom and a restaurant, which is used for large first floor rooms, closing the loopholes with glass, adding shade netting around the open sides of the top floor, and repairing the gutters and downpipes.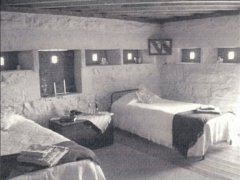 Internal view
The facility is close to the Stormberg battlefield and war graves (10 December 1899) and formed part of the weekend tour of the Eastern Cape Branch of the SA Military History Society, 31 August - 2 September. For more information, call Marie Pretorius, 0459679452.
Richard Tomlinson, Port Elizabeth
---
ERRATA
MHJ, Vol 14 No 1, June 2007
Once more, well done on your latest MHJ. At the risk of becoming typecast as a nitpicker, I would like to draw your attention to two items in this MHJ that require correction: Firstly, on page 7, the caption to the left mural should read 'Houses of Parliament, London', not 'Westminster Abbey'. This view is the River Thames frontage of Parliament, with the Victoria Tower on the left and Big Ben on the right. Secondly, on page 14, the caption to the photograph of Capt Crawley states that he served with 53rd Coy, 11th Bn. If one consults the table on page 15, it appears that 53rd Company is in 14th Battalion.
Richard Tomlinson, Port Elizabeth
---
Return to Journal Index OR Society's Home page
South African Military History Society / scribe@samilitaryhistory.org