The South African
Military History Society


---

Die Suid-Afrikaanse Krygshistoriese Vereniging
---
Military History Journal
Vol 13 No 6 - December 2006
The SA Military History Society 1966-2006
by Marjorie Dean

In November 2006, the South African Military History Society turned 40, and celebrated this special occasion with a lunch held at the SA National Museum of Military History.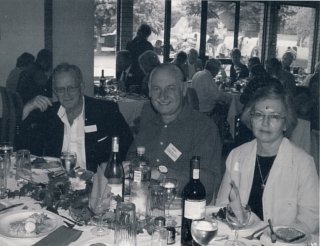 From left to right: John Murray, Bob Smith, Joyce Smith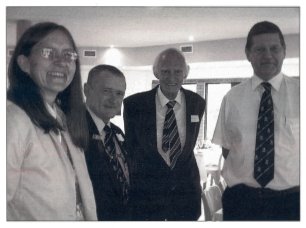 From left to right: Joan Marsh, Ken Gillings (KZN),
Prof Johan Barnard, and Adrian van Schaik (KZN)
(Photo: Marjorie Dean).
An outline of the Society's first 21 years was provided in an earlier issue of this journal (Volume 7 No 5, pp 180-4) by Mr H W ('Nick') Kinsey, a long-serving member of the Society, and a man who has always been closely associated with this journal. This outline has been updated on the Society's website over the years. At the luncheon, Professor Deon Fourie gave an inspiring address, recalling the highlights of the past 40 years.
Small beginnings
The late Neville Gomm is regarded as the father of the South African Military History Society. During his six years' military service as an instructor in the South African Corps of Signals, Gomm had built up a substantial collection of military unit badges. This interest led to contact with other militaria collectors and military historians, and to the realisation of the need for a society of like-minded individuals. In June 1966, Gomm wrote to people throughout southern Africa, proposing the formation of a 'military historical society for Southern Africa'.
From the outset, the Society has been closely associated with the South African National Museum of Military History, which, in 1966, was known as the South African National War Museum, under the Directorship of Commandant George Duxbury, officer commanding West Park Commando. Commandant Duxbury prepared the agenda and made most of the arrangements for the inaugural meeting of the proposed 'Military Historical Research and Collectors' Society of Southern Africa', which was held at the Museum on Wednesday, 5 October 1966, and was addressed by the retired Chief of the South African Defence Force, Commandant-General H B Klopper, DSO, ED. During his address, an exposition of southern Africa's wealth of military heritage, he highlighted a fundamental challenge to the Society which continues to this day - to encourage the study of South African military history amongst younger people.
Commandant-General Klopper's address was followed by Neville Gomm's recommendation that a military historical society be formed. A provisional committee was appointed 'to consider proposed rules and other matters pertaining to the functioning of the newly established society'. Under the chairmanship of Don R Forsyth, one of the most enthusiastic of the early supporters of the idea of forming a society, the committee comprised Major B G Simpkins, JCD, MM (as Vice-Chairman), Neville Gomm (Secretary), Dr S M Kaplan (Treasurer), Dr Felix Machanik, Major S W J Kotze, Mr H E Winder, Mr P Melville, and Mr C Amm. The successful establishment of the Society must be attributed to the efforts of these men and the tremendous support of those who attended the inaugural and subsequent meetings.
The provisional committee met on Thursday, 20 October 1966, to finalise a set of rules for the new society. These were presented to members and approved at the first general meeting, held on Thursday, 3 November. At this meeting, the full provisional committee was reelected to hold office until the first annual general meeting to be held early in 1967. At the November 1966 meeting, too, Major R J Southey, ED, gave the first Society lecture, on Majuba. Since then, meetings have been held regularly every month (except for July and August 1967, when meetings were not held) and hundreds of fascinating talks have been presented to members over the first forty years of the Society's existence.
At a special general meeting held on 28 July 1969, Charles Cohen introduced the Constitution of the Society, based on the original rules and adopted by the meeting. The aims and objects were as follows:
To promote the scientific study, research into, knowledge and appreciation of the history of the armed forces and organisations associated with them;
To promote the scientific study, research into, knowledge and appreciation of history with particular emphasis on military history;
To promote the scientific study, research into, knowledge and appreciation of items of military paraphernalia amongst collectors of such items and those interested therein, and to facilitate and assist in the exchange of information regarding such items;

To assist in the formation of branches of the Society; and
To promote the publication and issue of literature in furtherance of the aforesaid objects of the Society.
The Constitution was amended in 1978, but the aims and objects remained as above. In 1975, life and family memberships were introduced, and in 1976, the South African Government granted the Society official affiliation to the South African National Museum of Military History.

Milestones

The first Scribe of the Military History Society was Neville Gomm, who sent out the initial newsletters to members until May 1968, when he left Johannesburg for Bloemfontein. The first issue of the Military History Journal, Vol 1 No 1, was published by the South African National War Museum in association with the Military History Society in December 1967. Captain John A Ball, an active member who had attended the inaugural meeting of the Society in the previous year, was the first Honorary Editor, and Commandant Duxbury was the first Editor-in-Chief.

The Society's logo was designed by Joan Pell (Mrs H E Winder), following correspondence with the South African College of Heralds. It comprises an upright Roman-type sword in silver and gold, crossed by three goose quills with white flights, cut ready for use, symbolic of the three forces of Iand, sea and air and signifying the recording of history, all on a dark navy background shield, with a scroll below inscribed 'S.A.M.H.S.' and 'S-A.V.K.' (South African Military History Society/SuidAfrikaanse Vereniging vir Krygsgeskiedenis). The name 'The South African Military History Society' was officially registered by the State Herald in 1971 and a Certificate of Registration issued.

A popular feature of the Society meetings of the 1980s were the 'Metro-Goldwyn Hall' ten-minute 'Military Magazine' slide shows presented by the late Major Darrell D Hall.

The first Society tie was produced in 1987, consisting of oblique, narrow red and silver stripes and the Society's logo in silver and black on a blue background. This design was updated in 2000.

Battlefield tours were also popular events of the Society in its early years and are continued with relish by some of the branches today. The first battlefield tour undertaken by the Society was a tour of the Pretoria area on 11 June 1967. The Durban branch in particular has a tradition of excellent tours of the Natal Battlefields, and with the establishment of the Eastern Cape branch, members can look forward to more activities in that area. The Johannesburg and Cape Town branches have also undertaken several interesting tours in recent years.

A recent development and a very popular one, judging by the number of 'hits' and enquiries it receives, is the establishment of the Military History Society's own web site, set up by Mike Marsh. It can be accessed on the Internet at http://www.samilitaryhistory.org and it features, amongst others, a list of all articles that have appeared in the Military History Journal to date, with selected outof-print articles available in full.


Past Honorary Secretaries (1966 to 1972)
| | |
| --- | --- |
| Name | Dates |
| Mr Neville Gomm | October 1966 to May 1968 |
| Mr P E B Rice | June 1968 to March 1969 |
| Mr Paul Melville | April 1969 to October 1970 |
| Mr V Solomon | November 1970 to 1972 |

Past Honorary Treasurers (1966 to 1973)
| | |
| --- | --- |
| Name | Dates |
| Dr S M Kaplan | November 1966 to March 1968 |
| Mr T E Sole | March 1968 to December 1970 |
| Mr M Gough-Palmer | January 1971 to March 1973 |

Honorary Secretary/Treasurers (1973 to date)
| | |
| --- | --- |
| Name | Dates |
| Mr M Gough-Palmer | March 1973 to April 1982 |
| Mr C M Marsh | April 1982 to April 1998 |
| Mrs Joan Marsh | April 1998 to date |

Chairmen (1966 to date)
| | |
| --- | --- |
| Name | Dates |
| Mr D R Forsyth | October 1966 to April 1969 |
| Cmdt B G Simpkins | April 1969 to April 1971 |
| Mr W J P Carr | April 1971 to April 1973 |
| Mr Charles H Cohen | April 1973 to April 1975 |
| Dr Felix Machanik | April 1975 to April 1977 |
| Colonel D E Peddle | April 1977 to July 1977 |
| Major D D Hall | July 1977 to April 1979 |
| Professor C J Barnard | April 1979 to April 1981 |
| Mr H W Kinsey | April 1981 to April 1983 |
| Major D D Hall | April 1983 to April 1986 |
| Mr Ian S Uys | April 1986 to April 1988 |
| Mr Stewart T Stiles | April 1988 to April 1990 |
| Dr Ian Copley | April 1990 to April 1992 |
| Mrs Jenny Copley | April 1992 to April 1993 |
| Mr John Mahncke | April 1993 to April 1995 |
| Mr Kemsley-Couldridge | April 1995 to April 1997 |
| Mr Martin Ayres | April 1997 to April 1998 |
| Mr George Barrell | April 1998 to April 2000 |
| Mr Hamish Paterson | April 2000 to April 2002 |
| Mr Colin Dean | April 2002 to April 2004 |
| Mrs Lyn Miller | April 2004 to April 2006 |
| Mr Flip Hoorweg | April 2006 to date |

Honorary Life Memberships (1975 to date)
| | |
| --- | --- |
| Name | Date conferred |
| Mr Neville Gomm | 1975 |
| Col G R Duxbury | 1976 |
| Dr Frank Mitchell | c1975 (Cape Town Branch) |
| Maj-Gen J C Lemmer, MC 1983 | 1983 |
| Dr Felix Machanik | 1994 |
| Mrs Tania M van der Watt | 1999 (KZN Branch) |
| Mr Paul Lange | 1999 (CapeTown Branch) |
| Mr George Barrell | 2004 |
| Mr Ken Gillings | 2005 (KZN Branch) |
| Mr H W Kinsey | 2006 |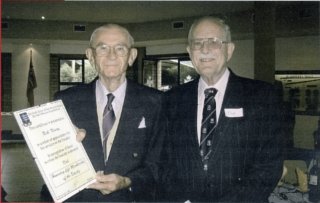 On 19 November 2006, Mr H W "Nick" Kinsey (sbove left)
was awarded Honorary Life Membership of the Military History Society
in recognition of his contribution to the Society since its earliest days.
With him is the Society's current Chairman, Mr Flip Hoorweg.
Photo: M Dean
The Branches
From its humble beginnings with 41 members, the Society today boasts a membership of more than 500, belonging to no fewer than four local branches throughout South Africa, and including an increasing number of overseas members. The Society's wish is to have branches in all nine provinces of South Africa and to break through the 500 membership mark with the addition of new, younger, military history enthusiasts and researchers of all races to help drive the Society to new heights.
Johannesburg (Gauteng), MAIN BRANCH
Date of formation: 5 October 1966
Special features: This branch runs the web-site and central administration office, distributes the Journal, and arranges local day trips.
Contact details: P.O. Box 59227, Kengray, 2100, Gauteng or
email: scribe@samilitaryhistory.org
Cape Town (Western Cape)
Date of formation: 1975
Special features: This branch meets on the second Thursday of every month at the SA Legion 'Rosedale' complex for ex-servicemen, their wives and widows. Visits are made to two local battle sites, Muizenberg (1795) and Blaauwberg (1806), as well as other sites of military interest, The Castle (1666), Wynberg Camp, Simon's Town SA Navy Base, and coast defences.
Contact details: Maj Antony Gordon, 5 Chess Close, Newlands, 7700, Cape Town Tel & Fax: 021 671 4500, or
email: apgordon@iafrica.com
Durban (KwaZulu-Natal)
Date of formation: October 1972
Special features: This branch emerged from an informal discussion group. It is an active branch with a strong emphasis on Kwazulu-Natal battlefields.
Contact details: Mike Laing, 62 Baines Rd, Durban, 4001, Tel: 0312051951 email: laingm@eastcoast.co.za
Port Elizabeth (Eastern Cape)
Date of formation: 9 September 2004
Special features: This branch meets monthly in Port Elizabeth and once a year in Grahamstown. It arranges tours to local sites of interest.
Contact details: Malcolm Kinghorn (Chairman), 15 Conyngham Rd, Parson's Hill, 6001, Port Elizabeth Tel: 082 331 6223
email: culturev@lantic.net
Honorary Auditors (1967 to date) Mr Brian K Thomas 1967 to 1971 Mr P E B Rice 1972 Mr Ian S Uys 1973 to 1978 Mr P E B Rice 1979 to 1981 Mr Ian S Uys 1982 to 1983 Gavin Moore & Co 1984 to date SANMMH Representatives Col George R Duxbury Cmdt 0 E F 'Ozzie' Baker Dr Stan Monick Maj Alec C M Tyrrell Mr Dudley Aitken Mr John L Keene Mr Alan Kirby Mr D R 'Dick' Maree Mr Hamish R Paterson
* * * * * * *
40th Anniversary Lunch
On Sunday, 19 November 2006, in the Marrières Wood Room at the South African National Museum of Military History in Saxonwold, Johannesburg, the South African Military History Society held a luncheon to commemorate the 40th anniversary of its founding in 1966. Under the convenorship of Mesdames Miller, Marsh and Dean, with the assistance of the committee, a splendid meal had been arranged, and guests enjoyed a very special afternoon. With the kind assistance of Ephraem Maloba, our faithful provider of the essential tea and coffee at every meeting, colourful table settings had been laid out. As ever, the Friends of the Museum, in the person of Terry Leaver, provided a bar service.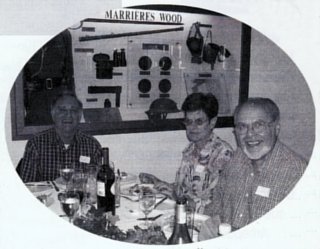 Society members Dave Folb,
Mrs Rademeyer and Denny Rademeyer at the lunch
(Photo: Marjorie Dean).
Chairman Flip Hoorweg welcomed everyone, including those who had travelled far for the occasion, and presented the Society's Honorary Life Membership Award to one of the founder members, Nick Kinsey. Nick has served in many capacities over 40 years, including lecture coordinator, chairman, and editor of the Military History Journal, and his inestimable contribution to the Society was thus honoured. Flip Hoorweg's son, Jan, had provided a wonderful set of CDs on the Second World War to be raffled and this was won by life member, Peter Rush.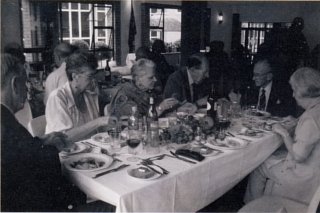 From left to right: Prof Deon Fourie and his wife Felicia,
Pauline and Alistair Martin, and Nick and Meryl Kinsey
(Photo: M Dean).
Another longstanding member, Deon Fourie, proposed a toast to the Society on its 40th birthday, and recalled highlights of our history, many of them humorous, some inspiring and some sad, but invoking a feeling of pride in our Society.
One of the Society's proudest achievements is the Journal which will celebrate its 40th anniversary next year - and over this long time has produced such excellent editorial, and published so much original research. The Military History Journal now enjoys a worldwide readership, and Deon paid tribute to the many editors and honorary editors over the years. These include John Ball, Doug Tidy, Helen Hansmeyer, Rochelle Keene, Major Tyrrell, Karin Greyvenstein, Margaret Northey, Nick Kinsey, George Duxbury, Stan Monick and John Keene. Tribute was also paid to the late George Barrell who oversaw its development into the very successful format it has today. It thrives and develops now under the strict control of Susanne Blendulf , with outstanding covers designed by Carol de Leef. The Society can congratulate itself on this remarkable Journal which is almost as old as the Society itself, and the people who have voluntarily served to maintain and develop it, and make it the pride of the Society.
Deon also paid tribute to all those who have served on the Society's Committee over the years, especially what he called the 'unsung heroes' such as our diligent Treasurers, Secretaries, Lecture Organisers, Publicity Organisers, and Register Keepers. Their contributions are the glue that holds our society together and make it function so well.
The Society has also had a long and mutually beneficial relationship with the Museum, and our thanks were due to all directors and staff members who have given so much of their time and expertise over the years. Hamish Paterson, in particular, has rendered outstanding service in recent years.
The Society's health was then toasted, and our guests settled back to enjoy a happy occasion with many reminiscences of times past - and hopes and ideas for the future.
Marjorie Dean SA Military History Society, Johannesburg Branch
A TOAST TO FORTY YEARS ...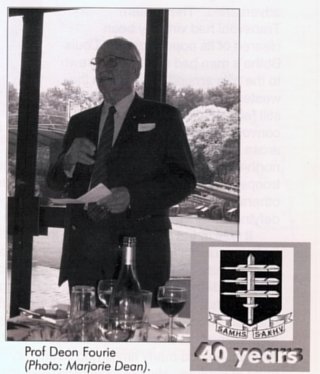 ' ... As it is often said that patriotism is the last refuge of the scoundrel, let me hasten to say something about patriotism in conclusion. I think the creation and existence of this Society, and the Museum, have been the fulfillment of a patriotic duty - that of securing a particular kind of education. In our study of military history we have roamed around the world, through our speakers on the Wars of the Roses, to the Battle of Magersfontein, from battleships and U-boats to the courage of fliers such as Edwin Swales, VC. We have, in this way, broadened our minds, heard about subjects of which we knew nothing, learnt the lessons of bravery, blunders, military brilliance, and published our research for the benefit of all South Africans to read. Our programmes have covered so much and, goodness knows, we still have so much to cover. This has made us better South Africans and it promises to make our heirs to this Society so much better informed. All of this reflects the brilliant achievements of our own Military History Society and I ask you to remember all these achievements, as you stand now, to toast the South African Military History Society, its past, and its future ... Ladies and gentlemen, to the South African Military History Society!'
---
Return to Journal Index OR Society's Home page
South African Military History Society / scribe@samilitaryhistory.org