The South African
Military History Society


---

Die Suid-Afrikaanse Krygshistoriese Vereniging
---
Military History Journal
Vol 13 No 5 - June 2006
LETTERS TO THE EDITOR
Military History Journal (incorporating Museum Review), Vol 13 No 4, December 2005
Please note: Owing to unforeseen circumstances, the lefthand panel on the inside front cover of the December issue, Vol 13 No 4, printed incorrectly. Please find, in the pages of this issue, a sticker version of the correct panel readers can fit over the incorrect one. I apologise for any inconvenience caused. - Ed.

Captions switched ...
In David Saks' article, 'Hunting Maqoma: The Second Waterkloof Campaign, Oct-Nov 1851', please note that the captions for the photographs on pp 132 and 134 were inadvertantly switched. My apologies. - Ed.
---
Dear Editor Congratulations on the latest (Vol 13 No 4) issue of your journal. .. Once again, it was an excellently produced issue. The fact that the battle of Blouberg was (very competently) dealt with is particularly important. The battle has been strangely neglected, even though it was the only full-scale European-style formal engagement to take place on South African soil and represents our small but not irrelevant part in the Napoleonic Wars. The article's inclusion emphasises the need for a journal such as yours.
Keep up the good work!
David Saks
---
A pair of boots for a pair of one-legged ex-raiders ...
In response to L J Crator's article (The Jameson Raid and England's Anti-Mercenary laws', Military History Journal, Vol 13 No 4, December 2005, pp. 147-8) on Cpl Sampson Burrow's charge against Messrs Rhodes and Jameson for the loss of his leg, Mr D E Maclachlan of Carletonville sent in this brief account by his late father, William Malcolm Maclachlan: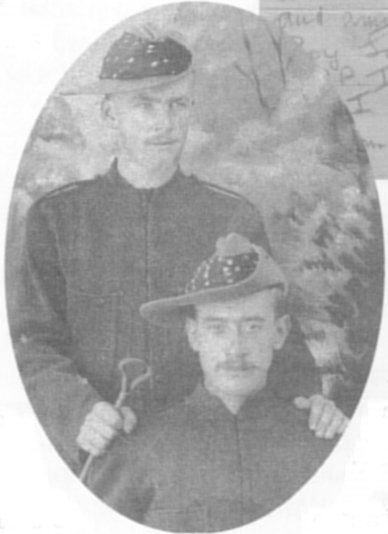 The writer of the account, William Malcolm Maclachlan (standing)
poses for a photograph with a fellow member of the Matabeland Mounted Police, 1895.
' ... It was indeed a pleasure to mingle with the gay throng and galaxy of beauty that foregathered at the Grand Hotel on 8 April [1934] to attend the second Annual Police Ball [Reunion Ball for the British South Africa Police (BSAP), held in Bulawayo] which, apparently, judging by the numbers present, should prove a decided financial success and add considerably to the funds for which the function was inaugurated ... It was pleasing to be once again among members of the old Corps ... During the evening, my thoughts went back to the year 1894 when, after a two year sojourn in the States and Mexico, I first became a member of the Charter Company forces, namely the old Matabeleland Mounted Police (MMP), the immediate predecessor of the present BSAP. Some may still remember the officers-Major 'Billy' Bodle, Capt Straknr, Bowden and Constable-and RMS Abbott, 'Jock' Pender, 'Cockney' Webb, Sgt Morrison (murdered in 1896), Jack O'leary (killed in the Rebellion), and 'Mick' Barry (died of wounds received at Doornkop).

In October 1895 [I] left Bulawayo with 'A' Squadron, MMP, which was commanded by Captain Straker, and after about a month's trek, we formed camp at Pitsani Pothlugo, some 29 miles [46km] north of Mafeking where several recruits were already encamped awaiting our arrival. On the evening of 29 December 1895, we crossed the border, the die was cast, and the Jameson Raid a fait accompli. The next morning, we met the Bechuanaland Border Police (BBP) at Malmani and, after a few hours' halt, proceeded towards our goal - or, to be strictly correct, our gaol!

After spending some three weeks in Krugersdorp Hospital, I, accompanied by two comrades named Dixon and Brown, was sent to Pretoria Central Prison where I had the [dubious] pleasure of enjoying three days of Oom Paul's hospitality and, at the same time, meeting several members ofthe Reform Committee, Sir Drummond Dunbar with his flowing beard being best remembered. Another gentleman with whom I frequently came into contact during my stay at the gaol was 'One Armed Mac', who was doing a fairly long stretch for some crime of violence and in later years was well known to the South African Police and no doubt is still remembered by some of the old stagers in this country. En passant, I may mention that by a strange and tragic coincidence, Detective Mynott, SAP (then Transvaal Police), who brought back 'One Armed Mac' from New Zealand for his final trial for murder, was the first victim shot by the Foster Gang in 1914.

I was finally sent down to Volksrust where most of the Raiders were detained before being put over the Natal border and finally departed for the Old Country [England] on the Harlech Castle. Early in 1896, when the [Matabele] Rebellion broke out, most of the men returned and took part in that campaign. In May 1897, still partially incapacitated from wounds received during the Raid, I was sent down to De Beers Mines, Kimberley, by Cecil Rhodes, with several others - among them Louis Stipleton, 'Gabby' Smith (BBP), Fred Dreyer (who lost a leg and I believe is still hanging on to life around Shabani). If this should chance to meet his eye, I wonder if he remembers going into a boot shop in Cape Town in the company of another MMP named Burrows, and ordering one pair of boots for the two of them? I eventually joined up with the Cape Police D2 in 1899 and finally left the South African Police on pension after 28 years'service. In 1927, I made for Northern Rhodesia and during the course of my wandering came across a number of old hands and among them ex-BSAP members Roy Sanders (at Luansha), now in the BPP, I believe, and 'Ginger' Dixon MC in charge of the Northern Rhodesia Police at Fort Jameson .. .'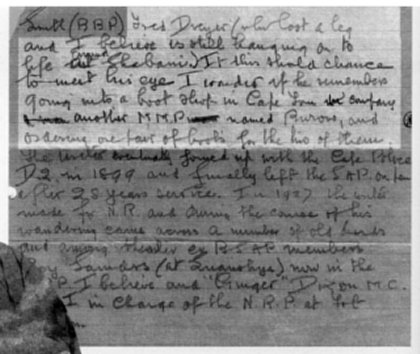 A copy of the original note written by William Malcolm Maclachlan in 1934,
in which he recalls the story about the pair of boots.
---
Return to Journal Index OR Society's Home page
South African Military History Society / scribe@samilitaryhistory.org