The South African
Military History Society


---

Die Suid-Afrikaanse Krygshistoriese Vereniging
---
Military History Journal
Vol 13 No 3 - June 2005
IRISH GUARDS HONOURED

In an impressive and colourful twin ceremony held on the Regiment's 105th anniversary, soldiers of the Irish Guards in full ceremonial dress participated in the unveiling of the memorial raised in the forecourt of the Siege Museum in Ladysmith to commemorate their formation. This immediately followed their receiving the freedom of the town, a unique honour for a non-South African unit.
The connection between the Irish Guards and Ladysmith is that the Regiment was formed on 1 April 1900 upon the direct command of Queen Victoria in recognition of the courage and sacrifice in the fierce fighting to relieve the town displayed by those she called 'my brave Irish soldiers'. This tribute is recorded upon the impressive black granite plinth, the base of which bears the insignia of the eight Irish infantry regiments extant at the time of the second Anglo-Boer War (18991900), all of whom participated with distinction.
A moving aspect of the service of dedication was the delivery by the presiding padre, Father O'Reilly, of some of the prayers in Irish. This was done out of respect for the fact that the majority of the regiments engaged were from Southern Ireland. These regiments were disbanded on 31 July 1922, six months after partition between the six counties that remained British and the 26 that form today's Irish Republic.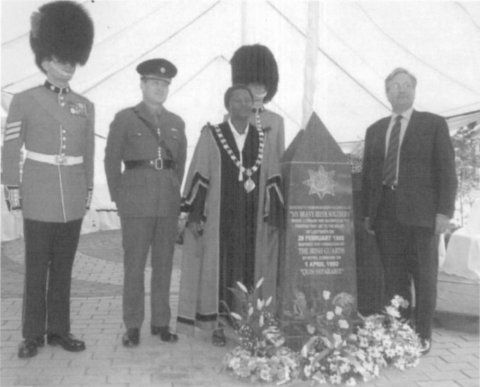 The Irish Guards are now stationed in London, as both infantry and ceremonial soldiers of the highest order. Following the trooping of their colour before the Queen at the annual Birthday Parade this June, the 1st Battalion commits to Very High Readiness Reserve for deployment to southern Iraq where, in 2003, it added two battle honours to the 52 it already held.

The memorial project was conceived by John Murray, who represents the Irish Guards Association in South Africa and is a former national committee member of the Military History Society, and carried to execution with the invaluable assistance of Ken Gillings, a committee member of the KwaZulu-Natal branch.

Return to Journal Index OR Society's Home page

South African Military History Society / scribe@samilitaryhistory.org