The South African
Military History Society


---

Die Suid-Afrikaanse Krygshistoriese Vereniging
---
Military History Journal
Vol 13 No 2 - December 2004
Gaborone and the Anglo-Boer War, 1899-1902
by Rob S Burrett, Harare
With the outbreak of hostilities in October 1899, Boer forces on the north-western front moved to block the advance of Imperial troops along the Bechuanaland-Rhodesia border. Commandant-General P J Cronje was able to encircle Major-General R S S Baden-Powell at Mafeking while Colonel H 0 C Plumer remained ensconced at Fort Tuli (Burrett 1999; Hickman 1970). However, the railway from Rhodesia presented a dilemma - a potential line of 'relief' for Mafeking along which Imperial forces could also be moved to the rear of the main thrust into Natal and the Cape. It was therefore a strategic necessity that this line be captured or put out of service. Responsibility for the northern section was delegated to the Waterberg Commando, but internal wrangling and threats of resistance from Paramount Chief Khama left the line intact (Hickman, 1970, pp 177-8; Amery, 1906, IV, p 204), a serious military blunder.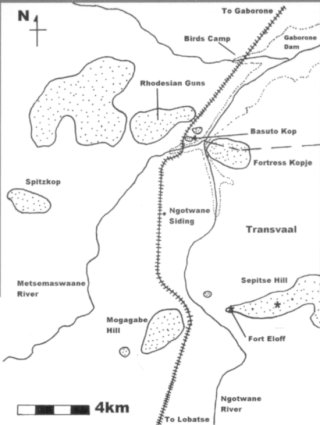 Sketch map. Speckled areas represent high ground.
In south of the Protectorate, where the railway was much closer to the border, matters were different. Before the outbreak of hostilities, Veld-Kornet P D Swart's Marico Burgers had established a camp at Gopanistad (now Maanwane) opposite Lobatsi (now Lobatse) (LT 13/10/99). On 13 October, Swart crossed the border and wrecked the railway north of Lobatsi, capturing the village and its British residents on 14 October. The next day, together with reinforcements, the Rustenburg Commando under Veld-Kornet Piet Kruger, Swart pushed northwards along the line (Amery, 1902, II, p 270). However, on 18 October, he was attacked a few miles north of Lobatsi by Captain Llewellyn, commanding the Rhodesian armoured train, HM Powerful. As the Rhodesians were better armed with a Maxim gun and a 7-pounder, they enjoyed the advantage and were able to push back the Boer advance whilst inflicting several casualties (Hickman, 1970, p 186). A second, similar, incident occurred near Ramoutswa on 21 October (Hickman, 1970, p 191).
At the time, the Rhodesians ran two armoured trains which were based at Crocodile Pools (now Ngotwane) Siding, south of Gaborone. The bridges in the vicinity were guarded by Protectorate Native Police (PNP), men drafted from Basutoland (Lesotho). In response to this apparent threat, Cronje dispatched a strong force from Mafeking under Assistant-General J P Synman to engage the enemy. In the face of this opposition, Llewellyn fell back, first to Gaborone (the main Imperial settlement in the southern section of the Bechuanaland Protectorate) and then to Mochudi and Magalapye progressively northward along the line (Amery, 1902, II, p 270). Whist withdrawing on 25 October 1899, one of the PNP was captured and shot by a Boer patrol under Piet Kruger near Kgale Hill, just south of Gaborone. Constable Chere thus became the first Imperial casualty in this area (BC 25/12/1900; Hickman,1970, p194). Synman occupied Gaborone on 26 October, but decided that the Rhodesian threat was not serious and he returned to Mafeking. Boer forces then moved further north, temporarily occupying Mochudi Station from 31 October until late November 1899 when the Derdepoort Incident led to their evacuating these northern positions (Hickman, 1970, p 189). This allowed the Rhodesian armoured trains to resume periodic incursions southward as far as Gaborone.
Meanwhile, under Swan, the Rustenberg Commando - estimated by later Rhodesian reconnaissance to be between 500 to 600 men (CTW 21/2/00; LT 15/2/00) - decided to fortify positions near Ramoutswa Siding, just south of Crocodile Pools (Breytenbach 1996, VI, p 24). This is a narrow pass 17 km south of Gaborone where the railway closely skirts the border and is overlooked by several large hills - a much stronger location compared to the open plains around the Imperial Camp. This position was further strengthened after a visit by Synman on 30 November (Breytenbach, 1996, VI, p24). He brought with him from Mafeking additional men and artillery; in particular, a 12.5-pounder Maxim-Nordenfeldt gun operated by a German officer of the Staatsartillerie Johannesburg, Captain von Dalwig (CTW 24/1/00; Amery, 1906, 1V, p 204), as well as a Krupp nine-pounder and a Maxim-Nordenfeldt one-pounder (Will & Dent, 1972, p 207). Temporary command was taken over by Captain S Eloff, grandson of the Transvaal President (CTW24/1/00 & 21/2/00; Hickman, 1970, p 179; LT 15/2/00).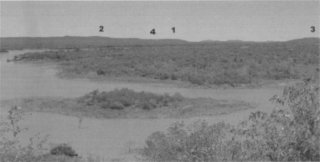 View south from the top of Basutokop, November 2002:
1. Fort Eloff position 2. Boer fort 3. Mogagabe Hill 4. The nek, site of the action, 2 February 1900.
Most of the Boer positions were probably erected about this time and they line the top of a prominent west-east ridge now known as Sepitse Hill (Millington, 2000). This lies directly on the Transvaal side of the border of the Notwani (now Ngotwane) River, less than a kilometre from the railway. The fortifications there consisted of two large stone enclosures as well as several smaller structures along the crest of the ridge.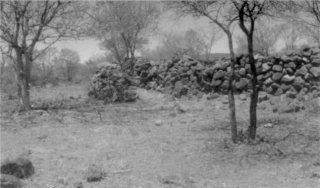 Entrance to Fort Eloff, Sepitse Hill, as seen from the north-west, November 2002.
On a low knoll nearest the railway there was the largest building (above), probably what was called Fort Eloff (CTW 21/2/00) and the location of the Boer field guns. On the highest point of the ridge was another high walled rectangular stone fortification. At other prominent points along the ridge there were smaller stone outposts together with numerous stone schanzes guarding access routes, others facing northward or towards the railway. Several small outposts were also constructed on the neighbouring Mogagabe Hill, west of the Notwani and within the Protectorate. In addition, the Boer forces cut the railway, destroying the bridge and culverts in the vicinity. The purpose of this strong Boer position was to block any Imperial attempts at reinforcing Mafeking (cf. Millington & Burrett, 2000, although the author has modified some of the interpretations in the light of a more recent visit).
In late December 1899, Plumer felt that a Boer invasion of Rhodesia was unlikely and he moved southward to assist in the relief of Mafeking. His force met no resistance along the way, other than a small clash on 12 January when a Boer patrol was detected attempting to destroy the railway bridge over the Segoditshane River, a mile north of the Gaborone Station. Sandwiched between two armoured trains, the Boers managed to escape into the darkness (CTW 17/1/00; LT 22/1/00). The bulk of the Rhodesian Regiment finally reached Gaborone on 14 January 1900, while their commander made a reconnaissance towards the Boer positions. On 15 January, Plumer tried to attack but was stopped by the flooded Metsimasauna (now Metsemaswaane) River, the bridge having been destroyed (CTW 17/1/00; LT 22/1/00). On the following day, when his men returned by train to the Metsimasauna, they were shelled by the Boers who had the bridge exactly within range (CTW 31/1/00; LT/24/OO).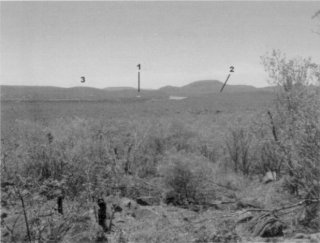 North-west from Fort Eloff, showing the Rhodesian positions, November 2002:
1. Basuto Kop 2. Fortress Kop 3. Rhodesian gun position.
On 17 January, Plumer moved his men south of Gaborone to establish a base camp somewhat closer to the Boers, but behind several hills well out of range of enemy guns. This was known as Bird's Camp (after Major W D Bird) and was located on the banks of the Tlwane River, now submerged by the waters of the Gaborone Dam (Imperial Government, 1908, III, p 197; Millington & Burrett, 2000, p 15; Will & Dent, 1972, pp 206-7). On the same day, Captain Maclaren set out to reconnoitre the enemy's positions more closely. He found a Boer patrol at Basuto Kop that withdrew as he approached. Three Rhodesian cyclists then proceeded to Mogagabe Hill which overlooked the main Boer positions. Later that day, the Rhodesians moved further south to occupy Basuto Kop (CTW 31/1/00; LT 24/1/00). This small hill faced the Boers over a 5km wide valley and is at the junction of the Notwani (the border) and the Metsimasauna Rivers. This position, sometimes known as Fort Butters, they then proceeded to fortify.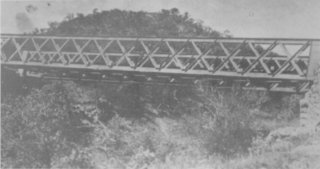 Original photograph of the damaged bridge over the Metsamaswaane River with Basuto Kop in the background.
(Photo by courtesy of the National Archives of Zimbabwe)
The damaged bridge at the base of the hill then became the main focus of concern to both sides. When the railway was constructed in 1897, a 100-foot iron bridge had been built to carry the trains across the Metsimasauna River but now the Boers had dynamited the supports and it was targeted, with precision, by Von Dalwig's artillery, so that each time the Rhodesians repaired the structure, he was able to land several well-aimed shells to bring it down again (Hickman, 1970, p265). Frustrated by his own inability to advance in the light of superior firing power, Plumer requested that a Maxim-Nordenfeldt 12,5-pounder be sent down from Bulawayo. Meanwhile, on 19 January, a small Rhodesian reconnaissance patrol came across much strengthened Boer positions on Mogagabe Hill and narrowly escaped as a Maxim gun was turned on them (CTW 7/2/00). Accordingly, on 23 January, a large Rhodesian patrol, under Major Bird, was sent to attack these enemy positions, rushing them with bayonets and capturing horses and two Transvaal Republic flags. Reinforcements sent out from Fort Eloff were also fired upon and two Boers were injured. However, when the Boer nine-pounder was turned on him, Bird chose to retire, taking with him four injured Rhodesians (CTW 7/2/00; LT 3 1/1/00).
Plumers 12,5-pounder arrived at the Crocodile Pools on 26 January 1900 (Hartmann, 1900, p 336; LT 3/2/00) and was placed on a higher ridge slightly to the north-west of Basuto Kop (CTW 7/2/00). Both sides then experienced heated gun engagements on a daily basis, but the results were inconclusive and Plumer decided on a direct frontal attack on the Boer fort. On 2 February, Major Bird, with 150 men of the Rhodesian Regiment accompanied by the seven-pounder gun, moved towards the Boer position. A small group under Lieutenants Harland and Blunt climbed up to a small saddle in the ridge and fired upon outlying pickets as well as the Boer fort cresting the ridge east of their position. Their movements were supported by fire from the Rhodesian gun which was located on the plain to the north. However, this gun was soon targeted by the Boers larger gun and the Rhodesian troops retired without casualty (CTW 21/2/00; LT 15/2/00). Over the following days there were several more Rhodesian assaults planned but sudden, torrential storms resulted in them being called off at the last minute as the flooded Notwani River threatened to wash away the temporary footbridge which they had thrown up (Hickman, 1970, pp 268—9; Will & Dent, 1972, p 207).
It was not until the early morning of 12 February 1900 that a clash took place. Again it was led by Major Bird with 150 men from the Rhodesian Regiment, 25 British South African Police (BSAP) and 25 Southern Rhodesian Volunteers (LT 21/2/00; Will & Dent, 1972, p 207). They departed from the Rhodesian lines at 23.00 on 11 February and, by 03.45, had reached the foot of Sepitse Hill (Imperial Government, 1908, p 198). Looking at the positions today, this frontal attack seems to have been a suicidal decision on the part of the Rhodesian commanders. The Boer fort was on top of a steep rocky hillside and it was surrounded by numerous walled outposts of which the Rhodesians were aware. The Boers had the advantage both of height and of cover. In addition, soon after beginning their ascent, the Rhodesian attackers narrowly missed destruction by a large dynamite mine which had been concealed towards the base of the hill (Imperial Government, 1908, p 198). Undeterred, the attackers pushed their way uphill under heavy fire, but their offensive thrust was fragmented and only about 40 of the Rhodesians actually gained ground on the ridge. Leading this group was Captain S G French (Royal Irish Regiment), who managed to get all the way to the walls of Fort Eloff, where he was shot while cutting the final strands of barbed wire (Hickman, 1970, p 270; LT 6/3/00). At this point, it was clear that the Rhodesian attack had failed and Bird ordered a retreat, reaching Basuto Kop by 06.00 (Imperial Government, 1908, p 198). Five men had been killed in action and another five Rhodesians had been captured. The Boers, on the other hand, had sustained no casualties (CTW 21/2/00; LI 17/2/00).
Plumer's force had sustained its most serious casualties thus far in the campaign and he returned to Gaborone to bury the dead in a small cemetery near the old Fort. Here, he wrote to Bulawayo to discuss his next move.
Meanwhile, the Boers further strengthened their outposts on Mogagabe Hill (CTW 28/2/00; LT 23/2/00) and decided to go on to the offensive after having received an additional 200 men from Mafeking as well assurances of assistance from 'four regiments of Kalifen's natives' — members of the BaHurutshe community (CTW 7/3/00; LT 26/2/00). They began a concerted bombing of Rhodesian positions on 16 February and planned to attack the Rhodesians on the following day by outflanking them from the west of Basuto Kop (Imperial Government, 1908, p 199). However, their element of surprise was spoilt when a Rhodesian patrol led by Lieutenant Blunt discovered them by chance at 'Spitzkop' in the early hours of the morning (CTW 28/2/00; LT 23/2/00). After a sharp exchange of fire, the Rhodesians were forced to withdraw. For some reason, the Boers then decided to abort this action and returned to their positions on Sepitse.
The Rhodesians replied to the Boer threats with an increase in their shelling of Boer positions and some damage was done to Fort Eloff (CTW 21/2/00). The stand-off continued. Plumer awaited instructions while internal division plagued the Boer military leadership (Jarvis, 18/2/1900). Then, on the evening of 25 February, the Boers suddenly abandoned their stronghold, making for Lobatsi further down the line (LT 6/3/00). Many of these men were later involved in a sustained attack on Mafeking on 28 February (Jarvis, 4/3/1900; Amery, 1906, IV, p 206). It is also possible that the Boer withdrawal was due to enteric fever having broken out amongst the Boer defenders (LT 8/3/00). Furthermore, the men would have been deeply concerned about the safety of their homes following several cross-border raids by Chief Linchwe (CTW 7/3/00) who had, in addition, defeated several Boer patrols sent against him from both Fort Eloff and Zeerust (CTW 28/3/00). Nevertheless, by abandoning their most serious barrier to Plumer's southward advance in this way, the Boers made a serious military miscalculation. The wary Rhodesians occupied Sepitse Hill on 26 February (CTW 14/3/00; LT 6/3/00) and Plumer was then able to complete the repairs to the Metsimasauna bridge. For the first time in five months, armoured Rhodesian trains were able to proceed as far as Ramoutsa where the rails had been ripped up (LT 8/3/00).
After these repairs were effected, Plumer proceeded further south, recapturing Lobatsi on 6 March 1900, although he was temporarily forced to retreat back to Crocodile Pools after the Boers retook Lobatsi on 15 March (LT 24/3/00). There were a number of skirmishes to the south of this point which require further study, but the old Boer positions at Crocodile Pools remained occupied by the Rhodesians until well after the Relief of Mafeking. Plumer strengthened it with supplies and a few additional men after he was forced to retreat after a severe fight at Ramathlabama on 31 March (LT 11/4/00), but this was a clever ruse to cover his successful redeployment via Kanya and Sefetili Pans, some distance west in the Kalahari (Amery 1906, IV, p 207). He was thus able to confuse the Boer commanders who had thought he would stick to the railway. The small contingent at Crocodile Pools was responsible for guarding the railway and for organising supplies to and from Plumer's Column and later Mafeking, but otherwise they saw no further action. They staged several mock photographs and expended considerable efforts rebuilding parts of the former Fort Eloff, adding a series of large stone blocks to the interior of the walls as firing steps, probably to overcome boredom rather than in response to any real military threat.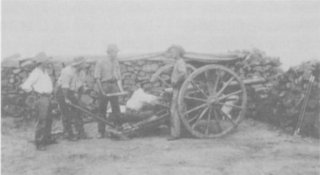 Rhodesian 12.5 pounder facing south in a staged photograph taken at Fort Eloff after its capture.
(Photo by courtesy of the National Archives of Zimbabwe)
The fortifications at Basuto Kop, Mogababe Hill and Sepitse Hill are still in an excellent state of preservation, making it possible to trace the actual positions of several of the early photographs. Yet very few people seem aware of these sites and efforts aimed at generating interest from local museums in either country have not been very successful, in marked contrast to the popular 'tour routes' of Kwa-Zulu-Natal. These skirmishes on the north-western front were too small to be of any major interest, but for six weeks they formed an essential part of the Rhodesian effort towards the Relief of Mafeking.
REFERENCES
Amery, L.S (ed), The Times History of the War in South Africa 1899-1900. Vols II & IV (Sampson Low Marston & Co, London, 1902 and 1906 respectively).
Breytenbach, J H, Die Geskiedenis van die Tweede Vryheidsoorlog in Suid-Afrika. VI (Die Staatsdrukker, Pretoria, 1996).
Burrett, R S, 1999. 'Events in the Second Anglo-Boer War, 1899-1902, in the wider Tuli Area, Zimbabwe-Botswana' in Heritage of Zimbabwe., Vol 18, 1999, pp 21-57.
Hartmann, A, 'With Colonel Plumer's Column', Zambezi Mission Record, No 10, 1900, pp 334-9.
Hickman, A S, Rhodesia Served the Queen, Volume I (Rhodesian Army, Salisbury, 1970).
Imperial Government, History of the War in South Africa, 1899-1902. Volume 3. (Hurst & Blackett, London, 1908).
Jarvis, Sir A Weston (member of Plumer's Column), personal correspondence to his mother. Historical Manuscripts JA 411/1. National Archives of Zimbabwe.
Millington, P & Burrett, R 5, 'Action at Crocodile Pools during the Anglo-South African War and death of Captain Sampson French' in Botswana Notes & Records, 23, 2000, pp 11-24.
Will, D & Dent, T, 'The Boer War as seen from Gaborone', in Botswana Notes & Records, Vol 4, 1972, pp 195-209.
Periodicals. Relevant issues are dated accordingly in the text.
BC = Bulawayo Chronicle
CTW = Cape Times Weekly Edition
LT = London Times

Return to Journal Index OR Society's Home page

South African Military History Society / scribe@samilitaryhistory.org