The South African
Military History Society


---

Die Suid-Afrikaanse Krygshistoriese Vereniging
---
Military History Journal
Vol 13 No 2 - December 2004
FIGHTING FAIREY BATTLES
The South African campaign in German South-West Africa, 1914-1915
by Gobbo Alberto
(Compiled by Roberto Bassi and translated by Stefaan Bouwer and Graeme Gibson)
Born in Bressa, near Udine, Italy, in 1911, Maresciallo (Warrant Officer) Alberto Gobbo's passion for flying began as a young boy. When he was eighteen years old, he attended a glider course at Pavullo nel Frignano and one year later he attended a flying course in an old Aviatik at Udine Airfield (Campoformido), gaining his private pilot's licence there. He joined the Regia Aeronautica (Italian Royal Air Force) and started his career as a Sergeant Student Pilot at Grottaglie Flight School (Taranto).
Sergeant Gobbo earned his military wings by flying Caproni CAlOOs (called Caproncino) and was later assigned to 72A Squadriglia Caccia (No 72 Fighter Squadron), 17deg Gruppo Caccia (No 17 Fighter Group), 1deg Stormo Caccia (No 1 Fighter Wing) in Campoformido Airfield, Udine, just 2km from his birthplace. No 1 Fighter Wing was considered to be the best wing in the Regia Aeronautica and, at that time, was equipped with the best Italian fighter for those years, the Fiat CR 20 ASSO. Campoformido was also the home base of the national aerobatic team, known as 'The Crazy Team' (La Pattuglia Folle), with whom Gobbo learnt to fly in close formation.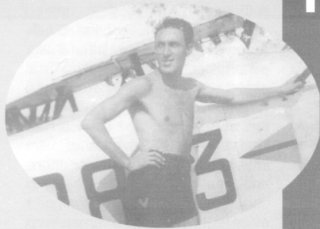 An early photograph of Flight Sergeant Alberto Gobbo in front of a Fiat CR 20 Asso,
88 Fighter sqn, Regia Aeronautica, at Campoformido-Udine, taken in 1933.
(Photo by Alberto Gobbo)
When the war in Abyssinia (Ethiopia) started in 1936, Sgt Gobbo was transferred to No 1 Fighter Wing in Catania (Sicily) and later to Campoformido. He volunteered to fly in the Spanish Civil War in 1938 and, flying the new Fiat CR 32, downed six enemy aircraft. It was during this campaign that he was decorated with two silver medals for gallantry and promoted to the rank of warrant officer with war merits. On his return from Spain, he was assigned to No 35 Fighter Wing in Caselle Torinese (Turin).
In 1939, Gobbo was requested by the Viceroy of Italian East Africa Amedeo Duke of Aosta to go to Addis Ababa. During the African campaign which ensued, he was attached to 411a Squadriglia Caccia (No 411 Fighter Squadron) with four Fiat 32s based at Shashamanna in the Gimma region to provide protection against frequent enemy raids. The following is his story, translated from his own words:
Shashamanna, 12 September 1940,
AOI (Africa Orientale Italiana — Italian East Africa)
Four Fairey Battles of No 11 Squadron, South African Air Force, based at Archer's Post in Kenya, flew over our field and started their attack with a steep dive against ground targets. Their targets were the Italian bombers parked just under the trees at the edge of the airfield, as well as the four CR32 fighters parked without camouflage in the middle of the field, and the adjacent airfield buildings. There were no alarm mechanisms nor any ground defences — this was a luxury reserved only for the HQ and the Major Commands. The 'Party' started at exactly 10.30 local time, with the deafening music made by the Fairey Battles' Rolls-Royce engines, the exploding bombs, and by the gun and machine gun fire that opened up. Fortunately, only two of the four CR 32s were damaged by a few machine gun rounds — due, very likely, to poor SAAF gunnery. (I must point out that the four CR 32 fighters, wonderfully placed in the middle of the field, were a gift to the base commander, Lt Col Pilot G Dal Monte. I was the operational pilot responsible for the fighters and had asked the base commander, many a time, to move the aircraft under cover. His decision and position had remained an unshakable 'No!' This decision would later have dire implications for him with General Command (HQ) 'Superaereo', Addis Ababa.)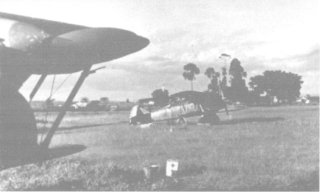 Flight line at Shashamanna, Sept 1940, showing the CR 32s
of 411 Fighter Sqn of the Regia Aeronautica.
(Photo by Alberto Gobbo)
Not one of our four fighters took off immediately, because the pilots were hiding in the air raid shelters. At that moment, while the 'Fifometro' (fright meter — similar to the aircraft's water temperature gauge) showed 90°, we heard the engine of a CR32 running. The aircraft had been started and left running by a brave ground technician in the desperate hope that some pilot would attempt to save Italian honour.
With bombs bursting, I ran to the Fiat and jumped into the cockpit, immediately moving the throttle back to have the maximum RPM (engine revolutions per minute). With no time in which to heat the engine or to find a usable ground strip from which to take off, I was in need of a miracle. Taxying frantically, I was horrified to see a Fairey Battle begin to strafe the runway, aiming at my aircraft. But luck smiled on this desperate man that day. Amazingly, the Battle missed me and my landing gear cleared the ground, collecting some twigs and leaves as I narrowly scraped over the trees. With a screaming engine, my Fiat went like a bat out of hell. I managed to gain enough altitude to reach some cloud and, after making the first 360° turn, I saw two huge black smoke columns rise up from the airfield. Two Savoia Marchetti S 81 bombers were burning. I reached an altitude of 600 metres and headed towards the camp, noticing one enemy Fairey Battle. The SAAF pilot continued his attack with a slight dive and reduced speed, so it was easy for me to cut into his path at an angle of l0° and fire my weapons from a short distance. Hit in several vital places by my fire, the Fairey Battle, piloted by Flight Lieutenant F C Armstronq, SAAF, went down in a vertical dive, crashing near the camp command offices without releasing his bombs. Looking down, I saw an enormous column of black smoke rising rapidly. The impact explosion of this plane caused a great crater. Many Italians came out from their shelters and jubilantly raised their arms to the sky, celebrating my victory.
I had just had time to do a short turn when I found another Fairey Battle, heading straight towards me at great velocity, apparently intent on attacking me. I was aware of my low speed (about 220 kph), but we were at the same altitude and so I decided to attack him head on. Kicking my rudder to the side, I managed to obtain a 40° angle between myself and the Fairey Battle's course. I started to fire for a few seconds, rolled over his nose and regained his tail in my sight. This manoeuvre was sufficient and an accurate burst hit the Battle. With increasing speed, the South African raider, trailing white smoke, left me alone.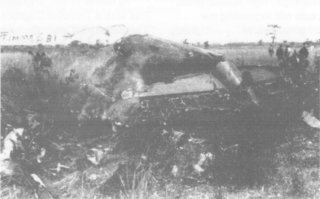 Fairey Battle, flown by Fl/Lt Armstrong, downed by Gobbo at 10.38 on 12 Sept 1940, Shashamanna, Italian East Africa.
The pilot was killed. The arrow in the background points to a burning Savoia Marchetti SM 81.
(Photo by Alberto Gobbo)
Taking advantage of a by then clear sky (no other enemy planes were visible), I gained more altitude. At 1 500m I could see the field and surrounding area. I changed my bearing away from the base, but had to descend to 1 000m as rapidly growing cumulous clouds reduced my visibility. Glancing at the nearby village straddling an important road crossing, I noticed a column of about ten Italian trucks driving in a westerly direction. The weather conditions in that area were not good and the visibility was deteriorating rapidly. Again, luck was on my side. To my right, 400m below and at an 800 angle to me, the beautiful shape of the Fairey Battle appeared, flying very determinedly but with reduced speed towards the truck column. I prepared my guns and sights for an attack and with a slight dive I headed over to surprise my opponent. The Battle was still oblivious to my presence. My altitude advantage, angle of attack and the prevailing light conditions gave me complete advantage and allowed me to make the most of a rapid attack. I opened with a burst of four 7,65mm rounds. Because my Fiat CR 32 had gained too much speed, I reduced it markedly so that it was possible for me to keep the Battle under fire for a longer time. The final approach to the Battle enabled me to start firing from a distance of 150m, behind and slightly above his left side. My tracers, viewed in the sunlight, and the explosive 12,7mm bullets penetrated the adversary's fuselage in a few places. The two aircraft were so close to each other that it became very easy to aim without looking through the sight. The Battle's pilot pulled the stick up, directing the aircraft into a steep, violent climb, followed by a left turn, to avoid my fire. Again I was able to fire at him with good results and the Battle headed into a thunderstorm cloud. I followed him at full throttle into the cloud. Some days later, we received news that this Fairey Battle had been able to reach and cross the boundary between Abyssinia and Kenya, making a forced landing. Only the gunner had been seriously injured; the pilot and the bomb aimer had escaped unharmed from the aircraft.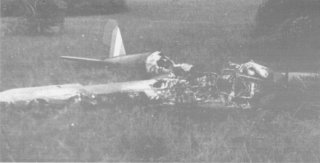 Flight Lieutenant Lindsay's Fairey Battle burning after its crash-landing
near Dale Village at 10.55 on 12 September 1940 after its action with Gobbo.
(Photo by Alberto Gobbo)
After chasing the Fairey Battle into the cloud, it was 11.15 and I had a moment to relax my nerves, to re-organise my mind and to check the state of my aircraft, which I considered an integral part of me. I decided to make my way back to my airfield and, to do this slowly, climbed to 2 000m. By then, I was 20km away from my base. Masses of dark cloud, which forced me to circle around them in order to avoid them, interfered with my navigation. When I was about 10km from my base, I noticed a lonely Fairey Battle through the clouds, probably heading back to Kenya across Margherita Lake after his attack. An examination of my ammunition showed that I had about a third remaining. I immediately armed my guns and, on full throttle, began a vertical dive, aiming at about 30Om in front of my enemy. My approach was perfect and everything was in my favour — I had altitude advantage, high speed, great timing and, above all, he was not expecting me.
As I got within range, I aimed carefully and fired, hitting the enemy aircraft from nose to tail. In a few seconds, I was so close that I risked a mid-air collision. I continued to fire my accurate bursts from a short distance of about 20m, hitting my enemy's fuselage on the left side, then the right side, and finally on the tail surfaces. The effect of this fire soon became visible; a big wake of white smoke appeared that rapidly became grey and then black. I throttled back to a safer position. The Battle's speed remained the same and the pilot made no attempt to escape by accelerating to full throttle. I gave chase with my CR 32 until we reached the village of Dalle, about 35km from Shashamanna. The Battle's altitude and speed continued to decrease, but the weather pattern in front of us took the form of a low-lying thunderstorm. After a few seconds of the Fairey Battle reaching the turbulence, I decided to turn back, sure that the Battle was not going to reach his base. I checked my aircraft for ammunition and fuel levels. They were low, so I headed home at the altitude of 500m. The weather on the way home was good and I could navigate visually. Flying over my airfield, I noted with much surprise that the whole base had returned to normal and that all base personnel had gathered in the main square, celebrating their escape from danger. All normal activity was forgotten. With a half roll and a high 'G' turn over the end of the airfield, I descended and, after a few seconds, touched down on the runway. Taxying like a dancer over the wavy terrain, I reached the parking area where a crowd awaited me with a warm welcome. As I climbed out of the cockpit, I felt the stress of the dogfights on body and mind, but I was happy with my performance and the crowd's excitement invigorated me. I walked over to the wheels of my CR 32 and, with a lot of emotion, touched the dry twigs gathered during the take-off.
By 11.20, the raid was over. Two small grey columns of smoke came from the two Savoya Marchetti S 81s, which had been destroyed by the Fairey Battles. The Battles had also caused minor damage to the ground installations. About 40 litres of fuel remained in my Fiat CR 32, and the left-over ammunition amounted to a mere twelve bullets of type SIT 127mm (markers, explosive, incendiary), 21 bullets of type PIT 7,65mm (markers, incendiary), armour-piercing drillers, and the machine gun was jammed.
At about 17.00, a 'Macna' arrived at our airfield. This was a Trimotor Caproni, Ca 133, also nicknamed 'The Empire's Cow'. On board were three enemy aviators, the crew of the last Fairey Battle which I had shot down over Dalle Village. They were identified as the pilot, Flight Lieutenant J E Lindsay, the gunner, Flight Sergeant V P McVicar, and the photographer, Flight Sergeant L A Feinberg, all of No 11 Squadron, South African Air Force.
The meeting between victor and victim was really emotional and all the airfield's personnel took part in this affair. On landing, the South African pilot asked to meet the pilot of the Fiat CR 32 that had downed him. In a spirit of aviation chivalry, not seen much today, Flight Lieutenant Lindsay wanted to embrace me. He told us his version of events. With his windshield full of engine oil, low air speed and an injured leg — he had been hit by a 12,7mm round — he had been able to maintain the Battle in a glide. Unable to find a ground strip, he had been forced to land his aircraft in the middle of a village. The crashlanding caused the aircraft to plough into the locals, two of whom were killed during the ensuing crash. Once the Battle had come to a stop, the injured Lt Lindsay had helped his collapsed crew members out of their seats and pulled them clear of the burning aircraft. Soon afterwards, angry villagers, armed with spears and knives, gathered around the Battle to plunder it. Exploding fuel and ammunition soon stopped that, and they kept their distance. The crew managed to prime the aircraft's explosive charge and destroy the wreck before the Italian troops reached them. Months later, another captured SAAF pilot. Cmdr J R Wikers, told us that all four Fairey Battles which had taken part in the 12 September raid on Shashamanna had been downed and that none of them had returned home.
Gobbo's subsequent career
After his dramatic 50-minute flight over Shashamanna, Italian East Africa, on 12 September 1940, WO Gobbo Alberto was mentioned in War Bulletin No 99 on 14 September 1940 and was awarded the 3rd class silver medal for gallantry (in the field). The citation read: 'A fighter pilot with exceptional skill, with many actions in the Spanish skies, took off under an enemy bombardment and was able to attack, with daring, four enemy aircraft, downing two and damaging the others.' The story was also briefly described by General Corrado Rieci and Christopher Shores on p 60 of the book, La Guerra Aerea in Africa Orientale ('The aerial war in East Africa').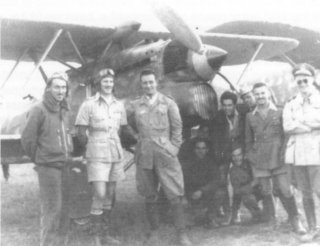 Members of 411 Fighter Sqn pose with the captured SAAF aviators on 13 Sept 1940 in front of Gobbo's CR 32 at Shashamanna.
The three central figures are, from left to right, Maresc. Gobbo Alberto, Fl/Lt Lindsay, and Ten. Col. Dal. Monte.
(Photo by Alberto Gobbo)

After Shashamanna, Gobbo remained with No 411 Squadron in Addis Ababa until March 1941, when the city became surrounded by enemy forces. He and his wife were taken prisoner, but he was able to escape later under a false name. He went to Asmara, where he worked as a hotel waiter. British Intelligence discovered him and, after hard interrogation during which the British soldiers proved to know all about his Fascist past, his war service in Spain and Africa, and all of his promotions, war merits and decorations, he was confined to a South African prisoner camp where he remained for five years until 1946. Once during his captivity, after a hard beating caused by camp's internal political tension, he was admitted to a civilian hospital. Here Gobbo had the fortune and opportunity to meet, after a few enquiries, the family of Flight Lieutenant Lindsay. Gobbo became good friends with Lindsay's father after their initial, very emotional meeting, when Lindsay's father told Gobbo that his son, freed from an Italian prison camp, had returned to fly again in the North African campaign and had been killed in action. Gobbo showed the family some of Lindsay's souvenirs — the shoulder rank insignia and some pictures — and told them of his meeting with him. Touched by his story, Lindsay's father invited Gobbo into his family as an adopted son, but the Italian pilot, longing for his home, his wife, and his country, graciously declined the offer. In his heart, he always remembered this wonderful and emotional invitation.

Back in Italy after the war, Gobbo continued his career in the Italian Air Force as a warrant officer, hoping for promotion to an officer's rank as a result of his war merits. After two years, he became tenente (flight lieutenant) and, after spending a short time at Lecce Flight School during 1949, he was assigned to No 51 Fighter Wing at Treviso, where he flew P-47 Thunderbolts. In 1957, Major Gobbo was transferred as a deputy commander to Air Force Engineer School in Macerata. In 1961, he came back to Treviso as the Folgore Infantry Division's Ground Liaison Officer, a post which he held until, as a full colonel, he left active duty. During his career, Gobbo was decorated with three silver medals for gallantry (two in the Spanish Civil War and one in the East African campaign), one gold medal awarded for 25 years of military flying service and two promotions for war merits (to warrant officer and to lieutenant). He passed away on 26 November 1983.

Return to Journal Index OR Society's Home page

South African Military History Society / scribe@samilitaryhistory.org