The South African
Military History Society


---

Die Suid-Afrikaanse Krygshistoriese Vereniging
---
Military History Journal
Vol 12 No 5 - June 2003
MUSEUM REVIEW
WAR SOUVENIRS FROM GAMBUT, LIBYA, 1941

A glimpse into the war-time experiences of Private Louis Gladstone of Bloemfontein, South Africa

by Susanne Blendulf, Curator of Insignia
SA National Museum of Military History
Blistering heat, dust-andsand-storms, flies, thirst, bitterly cold nights. These were the conditions which Private Louis Gladstone and his companions in 'D' Company, Imperial Light Horse, would have experienced as they helped to round up prisoners of war in the Gambut area, Libya, in December 1941. With hordes of flies clinging to their sweat-drenched backs, Gladstone and seven of the lads found a Nazi banner in pristine condition, and signed their names on it. The legend goes that this banner (60 by 90cm) was taken from the Gambut headquarters of the Desert Fox himself, Lieutenant General Erwin Rommel, commander of the Afrika Korps. It bears the ink inscription: 'Gambut Libya 1941' and signatures of servicemen Leibbrandt, Rutter, R H Andrews, L Gladstone, S Cowie (possibly Collins), Miller, N Goodman and A Harrison. It was probably at about this time, too, that Private Gladstone relieved an Italian prisoner of war, Tedesco Giovanni, of a standard-issue leather belt upon which he had begun a small collection of German and Italian insignia. Or, possibly, this belt was one of numerous souvenirs which lay scattered around the battlefield. The badge collection comprises the left and right German Army helmet badges, an Italian infantryman's epaulette button, an Italian enlisted man's collar badge (star), an Italian officer's rank 'pip' (star), and a German officer's rank 'pip'. The belt and banner, together with a field compass and a German Army belt buckle, were donated recently to the SA National Museum of Military History in Saxonwold, Johannesburg, by Gordon Gladstone in California, USA. Gordon is the son of Louis Gladstone, who kept the items after the war, and naturally the son was most interested in learning more about his father's activities during the Second World War, 19391945. From his service records, obtained from the South African National Defence Force's Documentation Centre and forwarded to us by Gordon Gladstone, we are able to piece together the following story of Louis Gladstone's war experience.
In response to a general call-up in June 1940, Louis Gladstone of Bloemfontein attested for full time service with the Union Defence Forces on 10 June and was posted, as a private, to 'D' Company, 1st Imperial Light Horse (ILH). While in South Africa, he served with the South African Corps of Signals (SACS). Presumably, he was earmarked for signals duties with the ILH.
In June 1940, the men of 1st Battalion Imperial Light Horse, commanded by Lt Col E J R Blake, assembled with 1st Battalion Royal Durban Light Infantry and the Rand Light Infantry at a camp near Zonderwater to form the 3rd South African Infantry Brigade, under the command of Col (later Brig) C E Borain, MC, VD (Tungray, 1947, p 2). These units represented some of the best trained Active Citizen Force units in South Africa and the men were eager to play their part in the war. Full of expectation to join the 1st and 2nd Brigades serving with the 1st South African Division in German East Africa, they were no doubt disappointed when the 5th SA Infantry Brigade was sent instead.
On 23 October 1940, the 2nd South African Division was formed under Maj Gen I P de Villiers, MC, and the 3rd SA Brigade Group became the spearhead of this highly trained division. In January 1941, the division was declared 'fighting fit' and in February, some 400 men of the 3rd Brigade left South Africa to serve in composite motor transport companies in East Africa.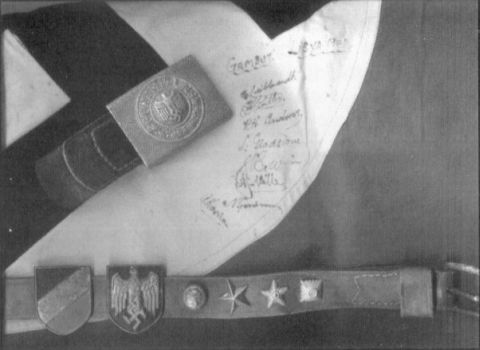 Desert campaign souvenirs - The Gladstone donation, comprising Nazi banner,
Italian belt and German belt buckle (Photo: Courtesy, SANMMH).

However, the bulk of the brigade remained in the Union, fine-tuning their training. As South Africa's first brigade group, the various components - infantry, artillery, signals, engineers, medical personnel, etc trained together as a well-coordinated whole, which would stand them in good stead in the heat of battle. In his memoirs, Brig Borain gives us an impression of the operation of a brigade group: ' ... finally the Brigade is ready for large scale tactical exercises, when the Artillery, ie, field, anti-tank, and anti-aircraft, are brigaded with the infantry, engineers, signallers, armoured cars, and or light tank regiments, with the medical companies cooperating and all of which is fed, sustained and kept moving by the 'Q' and technical organisations involved.' (Borain, nd, p 108).

During battle manoeuvres held in Bechuanaland (Botswana) in February 1941, Maj Gen de Villiers announced the imminent departure of the 2nd SA Division to North Africa (Tungay, 1947, p8; Orpen, 1971, P 39). On 20 April, the Imperial Light Horse embarked on the SS Dempo, bound for Port Suez, Egypt, as part of the advance party led by Brig Borain. Durban's Lady in White, Perla Siedle Gibson, sang to the departing troops as the ship steamed out of the harbour. One of those on board the Dempo was Private Louis Gladstone, SACS, who, immediately upon disembarkation at Suez on 8 May 1941, was transferred to 'D' Company, Imperial Light Horse, for the duration of his service outside the Union.

After disembarking at Suez, the advance party of the 2nd South African Division entrained for Alexandria and settled into the camp at Amiriya, witnessing heavy anti-aircraft fire from the harbour area. After two weeks, the party was moved to the desert camp at Mareopolis to begin preparations for the arrival of the rest of the division, who would arrive in Port Tewfik on 20 June. Every man capable of driving was involved in bringing up supplies from Port Suez and, for eight days during this period, an ILH party was sent into Alexandria to help clear up areas which had been heavily bombed during enemy air raids. The Egyptian Prime Minister, Hussein Surry Pasha, expressed his gratitude for this difficult work which involved the removal of tons of debris and the bodies of hundreds of civilians with labour provided by 400 Egyptian soldiers (Tungay, 1947, p 9).

The newly-arrived men of the 2nd South African Division spent their first weeks in Egypt acclimatising and learning about the art of war in the desert, through both practical experience and lectures. Recent developments on Crete and on the Eastern Front meant that a strong Axis attack on the Suez and Delta regions in Egypt was unlikely, so the division was sent to El Alamein to prepare defences at this strategic bottleneck position which, a year later, would play so crucial a role in the campaign. The work was hard, but the men also had time to play sport, to sunbathe and frolic in the water of the Mediterranean Sea, to observe with wonder the thousands of migratory birds passing through, and even to sample duck and quail at dinnertime (Tungay, 1947, p 11). The division remained at El Alamein from August to September. In October, it became part of the British Eighth Army and in November, after the heavy losses sustained by the 5th SA Infantry Brigade at Sidi Rezegh, the brigade group was given orders to move to Fort Capuzzo, on the Libyan/Egyptian frontier. Their task? To prevent enemy mobile columns from reaching their supply dumps at Bardia, and to mop up enemy positions in the area. These operations involved Jock column sweeps of enemy positions in a wide area east of Tobruk, which stretched from Sollum, just inside the Egyptian border, to the area around Gambut, which lay close to the main road to Tobruk, well inside Libya. During these sweeps, many German and Italian prisoners of war, cut off from the main forces, were rounded up, and large quantities of general supplies, enemy arms, equipment, and ammunition were seized. No doubt, many an ordinary soldier found some small souvenir to keep. Presumably, it was during these operations, in December 1941, that Private Gladstone and his friends acquired the German banner and other items described above.

On 12 July 1942, Louis Gladstone was promoted to the temporary rank of lance corporal, with pay and allowances. He served in North Africa until the end of 1942, and while there was granted a week's leave in May 1942 and again in November. He returned to the Union on 2 January 1943, and served again with the South African Corps of Signals. Interestingly, on 13 April, he is listed as being on the strength of the Special Signal Service (SSS), a top-secret radar operation in South Africa which was devoted to intercepting signals from U-boats and other enemy naval vessels which threatened Allied shipping along the African coastline. Louis Gladstone was discharged from the UDF to return to civil employment on 3 April 1945. He received the following medals for his war service: The 1939-1945 Star; The Africa Star with Eighth Army Clasp; The War Medal 1939-45 ; and the Allied Service Medal.

SOURCES

Borain, C E, 'You and Me', unpublished memoirs held in the Archives of the South African National Museum of Military History, Johannesburg.
Gibson, P S, The lady in white Cape Town, Purnell, 1964).
Orpen, N, War in the Desert, SA Forces WW2, Volume III (Cape Town, Purnell, 1971).
Tungay, R W, The fighting Third (Cape Town, Unie-Volkspers, c 1947).
Unpublished service records for Louis Gladstone, Service No 31683, obtained from the SANDF by Louis Gladstone's son, Gordon Gladstone.

Return to Journal Index OR Society's Home page

South African Military History Society / scribe@samilitaryhistory.org