The South African
Military History Society


---

Die Suid-Afrikaanse Krygshistoriese Vereniging
---
Military History Journal
Vol 12 No 4 - December 2002
The Anglo-Boer War, 1899-1902
The Far North-Western Front
EVENTS IN THE TULI AREA
PART 2: Tit-for-tat, October 1899.
By Rob Burrett
Zimbabwe
In this, the second part of his four part series on the 'Rhodesian' element in the Anglo-Boer War, 1899-1902, researcher Rob Burrett looks at the opening shots in this northern theatre of the War
To resume our story begun in the previous issue (Military History Journal [incorporating Museum Review], Vol 12 No 3, June 2002, pp 78-83), once the Anglo-Boer War had heen declared, the Rhodesian forces began large-scale deployment to the Transvaal border, demarcated by the Limpopo River. On that very evening, 11 October 1899, Lieutenant-Colonel H C O Plumer of the Rhodesian Regiment, together with Lieutenant-Colonel W Bodle of the British South Africa Police (BSAP), left Fort Tuli for the camp at Rhodes' Drift on the Limpopo. With them marched 'A' Troop of the Rhodesia Regiment - 250 mounted men under Major A F Pilson, an Imperial officer. Their destination was a fortified position already occupied by twenty men of the BSAP and 'C' Squadron of the Rhodesia Regiment. The latter consisted of 55 select men under Captain K MacLaren, another seconded Imperial officer, and had only just arrived and were the final catalyst in the Imperial provocation of the War. Meanwhile, further troops of the Rhodesia Regiment gathered at Fort Tuli which soon resembled its old military heyday, almost a decade earlier. Similarly, the Boer forces were building up, reaching full strength by 19 October.
Both sides glared at each other, but no shots were fired. On 16 October, Pilson reported that fifty Boers on the Transvaal side had passed the British outpost at Pont Drift and that one had called out that they would soon make the British 'sit up'. A similar number of Boers were said to have crossed at Baines' Drift and were marching towards the settlement of Macloutsie in north-west Bechuanaland. In response, the small English-speaking community there went into garrison, throwing up a rough entrenchment around the deserted Fort Matlaputla, which had been built by the British Bechuanaland Border Police (BBP) some years previously. This threat, however, proved to be a rumour.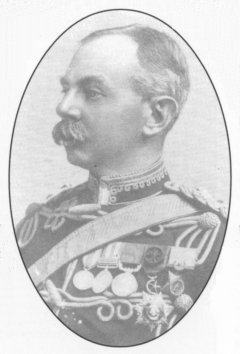 Lieutenant-Colonel H C O Plumer, commander-in-chief
of the Rhodesia Regiment, 1899-1900.
(By courtesy, National Archives, Zimbabwe).
Plumer then spread his men to counter what he perceived to be growing Boer numbers at Hendriksdal - only 4km from his own Rhodes' Drift encampment - as well as the nearby Pont Drift (see map). Accompanying these Boer forces were said to be numerous armed Shangaan and Zoutpansberg blacks. Rhodesian forces then were distributed as follows:

* 'A', 'C' and 'D' Troops, slightly inland (one mile or 1,609km) of Rhodes' Drift;
* 'B' Troop at the Shashe-Limpopo junction;
* 'E' Troop at Fort Tuli.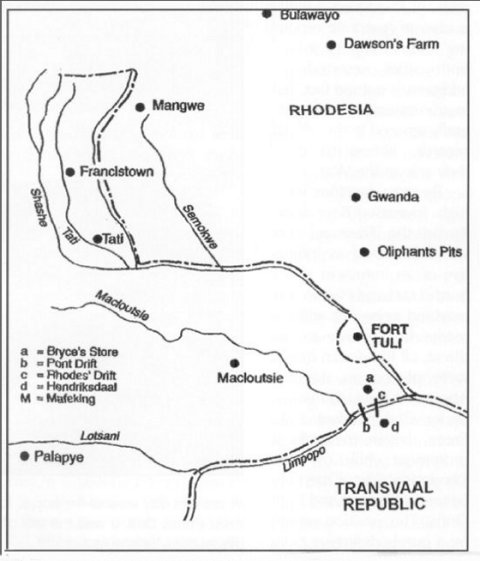 Map: The Far North-Western Front.
However, at this time, the Rhodesians were still preparing their defensive positions and strategies of war - they were not yet ready for action. In addition, the Rhodes' Drift troops were desperately short of fodder for their horses. Contemporary letters record a deep and growing sense of anxiety and most men slept fully kitted in case of an anticipated surprise Boer attack. However, in the first week of the War, the opposing forces in this northern theatre kent to their respective sides of the river and there was no fighting.
About this time, a Boer secret security agent, P Viljoen, impersonating an English officer to avoid detection, moved along the Limpopo, visiting various kraals on the Bechuanaland side of the border, seeking support for the Boer cause amongst the local black population. On hearing of this, the British authorities seized three of the dissenting chiefs, while a fourth escaped to Khama's country to seek protection. Viljoen was later arrested at Figtree, north of Mangwe (see map), well inside Rhodesian territory. It is probable that he was inciting rebellion amongst Rhodesian Boers who lived in that area.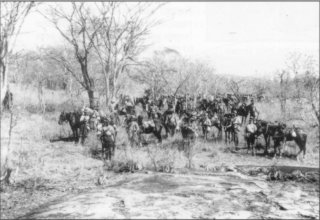 Men of the Rhodesia Regiment approach positions
near Rhodes' Drift on the Limpopo River, October
1899. (By courtesy, National Archives, Zimbabwe).
The first fighting along the border occurred on 18 October 1899. On that day, the Rhodesians sent their first cross-border reconnaissance party to spy on the Boer positions. Starting at 04.00, a squad from 'D' Troop under Captains L D Blackburn and A W Jarvis, both Imperial officers, crossed the Limpopo. They were detected and a sharp exchange accompanied their rapid retreat. Later in the day, there was another clash, this time across the bed of the Limpopo River near Rhodes' Drift. The Rhodesian version suggests that a watering party consisting of 'A' and 'D' Troops was ambushed with the remainder of the troops then joining in support. The Boers were at an advantage, for they were firing from a higher altitude. Two Rhodesians were wounded in the action, while there are unconfirmed reports of several Boer casualties.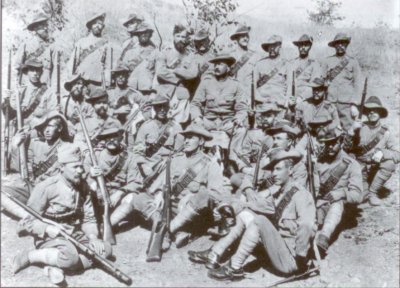 'D' Troop, Rhodesia Regiment, at Fort Tuli. Several of the men shown
here died in skirmishes in the Fort Tuli area in September/October 1899.
(By courtesy, National Archives, Zimbabwe).
On Thursday, 19 October, a 'D' Troop patrol, reconnoitring the north bank of the Limpopo, unexpectedly met a party of Boers on the Rhodesian side of the river. These burghers had advanced to cover their watering party in the Limpopo. Given the numerical superiority of the Boers, the Rhodesians retired but were fired upon while doing so and one trooper was injured. The following day, there was another skirmish, this time near Pont Drift. A Boer watering party under Field Cornet A Z A Briel was sighted and fired upon by the Rhodesians from the northern side. The shots failed to strike any of the burghers, although they lost several animals. Boer reports indicate that the Rhodesians lost two white and two black troopers killed. At the same time, another skirmish occcurred near Rhodes' Drift and four black sentries on the Rhodesian side were reported killed. However, it is difficult to confirm any of these casualties as there are no records in any of the relevant Rhodesian documents. It may well have been a case of 'patriotic reporting', something to which both sides resorted. In addition, it is a sad fact that native casualties were generally ignored in the official records, almost to deny their role in the War.
By now, tensions were high. Increased Boer activity on the Transvaal side was interpreted as indicative of an imminent cross-border raid and Plumer was troubled as he was still not ready. In response to the threat, all Rhodesian troops were placed on standby. About this time, the Boers, under Commandant J du Preez, began to fortify a prominent hill on the Rhodesian side of the river betweon Rhodes' and Pont Drift. This position was to be a purely defensive position to guard Boer watering parties from attack. However, when it was discovered, the Rhodesians interpreted it as strictly offensive, and it played a significant part in several actions that followed. Initially, however, its existence was unknown to the Rhodesians.
Saturday, 21 October 1899, saw some of the most intense fighting to date. Early that morning, Captain Blackburn of 'D' Troop led a sixteen-man patrol along the river towards Pont Drift. A two man picket was left at Rhodes' Drift while five men, under Sergeant-Major G A Yonge, travelled along the border road towards the drift, taking the horses with them. There they were to meet the remaining nine men of the patrol, who were scouting on foot along the thickly wooded banks of the Limpopo.
On that morning, however, Field Cornet Briel had decided that there should be a determined push into Rhodesian territory from Pont Drift to try to drive away the Rhodesian menace which had attacked his watering parties. He had sent several Boer patrols over the river and one of these unexpectedly came across and ambushed Yonge's party as it neared Pont Drift. Yonge was killed instantly and the Boers captured the horses, several guns and the remaining four troopers. Meanwhile, Blackburn and his foot patrol came upon the rear of the Boers and a 'sharp skirmish ensued' (CR 27/10/99). In this action, another trooper, C H Nethercott, was killed, while Captain Blackburn was mortally wounded. Hearing the fire, Major Pilson, accompanied by an ambulance cart, arrived from Rhodes' Drift to support the Rhodesians. Faced with increased opposition, the Boers retired to their already fortified strong point on a neighbouring kopje. Being in a more commanding position, they soon got the upper hand and the battle switched from the ambush site to the kopje. Further troops arrived on the scene, and the skirmish intensified, leaving two Rhodesian troopers seriously wounded. At this point, the Rhodesians opted to retire, taking with them their injured (Hickman 1970, p 137;corrections in Burrett, 1999, 2001).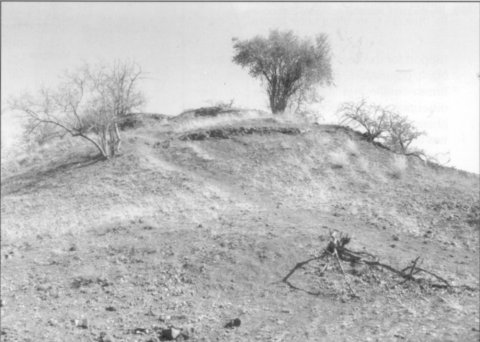 A present day view of the kopje, fortified by the Boers,
which lay in Rhodesian territory near Pont's Drift.
It was the site of several skirmishes.
(By courtesy, National Archives, Zimbabwe).
That evening was a very anxious one in the Rhodesian camp at Rhodes' Drift, not made any easier when two of the injured, Troopers H J Levy and N S Dold, succumbed to their wounds. Boer casualties in this fight were recorded as two wounded, although subsequent reports from blacks suggested that between seven and twelve burghers may have been killed with many injured. Again, this figure has not been corroborated. Plumer then received reports that there was an intended enemy push northward with some six hundred Boers amassing at Pont Drift. Other reinforcements were said to be assembling at Massibi's Drift to the east, while the Waterberg Commando, together with several Maxim guns, had finally arrived along the Limpopo with the aim of forcing the drifts further to the west. It was an unpleasant situation, and Plumer decided that he would withdraw his troops from all the Limpopo bases. Not only were there concerns of vulnerability of small numbers, extended communications and inadequate heavy artillery, but Plumer also hoped to set a trap closer to Fort Tuli, where he felt secure. The Rhodesians departed from Rhodes' Drift at 17.00 on 22 October, burning what they could not remove. The journey was to prove too much for the injured Blackburn, who died en route and is buried in the small cemetery at Fort Tuli (Burrett, 2002).
Undoubtedly, had the Boers pressed their advantage at this stage, they would have achieved greater success, but they failed to follow up. They were well aware of the Rhodesian flight and Field Cornet Briel visited the smouldering remains of the Rhodes' Drift camp early on the following day. However, his commander, Assistant-General H C J van Rensburg, failed to take the initiative as he was wary, verging on paranoid, of a Rhodesian trap. Rather, he sat awaiting instructions from his seniors in Pretoria. An opportunity was thus lost.
Given the apparent lack of advance on the side of the Boers, Plumer sent out, on 23 October, a strong patrol under Captain Glynn of 'E' Troop to investigate whether the Boers had indeed crossed the Limpopo en mass. Glyon scoured the country for eight hours, including that on the Transvaal side, having crossed the Limpopo at Massibi's Drift. Here he only encountered four Boers before retiring to Fort Tuli. On the basis of this, and additional information supplied by blacks, it seemed that the Boers were in fact retiring and not pushing their advantage northward. As a consequence, late in the afternoon, 'B' and 'E' Troops, Rhodesia Regiment, were ordered back to the Limpopo, accompanied by Plumer. Battle-tired 'A' and 'D' Troops remained at Furt Tuli while 'C' Troop, Rhodesia Regiment, was ordered to Macloutsie to further strengthen the garrison there.
It appeared that the Rhodesians had won the day. The vital Limpopo drifts were being abandoned by the Boers, who seemed to be returning to the south, leaving only small outposts. Lieutenant-Colonel J A Spreckley, commanding 'F' Troop, reoccupied the strategic position at Rhodes' Drift, while 'B' Troop, under Major W D Bird, was ordered to the Macloutsie-Limpopo junction where they pitched camp under a prominent overhanging rock embankment.
Meanwhile, news of the earlier withdrawal to Fort Tuli had sent shock waves through Bulawayo. A much-required gun detachment was ordered from Bulawayo on 22 October 1899. They took with them a mounted 2 1/2-inch mountain gun and two Maxims, as well as several trained gunners of the BSAP. In addition, the Southern Rhodesian Volunteers (SRV) - sponsored by the British South Africa Company - was called to action and a Bulawayo Town Guard was formed from those men remaining.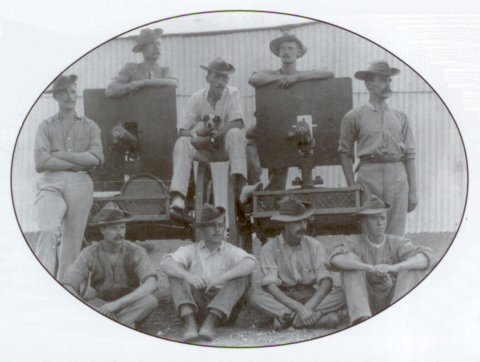 The Maxim Gun Detachment of the British South Africa Police,
after their arrival at Fort Tuli from Bulawayo, October 1899.
(By courtesy, National Archives, Zimbabwe).
Along the Limpopo, however, Plumer was beginning to feel increasingly confident. Only a few Boer outposts remained, reportedly only manned by two men each, and with these shots were exchanged periodically as Rhodesian patrols reconnoitred up and down the river near Rhodes' Drift. The arrival at Fort Tuli of the additional artillery on 25 October increased Plumer's assurances still further.
While these developments were taking place, there was continued cross-border harassment of the black people. Several complaints were lodged at Fort Tuli indicating that the Boers, who may or may not have been under official orders, were 'crossing the Limpopo, attacking pro-British villages, shooting at their inhabitants and looting cattle' (LT,28/10/99).
On the afternoon of 26 October, an 'E' Troop patrol encountered a Boer watering party in the river near Pont Drift. A sharp skirmish ensued and the horses were stampeded. The Rhodesians succeeded in capturing five Boers, while as many as twenty were reported wounded or killed. The Rhodesians sustained only one slight injury.
On 28 October 1899, Captains White and Glynn, together with 39 men drawn from 'E' Troop, reconnoitred the same kopje near Pont Drift that had seen earlier action during Blackburn's fight. There had been reports that the Boers were again fortifying this kopje in Rhodesian territory. The group was divided into two sections and left the Rhodes' Drift camp at 03.30, proceeding by separate roads and meeting within 250 yards (230 metres) of Pont Drift. Glynn then began to approach the kopje on one side and White the other. However, their ascent was detected and the Boers opened fire, which was returned. Action continued for five minutes and the Rhodesians then decided to retire a short distance. A body of about sixty mounted Boers, a number totally unexpected, then left the kopje and a further brisk skirmish, lasting twenty minutes, took place in the heavy bush at its base. Four men with the Rhodesian force were wounded and the troop was forced to retire to Rhodes' Drift. The Boers had only one man slightly injured.
On 30 October, a BSAP patrol near Massibi's Drift was surprised and chased by a party of about fifty Boers. This unexpected number did not seem to throw Plumer. He seemed satisfied that, with the exception of Pont Drift and the nearby kopje on the Rhodesian side, the Boers had largely retreated. These two positions were too strong and difficult to attack, but they did not appear offensive to Plumer - the burghers merely seemed to be interested in holding their positions. But the Rhodesians had misread the situation...
On 31 October, a report was received from Chief Khama in Central Bechuanaland, that a small body of Boers had been seen near Baines' Drift, moving northwards along the Limpopo. This was to prove to be a party of 160 men of the Waterberg Commando, hand-picked by Assistant Commandant-General F A Crobler, who were bringing up a large field gun. A further ominous sign was that the telephone line between Rhodes' Drift and Fort Tuli suddenly went down.
Sources and further reading

As mentioned in 'Part One: A Prelude', published in Military History Journal (incorporating Museum Review), Vol 12 No 3, June 2002, references in the text are restricted to the few involving direct quotation. Readers are advised to refer to the writer's earlier articles that are fully referenced.

Sources relevant to this section include:
Burrett, R S, 'Events in the Second Anglo-South African War, 1899-1902, in the wider Tuli Area, Zimbabwe-Botswana' in Heritage of Zimbabwe, No 18, 1999, pp 21-57.
Burrett, R S, 'The Far North-Western Front: Events in the Second Anglo-South African War in the Tuli Area, Zimbabwe-Botswana', unpublished report, 2001. A copy is available in the Library and Archives of the South African National Museum of Military History, Johannesburg.
Burrett, R S, 'Of Ghosts, Graves, Monuments and the Dead at Fort Tuli, Zimbabwe', in Heritage of Zimbabwe, No 21, 2002.
CR = Bulawayo Chronicle, issues dated.
Hickman, A S, Rhodesia served the Queen, Vol I (Rhodesian Army, Salisbury, 1970).
LLT = London Times, issues dated.

Two particularly useful further references are the unpublished materials of J J N D Potgieter (unpublished autobiography, Swardt Family Collection) and A W Jarvis (National Archives of Zimbabwe, Historical Manuscripts. JA 4/1/2).
Return to Journal Index OR Society's Home page

South African Military History Society / scribe@samilitaryhistory.org