The South African
Military History Society


---

Die Suid-Afrikaanse Krygshistoriese Vereniging
---
Military History Journal
Vol 11 No 3/4 - October 1999
Neutrality compromised: Swaziland and the Anglo-Boer War, 1899 - 1902
Huw M Jones

Huw Jones is the author of 'The Delagoa Boy Railway and the origin of Steinaecker's Horse', which appeared in the Military History Journal, Vol 10 No 3, June 1996. With Meurig G M Jones, he has recently co-authored A Gazetter of the Second Anglo-Boer War, 1899-1902 (The Military Press, 1999), which will become an invaluable tool for researchers in this particular field of military history.

To the middle of September 1899, life went on with its customary normality for the population of Bremersdorp(1), headquarters of the Zuid-Afrikaansche Republiek's administration in Swaziland. On Monday, 18 September, Special Commissioner J C Krogh laid the foundation stone of new government buildings. Consulted about the possibility of war, the British consul, Johannes Smuts, said it would not come for at least a year, but by the end of the month life in this small town had changed dramatically. From Pretoria came news of the imminence of war with Great Britain and instructions on how to deal with the situation. Families began to leave immediately and the school was the first government building to close. On Monday, 25 September, at a well-attended meeting in the courthouse, burghers heard the field cornet for Swaziland, Sgt J D Opperman of the Swaziland Police, explain the situation and the landdrost, P F de B Tenbergen, read out a letter in which Cmdt-Gen P J Joubert informed Ngwenyama Bhunu weMbandzeni that the white residents of the territory were being told to leave and that Swaziland was being left in his care. With neither question nor discussion, the meeting closed with the singing of the Volkslied. Two days later, Opperman issued rifles and ammunition to the burghers and the police practised with their rapid-firing Maxim.

Swaziland evacuated
On 2 October, the rumour spread that the administration was being moved into a laager at Bell's Kop on the western border and on the following day all official work at the government offices was suspended. Krogh issued a notice on 4 October which stated:(2)

'All White Inhabitants of Swazieland [sic],
In terms of instructions from the Honourable the Government, Notice is Hereby Given to all white inhabitants in Swazieland [sic] excepting all burghers who are to be commandeered for active service, that, owing to the state of tension, they must immediately leave Swazieland [sic].Those neglecting to comply herewith do so on their own responsibility and risk.'
That day, Mrs Krogh and the few remaining burghers' wives left for the laager and, although Consul Smuts had difficulty in finding a wagon, the government eventually helped and most of British subjects left with a burgher escort for Nomahasha on the Mozambique border. The territory's only newspaper, The Times of Swazieland, published its last issue on 7 October. The vrederechter (resident magistrate) at Mbabane, W A C Emmett, sent his family off to Ermelo at his own expense; other government officials used government wagons to evacuate their families and belongings before they could be commandeered for military service by Opperman.(3)

Unconvinced by Smuts's equanimity or the orders of his London board to stay where he was, the manager of the gold mine at Pigg's Peak, E T McCarthy, bought canned provisions and all the canvas he could find in Barberton to tent his wagons. He hired donkeys to transport the wagons directly to Pigg's Peak rather than use the usual route for mine stores - by rail and wagon via Komatipoort. At the mine, McCarthy prepared twenty wagons for carrying provisions and the women and children of the mine's white employees, 400 trek oxen and 45 horses for the men to ride. The mine was closed overnight on 28 September, the staff paid off and a convoy of 74 people left for Delagoa Bay. To avoid being stopped and the wagons commandeered by the local police, McCarthy had secretly discussed his timings and route with the Pigg's Peak vrederechter, J M Ginjolen.(4) Instead of going northwards, McCarthy took his convoy down to Balekane where it would meet the old wagon road to the Bay. It took a week to reach the Lubombo range where representatives of the Zuid-Afrikaansche Republiek and the Portuguese government were conferring on the undetermined boundary line. The ZAR's surveyor-general, G R von Wielligh, visited the camp and quietly warned McCarthy that he was still on land claimed by the ZAR and that it would be prudent to move into acknowledged Portuguese territory.

McCarthy had left Pigg's Peak just in time; soon after his departure, Boer officials arrested the mine's cyanide manager and two other miners and took them to Carolina, confiscating the remaining horses and guns.

Some Swazilanders had dual nationality. David Forbes Junior from Athole near Amsterdam was in the Swaziland lowveld looking after the coal mine on his family's property.(5) Opperman had already been there as he compiled a list of burghers available for service and refused to accept Forbes's assertion that he could not fight against his own people. Since Forbes had fought on commando against the Nzundza Ndzebele in 1884, Opperman put his name down. In early October, a burgher arrived with the order for Forbes to report to Bell's Kop with horse, saddle, bridle and thirty rounds of ammunition. Forbes led him to believe that once he had closed the mine down and paid off the men, he would ride to Bremersdorp. Having closed the mine, however, he told R P Miller (the brother of A M Miller) to drive his cattle towards the Portuguese border while he made a detour to avoid meeting the two policemen who were escorting the miners to the border. Forbes and his cattle evaded a police cordon and successfully reached Portuguese territory. He had earlier sent his brother James to Pisin (Pessene) in Mozambique with four wagon-loads of coal and orders not to return, and there the brothers established their headquarters.

Dress-rehearsal
Four and a half years had passed since Cmdt-Gen Joubert had come to Swaziland with Vice-President N J Smit to recognise Bhunu as ngwenyama and to establish an administration without powers of incorporation. On their visit to Nkanini on 15 March 1895, they had been accompanied by Cmdt H P N Pretorius, commandant of the Staatsartillerie, as well as a detachment of that corps with several Maxims and a commando of some 1 000 burghers. Joubert was well-acquainted with the country and with the royal family and within two years he had been forced to return to deal with a serious crisis. As the indvuna of the Zombodze royal homestead and of Ndhlovukazi Gwamile Mdluli (Labotsibeni), Mbhabha Nsibandze had become indvunankhuluyesive, the senior indvuna and a man of considerable influence, who advocated solving the Swazi nation's problems with the ZAR peacefully, particularly those concerning the imposition of tax. This course the ngwenyama resented and on the night of 9 April 1898 he engineered Nsibandze's death. Krogh summoned Bhunu to Bremersdorp, a summons which was initially resisted but met on 21 May. Tensions were high as the ingwenyama rode into the town with some 600 warriors in attendance and others escorting the ndhlovukazi; and on the hills around the town another 2 000 were evident. Despite the ngwenyama's obvious anger, nothing untoward happened and he retired to his Mampondvweni homestead in the Mdzimba range with some 1 000 warriors. The ZAR reacted to the tension by increasing the size of the Swaziland police force from 89 to 120 under the command of Cmdt C Botha, entrenching and fortifying the court-house and police buildings in Bremersdorp, and mobilizing its forces.

What followed was, in essence, a minor dress-rehearsal for the larger war two years later.(6) On 13 June detachments of the Pretoria Vrijwillige Infanterie Corps under Capt Melt Marais left Pretoria; they had been on standby since 10 May. With them came a detachment of the Staatsartillerie with four Maxim guns under Lt M S W du Toit, the only professional officer on what soon became known as the 'Swaziland Expedition'; with it also came a field ambulance company and field telegraph section. They had been joined by the Krugersdorp Vrijwillige Cavalerie Corps commanded by Cmdt B J Viljoen, with Capt G Figulus and Capt P F Maré. These units left the train at Belfast and moved through Bonnefoi to Carolina where they were joined by Cmdt D J Joubert of the Carolina Commando who took command. At Snaaksklip, 160 burghers of the Ermelo Vrijwilligers and Ermelo Commando joined the force to guide it into Swaziland. The force crossed the border on 22 June at Fyfe's Store and camped at Beacon Kop, before following the route taken by commandos in earlier years - on Mhlambanyatsi and down the Buffelshoogte - to reach Bremersdorp on Sunday evening, 26 June. Led by the Ermelo Vrijwilligers who acted as guides, the force of 600 men crossed the Mzimnene River and marched up to the Government Square. Meanwhile, 110 officers and men of the Johannesburg Vrijwillige Corps had left by train for Barberton where they went into camp near the gaol. Bhunu had been formally summoned to appear before a preliminary enquiry into Nsibandze's murder on 5 July and Cmdt-Gen Joubert had arrived on the previous day with the newly appointed commandant of the Staatsartillerie, S P L Trichardt. At 1100, the court assembled, but waited in vain; Bhunu had fled to the British magistrate at Ngwavuma. The force initially camped on Church Square where a fort was built; the Staatsartillerie and the Pretoria cavalry built and occupied another large fort on the ridge west of the town. Eventually the ngwenyama returned to Bremersdorp where he faced an enquiry and, after extensive consultations between the British government and that of the ZAR, he was fined £500 with £1 146 in costs.

The force did no more than demonstrate, the only action being a brawl in the International Hotel between men from the Pretoria cavalry and infantry units which became a dispute between Hollanders and Afrikaners; De Korte put the hotel out of bounds. The Pretoria infantry and Krugersdorp units left for Komatipoort Station through Buckham's (Croydon) in the lowveld in early September before the enquiry started, followed a month later by the Pretoria Vrijwillige Infanterie Cavalerie Corps once the ngwenyama had been allowed to return to his homestead. Some lessons had been learned while others were ignored. Instead of going on to Machadodorp, where wagons had been commandeered, the force had left the train at Belfast. The Machadodorp drivers had refused to go there and Marais had been forced to halt for two days before he had been able to obtain seven wagons, eventually increasing the number to 23. The wagons had severely slowed the force as it moved across the highveld and down the rugged terrain into Swaziland, a problem which would later face all Boer commandos in the early stages of the Anglo-Boer War. On the march, bread had been scarce and the men had had a hard time, but once in Bremersdorp rations had been no problem. Soon after the arrival of the force, a false alarm at night had provoked a very fast response, with all posts being manned, lights out and tents flattened in two minutes. It had also been a useful exercise for the Swazieland Police who were able to mobilize a commando very quickly in September/October 1899.

Early days of the war
With the outbreak of war in October 1 899, those who had co-operated well a year earlier, formed different affiliations. The sheriff of the court, who had delivered the summons to the ngwenyama in tense circumstances, J H Howe, unofficially supported by L F Townsend of the Staatsartillerie, found himself commandeered as a burgher for active service despite his Natal origins. Taken to Bell's Kop Laager, he escaped and reached Lourenço Marques. F A Goulding, looking after the mine property as Forbes' Reef, was arrested and confined in Pretoria before arriving in Lourenço Marques on 19 November. On 7 November, C M Meintjies, the public prosecutor, and five burghers arrived at J J Bennett's store near the Mtilane River with two wagons and ordered the Bennett family to get into the wagons and go into laager at Bell's Kop.(7) Mrs Bennett and the children escaped into the bush whilst Bennett himself scrambled up the nearby Mdzimba range above the Zombodze magistracy and police post. The ndhlovukazi sent a messenger to bring the family to the safety of the roval homestead at Zombodze whilst Bennett wandered in the hills. He was arrested at H W Kelly's store three days later by two armed burghers and taken to Zombodze police post. From there he was taken to Mbabane and Bell's Kop where he was interrogated by N J M Vermaak, senior vrederechter in Swaziland, with C S Koevort, Krogh's secretary, interpreting (Tenbergen was then in charge of the laager, Krogh having gone to Piet Retief). Among those officially allowed to stay in Swaziland was V M Stewart, manager in Bremersdorp of a branch of the trading company Schwab & Co; he had been appointed to act as magistrate and report on the situation in Swaziland to the Boer authorities. Stewart continued to trade, railing his goods from Lourenço Marques to Komatipoort from where they were taken by wagon under an escort of the Republic's police to Bremersdorp. At Usutu Mission the Rev and Mrs Swinnerton left a Swazi catechist, F Dlamini, and his wife in charge and tried to reach Volksrust by wagon, but the course of the war and Mrs Swinnerton's illness forced them to take refuge at another Anglican mission, Ndhlozana, in the Little Free State close to the Swaziland border. Here the country was also in turmoil, but the resident missionaries, the Rev and Mrs W M Mercer and their family, with Brother S T Harp, had stocked up with canned goods and were determined to stay. On 5 October a burgher had commandeered three Swazi men and three Swazi boys from the mission as drivers and voorlopers in addition to eight oxen.(8) From the Scandinavian Alliance Mission at Bulungu the Rev and Mrs W F Dawson trekked south sending a message for their colleague, Miss Malla Moe, at Bethel Mission Station near Sihlutse to join them in the lowveld. The message never arrived and the Dawsons carried on into Zululand.(9) At Henwood's store near Bethel, J C Henwood was ordered to leave, but persuaded Moe to look after his ailing father at his store. Shortly afterwards a Boer commando arrived and looted the store, taking £1 400 of Henwood's money in gold sovereigns from the safe. The old man remonstrated with the Boers to no avail and collapsed, dying from a stroke induced by the exertion.(10) Moe returned to the mission and continued to preach in the surrounding area until she was evicted by the Boers early in 1900 and sent to live with T Klopper on the farm Excelsior near Piet Retief. She later returned with permission to live at the mission. This was only one instance of widespread looting throughout Swaziland. Emmett later wrote that 'We could not take our furniture with us and we lost the lot - mostly looted by invalid or sickly burghers who could not go to the front and who could show doctor's certificates as to their wives' "interesting conditions!"'

On the southern Lubombo, the Republic's special representative, H F von Oordt, had been ordered to join the Piet Retief Commando so he was not there when the Swaziland Commando led by Cmdt C Botha attacked the small British police post at Kwaliweni on 28 October. The commando was accompanied by J J Ferreira, vrederechter at Mkwakweni in southern Swaziland. The resident magistrate at Ubombo had been told by Chief Sambane Nyawo that Ngwenyama Bhunu had sent word that he was to be attacked by two Boer commandos and an African commando.(11) The commando of some 200 burghers did split in two, one party climbing the western scarp of the Lubombo to attack Kwaliweni. The post comprised two white troopers with a sergeant and seventeen men of the Zululand Police, all of whom prudently withdrew to the magistracy at Ngwavuma. Having burned the post and L C von Wissell's store, the commando moved to Ngwavuma which had a small fort. The magistrate, one of the ten whites with 25 Zululand Police, ordered the evacuation of the village to Nongoma, successfully evading the other half of the commando waiting in ambush on the road down the eastern slopes. The commando looted the store, also owned by Van Wissell, and burned every building except the small hospital and doctor's house.

The Swazi independent again
In his letter to the ngwenyama, Joubert had written that the Swazi must remain quiet and calm and not become involved in the war and that C Botha and M J J (Thuys) Grobelaar would liaise between him and the governments. Grobelaar had acted as personal liaison between President S J P Kruger and the ngwenyama for several years, paying him his monthly stipend of £l 000. Botha was clearly busy elsewhere and so Grobelaar was accompanied by J G Dingley, a farmer from Dingleside in New Scotland where he had been among the first settlers and had been granted citizenship of the Republic. They went to see how the Swazi were disposed towards the Boer forces and whether any British troops were moving through the territory. The ndhlovukazi had complained about armed burghers in Swaziland and Krogh, having warned everyone that it was at their own risk if they did so, several times turned burghers with their families and stock back from the border. The government of the Republic was uneasy about the situation in Swaziland. On the withdrawal of the Republic's administration, the ngwenyama realized that there were now no restraining influences on his behaviour and alcoholic excess induced serious illness. To combat this, several people were killed at Mampondvweni including the venerable and sage diplomat, Mnkonkoni Kunene, and one of his wives, together with a wife of Matsofeni Mdluli and two of her maids. Settling old scores, Bhunu had a witness who had testified against him at the 1898 enquiry, Nyangana, and several of his people, killed in the Mbabane area. News quickly reached the battlefields around Ladysmith where Cmdt D J Schoeman, heading the Lydenburg Commando whose burghers had close links with Swaziland, wanted to know the situation. He was assured from Cmdt-Gen Joubert's laager that the Swazi were well disposed towards the Republic. Cmdt H N F Grobler and Field Cornet H F Prinsloo from Carolina, who had been at Bell's Kop, were expected at the laager on 10 November to report on the situation. Krogh sent two African spies as far as the Lubombo range to assess the situation and they reported that the murders resulted from Bhunu's fear that he had been bewitched.(12) Even Bhunu's close friend, Jilo kaMancibane Dlamini, had not escaped notice and been warned to escape to the Republic, but he left Mampondvweni for Zombodze where he committed suicide by shooting himself. Krogh reported to the government that the Swazi were peacefully tilling their land and that Grobelaar and Botha would visit the ngwenyama to discuss the murders. On the night of 10 December 1899, however, Bhunu died at Zombodze and Stewart, that 'credible and trustworthy person', reported the matter to Krogh in Amsterdam immediately. The ndhlovukazi became queen-regent and immediately set about eliminating those close to the late ngwenyama, such as Mnt Zibokwane Dlamini who had been his 'guardian' and senior adviser. Groups from the Swazi regiments roamed through the country and even threatened the south-western border where Boer women and children left on farms fled to Piet Retief for satety.(13) The Republic, however, felt sufficiently secure on its eastern border to send the fully supplied and equipped Swaziland Commando southwards in January 1900 to join the fighting along the upper Thukela River. For many years, farmers from the highveld, and particularly from the Wakkerstroom and Piet Retief districts, had trekked sheep into Swaziland for winter grazing. On 24 January 1900, the Mercers at Ndhlozana were told to have no communication with Swaziland and, with the onset of winter, the state secretary advised the landdrost of Piet Retief to tell burghers that trekking was undesirable. That advice, given on 18 April, was followed the next day by a notice that trekking was now forbidden.(14)

The Komatipoort Railway Bridge
The British were also concerned about Swaziland. From the outset, they had worried about war material passing through Lourenço Marques to Komatipoort and of Swaziland being used as a corridor to smuggle supplies to the ZAR. A prominent financier in Johannesburg with H Eckstein & Co, S Evans, was sent by the high commissioner, Lord Milner, to Lourenço Marques in late December to assess the situation and, in the course of his visit, he went to Pisini to meet Forbes. In January 1900, R D Casement, former consul at Lourenço Marques, returned to examine the situation. Both reports focussed on the possibility of destroying the railway bridge at Komatipoort to block the railway; in addition, Evans mentioned the possibility of creating a 'Forbes Swaziland Corps', established on the Lubombo range to harass the railway and any burghers in Swaziland. Infructuous attempts to destroy this bridge by a squadron of Strathcona's Horse guided by Forbes from Kosi Bay, as well as a small, independent force of Colonial scouts under Lt Baron F C L von Steinaccker, have been previously documented in this journal and need only be sketched in here.(15)

Lourenço Marques and its connections with Swaziland had been important to the British from the outset of the war. Only some 45 km to the west, the Lubombo range had for some twenty years been a locus for white residents who, for various reasons, preferred to live on the fringe of society. Most of this small group had established themselves east of Siteki close to the then undefined border and become involved in transport riding between Porto Henrique, the highest tidal and navigable point on the Tembe River from Delagoa Bay, and the burgeoning gold mines of Swaziland and the agricultural potential of New Scotland. More recently, others had settled further north at Nomahasha where the Portuguese were interested in establishing a settlement. Most of the British residents in Swaziland had left for the Lubombo range and the information which they could provide was of immediate interest to the British consul, A C Ross. He was supported by the appointment of R Diespecker from Field Intelligence in Cape Town. Before the war, Diespecker had been general manager of the Selati Railway. An intelligence network involving Lubombo residents was established, initially aimed at detecting arms smugglers. Forbes was one of the first to call on 23 November to report that the Portuguese had already taken advantage of the situation to collect taxes and exercise control over land on the Lubombo that had not been recognized as Portuguese. On 19 December, T B Rathbone, a long standing Swaziland resident and lately Bhunu's principal white adviser, called at the consulate to say that the ngwenyama had died. This was one route by which the British maintained communications with the Swazi.

Swazi diplomacy
After Bhunu's death, the Swazi royal house was primarily concerned with the rituals of mourning and the question of succession. The queen-regent made no obvious moves to favour either side in the war, but may have been influenced towards the British by Mrs Bennett, acting as her secretary, and by the possibility that the Republic's officials might endorse a candidate not to her liking. Memezi waMswati had supported his elder brother, Mbilini, in the fighting against the British during the Anglo-Zulu War and afterwards became closely associated with J J Ferreira, native commissioner in the Piet Retief district and from 1895 vrederechter at Mkwakweni in southern Swaziland. After the death of Ngwenyama Mbandzeni weMswati in 1889, Memezi had taken one ofhis wives, Ncenekile Simelane, as an ngena'd wife. Her son, Masumphe, was Mbandzeni's choice to succeed him, but because of his mother's violent temper, the family council had not endorsed him and chose Bhunu. As early as 1896, it was known that Masumphe was being educated in Pretoria ready to succeed once the Republic managed to oust Bhunu. Now that Bhunu was dead, the queen-regent must have considered the possibility of intervention, but the Republic was much too involved with the prosecution of the war. On 4 February 1900, Krogh arrived at Zombodze and presented the queen-regent with ten head of cattle; the gift was refused, but the cattle were still in the royal sibaya five months later. As ndhlovukazi, the queen-regent had favoured her own son, Malunge, and with the sudden death of the 22 year old ngwenyama the succession was again wide open.(16) Watching from Zululand, CR Saunders, civil commissioner and chief magistrate, reported on 22 March that affairs in Swaziland were settling down; the queen-regent had summoned the chiefs to assemble,(17) but one close observer of the political scene, J Gama, anticipated serious dispute over the succession.(18) July was declared to be the official month of mourning.

The queen-regent opened up a channel of communication with the British through the magistrate at Ngwavuma once he returned in May 1900, sending messengers to say that if she needed British protection she would flee to his district. With some humour she reported that the Boers had painted their faces red to disguise themselves (as British) and thus force the Swazi to fight alongside them. The Boers had four laagers in what she regarded as the Swazi country - one at Bell's Kop, one at Moodies and two near Mahamba. These messages were passed through Saunders and the government of Natal to the high commissioner in Cape Town. Here J Smuts, erstwhile consul, had joined Milner's staff preparing messages for his approval and despatch via the messengers waiting at Ngwavuma. In late June the queen-regent asked why, if the Boers were beaten, the British did not occupy her country? This was a foreign policy line taken by the Swazi for many years - asserting independence, but hesitant without the support of either the Republic or Britain. The queen-regent revealed her anxieties about Memezi by asking whether she could take steps to reclaim cattle taken by Memezi from Bhunu when he had fled to Ngwavuma in 1898. One important messenger with an appropriate escort was Lomvazi waMbandzeni, the queen-regent's fourth child by Mbandzeni and a natural younger brother of Bhunu. He arrived at Dinuzulu kaCetshwayo's Usutu homestead in May 1900 to report his father's death and Dinuzulu formally reported his arrival to J Y Gibson, the magistrate at Nongoma. Gibson met him on 13 July and ascertained that only Zibokwane had been killed expressly on the queen-regent's orders since she had blamed him for her son's death. Through the Ngwavuma messengers the queen-regent was told about the progress of the war and that the Swazi were not forgotten - they could 'rely on British representatives returning to the country at an early date'. Drafted by Smuts, the reply showed that he wanted to replace Krogh's authority with his own, backed by the British government. But the tides of war had distorted lines of communication and boundaries of responsibility between the military and civil powers aud it would not be easy for him to further his ambitions.

The Republic was not alone in its concern over the murders in Swaziland. Sir F A Bartlett, a grandiloquent protagonist of Britain's important imperial role as staunch defender of Swazi interests against those of the Republic, persuaded Field Marshal Lord Roberts to sanction a secret journey to visit the queen-regent. With a Johannesburg journalist of similar views, H R Abercrombie, Bartlett arrived in Lourenço Marques ostensibly on a hunting expedition and took the train on 25 March to Forbes's camp at Pisini. From there, guided by Forbes aud A K Brooks, they rode across the Lubombo to reach Zombobze where they found Rathbone. Bartlett's aims were firstly to persuade the queen-regent to prevent Boer forces from occupying the mountainous areas of the territory, secondly to persuade her to sign an appeal for British protection aud thirdly to adjure her against indiscriminate murders. The petition was duly signed at Nomahasha, and Bartlett and Abercrombie returned to the consulate on 3 April. Forbes had used the occasion to impress his ideas on Bartlett who duly told Ross that a force of 500 men was needed in Swaziland to deny the Mdzimba range to the Boers, counter their influence and harass the railway line. Bartlett then went off to tell the same to Lord Roberts in Bloemfontein and to reinforce the idea of destroying the Komatipoort bridge.

The Komatipoort bridge again
Forbes's next involvement was with the attempt to destroy the Komatipoort bridge and with the landing at Kosi Bay of a squadron of Strathcona's Horse, commanded by Lt-Col S B Steele, which, guided by Forbes, would proceed north along the Lubombo, avoiding Portuguese territory, and strike at the railway line. While Forbes waited in the breakers on 4 June to collect the troops, he received a laconic signal from a small coastal cruiser, HMS Widgeon, waiting offshore, that the operation had been cancelled.Two days earlier Rear-Admiral Sir R H Harris commander-in-chief of the Good Hope, on his flagship HMS Doris with HMS Monarch and the Widgeon, was waiting off the bay for the transport Columbian and Wakool with the expeditionary force. On Sunday 3 June although the weather was fair and the sea calm, Harris cancelled the landing and autorized the two transports to proceed to Durban for orders. He had told Steele the night before of the despatch from the consul-general in Lourenço Marques saying that the Boers knew the plans, had reinforced the Komatipoort garrison and were sending a large force to impede the advance of the expedition. While the despatch had been addressed to Forbes, Harris misinterpreted the information without waiting to consult him and Steele decided that it was impossible to carry out the object of the expedition.

Ordered to Eshowe, Forbes found that Strathcona's Horse had been sent on to Standerton and so he returned to Mozambique. Ever alert to his major ambition to see the construction of a railway to export coal from his lowveld holdings, Forbes wrote to Evans, now on the staff of the civil commissioner in Johannesburg, about the failed expedition which had, however, allowed a look at the country. He saw the possibility of establishing a port for shipping coal and a railway. Was Evans interested? Evans passed the letter to J P Fitzpatrick with the comment that 'Tongaland was not under the Imperial government'. It added to the correspondence which the high commissioner was generating on the same subject,(19) but Milner had already received a letter from Forbes, written in Durban whilst awaiting passage to Lourenço Marques, which promoted the idea of a port and railway to exploit his lowveld coal as well as that found in New Scotland.(29)

On their way south, Forbes had come across the remains of a temporary camp where an old copy of the Natal Mercury and a tin of Oxford sausages had been found. The camp was that of Von Steinaecker and his group of Colonial scouts who had already made contact with L C von Wissell at Mtini's Drift on the Phongola River and J A Major at Phalata farm on the Portuguese border. (21) When the war had started, Major had moved his cattle to a camp across the border to prevent them from being commandeered and did intelligence work for the British consul at Lourenço Marques; he became disillusioned when accused of looting cattle taken by Boer forces from Natal. In a letter to a relative, Major described how he had left because the 'man-in-charge' was incompetent.(22) The war provided plenty of opportunities for settling old scores and intelligence reports need careful interpretation. As one example, a secret report from the consul-general in Lourenço Marques to the governor of Natal averred on good authority that 'A man named Major who is now in Swaziland, somewhere between the headwaters of the Umbumbane and Tembe (close to the Portuguese frontier) has looted a lot of Boer cattle, and it is quite possible that he will be driving them for protection into Zululand. Two other British subjects named Oswin and Patterson, are trying to play the same game of cattle lifting from the Boers .. I believe the men named before are right enough, but one named Dupont, on the same business, is a [bad lot?].(23) There is no evidence to suggest that this report was accurate.

After becoming involved with Major in a fracas involving two groups of Swazi, taking advantage of the wider situation to repay old scores, Von Steinaecker reached Nomahasha in early June where he established good relations with Mbudula Mahlalela, an important chief with a considerable degree of independence from the Swazi royal house. The Komatipoort bridge was too well guarded for Von Steinaecker's small group and so the unguarded bridge at Malelane was blown up on 16 June, halting railway traffic for two weeks. The British presence on the Lubombo attracted more Boer forces to the area to meet what was rumoured to be a force of some 300 men. Cmdt G M J van Dam of the Johannesburg Police was ordered to patrol the railway line through the lowveld and, early in July, with a party of 4O burghers, he climbed the Lubombo to Mahlalela's homestead on Mpundvwini Mountain. Accompanied only by two others, since he thought himself safe on what he believed was the Republic's territory, Van Dam was ambushed and taken prisoner by Von Steinaecker's men.

The success of this small group encouraged Lord Roberts to sanction an increase and the consul-general in Lourenço Marques recruited local residents and financed and provisioned their activities. Visiting Natal in August, Von Steinaecker made arrangements for more recruits, supplies, personal promotion to the rank of major, and the creation of a unit to be called Steinaecker's Horse. Returning to Kosi Bay on the Widgeon, he was met by Forbes with three wagons and was back in his camp on the Lubombo south of Nomahasha by 17 September, a week before Lt-Gen R Pole-Carew's 11th Infantry Division spear-headed the British advance eastwards along the railway and entered Komatipoort unopposed on 24 September. Most of the 3 000 burghers trapped at the border crossed into Mozambique with Cmdt J J Pieuaar, but a column led by the Rev M P A Coetzee successfully moved northwards through the lowveld towards the Lydenburg area. Von Steinaecker made Komatipoort his base, but maintained a camp on the Lubombo with its piquet post on the scarp edge commanding extensive views across the lowveld, a place still known to the Swazi as Piketesi. As Lt-Gen J D P French's cavalry division swept through the Barberton area, burghers fled into Swaziland where they were harassed by the Swazi who took their cattle and their rifles.(24)

The future of Swaziland considered
At Government House in Cape Town, the future of Swaziland was being considered even before Pretoria fell. Here, Johannes Smuts moved to play the leading role in bringing Swaziland into the British fold. He was a Cape Afrikaner who had been private secretary to Lord Loch when high commissioner; for him it was a matter of regret that he was not 'home born' and his official life was played against a 'more British than the British' backdrop. On his own initiative, he prepared a memorandum on 28 May on the future administration of Swaziland, but Milner deferred consideration.(25) As British forces advanced eastwards towards Komatipoort early in September, plans were hatched for Smuts to visit Swaziland; he was to be accompanied from Cape Town by AM Miller as his unpaid secretary, ostensibly to provide information on the Swazi and their language. Here again, however, commercial interests were not allowed to be forgotten in the prosecution of the war. Miller was the Swaziland manager of the Swaziland Corporation Limited and had recently returned from Britain where he had prepared a memorandum on the corporation's assets and the valuable development opportunities which the territory offered. On 8 May he had addressed this theme to a wider audience at a meeting of the Royal Colonial Institute chaired by Sir Sidney Shippard. Also present was Bartlett who, having just returned to London, missed the speech and some of the discussion, but was able to assure the meeting that stories of the state of anarchy in the territory were untrue.(26) Forbes was summoned from Pisini to join Smuts and Miller in Pretoria where they arrived on Monday 10 September and met Lt-Col H V Cowan, Lord Roberts's military secretary. Briefing papers on Swaziland were prepared for the Director of Military Intelligence. On 26 September, doubtlessly prompted by Smuts, Milner cabled Roberts that he did not want to leave Swaziland without white influence for too long and, if Roberts agreed, wished to send Smuts to Barberton to try to establish communications with the Swazi from there.(27) Roberts replied that he had no intention of sending any force there at present and Smuts was in agreement that he could not enter the country unsupported. From Pretoria. Smuts advised Milner on 28 September that he was leaving for Barberton that day with Miller and Forbes and proposed another career move, to which Milner responded that he approved 'his being styled Resident Commissioner for the present, without prejudice to the question of his ultimate position.'(28)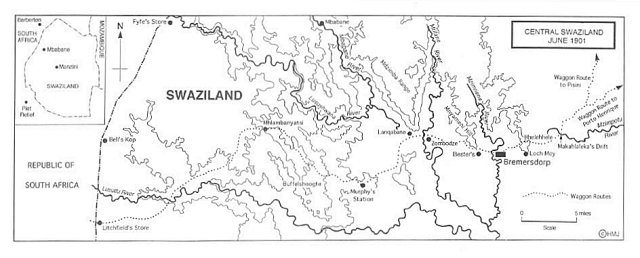 In Barberton, Smuts met French and Capt J Vaughan, French's DAAG (Intelligence). Not untypically. Smuts's first piece of advice was that the Swazi representatives, summoned by French on his own initiative from Swaziland, should not be met at the Devil's Bridge (Bulembu). since, 'in accordance with Native customs, they should come to me'. Yet another military breach of diplomatic etiquette was discovered - French had unfortunately selected his messengers from the Swazi homestead at Mekemeke, a 'rallying place for Swazi political refugees', which, in a sense, it was. Not surprisingly, Vaughan found no representatives at the rendezvous on 1 October. Undaunted, Smuts wrote to Milner that a force of some 200-300 would be needed for a few months to support him in Swaziland, a force which could be fed easily from Delagoa Bay using the twenty wagons belonging to British subjects then on the Lubombo range, but he confessed that there was little prospect of this happening. Advised by Forbes that it was more closely connected to the Swazi royal family, Smuts arranged a meeting with the indvuna and others at Mjindini, another royal Swazi homestead near Barberton on 5 October. With Forbes as Interpreter, Miller's shorthand notes of the meeting show Smuts as pathetically out of touch in an African situation and the indvuna as a very clever diplomat. Taken aback by the failure of the indvuna to admit recognizing him. Smuts demanded news from Swaziland, to be told only that the Zulu had sent to ask for rain. The indvuna persisted in evading Smuts's peremptory demands, asking that it 'be written down that all this country from here to the Crocodile and from there up to the Sabi was all Swaziland'. News was what Smuts wanted, news of Boer movements, news which he did not get. The indvuna however, nominated three messengers used by Smuts and Lt-Col J Spens, military governor of the district, to send messages to the queen-regent on 9 October. Smuts told her that he had taken Krogh's place and that she must now listen to him as the representative of Her Majesty's government. Spens wanted Swazi labour to repair the railway and guns and ammunition which had been seized from the Boers to be handed to the British. Whilst in Barberton, Forbes prepared a useful memorandum on the Swazi government system for Smuts, whilst Milner covered wagon routes. It came to Smuts's notice that 'Capt Steinaecker, Commanding Scouts on the Lubombo' had been issuing passes for British subjects to enter Swaziland at their own risk, a move he thought most undesirable before he was able to enter the country himself. He was still hopeful that sufficient men would be available to provide the necessary support, but it was not to be and Milner asked him whether he wished to stay in Barberton or to return to Pretoria. Ever pompous, Smuts suggested to Milner that he would tell the queen-regent that he was returning to Pretoria to discuss the situation with the high commissioner and suggested either Pretoria or Cape Town as his base. In a brief telegram, Milner instructed him to send his message and return to Pretoria. Back in Pretoria and clearly piqued, he wrote to Milner and Roberts on 20 October 1900 that 'It is a cause of regret to Mr Smuts that certain British subjects should have entered Swaziland before he has .. Mr Smuts thinks it of political importance that he should enter the country with a strong police force and of instituting an administration not based solely on Swazi goodwill and co-operation.'(29)

Swaziland Communications
Independently of the queen-regent, the most powerful man in southern Swaziland, Ndabazezwe waTsekwane Dlamini, had been providing the magistrate at Ngwavuma with important information about Boer movements. Another important Swazi informant was Tshingana kaTole who had served as one of J J Ferreira's 'police', but had become disenchanted when the vrederechter had ruled against him in a dispute concerning cattle; Tshingana supplied the British with details of the movements of Ferreira and his agents and also of M S Thring.(30) For these services, the Natal cabinet rewarded Ndabazezwe with four heifers and Tshingana with two.(31)

With the fall of Komatipoort in September 1900, Swaziland provided the only effective route for Boer communications with G Pott, Netherlands consul in Lourenço Marques. In November 1900, Asst Cmdt-Gen C Botha, then in Piet Retief, asked A L Kuit, a postal official, to take despatches to Pott and return with gold for the Boer forces. Kuit was accompanied by the brothers Louis and Izak van Rooyen and first had to obtain a pass to go through Swaziland from Krogh at Bell's Kop. Here they found another group comprising Meintjies, H Viljoen and J Duprat also bound for Lourenço Marques on Krogh's instructions. This group arrived in Bremersdorp on 13 November and left the next day, followed a day later by Kuit's group. V M Stewart told them that Steinaeeker's Horse was patrolling the Lubombo and coming as far as Bremersdorp. Kuit and the Van Rooyen brothers left that evening, pretending to return to the Republic but, once clear of the village, turned around to cross the lowveld. On 16 November they arrived at the homestead of Jozana Maziya, another Mahlalela chief then living where the village of Siteki is today. He was thought to be sympathetic to the Republic and to Krogh in particular, but Maziya ordered them to move on. On the return journey, Kuit found that Maziya had told a detachment of Steinaecker's Horse of his visit and he and his companions had a difficult time eluding the British forces. They passed close to Bremersdorp and came to the store at Murphy's Station (now Malkerns) where M K Stewart was astonished to see them, having been told by his brother that they had returned to the Republic. When he saw the poor condition of their horses, Stewart believed their story and provided them with the little that remained in his store. Presumably for this exploit, Kuit was the only person who was not a commissioned officer of the Boer forces to be awarded the Dekoratie Vir Trouwe Dienst, a medal awarded to officers for distinguished service.(32)

Also making the journey across Swaziland from Lourenço Marques was J Forbes, who went to see his family at Athole near Amsterdam. On 16 November he returned with a letter from his father, D Forbes Senior, that a commando of 500 burghers with ten guns had been there on 10 November and that burghers were being commandeered to augment it for an attack on Vryheid. Having no confirmation of this, the British took no action and Vryheid was attacked on 11 December.(33)

In addition to her link with the British through Ngwavuma, the queen-regent opened up communications with Brig-Gen T E Stephenson who had taken over command in Barberton. In response to letters from Roberts and Smuts, she reported that she was doing her best to drive Boers out of her country. She had ordered Mtshakela (J J Ferreira) out of the country, but he had responded by bringing in armed burghers and Africans, among whom was Memezi. Meintjies had arrived in Bremersdorp on 13 November, but had been ordered away. Since then, three armed burghers (Kuit and the Van Rooyen brothers) had been in Bremersdorp. Ferreira had sent her three goats which she had returned; Grobelaar, however, had sent ten head of cattle which she would keep until sile heard from Smuts what should be done about them. Mrs Bennett added a personal note to Roberts, asking for 'pecuniary assistance' and permission for her husband to come and stay in Swaziland. Finally she begged Roberts to 'warn the Queen against showing any letters from the British to others than herself as there are educated natives and being favourable to Boers probably take copies for them'.(34)

On 29 November 1900, Kitchener succeeded Roberts as commander-in-chief and on 20 December Smuts addressed Kitchener's military secretary, Capt W N Congreve, VC. Explaining his background and noting that he had been sent to Pretoria by Milner 'with a view to returning to Swaziland as resident commissioner', Smuts referred to the fact that a detachment of Steinaecker's Horse had been in Bremersdorp on 8 December and that 'if I had known that this visit was contemplated, I would have pointed out that the High Commissioner's wish was that when British officials went into Swaziland they remain there and that I should be the person to take charge of the territory'. A patrol led by Lt C S Carmichael had visited Bremersdorp and taken eight people prisoner. The brothers V M and B B Stewart, who had previously served with the so-called 'English Police' prior to the Republic's administration, were among them. Carmichael had ordered V M Stewart's wagon to be burned and had taken his two horses. Left behind to continue trading were a German and another British national, H R Middleton. Smuts learned of the patrol from V M Stewart, then a prisoner in Pretoria, who had stayed in Swaziland on the Republic's authority to trade aud supply information on British movements. With the tide of war clearly swinging in Britain's favour, Stewart was obviously anxious to ingratiate himself with the British authorities. During an interview with Kitchener, Smuts was shown the letter from Mrs Bennett, which he did not think merited a reply, but Kitchener disagreed, saying that it would be good to send a letter which would be read by the Boers.(35) So Kitchener thanked the queen-regent for her letter, introduced himself as Roberts's successor and asked her to keep him supplied with news of Swaziland. Admonishing the Swazi to take no part in the war, he said that unless Boer forces entered Swaziland in large numbers, he would not send British troops into the country. Finally, he told the queen-regent that, as the British Crown had annexed the Transvaal, Her Majesty the Queen 'now stands in the same position to the Swazis as the Transvaal did before the war.'

A letter from Forbes, then back in Lourenço Marques, arrived after the interview, adding to Smuts's discomfort. The success and formal establishment of Steinaecker's Horse irked Forbes. He complained that their successes were exaggerated and that many of their African scouts were armed and had been sent on their own to seize cattle from whites. Forbes maintained that some 300 Africaus were employed at salaries of between £3- 10-0 and £6 per mouth which, presumably because he regarded them as high, would harm Swaziland. In a diatribe against the corps, he wrote that:

'It is rather a sweeping assertion to make, but you will know it is true, that the whole of Steinaecker's force, including himself, is made up of adventurers. There is not a single man of any social standing capable of realizing the responsibility they are assuming. The corps will be very little short of a gang of freebooters if they are not placed under the control of a competent and responsible officer. In the corps there are more who will be the best of men for the work if placed under proper control, but utterly incompetent to uphold a place of trust with the dignity and honour necessary in a British officer.'
Forbes could not resist passing on their local nickname in Komatipoort - 'Steinaecker's Forty Thieves' - nor could he refrain from referring to Von Steinaecker as a 'damned German playing the fool as a British officer'.

No judge of character himself, Smuts must have been galled to read that 'Sandy McCorkindale seems to have charge of Swaziland' and that Rathbone was used to pass messages to the queen-regent. Forbes was angry because his father's message about the impending attack on Vryheid had been dismissed and he concluded: 'It is very disheartening to have anything to do with the military. Adventurers well versed in egotism are trusted by them, but honest men who are known to be of some social standing are invariably looked on with distrust, but certainly always with indifference'.(37) Forbes had been in Komatipoort when Lt B P A Geldenhoys had arrived there as a prisoner. Geldenhuys, a member of the Transvaal-Verkenningskorps, had been captured in late October 1900 at the Nkhomati River on the Swaziland border by a party of what he described as 'National Scouts' with armed African allies. Taken on foot to A (Sandy) McCor- kindale's farm at Ndzingeni east of Pigg's Peak, he had escaped, only to be captured by a party of Swazi and then marched on McCorkindale's orders to the British base at Komatipoort. Geldenhuys was familiar with both the country and his captors since he had been a clerk collecting the personal taxes introduced in Swaziland in l898.(38)

Thinking that Forbes's letter would reinforce his own derogatory views of Steinaecker's Horse, Smuts forwarded it to Congreve on 29 December with the observation that the 'raid' on Bremersdorp was bad, but the 'arming of natives for fighting and looting is far worse'. Smuts wanted Kitchener to read the letter and this was acknowledged in Congreve's very brief reply Forbes had had his chance to do what Von Steinaecker was doing but had delayed so long that the work had been given to Von Steinaecker instead. 'No-one', added Congreve, 'thinks S all angel, but he has his uses and Forbes being jealous must be taken at a discount'.(39) Smuts persisted in his criticisms and on 4 January 1901 sent a despatch to Milner; he failed to see what good the December patrol could have done, suggesting that it might provoke Boer reprisals on the British citizens left in the territory. The Swazi, he thought, would regard it 'as nothing more than a raid for plunder'. The Forbes letter and Congreve's response to it accompanied the despatch with the comment that 'it appears to me that the military don't welcome or care to accept information from civil sources'. 'As', he concluded, 'I understand that your Excellency does not wish action taken in Swazieland [sic] until an official is sent in to establish an administration, and as the Commander-in-Chief desires to avoid making Swazieland [sic] a scene of military operations, I hope the actions of Steinaecker's Horse in that country may he kept under control.'(40) Milner responded by telegraphing Kitchener that, as he had heard that Steinaecker's Horse was raiding in Swaziland and carrying off Boers, would it not be better to leave Swaziland completely alone since sporadic incursions may lead to 'native risings' and 'may excite Boer reprisals'? He would be inclined to treat Swaziland as friendly but neutral and asked for Kitchener's views.(41) The commander-in-chief's reply was terse:(42)
'I think matter exaggerated. Forbes and Smuts not very reliable when relating to what they hear from Swaziland. Steinaecker will not make raids into Swaziland or disturb there, but I must stop communication with coast. As far as I know Steinaecker's men have only once been in Swaziland and I have told him to be most careful. Absolute prohibition to enter Swaziland would be a great assistance to Boers getting ammunition. Who is your informant?'

As Milner appeared his only sympathetic contact, Smuts later added what he considered even more shocking detail to his earlier despatch. From the Stewarts, then paroled as prisoners-of-war, he had learned that armed Africans had accompanied the December patrol to Bremersdorp and that in camp on the Lubombo they were used to escort white prisoners to bathe and to the latrines.(43)

Incursions by British troops
Preparatory to a massive sweep through the eastern Transvaal towards the Swaziland border, French ordered a detachment of the Imperial Light Horse under A Wools-Sampson to clear burghers from the area around the mining camp in the mountains behind Barberton, called French Bob's, and on 21 December 1900 he reported that the burghers had retired through Swaziland.(44) On 26 December he telegraphed that he was sending an officer to meet tindvuna from Swaziland at Devil's Bridge (Bulembu) to impress on them the necessity of preventing any violation of their country by the Boers.(45) Eight columns left their start-line on 28 January 1901, moving eastwards. Living conditions in the south-eastern Transvaal, already precarious, had deteriorated. By 8 January 1901 there was no bread, coffee, sugar, light, salt, soap or tinned goods at Ndhlozana Mission.(46) Smuts met another prisoner-of-war in Pretoria at this time, C B de Villiers, whom he had known in Bremersdorp before the war. De Villiers was from Piet Retief and reported that the burghers in that area had moved with most of their stock further east into the Mkwakweni hills north of the Phongolo River. They were very impoverished with no proper clothing, only meat and mealies but no salt, and the women and children in particular were suffering.(47) French's objective was to advance to a line from Piet Retief northwards through Amsterdam and force the commandos in the area either to surrender or to move into Swaziland.(47) Maj-Gen H L Smith-Dorrien's column, one of the eight involved in this sweep, was attacked in the very early morning of 6 February near Lake Chrissie (Chrissiesmeer) by some 2 000 burghers from the Middelburg, Ermelo and Krugersdorp commandos. Absorbing severe casualties, the attack was repulsed and the column bivouacked there until 9 February when it pushed inexorably towards Amsterdam and the Swaziland border. From then on, the weather deteriorated rapidly, torrential rains swelled the rivers, and the heavy ground slowed the wagons, many of which had to be man-handled out of the mud.(49) But the retiring Boers were also handicapped and the British mounted infantry were successful on 9 February in taking 50 wagons as well as some 4 000 head of cattle and 4 000 sheep. In addition, huge herds of cattle and sheep were taken from the farms and they posed an immediate problem. Volunteers were called up to slaughter the sheep, soldiers being awarded one penny for each sheep killed. At Warburton on 1 February all available soldiers were called out and with their bayonets and knives killed some 15 000 sheep before moving on at 08.30. 'Awful sight', as one officer noted.(50) That day, operating on the Swaziland border, the mounted infantry took 19 wagons, 3 400 head of cattle and 5 000 more sheep.(51) Many refugee Boer families with the convoys were brought in to the British camp and the whole area was cleared of white inhabitants, British and Boers alike, most of the latter finding their way to the concentration refugee camp at Volksrust.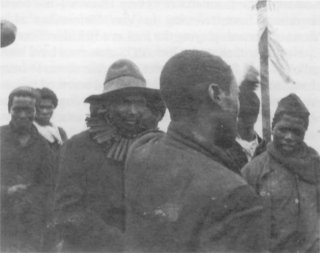 Swazi deputation to the British, led by Mnt Logcogco (centre)
at Litchfield's Store, 19 February 1901. (Photo by Lt M Riall,
West Yorkshire Regiment, courtesy of Nicholas Riall)

From Craigie Lea, Smith-Dorrien's column swung south, parallel with the Swaziland border. Further south, Canadian scouts led by Maj A F Howard from Brig-Gen F A H Alderson's column reached the Mercers at Ndhlozana on 16 February 1901. It was Howard's 55th birthday and on the following day he was killed near Derby. As part of the total evacuation of whites, troops from Anderson's column moved the Mercers to their camp on the farm Roodeplat(52) on 23 February. But already by 11 February Lt-Col E H H Allenby's column was in position on the southern border of Swaziland; across the border the country was very rough and the weather foggy, conditions which Allenby mistakenly thought would deter the Boers from enrering the territory. As French had planned, the Boers were being driven against the open Swaziland border and a large number were reported to be in the broken country at Ndlovudwalile. On the way south to Amsterdam, Smith-Dorrien encountered opposition at Litchfield's Store, just inside the Swaziland border, but it was dislodged and he left the 1st Suffolk Regiment, the 65th Battery Royal Field Artillery, and the 3rd Mounted Infantry there. After arriving in Amsterdam on 14 February, Smith-Dorrien received a Swazi deputation with a letter from the queen-regent asking for mounted troops to assist her in moving Boer forces from her country. Advised by David Forbes Snr. he replied that she must not allow Boers in the territory, but if found, the Swazi must seize their wagons and cattle and send the burghers as prisoners to the nearest British military post. From Athole, the Forbes family was also moved to Piet Retief and the farm immediately became a tempting target for both Boer and British looters.

With heavy rain continuing to fall, four companies of the 2nd Prince of Wales's Own (West Yorkshire) Regiment left their camp at Tweepoort, on 19 February 1901 for Litchfield's Store. Ihere, Maj H E Watts had a discussion with a Swazi chief named as Gondo (most probably Mnt Logcogco, the senior prince and regent) and handed over a gift from Smith-Dorrien of 1000 sheep and 50 black oxen from the captured herds.(54) From there that day, Lt-Col D Mackenzie took the Imperial Light Horse some ten kilometres into Swaziland down the Ngwempisi River and the Suffolk Regiment, based at the store, also went into Swaziland. Together the columns killed one and wounded two burghers, took 31 prisoners as well as 2 700 cattle, 5 000 sheep, 60 horses (half of them saddled), 15 mules and three wagons complete with ox spans. On this occasion, the Swazi joined the British troops, firing at the Boers, carrying off their rifles and cattle(55) and destroying their wagons. Heavy rains continued to slow the British advance and seriously delay the arrival of food convoys from Lüneburg, so foraging for mealies and slaughtering the captured livestock became the principal occupation of the soldiers who were on half rations. Other casualties from both sides were the huge herds of springhok and blesbok which were still found in the area. On 28 February Lt-Col St G C Henry's mounted infantry was sent into Swaziland with a force of 200 men and a 'Pom-pom' some 20 km east of Ndhlozana where, in extremely rugged country, it met with stiff opposition. On the following day, Smith-Dorrien heard of a Boer convoy moving north from Mahamba along the Bremersdorp wagon road and sent reinforcements and food to Henry with an order to move south. It was the transport convoy of the Piet Retief Commando and Henry took 65 prisoners, including Asst Field-Cornet/Adjutant K P van Dyk, 27 wagons, 2 000 head of cattle and 2 000 sheep. One burgher was killed and two wounded as the rest of the commando under Cmdt C L Engelbrecht broke southwards only to be taken prisoner at Zandbank where Col W P Campbell's column had relieved that of Allenby's that day. By 2 March, Smith-Dorrien noted that the Swazi were looting Boer homes and driving the women away in terror to be brought in by the British troops.(56) Allenby moved further east and camped inside the Swaziland border at Mahamba. Henry continued to operate well inside Swaziland in the Mahlangatja Hills south-cast of Mankayane and on 4 March reported that the Swazi had located a Boer wagon convoy some 20 km to the east. On the following day, Smith-Dorrien noted that 'The Swazi Queen has called out her Impis to attack the Boers and clear them out of her country'.(57) Henry returned to Derby on 9 March with eighteen prisoners, nine wagons and two carts, 400 head of cattle and 500 sheep; British operational losses in this rugged country were thirty horses from exhaustion. Operating in wet and cold weather, the columns of Campbell and Allenby continued to press northwards into Swaziland from the southern border, watching the drifts on the Mkhondvo River and patrolling as far as C Warren's store in Mahlalini south of Hlatikulu, thus squeezing the burghers into the hills of south-western Swaziland.

Swazi attack
Whether or not Smith-Dorrien intended to bring the Swazi into the conflict, at least one soldier, a private with the Devonshire Regiment in Piet Retief was convinced that, in addition to French's eight columns, there was 'a ninth column, commanded by the Queen of the Swazis'.(58) Responding to Smith-Dorrien's message, the queen-regent sent out instructions to drive the burghers out of the territory. To the south she sent Thinthita waMvikiviki Dlamini, an experienced but headstrong indvuna from the Ndhlavela regiment who had fought against the Pedi in 1879. His orders were to instruct Chief Ntshingila Simelano and Mnt Ndabazezwe waTsekwane Dlamini, the two most powerful men in southern Swaziland, to drive the Boers across the border. One group of men from the Piet Retief Commando, with seven women and twelve children, some cattle and five wagons were in camp some eight kilometres north of Bouwer's Hoogte near the present site of Hlatikulu. On Thursday, 7 March, Ntshingila sent a message to the party that he wanted to talk with them and demanded a grazing fee of two oxen. One burgher, W Whitman, took two of his oxen and did not return. On the following morning some forty Swazi, two of whom had rifles and the rest assegais and kerries, returned with one of the oxen. The burghers went out to meet them, but at a pre-arranged signal from Thinthita the Swazi surrounded and attacked the group. Some burghers escaped on horseback whilst the women and children fled. Thirteen burghers and one African with them were killed, several wounded and all their cattle taken.(59) The remainder of the party, ten burghers and their families, together with a nearby laager, trekked southwards to the border where they surrendered to the 18th Hussars on the farm Zandbank on 9 March.(60) From 8 to 11 March, Allenby's column was on patrol from Mahamba and during this time 69 burghers with 20 wagons and many women and children surrendered; the massacre had caused a panic.(61) One party with three wagons was held up by Mkhondva River swollen by incessant rains, a burgher dying from assegai wounds in the stomach. Both the queen-regent and Ntshingila denied involvement in the incident. Ndabazezwe reported to B Colenbrander, the resident magistrate at Ngwavuma, that both he and Ntshingila had ignored Thinthita's demand and that it was the indvuna who had collected a small imphi and attacked the Boers. According to Ndabazezwe, the imphi carried no shields to allay suspicion and attacked with assegais only; Ntshingila sent Thinthita and all the Boer cattle to the queen-regent.(62) Allenby immediately sent a note remonstrating with the queen-regent for the massacre and ordering local chiefs to surrender the cattle they had taken contrary to his orders; within a few days, some 100 head had been returned.(63) French recorded that he too had sent a letter to the queen-regent 'warning against practice of barbarities towards Boers and theft from White residents.'(64)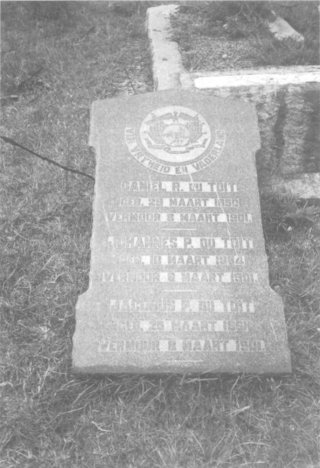 Gravestones of burghers killed by a Swazi imphi
on 8 March 1901, Hlatikulu Kop
(Photo: H M Jones).

The massacre prompted Botha to write to Kitchener on 11 April complaining that some British Officers were doing all they could to induce the Africans to fight the Boers 'in consequence of which several of my Burghers and also women and children have again been murdered by the Kafirs [sic] on the borders of Swaziland.'(65) Botha noted that the Swazi had remained neutral until British forces had entered their country and the Swazi 'organized commandos which have committed these murders'. Forwarding the letter to London, the Director of Military Intelligence in Pretoria commented that the complaint was an afterthought to make political capital.(66) The evidence points to Smith-Dorrien's, letter as having stimulated the Swazi actions and it is significant that even in 1925 he was not allowed to quote the queen-regent's response to his letter.(67) It may well be that Smith-Dorrien's reserve stemmed from the fact that this was the occasion on which the British issued rifles to the Swazi,ostensibly for their self protection against Boer incursions.(68) Allenby noted that the Swazi were excited by the Boer parties which had entered the territory and anxious to attack them; at the same time, they were afraid of a reprisal should the British troops leave. Further south there was a more obvious British move to persuade the Zulu not only to attack Boers who entered Zululand, but to cross the border into the Vryheid and Utrecht districts and seize Boer cattle. French issued these orders in Kitchener's name at Vryheid on 25 March and sent Lt-Col Bottomly, Imperial Light Horse, andtwo civilians, Struben and Loxton, to order magistrates at Nkandla, Nqutu and Melmoth to co-operate. The orders were issued without the knowledge of C R Saunders, chief magistrate and civil commissioner in Zululand, and the Natal government protested most strongly.(69)

On 24 March Allenby's column moved eastwards from Mahamba further into Swaziland. During its first bivouac on H Muller's farm Plat Nek the indvuna of the royal homestead Zombodze emuva, Silele Ntsibandze, was very co-operative. As the column moved on, numbers of armed Swazi arrived to fight with the column but they were sent home with the exception of a few who were retained as guides. Allenby made his main bivouac at J C Henwood's store and soon met the missionary Malla Moe who had returned to the Bethel Mission. Allenby was unable to catch up with a Boer party that he had been following, but at Langdraai a drift across the Phongola River, Swazi guides found one 15-pounder gun (captured from the British at the battle of Colenso on 15 December 1899) and two Pom-poms which had been buried in the sand. They were rewarded with £25 for each gun. Moe entertained Allenby aud his officers from her meagre supplies and became almost infatuated with the future field-marshal. Just before the column started to retrace its steps westwards on 8 April, she presented Allenby with a Zulu grammar book inscribed 'Colonel Allenby with remmeberances [sic] Malla Moe'.(70) As the columns of Smith-Dorrien, Allenby and Campbell withdrew to Middelburg and Wonderfontein on the Delagoa Bay railway, pressure on the scattered commandos around the south-western borders of Swaziland eased.

Further north, Johannes Smuts tried to visit Swaziland to explain the situation Leaving Pretoria on 8 April 1901 with Miller, still acting as his secretary, and his former interpreter, D Macebo, he arrived five days later in Barberton where he reported to Stephenson. Probably to his intense chagrin, Smuts found that Bremersdorp was occupied by a detachment of some 100 men from Steinaeker's Horse and that Von Steinaecker himself was there. The latter had been instructeo to send an escort to Nomahasha to meet Smuts, but replied on 23 April that Smuts should postpone his visit as he was short of horses. Smuts's report compiled two days later was vitriolic in its treatment of Von Steinaecker. He reports that the queen regent, through Mhlaba, a Shangane indvuna at Forbes' Reef, had said that the soldiers in Bremersdorp were not English, but only men who used to work in Swaziland. Stephenson was advised by Smuts that Von Steinaecker's request for Mbridula Maziya to be rewarded for his services with 250-300 head of cattle should be turned down.(71) Smuts eventually reached Bremersdorp in early May where he told Brother I F Swinhoe, who had returned to Usutu Mission Station with Brother S F Harp in September 1900, that he was enquiring into the damaging of houses in the town. Swinhoe reported that the rains had been late and that there was a lot of fever. Of the 80 or so men in Steinaecker's Horse in Bremersdorp, at least 30 were down with fever and they had no medicines. At the mission, work was going well with a full church each Sunday, but in spite of considerable help from the troops who were most kind and considerate, provisions were low and Frank Dlamini with six other Swazi had to go to Nongoma for sugar, salt, soap and candles.(72) At Ndhlozana, the Mercers, having been evacuated, headed for Britain and shortly after their departure the mission was looted, first by Swazi and then by Boers.

Whilst Smuts was away from Pretoria, Milner had come to the conclusion that Swaziland would best be administered as a department of the Transvaal. With I Chamberlain's concurrence, Milner telegraphed Smuts that it had 'been decided that Swaziland shall be treated for the present as a dependency of the Transvaal. You should therefore address any reports or telegrams to Secretary to Administrator, Pretoria, not to me'. Smuts's hopes to become the first British administrator in Swaziland received a severe setback.(73)

Boer incursion: Bremersdorp razed
Swaziland remained an important communications route for the commandos and on 4 July 1901 two men carrying despatches for the Boer command were killed in hand-to-hand combat by Lt J A Baillie and L/Cpl W S Harris of Steinaecker's Horse; both mentioned in despatches. Baillie was later awarded the DSO and Harris the DCM. The men were shot on the Lubomb and were apparently dressed in Portuguese uniforms. Some reports said that they carried only newspaper cuttings while others stated that despatches from Europe had been sent to Kitchener. (74)

The queen-regent, playing both sides in the conflict, became uneasy with the detachment of Steinaecker's Horse in Bremersdorp which by July numbered some 110 men of whom twelve were on the sick list.(75) Capt I B Holgate had ordered the execution of a Swazi as a spy and arrested Mancibane waNdlaphu Dlamini for supporting the Boer cause: Mancibane had been well-known to Cmdt-Gen Joubert and was also a friend of M J J Grobelaar. Steinaecker's Horse was also accused of looting cattle which were allegedly sent to St Lucia Bay for safekeeping. Accordingly, the queen-regent advised Cmdt-Gen Botha that Bremersdorp was occupied by robbers who should be removed. From Ermelo on 16 July 1901, Botha sent orders to Asst Cmdt-Gen F Smuts to take his commando into Swaiziland and, without molesting the Swazi nation in any way to destroy the robbers and shoot on sight any armed Africans operating with them. The Swazi National Council had given permission for this to be done and Smuts was asked to arrange a meeting in conjunction with Grobelaar to tell the council not to allow the country to be used as a hiding place for murderers and robbers. In this, as in other cases, the British military had failed to act in concert with the civil authorities and there seems to have been genuine doubt on the part of both Swazi and Boers that Steinaecker's Horse was a legitimate British unit.

The Ermelo Commando with a few burghers from Carolina left Spitzkop for the border on 21 July under the leadership of T Smuts and Cmdt J L Grobler. A patrol to the western border, which returned to Bremersdorp at midday on 21 July, reported the approach of the commando. At l4.00, Von Steinaecker left for Barberton, having conveniently been summoned there. On the afternoon of the followiug day, Swazi messengers from the queen-regent arrived with the news that the commando was at the Hlambanyati. In command of the detachment was Capt A D Greenhill-Gardyne with Capt H O Webb-Stock as town commandant. As Von Steinaecker had left without nominating an officer in overall command the news prompted a dispute botween Gardyne, claiming seniority as a regular officer, and Webb-Stock, a colonial volunteer who had served with Bethune's Mounted Infantry. It was Webb-Stock, however, who that evening sent out a patrol of 25 men under Lt C P Major with orders to patrol as far as the Lusutfu River or until it located the commando. Should Major come into contact with the Boers, he was to send a message back and take up a position to block its advance. The rest of the detachment would then take up a position on Black Hill (Mnyameni or Lugoba Hill) to the west of the town. Major reached the Mhlahlane Spruit when another messenger from Zombodze reported that the commando was now coming down the Buffelshoogte. A message to this effect was sent to Webb-Stock, Major adding that he was falling back to the Black Hill with his patrol.

That evening the detachment's wagons were loaded and Webb-Stock announced that he was going with them to the Black Hill to laager at Bester's before joining Major. At this moment, Gardyne insisted that he was in charge and the detachment would take up a position at Loch Moy on the ridge east of the town with pickets on the hill above the Transvaal residency and gave orders accordingly. Lt E Holgate remonstrated that his brother Capt J B Holgate and Webb-Stock were taking their position on the Black Hill, but Gardyne replied that he was not having his line of retreat cut and at 21.00 he trekked eastwards. The wagons were taken beyond Makahlaleka's Spruit and outspanned whilst Gardyne took up a defensive position around Loch Moy with Holgate and 25 men in a forward position above the Transvaal residency. No-one had told Major of this move and, as the sun rose on 23 July, he thought he saw men of the detachment in the town and sent Tpr T G Butler to ascertain the situation. On reaching the Mzimnene River, Butler was taken prisoner. At daylight, Major with Sgt Smethwick and four men rode down to the Mzimnene. Smethwick sensed that there were Boers in town and hung back, but Major and the others had crossed the river when they were fired upon. Turning around and galloping back, the group was intercepted where the Raleigh Fitkin Hospital is situated today by a burgher called De Wienaar. At Bester's trees, Major halted and told his men to surrender, albeit De Wienaar was alone. The burgher rushed at Major and tore off his stars of rank and bandolier, saying 'You call yourself an officer - you are a cur'. In the meantime, Smethwick and the rest of the patrol rode off past Zombodze and eventually reached Komatipoort.

The commando had surrounded the town during the night, only to find that the bulk of the detachment had moved eastwards. Scouting at daylight near the Transvaal residency on the eastern side of the town, M S Thring was the first to notice burghers riding up from the river. He was fired at, but returned to Holgate's position. Half-an-hour later some 50 to 60 burghers came riding eastward and, contrary to instructions, one nervous trooper fired when they were still 400 yards (366 metres) away. Even so, they scattered back to town only to return with twice the number and Holgate retired to Gardyne's main position. As he rode up, pursued by the burghers, however, panic ensued and the cry 'Every man for himself' saw officers and men upsaddle and ride eastwards. Sgt K B Wilcoxon, who was technically under arrest for drunkenness, fired on the burghers and tried in vain to rally the men. At Helehele Nek ('The King's Offsaddling Nek') which was then wide enough only to take the wagon road Gardyne tried to rally the men, but Baillie thought that the 60 to 70 burghers who followed were too many so he upsaddled and left. Gardyne was left with no alternative but to give the order to mount. As the men reached Makahlaleka's Drift, they were fired upon by a Boer Maxim from the ridge above. Towards the end of the fight, the detachment's Maxim jammed and Sgt A J Miller, who was in charge of it, was killed along with an African called Scotchman. Above the spruit, at the current site of St Joseph's Mission, the Boers captured the wagons which were loaded with 30 000 to 40 000 Lee Metford cartridges, one Maxim gun and some £900 in cash. The commando took 33 prisoners and returned to Bremersdorp where, at about 11.00, the burghers started to burn the town. Everything was destroyed, including the plant on which The Times of Swazieland had been printed. On its return, the commando laagered at Lanqabane near Lozitehlezi and the queen-regent was presented with some of the 500-600 head of cattle which had been taken by the burghers. Mnt Mancibane was released and given one of Von Steinaecker's wagons, the commando taking a further eleven with them. T Smuts and Grobelaar met the queen-regent and council and passed on Botha's message and the queen-regent thanked the commando for its actions.

It is difficult to assess the casualties from this action. Officially, four men of Steinaecker's Horse wore killed (76) and four others seriously wounded and subsequently discharged as medically unfit. T Smuts, however, reported that eighteen to twenty of Steinaeckor's Horse had been killed, eight wounded and 41 taken prisoner. The British lists report no prisoners, but undoubtedly there were.(77) Among them were four surrendered burghers (Hensoppers) from Ward II of the Ermelo district. Returning to Amsterdam, they were court-martialled: M G Joubert was sentenced to death on 27 July and shot the same day in front of the commando 'according to military fashion'; J Tosen was given ten lashes and fined £25; William Tosen was given 25 lashes; and C Viljoen was given fifteen lashes and fined £15. T Smuts believed that a further sixteen burghers with the detachment escaped. There is no evidence of these surrendered burghers in the various muster rolls or among the attestation papers, but they were definitely with Steinaecker's Horse with Families, their wagons and cattle being among those taken by the Boer commando.(78) The commando's only reported casualties were two wounded burghers, but there were probably more.(79) After the detachment of Steinaecker's Horse was driven from Bremersdorp, the 1st Alexandra Princess of Wales's Own (Yorkshire) Regiment, occupying blockhouses along the railway line from Kaapmuiden to the border, was alerted that the commando was heading north-eastwards towards Komatipoort. This post was then reinforced by 50 men from Barberton and 50 from Kaapmuiden whilst patrols under Capt H R S Maitland, 2/Lt C H Marsden and 2/Lt B C D Nash-Wortham were immediately sent into Swaziland. When it became obvious that the commando had retired to the Republic, the patrols were withdrawn.(80) Returning to the Republic, T Smuts reported to Cmdt-Gen Botha on 29 July. As an afterthought, he added a postscript: 'NB. As Bremersdorp was used as a refuge for robbers and handsuppers [sic], I have burned the town to ashes'. Commenting that Smuts had 'acted absolutely contrary to our principles in burning to ashes the town of Bromersdorp', Botha suspended him from duty as of 18 August and, on 31 August, his suspension was confirmed and he was discharged as an assistant commandant-general. Smuts complied, but pointed out in a letter dated 2 September 1901 that where the British were using houses outside the Republic's borders to promote their operation his actions were valid. He also stated that most of the burghers on commando had urged him to burn the town, a course probably suggested by the fact that by this time, the eastern Transvaal had been devastated by British troops.(81) In response, Botha noted that Smuts had refused to give the explanation requested and to meet personally with him at Bankkop to discuss the matter.(82)

In his vitriolic remarks about Steinaecker's Horse, Johannes Smuts had been particularly disparaging about the Scot, Alexander McCorkindale, who lived at Ndsingoni east of Pigg's Peak 'a burgher, and a notorious drunkard and bad character [who] seems to have charge of the Pigg's Peak district and if reports are true has been indulging in looting and gun selling'. As we have seen, McCorkindale had certainly been active. Born in Scotland, he may have been registered as a burgher, but had attested as No 1105 Trooper Alexander McCorkindale at Komatipoort on 6 July l900.(83) On 30 May 1901, the 6th (Inniskilling) Dragoons picked up two burghers at the Sheba Queen Mine in the upper Nkhomati valley who had been shot and seriously wounded by McCorkindale.(84) The gold mine had managed to maintain sporadic production throughout the war, but in the spring of 1901 came news that a commando was coming north through Swaziland. Steinaecker's Horse moved from Pigg's Peak and met the commando, which seems to have been a remnant of the Ermelo Commando, in the Nkhomati valley. Prisoners were sent to Barberton and the old men, women and children were put onto their wagons and left to find their way back across the border.(85)

Further incursions
Later in the year, as the blockhouse line was extended from Wakkerstroom to the Swaziland border, Lt-Col A E W Colville's column swept repeatedly through the area, forcing small parties of burghers into Swaziland. Some of these, under the command of Asst Cmdt-Gen C Botha, were returning from Cmdt-Gen L Botha's unsuccessful second invasion of Zululand and Natal, crossing into Swazi territory to evade the blockhouse line.(86) On 8 November, Maj B A Wiggin, 13th Hussars, with a detached force of the 26th Battalion Mounted infantry from Colville's column, captured a laager near Mahamba and took fourteen burghers prisoner; among them the landdrost of Piet Retief, T A Kelly, who had served with the Swaziland Commando, and C J van Rooyen, field cornet for Ward I (Assegai) of the Piet Retief district adjoining the Swaziland border.(87) Another laager was attacked a week later when twelve burghers and nineteen wagons, with their teams, were taken by Wiggin's force at Plat Nek, well inside the border.(88) Colville pushed eastwards as far as Bethel, where Malla Moe was accused by local burghers of sending for British troops. He left the missionary to look after the families of the captured burghers.(89)

In the meantime, Forbes had been acting as guide for Brig-Gen J C Dartnell's column in the eastern Transvaal from late January, along the Zululand border in March and then in the Free State. In September he was sent to join Brig-Gen J Spens's column in a similar capacity in Natal. Recalled to Pretoria, Forbes was appointed captain in the Field Intelligence Department on 7 December 1901 and was instructed to raise a unit known as the Lebombo Intelligence Scouts. By this time, the activities of Steinaecker's Horse were essentially limited to garrison duty at Pigg's Peak, Komatipoort and the Sabi River, and the Lebombo Scouts were raised to intercept messengers moving between the commandos and Lourenço Marques. It has been stated that this was one of the burghers' corps established in 1901, but the available evidence suggests that this is too simple a classification.(90) The unit certainly included men who had served with the Swaziland Commando and who risked their lives if captured by the Boer commandos; it also included men who were definitely not burghers, as well as several who had served with Steinaeckor's Horse. What they seem to have had in common was a knowledge of the country in which they were expected to operate, but the war had created divided loyalties and severe tensions within families and communities. Two of Forbes's sergeants, Willem A and Cornelius R McSeveney, were from Ferreira's Station and Mantambi respectively; their father was a Scottish immigrant who had married an Afrikaner wife in Potchefstroom and the sons, like Forbes, were burghers. Unlike Forbes, however, they were brought up as Afrikaners and not as British. Forbes, with Lt A M Miller as his second-in-command, came to Komatipoort from Barberton, where most of their recruiting had been done, and then moved southwards through the Swaziland highveld to Ngwavuma Poort. Their camp was established on the Lubombo range above the poort. Near Sihlutse, Cmdt N J M Vermaak had established a laager which was attacked by Forbes and some twenty scouts in early February 1902. During the brief fight, Vermaak was fatally wounded and taken by Forbes to Malla Moe's mission where he died and was buried. According to the missionary, Forbes was most kind to her and evacuated all the Boer families from the mission. Forbes had been helped by Swazi guides, the most prominent of whom was Tshingana kaTole who was given the task of taking a message into Vermaak's laager, for which he was rewarded with four head of cattle. This was the last action of the war in Swaziland and, for a few months only, the country resumed its independent status.

Post-war Swaziland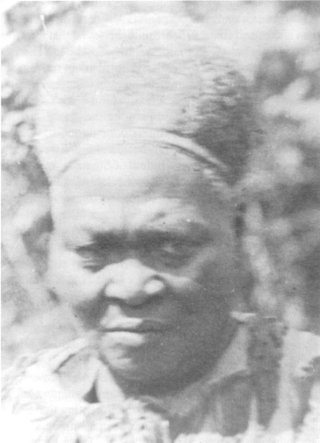 The Queen-Regent, Gwamile Mdluli (Labo Tsibeni),
13 April 1917

The queen-regent continued to govern until 1921 when she formally handed power to Ngwenyama Sobhuza waBhunu. Among those from Swaziland who had featured in the war, Krogh became a member of the Executive Council of the Republic in the field and represented Swaziland at the discussions in Vereeniging which brought an end to hostilities. Christiaan Botha also represented Swaziland at Vereeniging after being promoted to the rank of assistant commander-general and serving under his brother in the second invasion of Natal in late 1901; he died on 29 October 1902 following an operation to a condition resulting from his war experiences. Opperman succeeded Botha as commandant of the Swaziland Commando, built up a strong reputation for his military abilities and was promoted assistant commandant-general. He was killed at Bankkop in tho Ermelo district on 4 January 1902, and was grieved by friend and foe alike. W A C Emmett, who was appointed landdrost for Piet Retief in April 1901, was captured two months later and sent to Bermuda where he found Tenbergen. T Smuts served for the rest of the war as a burgher and later represented Ermelo in the House of Assembly. V M Stewart became a prominent trader and politician in Swaziland and was awarded the OBE in 1939. Von Steinaecker, who never adapted well to civilian life, fell on hard times and committed suicide on 30 April 1917. Of the regular British officers who came to Swaziland, Allenby became a Field-marshal and Viscount whilst Smith-Dorrien became a general and was knighted. The Mercers returned to Ndhlozana and stayed there for another twenty years and the Rev W F Dawson returned to Malla Moe's mission station at Bethel where he took charge once entry restrictions into Swaziland wore lifted in 1903, enabling Miss Moe to return to the United States on furlough. David Forbes flourished in the Transvaal and Swaziland as farmer and entrepreneur and A M Miller returned to his shattered home at Loch Moy, whore Steinaecker's Horse had failed to make a stand, to pick up the threads of his journalistic career and to become the leading proponent of white settlement in the territory. Appointed registrar of deeds of the Transvaal Colony in April 1902, Johannes Smuts's dream of becoming Britain's representative in Swaziland vanished. That position fell to F Enraght-Mooney, special commissioner in the Zoutpansberg, who crossed the border with an escort of the South African Constabulary to establish his headquarters in Mbabane in August that year. His mission was to 'occupy and administer the country and to take such steps as necessary to preserve law and order until such time as H M Covt had decided upon a final policy', a decision not taken until 25 June 1903 when an Order in Council was made, enabling the Governor of the Transvaal to administer the territory.

References

1. Since 1963, Manzini.
2. Allister M Miller, Swaziland and the Swaziland Corporation, (London, 1900), p 12.
3. Autobiographical notes written by W A C Emmett, 19 November 1934 and 6 March 1935. (The writer is indebted to Mrs S A Watt of Kimberley for making available her grandfather's notes).
4. E T McCarthy, Further incidents in the life of a mining engineer, (London, 1938), pp 136-9.
5. Captain David Forbes, DSO, My life in South Africa, (London, 1938), pp 136-9.

6. Details of the 'Swaziland Expedition' are from The Times of Swaziland and South Africa, supplemented with information from Major G Tylden, The armed forces of South Africa, (Johannesburg, 1954).
7. PRO DO 119/572, affidavit by J J Bennett, Cape Town, 5 July 1900.
8. The Net, Vol XXXIV, 1899, p 161, Rev WM Mercer to the editor, Ndhlozana, 5 October 1899.
9. Maria Nilsen and Paul Sheetz, Malla Moe, (Chicago, 1956), pp 99-101.
10. Nilsen and Sheetz, Malla Moe, pp 102-3.

11. PRO WO 132/9, intelligence prècis of the 2nd (Natal) Division, telegram from Civil Commissioner and Chief Magistrate of Zululand, Eshowe, 13 December 1899.
12. C W L de Souza, No charge for delivery, (Cape Town, 1969), pp 170-172.
13. The Net, Vol XXXV,1900, p 44, Mrs W M Mercer to the editor, Ndhlozana, 18 December 1899. 14. The Net, Vol XXXV,1900, letter from Mrs Mercer, Ndhlozana, 25 January 1900; PRO WO 32/8068, telegrams from State Secretary, Pretoria, to Landdrost, Piet Retiet, dated 18,19 and 24 April 1900, enclosures in Cmdt-Gen L Botha to Lord Kitchener, 11 April 1901. 15. Huw M Jones, 'The Delagoa Bay Railway and the origin of Steinaecker's Horse' in Military History Journal, Vol 10 No 3, June 1996, pp 102-110.

16. PRO DO 119/236, memorandum on Memezi written by J Stuart for J Smuts, June 1896; PRO DO 119/572, A Q Mordaunt to J Smuts, Lubombo, 9 January 1900; Huw M Jones, A biographical register of Swaziland to 1902, (Pietermaritzburg, 1993), pp 101 and 145-6.
17. PRO DO 119/543, enclosure in Governor of Natal, to High Commissioner, Pietermaritzburg, 24 March 1900.
18. PRO DO 119/572, unsigned letter to a newspaper dated 28 June 1900 from John Gama at kaMapungwana, Lubombo Range, enclosed in Secret Despatch No 2 from Governor of Natal, to High Commissioner, Pietermaritzburg, 19 July 1900.
19. National English Literary Museum, Grahamstown, Fitzpatrick Papers, BA ll general correspondence 1900-1904; D Forbes Jnr to S Evans, Pietermaritzburg 27 June 1900; Evans to J P Fitzpatrick, Johannesburg, 3 August 1900; Lord Milner to J P Fitzpatrick, most confidential, Johannesburg, 5 September 1900.
20. Pretoria Archive Repository, Forbes Papers, Vol 15, letters despatched 1867-1929, David Forbes Jnr to Lord Milner, Durban, 30 June 1900.

21. L C von Wissell, 'Reminiscences of trading days in northern Zululand, 1895-1919', Miller Papers, MS Mil 1/08/70 in the Campbell Collections, University of Natal, Durban. (The writer is grateful to Mrs J M Simpson, librarian of the Killie Campbell Africana Library, for bringing the manuscript to his attention).
22. J A Major to W Major, Palata Station, 1902. The 'man-in-charge' was Maj H P Young who directed intelligence work for the Consul until the arrival of C C Crowe as Consul-General in April 1900. (The writer wishes to acknowledge the kindness of Mr LA Amiel of Vancouver in making this letter available.)
23. Pietermaritzburg Archive Repository, GIl 833, G632/1900, Secret, Governor of Natal to Prime Minister, 4 May 1900.
24. The Liddell Hart Centre for Military Archives, King's College, London, Allenby Papers, 1/2/57 17 Sept 1900 and 1/2/58 24 September 1900.
25. PRO WO 119/572, J Smuts, memorandum respecting the future administration of Swaziland for the consideration of the High Commissioner, Government House, Cape Town, 28 May 1900.

26. Journal of the Royal Colonial Institute, Vol XXXI, Part VII, June 1900, pp 468-487.
27. PRO WO 119/510, telegram, High Commissioner, Cape Town, to Lord Roberts, 26 September 1900. This telegram is also in PRO WO 119/572.
28. PRO WO 119/572, telegrams, Lord Roberts to High Commissioner, Pretoria, 25 September 1900, and High Commissioner to Lord Roberts, Cape Town, 29 September 1900.
29. PRO WO 5/111, Johannes Smuts to Commander-in-Chief and High Commissioner, Pretoria, 20 October 1900.
30. Described as a 'spy' by the Natal authorities, Natal-born Thring, who lived near Sihlutse, had served in the Natal with the Swaziland Commando and, from 14 March 1901, as a scout with Steinaecker's Horse.

31. Jones, Biographical register of Swaziland, pp 167, 583 and 588; PRO DO 119/670, Governor of Natal to High Commissioner, Pietermaritzburg, 5 October 1900.
32. A Kuit, Transvaalse Verskiedenheid, (Pretoria, 1940), pp 62-81.
33. PRO WO 105/14, telegram, Consul-General Lourenço Marques to Lord Roberts, 16 November 1900.
34. PRO WO 105/23, letter, A833 Brig-Gen TE Stephenson to Private Secretary to Lord Roberts, Barberton, 26 November 1900.
35. PRO CO 291/27/122, Johannes Smuts to Military Secretary to Commander-in-Chief, Pretoria, 20 December 1900; PRO CO 291/27/118, confidential despatch from Resident Commissioner for Swaziland to High Commissioner, Pretoria, 4 January 1901.

36. PRO CO 291/27/124, draft letter from Brig-Gen T E Stephenson to queen-regent of Swaziland.
37. PRO CO 291/217/128, D Forbes Jnr to Johannes Smuts, Lourenço Marques, 30 November 1900.
38. Col B P A Geldenhuys, DTD, 'Persoonlike ondervinding van 'n belastinggaarder in Swaziland', undated typescript. (The writer is grateful to Fred Duke of Vryheid for bringing this to his attention).
39. PRO CO 291/217/132, Maj W M Congreve to J Smuts, Pretoria, 1 January 1901.
40. PRO CO 291/27/118, confidential despatch, Resident Commissioner for Swaziland to the High Commissioner, Pretoria, 4 January 1901.

41. PRO CO 291/27/133, telegram, High Commissioner to Commander-in-Chief, Cape Town, 9 January 1901.
42. PRO CO 291/217/134, telegram, Commander-in-Chief to High Commissioner, Pretoria, 10 January 1901.
43. PRO CO 291/27/253, undated telegram, Acting Resident Commisioner for Swaziland to High Commissioner, Pretoria.
44. PRO WO 105/14, Consul-General Lourenço Marques to Lord Roberts, 16 November 1900.
45. PRO WO 105/14, telegram, Lt-Gen Sir J D P French to Lord Roberts, 26 December 1900.

46. The Net, Vol XXXVI, 1901, The Rev W M Mercer to the editor, Ndhlozana, 13 January 1901.
47. PRO CO 291/217/255, Acting Resident Commissioner to Military Secretary, s.d. but certainly early January 1901.
48. Major the Hon G French (ed), Some war diaries, addresses and correspondence of the Earl of Ypres, (London, 1937), entry for Thursday, 7 February 1901.
49. Diary of Lt M RialI, 2nd The Prince of Wales's Own (West Yorkshire) Regiment, entry for 9 February 1901. (The writer is most grateful to Nicholas Riall of Alton, Hampshire, for permission to use this information).
50. Riall Diary, entry for 11 January 1901; Gen Sir Horace Smith-Dorrien, Memories of forty-eight years' service, (London, 1925), p278; extract from Digest of Service of the 2nd Battalion The Prince of Wales's Own (West Yorkshire Regiment) in South Africa, (York, 1903), entries for 10 and 11 February 1901.

51. Imperial War Museum, London, Smith-Dorrien Papers, 87/47/6, Maj-Gen H L Smith-Dorrien's diary entry for Monday, 11 February 1901.
52. The Net, Vol XXXVI, 1901, pp 77-9, The Rev W M Mercer to the editor, Piet Retief, 26 March 1901; B Moeller, Two Years at the front with the Mounted Infantry, (London, 1903), pp 170-1.
53. Allenby Papers, 1/2/84, II February 1901, Uitspan.
54. Smith-Dorrien, Memories of forty-eight years' service, p 280; entry from the diaries of Lt M B B Riall, the 2nd The Prince of Wales's Own (West Yorkshire) Regiment. (The writer is grateful to Nicholas Riall of Alton, Hampshire, for permission to use this information).
55. Smith-Dorrien, Memories of forty-eight years' service, p 281; Smith-Dorrien Papers, diary entry for 19 February 1901; Riall diary entry for 19 February 1901.

56. Smith-Dorrien diary entry for 2 March 1901.
57. Smith-Dorrien diary entry for 5 March 1901.
58. The Wykehamist, No 381, May 1901, R P Lewis to the editor, Piet Retief, Swaziland [sic], 7 March 1901.
59. PRO WO 32/8068, 'Account of Swazis attacking Boers on March 4 [sic] - Native Report' and 'Statement of three burghers who surrendered to 8th Hussars', taken by Capt G L Barry, DAAG (Intelligence); PRO CO 179/218, telegram, B Colenbrander, Magistrate at Ngwavuma, to C R Saunders, Chief Magistrate and Civil Commissioner for Zululand, Ngwavuma, 22 March 1901.
60. Major Charles Burnett, The 18th Hussars in South Africa, (Winchester, 1905), p 147.

61. Allenby Papers, 1/2/85, 15 March 1901, Mahamba.
62. PRO CO 179/218, B Colenbrander to C R Saunders, Ngwavuma, 22 March 1901
63. Allenby Papers, 1/2/85,15 March1901, Mahamba.
64. French's diary entry for Wednesday, 13 March 1901; French, Some war diaries, addresses and correspondence of the Earl of Ypres, p 64.
65. PRO WO 32/8068, Cmdt-Gen L Botha to Lord Kitchener, 11 April 1901.

66. PRO CO 417/360, memorandum by DMI Pretoria, 19 April 1901. The letter and other papers were not forwarded by the Director-General Military Intelligence at the War Office to the Under-Secretary of State for the Colonies until l February 1902.
67. Smith-Dorrien, Memories of forty-eight years' service, p 281.
68. In April 1902, as the Swazi demonstrated their reluctance in handing back the rifles, Lt E Holgate, accompanied by R Waterhouse, was sent from Barberton to negotiate with the queen-regent for their return. Nourah Waterhouse, Private and Official, (London, 1942), pp 85-95.
69. PRO CO 179/218, passim.
70. Allenby Papers 1/2/89, 6 April 1901, Henwood's Store.

71. PRO CO 291/29/35841, Report on his visit to Swaziland by J Smuts, 25 April 1901.
72. The Net, Vol. XXXVI,1901, p 117, Dr F W Walters to the editor, Nongoma, 1 July 1901 73. PRO DO 119/693, No 250, High Commissioner to Secretary of State for the Colonies, Johannesburg, 30 April 1901; Acting Imperial Secretary to Brig-Gen T E Stephenson, Johannesburg, 3 May 1901.
74. PRO CO 417/335, Asst Cmdt-Gen T Smuts to Cmdt-Gen L Botha, Amsterdam, 29 July 1901; South African War, Honours and Awards 1899-1902, (1903), p71.
75. Details of the action at Bremersdorp are from an account in the Miller Papers, 1/08/29 MS, in the Killie Campbell Library, Durban; PRO CO 417/335, Director-General Military Intelligence to Under-Secretary of State for the Colonies, 7 December 1901, forwarding copies of correspondence between Cmdt-Gen L Botha and Asst Cmdt-Gen T Smuts; PRO CO 417/360/609, diary of Sgt-Maj F T Mauchle, ZAR Staatsartillerie.

76. A J Miller, born in Durban, was a farmer who had served with the Natal Carbineers; J W Drew, a jockey from Co Cork, had seen service with the South African Light Horse and the Natal Veterinary Corps; T J O'Connor was the son of a parson from Co Kerry and had served with the Royal Munster Fusiliers Militia and the Bechuanaland Border Police; W L Beattie, a railway guard whose mother ran the Victoria Hotel in Kuala Lumpur, had joined the unit in Pietermaritzburg only on 3 June. Drew was buried at Helehele and Miller on the ridge above Makahlaleka's Drift.
77. H W Wilson, op.cit., Vol 11, p656, a photograph of five returned prisoners of Steinaecker's Horse captured in Swaziland.
78. 'Bremersdorp Destroyed. Steinaecker's Horse Attacked. The Flying Scouts Of the Eastern Border', article in The Natal Mercury, 17 August 1901, signed by 'Merhla M'Khula', the pseudonym of W Fitchett of Nomahasha. According to this article, fourteen of Steinaecker's Horse were taken prisoner, together with three civilians - Mordaunt, Miller and Johnson - who were found in Bremersdorp.
79. 'Bremersdorp Destroyed', article in The Natal Mercury, 17 August 1901. The Fitchett article notes that 'The Boer loss although not actually known was heavy'. Miller Papers, 1/08/18 MS, with reports that some twelve burghers were buried above Makahlaleka's Drift.
80. M L Ferrar, With the Green Howards in South Africa 1899-1992, (London, 1904), p 80.

81. British Parliamentary Paper, Cd 933, February 1902.
82. PRO CO 417/335, Cmdt-Gen L Botha to T Smuts, Bankplaats, 17 October 1901.
83. PRO CO 127/21, Attestation Papers Steinaecker's Horse.
84. J Watkins Yardley, With The Inniskilling Dragoons, (London, 1904), p 255.
85. Harry Vernon Woon, Twenty-Five Years' Soldiering in South Africa, (London, 1909), pp 425-6.

86. L S Amery (General Editor), The Times History of the War in South Africa, Vol V, (London, 1907), p357.
87. Jones, Biographical register of Swaziland, pp 313 and 594; Louis Creswicke, South Africa and the Transvaal War, Vol VII, (Edinburgh, s.d. L19021), p 153; Captain Maurice Harold Grant, History of the War in South Africa 1890-1092 Vol IV, (London, 1910), p371.
88. Creswicke, South Africa and the Transvaal War, Vol VII, p 153; Grant, History of the War in South Africa, Vol IV, p 371.
89. Allenby Papers, Malla Moe to Allenby, Bethel, 6 March 1902.
90. Albert Grundlingh, 'Collaborators in Boer Society' in The South African War, (London, 1980), p268.
Return to Journal Index OR Society's Home page

South African Military History Society / scribe@samilitaryhistory.org