The South African
Military History Society


---

Die Suid-Afrikaanse Krygshistoriese Vereniging
---
Military History Journal
Vol 10 No 4 - December 1996
THE DEFEAT OF HISTORY IN THE FILM ZULU
by Frederick Hale
Few topics in the history of armed conflict in southern Africa have been the subject of more intense scholarly investigation than the Anglo-Zulu War of 1879 and, within that subject, none has stimulated the imaginative creativity more than what is generally - if misleadingly - known as the Battle of Rorke's Drift. That conflagration on 22 and 23 January 1879, though arguably an entirely unnecessary and peripheral event in the course of the hostilities, resulted in the awarding of no fewer than eleven Victoria Crosses to British personnel who participated in the successful defence of a requisitioned Swedish Lutheran mission station, which was under attack just south of the Buffalo River immediately after the crushing defeat of the British by King Cetshwayo's forces at Isandhlwana. The battle received extensive publicity in the United Kingdom before gradually disappearing almost completely from the public consciousness there as the sun mercifully set on the British Empire. As one prolific English historian of the war, Ian Knight, has observed, by the 1960s 'the battle seemed destined to slide into obscurity, a footnote in an increasingly unfashionable era of the past'.(1)
That the battle did not completely vanish from the British memory - or, for that matter, from that of Anglophone South Africa and other parts of the world - was due to the production of the highly successful film Zulu, whose premiere took place in January 1964. Relying heavily on striking visual effects and making an unabashed appeal to the remnants of imperial sentiment in the 'land of hope and glory', Zulu lionised an episode of British military history and portrayed the defence of advancing western civilisation against the challenge of barbarous Africans in a violent and almost Manichaean confrontation. More than three decades later this film, with an international cast encompassing actors ranging from Michael Caine to Mangosuthu Buthelezi (the latter of whom played the cameo role of his great-grandfather, Cetshwayo) retains what eminent South African historian of the Anglo-Zulu War, Professor John Laband, believes 'can only be called its cult following'.(2) Zulu thus continues to circulate internationally in video shops and is occasionally screened or broadcast on television. As Knight argues, the imagery of this film, probably more than any of the many books that have been written about the war, has influenced how people in the late twentieth century perceive the hostilities which doomed the autonomy of the Zulu nation. He emphasises that, apart from details of uniforms and some of the British military equipment, as well as a general cinematic licence with regard to the grandeur of the setting and related matters, Zulu was an essentially realistic production of historiographic value.(3)
No serious debate about the general historicity of Zulu is known to have taken place.(4) By contrast, the subsequent South African production Shaka Zulu has been challenged as a cinematic work in which historical fact was sacrificed on the altar of domestic politics.(5) Given the unintended role Zulu has played in shaping perceptions not only of the Battle of Rorke's Drift but, contextually, of a seminal event in southern African history, especially race relations in the region, this is lamentable, especially if historical reality has been severely distorted. The present article is intended as a modest step in the direction of such an investigation. I shall examine one aspect of the historicity of Zulu that few, if any, historians in South Africa are in a position to explore, namely the film's Swedish dimension. The significance of this is arguably greater than what some historians might assume. As indicated earlier, the battle was fought on the premises of a Church of Sweden mission station. This is emphasised in Zulu. Two of the prominent European roles in the film, moreover, including the only female one, are Swedish, namely those of the missionary Otto Witt and his daughter, Elin, who for some unexplained reason is called 'Margareta'. I shall argue that screenwriter John Prebble and director Cy Endfield were simply out of their depth in seeking to depict this fundamental aspect of the events surrounding the battle and that consequently they produced an absurd caricature of the Witts and their mission. Going beyond that, I shall indicate what Otto Witt's historical place is on the basis of fairly extensive contemporary documentation, but how he himself created the original caricature of his role in the prelude to the battle.
The extensive archives of the Church of Sweden Mission in Uppsala, holdings in the Natal Archives Depot, contemporary journalistic materials, and various other contemporary historical sources allow a detailed account of the establishment of the Swedish mission station in 1878 and its principal representative in Natal, Witt, to emerge, although to date none has been published in English, and early twentieth-century chronicles produced by the Church of Sweden in Swedish surveys are unreliable, self-congratulatory, and generally unanalytical.(6) For our present purposes, the story of Otto Witt and the establishment of his station, Oscarsberg, near Rorke's Drift can be summarised relatively briefly.
The Church of Sweden Mission was founded in 1874 as an integral part of the official Lutheran religion of the state. Prior to that time, the relatively few Swedish missionaries who had propagated the Gospel abroad had either served in foreign missionary organisations or a handful of voluntary ones in Sweden. The first person whom the CSM commissioned was Witt (1848-1924), a pastor's son from Malmö in south-western Sweden who had drunk deeply from the well of the Schartauan pietistic legacy of his region without, apparently, becoming a thoroughgoing pietist. He studied theology at the University of Lund, where he received a degree in that subject in 1873 and completed his training in practical theology the following year. Witt was then ordained in Lund in 1874 and accepted a temporary call to a pastorate in Malmö. A few months later, he became a pastor in Helsingborg, Sweden. In the meantime he had married Elin Pallin, a teacher who was a few weeks older than he and would remain his life-long spouse.
The Witts left Sweden in late January or early February 1876 and travelled by rail via Copenhagen, Hamburg, Frankfurt, Basel, Lausanne, Geneva, Pisa, Rome, Naples, Alexandria, the Suez Canal, Aden and Zanzibar to Durban, which they reached on 19 April. Witt's quasi-pietistic proclivities did not prevent him from purchasing tobacco, beer, and cigars on what appears to have been a largely pleasant voyage. Furthermore, in a letter which Witt sent to the CSM from Basel, he unwittingly added to the case for better preparation of prospective Swedish missionaries by making comments which reflected his ignorance of the people whom he was to evangelise. 'There is not a trace of religion amongst them', he declared. 'They do not worship idols and, unlike other heathens, they do not have any concept of a Supreme Being. Everything of an intellectual nature is unknown to them'.(7) What Witt's sources for this unreliable information were, if not the accounts of experienced missionaries published in Scandinavian, German, and British journals, is unknown. In any case, his testimony illuminates the attitude with which he approached the mission field that he was to open for the CSM.
Witt's initial encounter with Africa was an unpleasant one which triggered at least a mildly distasteful reaction in him. At the end of February he and his wife sailed from Naples to Alexandria. From that Egyptian port he wrote to an uncle in Sweden and described both the city and its inhabitants in disparaging terms. 'Here we now sit in dirty, unappealing Alexandria, surrounded by almost exclusively red, black, and brown faces. One does not get a good impression of these unreliable people, whose only concern is getting money'. The young Swedish parson related with indignation how a customs official had had the audacity to request a bribe in return for allowing his baggage to pass through inspection without difficulty. Less indignantly, Witt admitted that in order to avoid trouble he had co-operated by giving the Egyptian the requested sum.(8)
When the Witts disembarked in Durban on 19 April, they met a Zulu whom 'the apostle of Zululand', the Norwegian Lutheran missionary H P S Schreuder, had dispatched with an ox-wagon to that port to escort them to his station at Untunjambili in north-eastern Natal. They trekked across the rugged veld and arrived at Untunjambili on 7 May.(9) There Witt served as an assistant to the imperious Schreuder for a few months, took steps towards eventually mastering the Zulu language, and gained considerable familiarity with the indigenous culture. The neophyte Swedish missionary, unlike many of his counterparts in the field, did not find the Zulu tongue intimidating. Many years later he boasted that he had memorised the Lord's Prayer in it within a few hours of his arrival at Untunjambili and that a mere three days later he had begun to assist Schreuder liturgically at that station.(10) By August, however, the Witts had moved to Schreuder's other station, Ntumeni, where they remained for more than a year. Two Swedish Lutheran colleagues, Frans Fristedt and Carl Flygare, joined them there. Together with Otto Witt, these three men formed the nucleus of the ordained corps of Swedish Lutheran missionaries to the Zulus before the outbreak of the Anglo-Zulu War. Witt evidently acquired respect for the indigenous Christians during this period and clearly appreciated the opportunity to develop as a missionary at Ntumeni, a station which had existed for approximately a quarter-century and had both a chapel and a worshipping congregation. By October Witt had preached his first sermon at Ntumeni and baptised a Zulu infant 'Utituse', corresponding to the New Testament name Titus. He was officiating regularly at worship while his talented wife served as the organist. Clearly pleased with some of the liturgical rudiments at Ntumeni, Witt boasted that the singing of the congregation 'far surpasses that in most rural churches in Sweden'. Less glowingly, he believed that the faith of most Zulu converts was fragile and needed the intercessory prayers of seasoned Swedish Christians. On the other hand, Witt confided to the CSM steering committee that at Ntumeni he did not have any 'spiritual nourishment' apart from the books he had read at the University of Lund and taken along to Africa and requested that reading material be sent to him.(11) The Witts's first child, a daughter named after her mother, was born at Ntumeni before the end of 1876.
Despite this generally auspicious beginning, Witt did not remain long at Ntumeni. In 1877 the political climate of Zululand deteriorated to the point that many of the missionaries there evacuated the kingdom. In the meantime, relations between Witt and his colleagues on the one hand and Schreuder on the other had become strained, prompting the former to intensify their search for a site on which to develop a specifically Swedish Lutheran mission station. Early in January 1878, Witt and Flygare visited north-western Natal briefly, and it was on this third sojourn in search of a site that they found what they believed was a highly suitable site for a station.(12)
Witt wrote from Greytown in January 1878 to inform his superiors that he had bought 3 044 acres of land very near to the Buffalo River, south-east of Dundee, and thus within walking distance of Zululand. He did not veil the fact that he had exceeded by £800 the limit of £1 000 which the CSM had imposed in giving him power of attorney, but he sought to propitiate the assumed anger of the committee members by emphasising that the land included buildings worth at least £500. Witt also explained that a ferry on the Buffalo River was included in the price and that the CSM could earn at least £100 annually carrying passengers on it when the river was in flood. Less exuberantly, Witt admitted that, given the international tensions in southern Africa, the proximity of the site to Zululand might be a mixed blessing and that the immediately previous owner, a man named Robert Surtees, had been willing to dispose of the property because he feared impending hostilities.(13)
As relations between the governments of Natal and Zululand became increasingly tense during 1878, Witt proceeded to develop his mission station, which he called 'Oscarsberg' after the king of Sweden. By August he could report that he had four Zulu employees, all of whom he taught to read and write their own language in morning and evening sessions. In addition, Witt sought to instruct approximately a dozen children in the afternoon but complained that 'they are not only slow to understand, but also poor in attendance'. The religious aspect of his ministry at Oscarsberg was also germinating. Witt informed his superiors in Sweden that he held weekly services of worship in one of the buildings and that generally seventy or eighty people, most of whom resided on the property, attended regularly. How many of them were converts to Christianity he did not specify. The attendance of Africans at services was not by any means evidence of their conversion; for decades missionaries in southern Africa had reported that virtually from the outset of their propagation of the Gospel, many heard them frequently but that conversions and subsequent baptisms were generally a later development. In any case, the CSM did not maintain a statistical record of such matters until after the conclusion of the Anglo-Zulu War. It should be emphasised that Witt did not have a functioning parish before that time, but had merely begun to preach the Gospel to Zulus who were interested in hearing it and singing hymns which had been translated into their language. Accordingly, the skeletal liturgy which Witt then used did not include confession and absolution of sins or, of course, the Lord's Supper. For that matter, Oscarsberg did not have a chapel at that time. In 1878 Witt arranged services either outdoors or in a building which he did not regard as a particularly suitable venue for worship, because it lacked windows. While most of Witt's missionary activity was then at Osearsberg, he also began to visit people in their kraals. This itinerant evangelism occasionally took him across the Buffalo River into Zululand proper, though certainly not near the royal kraals, which lay far to the east.(14) Meanwhile, Witt's wife devoted much of her time to caring for their small children. The onset of war in January 1879 threatened the scant progress they had begun to make in developing the nucleus of what would evolve into a prosperous mission station during the 1880s.
To anyone familiar with these basic and readily documentable historical facts, those segments of Zulu that deal explicitly with Otto Witt and his daughter are a caricature of enormous proportions which compromises the overall verisimilitude of the film. Let us begin with the Swedish missionary. His part is played by Jack Hawkins (1910-1973), who was then fifty-three years old, or more than two decades older than the historical Witt, and certainly looked at least his age in the film. Hawkins had belatedly established his professional reputation playing such fitting military roles as Major Warden in The Bridge on the River Kwai (1957) and General Allenby in Lawrence of Arabia (1962).
A much different and but no less severe distortion of history occurs in the portrayal of Elin Witt, the daughter of Otto Witt. In the film her part, the only female European role in Zulu, is played by the artistically only marginally distinguished but pulchritudinous Swedish actress, Ulla Jacobsson (1929-1982), a native of Göteborg whose earlier cinematic career had encompassed films in Sweden and elsewhere in Europe. After beginning on the stage at Göteborg City Theatre in 1948, she had gained notoriety as early as 1951 by playing in what was then regarded as a highly suggestive nude scene in the Swedish film Hon dansade en sommar, which was released in Anglophone countries as One Summer of Happiness. Perhaps more than any of its counterparts, this film helped to create the international image of Swedish sexual promiscuousness. In 1957 the multilingual Jacobsson had settled in Vienna, where she had been employed on Austrian television and also garnered roles in Austrian and West German theatrical productions. She married the Austrian ethnologist, Hans-Winfried Rohsmann, as her third and final husband. They had two children. Jacobsson died of bone cancer in August 1982 at the age of fifty-three years ~ Precisely why at the age of thirty- four she was cast to play the role of a two year old is impossible to ascertain. Against the backdrop of his severe misunderstanding and irresponsible portrayal of Otto Witt, it seems plausible, of course, that Prebble simply failed to do proper research and did not know anything about the Witt family, even though the most rudimentary facts were readily accessible from standard historical sources in Sweden. On the other hand, it is equally plausible that historical accuracy was not a matter of concern, or that it was subordinated to the financial incentive of creating a role for a beautiful, young Swedish actress with an international reputation for salacious performances to enhance the box office appeal of the film. In any case, Ulla Jacobsson was actually slightly older than the historical figure whose daughter she played in Zulu but, less absurdly, only nineteen years younger than Jack Hawkins, her dramatic father in that film. The historic European woman conspicuously absent from Zulu is Otto Witt's wife, Elin, who accompanied him from Sweden to Natal, gave birth to two children in that colony, and assisted her husband in establishing Oscarsberg. No reference to this musically talented and assiduous female missionary occurs in the film. No explanation, moreover, is given for Elin Witt's absence from its plot. The most plausible inference which uninformed viewers might draw from seeing Zulu is that Otto Witt was an ageing, ranting widower in 1879 and that his adult daughter, who understands virtually nothing of Zulu folkways, is merely visiting him at his remote station when the battle erupts. That, of course, is historic nonsense.
With this bizarre representation of the Witt family in the cast and considering the apparent ignorance of Prebble and Endfield which underlies it, the deck is arguably stacked against historical accuracy in Zulu. Indeed, not only what the Witts are but also most of what they do in the film flies in the face of documentable reality.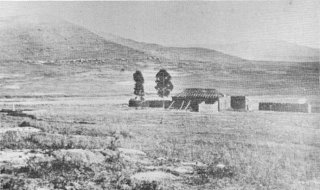 The ruins of the Oscarsberg, scene of the battle on 22 and 23 January 1879.
(Photo: South African National Museum of Military History)


[

In this respect Zulu gets off to a historically weak - if visually striking - start, by depicting Otto and Elin Witt as spectators at a mass wedding of Zulu warriors and their young brides at one of the royal kraals on 22 January 1879. The two Swedes are apparently guests of Cetshwayo, at whose left side they sit during the frenzied dancing which comprises much of the ceremony. Despite the blazing heat of that January day, Otto Witt is formally dressed in a black coat, black hat, and necktie. By contrast, his winsome daughter wears a white dress and a beige hat. The senior missionary is depicted as a sagacious man who understands Zulu culture and patiently answers Elin's questions, posed in English with an unmistakable Swedish accent, about the festivities. When she enquires about the meaning of the spears which some of the dancers carry, Otto Witt replies cryptically, 'A symbol of their chastity, daughter'. Foresaging the course of events later that day, he speaks to Cetshwayo, who has asked him whether he is pleased to see so many men from his army take wives simultaneously. Witt replies via a messenger to the monarch who is seated almost within arm's reach and explains to his daughter, 'I told him I was unhappy to see so many brides who may soon become widows'. He is, moreover, defensive about Zulu culture. His daughter acknowledges that the dancing is 'splendid' but adds that 'it's quite horrible too, isn't it?', compelling him to begin the string of decontextualised Biblical quotations which collectively form much of his persona: 'What went ye out into the wilderness to see? A man clothed in soft raiment?'(16) The elder Witt generalises that 'they are a great people, daughter'. She protests against the institution of arranged marriages amongst the Zulus, prompting him to justify the institution by observing that in Europe some women accept arranged matrimony to 'rich men' while in Africa 'perhaps the Zulu girls are luckier - getting a brave man'. The scene ends after a messenger arrives and informs Cetshwayo of the victory over the British at Isandhlwana. In the wake of this triumph, the Zulu monarch and his men agree to advance on Rorke's Drift and cross the Buffalo River, where the British have a small force at the Oscarsberg mission station. Otto Witt overhears their plans and immediately departs with his daughter in their carriage to warn the British of the impending disaster.

Almost none of this is grounded in historical fact. As mentioned earlier, Elin Witt was then only two years old; she, her mother, and younger brother had already left Oscarsberg to take shelter at the Scottish Gordon Memorial Station. Far from attending a Zulu wedding that morning, Otto Witt spent it at his station with the British. He had become well acquainted with their chaplain, George Smith, and Surgeon-Major James Henry Reynolds. The three had ascended Shiyane, the large hill near the station, and noticed the approach of the Zulu force across the Buffalo River. The only significant element of approximate truth in the depiction of Otto Witt in the fictitious wedding scene is his expression of respect for the Zulus. As we shall see, he would later emerge as their qualified defender in the British press, thereby taking a position which set him at odds with prevailing colonial sentiment in Natal.

The Witts of Zulu cross verbal swords with the British lieutenants Gonville Bromhead and John Chard who command the troops at Oscarsberg before the Zulus attack. In the Prebble-Endfield scheme, the elder Swede is a religious fanatic, and his daughter leaning in the direction of becoming one, whose world has no apparent place for moral ambiguity. While the weak Bromhead vacillates between trying to live up to his family tradition of membership in the British officer corps and revealing his unsuitability for that persona, and Chard discloses after the battle that he has no stomach for further combat, Otto Witt is unburdened by doubt about the incompatibility of war with his Biblical faith. Fortified by news of the carnage at Isandhlwana, he informs Chard that he is willing to transport the British soldiers already in the impromptu infirmary to a more secure site and tells his daughter to tell them to prepare to leave. Riled by what he perceives as civilian impertinence and a challenge to his authority, Chard asks him sarcastically whether he holds 'the Queen's commission'. Unruffled, Witt responds that he is 'a man of peace'. The British commander then asks this missionary how he knows what Cetshwayo is doing. In a glaring departure from historical fact, Witt replies that the Zulu monarch is 'a member of my parish'. In fact, Cetshwayo not only had refused to convert to Christianity but, at times, had actively discouraged his subjects from doing so and, in any case, he resided too far to the east of Rorke's Drift to have been a member of a parish there, had one yet existed. While Bromhead and Chard cast desirous glances at his daughter, Witt then uses the Scriptures as a verbal weapon in his attempt to convince these two Englishmen that they await the same fate which befell their colleagues at Isandhlwana earlier in the day. Quoting Psalm 33:16 to Chard out of context, but in impeccable, unaccented English, he declares, 'the Book says, "There is no king that can be saved by the multitude of a host, neither is any man . .."'. Neither does Elin Witt refrain from giving Chard a piece of her mind. When he informs her father that he has no right to tell him what his duty is, she retorts: 'It is not your duty to sacrifice the sick'. Chard responds obliquely: 'Are you a student of tactics, too, Miss Witt?' She answers by posing a likely question: 'Are you a Christian?' and insists that 'it is your duty to let us take those men away'.

Four minutes later the Witts are in the chapel at their station. Unlike the historic building, that of the film has windows and appears to have done ecclesiastical service for many years. Soldiers under the command of Surgeon-Major Reynolds enter and, over the vehement protestalions of Otto Witt, proceed to transform the altar into a surgery table. Prebble and Endfield then show their greatest creativity with regard to this missionary, though from a thoroughly cynical perspective. Expelled from his sanctuary, Witt takes temporary refuge in another room, where he retrieves a bottle of liquor from its hiding place immediately under the thatched roof and imbibes directly from it. Having done so, he folds his hands in prayer. Before Witt has spoken his first petition, however, Colour-Sergeant Bourne and another red-coated soldier burst into the room. Witt explains to the former, 'I was praying that your officer may turn to God's Word'. The sergeant responds, 'That's right, sir. A prayer is as good as a bayonet on a day like this' and mentions that his father was a lay preacher who especially liked the Psalms. This bit of seemingly common ground allows Witt to believe he has found a spiritual ally. He responds by asking Bourne to 'lift your voice to God'. His red-coated conversation partner quotes Psalm 46:9: 'He breaketh the bow, and snappeth the spear in sunder' and asks Witt whether he knows that text. The overjoyed Swedish parson replies by reciting the rest of the verse, again in flawless English: 'I shall be exalted among the heathen, I shall be exalted in the earth, the Lord of hosts is with us'.

Witt increasingly becomes a thorn in the side of the British commanders as his exhortations to leave counter their intentions to defend the station militarily. 'Brothers, oh brothers. The way of the Lord has been shown to us! "Thou shalt not kill, saith the Lord". Brothers, oh brothers! God's love is peace', he pleads with a profusion of homiletical gestures. 'Go in peace, stay not to kill and be killed. Go, I say'. Somehow understanding his English words and heeding them, many of the Zulus who have been working for the British respond by fleeing. Spurred by the effectiveness of his admonition, Witt turns to the remainder and warns them that 'the sin of Cain will be upon you' and reminds them that like Cain, they are their brother's keeper. A few of the remaining Zulus react by discarding their bandoliers and leaving the scene, to the visible dismay of Lieutenant Chard. The British personnel are thus even more isolated than previously.

After Witt tries to interfere with the use of wagons to form part of the barricades surrounding Oscarsberg, Chard orders him locked up in the store room and his daughter sent to the chapel to assist Reynolds. The incarceration of the missionary sets the stage for his further caricaturing. As the Zulus approach the station, Witt speaks through the boards of his impromptu cell, exhorting the young British soldier who is guarding him not to emulate Cain and kill his brother. tYou believe in the Lord's Word, don't you?' he asks, as the callow youth listens nervously. 'Obey the Word, boy. Obey the Lord. Go to the others, boy. Go to the others'. Colour- Sergeant Bourne then appears at the store room. When the young soldier begins to tell him, 'Mr Witt says ...`, Bourne tells him not to mind the missionary and, when the youth leaves, asks Witt to 'be quiet now, like a good gentleman. You'll upset the lads'. This massive sergeant still feels some affinity with Witt's message in a time of great duress, however. When the missionary breaks the glass in a window and quotes from Psalm 46:9, Bourne responds by continuing the quotation as a long line of Zulu warriors appear on a hill above Oscarsberg. After the first attack and retreat, Chard decides to use the opportunity to get the Swedes to leave. Two soldiers retrieve Otto Witt from the store room; Bourne confiscates his bottle as Witt is led out. Chard escorts the Witts to their carriage and implores Elin to drive her besotted father eastward. The morally fallen missionary utters his final words in Zulu as they leave Oscarsberg late in the afternoon: 'Can't you see? You're all going to die! Die! Death awaits you all! Die! Die!'

Much of the rest of Zulu is devoted to proving how the valiant red coats overcome this seemingly safe prediction and fend off the attacks of the indigenous savages. The Witts do not reappear in the film, which becomes, for the most, part, a reasonably accurate portrayal of documentable history. The damage to the Swedish missionary historical record is done almost entirely during the first half of Zulu.

The behaviour of the historical Witt differed almost entirely from that of the silver screen, Far from being a pacifist who vociferously resisted the British military use of Oscarsberg, he had co-operated closely with them there and negotiated with them the terms of a lease. Witt had initially insisted that the British pay £14 per month for use of the manse, a sum which he believed would suffice for the support of himself and his family elsewhere while the station was occupied. Lord ChElins- ford had countered with an offer of only £5 per month. When Witt had protested against this, the British general had threatened to expropriate Oscarsberg without compensation. This bluff, if indeed it was that, succeeded. Witt had managed, however, to arrange with another officer to get £9 per month for the use of the other major building and £5 per month for use of the ferry. Before a contract could be written, though, Oscarsberg was destroyed.(17)

The scene in which the inebriated Witt and his daughter drive off in a carriage during a lull in the battle also contradicts his own testimony. In his memoirs, he claimed that a Swedish engineer had been visiting him at Oscarsberg and that the two of them had left on horseback for Gordon Memorial shortly before the battle.(18) When interviewed in London a few weeks later, Witt explained why he had left Oscarsberg at all. His words hardly betray pacifist sentiments: 'Though wishing to take part in the defence of my own house and at the same time in the defence of an important place for the whole colony', he asserted patriotically, 'yet my thoughts went to my wife and to my children, who were at a short distance from there, and did not know anything of what was going on ...(19)

It should be emphasised that Prebble and Endfield were not the first to embellish historical facts concerning Otto Witt's role in the Anglo-Zulu War. That dubious distinction goes to Witt himself. After riding away from Oscarsberg, he found his wife and children at Gordon Memorial and took them first briefly to Pietermaritzburg, then by omnibus to crowded Durban, where many other missionaries had gathered to wait for the hostilities to end. Acting on his own initiative, Witt and his family sailed away from Natal on 11 February, returned to Sweden, and did not set foot on African soil again until 1880. En route to his homeland, Witt stopped briefly in London, where he accurately perceived the English hunger for first-hand accounts of the war and immediately shared his, initially with journalists who met the Warwick Castle when he disembarked on 4 March and later when reporters from several British newspapers interviewed him in London, as well as in a speech he delivered at the City Temple on 12 March. In a lengthy article, 'The Disaster at Isandula [sic]', which he wrote for The Daily Telegraph and which was reprinted in other newspapers, Witt unquestionably exaggerated his role as a witness to that battle. He declared that he had ascended the hill at Oscarsberg and, from its summit, had 'an excellent view of what was going on at a distance of three miles (4,8 km) as the crow flies'. Presumably few readers of The Daily Telegraph or the other newspapers in question could have realised that the Isandhlwana battlefield lay much farther than that distance from Witt's vantage point, from which he may well have seen some staging areas but hardly much of the actual fighting, at least not that which he described in terms so graphic that they actually may have diminished the credibility of his account in the eyes of critical Englishmen. 'Behold on the one side a thousand soldiers, reinforced by equal their number of black ones, leaving their camp to attack an enemy more than ten times their number', he urged readers. 'Behold on the other side this mass of Zulus, who, close together, walk straight against the mouth of the cannons. Look how thousands after thousands are killed, and nevertheless the mass prevails without fear over the dead bodies of their comrades against the destroying weapon.' Witt then proceeded to describe in similar cadences the carnage at Oscarsberg, notwithstanding the fact that he had ridden away from his station before the battle got underway. Before leaving his station, Witt related, he had seen the first part of the assault. 'Before I started[,] I saw a Zulu alone at the barricade, kneeling and firing. The whole force drew nearer; the battle grew heavier. Soon the hospital was on fire.'(20)

When interviewed by Colonial Secretary Sir Michael Hicks-Beach as a supposed authority on Zulu affairs, Witt made it clear that he did not oppose British intervention against Cetshwayo. He generalised that the Zulus 'did not like Cetshwayo at all ... because he was a tyrant of the worst kind, and no one was safe under his rule'. Reflecting a widely held missionary belief, Witt expanded on this by commenting on Cetshwayo's persecution of subjects who went to mission stations; 'those who did so were marked for death'. At the same time, however, the outspoken Swede defended the Zulus of Natal and averred that 'the colonists generally treat the kaffirs very badly - just as dogs. Therefore if they felt themselves able to drive the white settlers out of the colony they would do so at the first opportunity.'(21) Returning to Zulu, one must ask what Prebble and Endfield gained by sacrificing so much historical accuracy in their misrepresentation of the Witts. That question cannot be answered without reference to the overarching purpose of portraying the British defenders of Oscarsberg. Zulu, after all, opens with a horrific scene of British corpses littering the smoking ruins of the Isandhlwana battlefield after their annihilation at the hands of the indigenous forces, and it ends with a catalogue of the eleven men who were awarded Victoria Crosses. The message of Zulu is readily comprehensible: British valour overcomes even the longest odds, not least when the defence of Western civilisation is the issue.

The caricature of the Witts, particularly Otto, who generally serves as a foil to the British, supports this portrayal of the national character. The Swedish missionary, after all, is a hypocrite, a man who demands fealty to divine ethical commandments but is a clandestine alcoholic. With the exception of the hard-drinking ex-convict Henry Hook - himself a foil to most of his colleagues in uniform - the British soldiers seem morally almost impeccable. Furthermore, in contrast to Witt's ranting, the military personnel are an incredibly level-headed lot, and the advance of staggering numbers of Zulu warriors does not diminish their equanimity. Finally, and this is arguably the summit of the contrast, clad in black and gesticulating like an agitated revival preacher, Witt represents the Word of God, or at least a human distortion of it. This distorted Christian oracle predicts a secular Armageddon for the British at Oscarsberg and urges them to avert it by turning from their sinful ways. His confrontation with them is a gaudy microcosm of the proclamation of the Gospel in general. Resplendent in their scarlet tunics, however, the British overcome even what two of them, namely Colour-Sergeant Bourne and the youthful soldier who temporarily guards Witt, recognise as their own spiritual legacy by flouting deontological ethics of Old Testament prescription and, in doing so, disproving what the self-assured Witt has insisted is their bloody fate. As the British heroes work out their own worldly salvation, Prebble and Endfield condemn a chapter of South African and Swedish missions history to the Inferno of historical absurdity (22)

Notes

1. Ian Knight, Nothing Remains but to Fight (London, Greenhill Books, 1993), p 154.
2. John Laband (Pietermaritzburg) to Frederick Hale, 16 March 1995.
3. Ian Knight and Ian Castle, The Zulu War - Then and Now (London, Battle of Britain Prints International, 1993), p 256.
4. Interviews with John Wright and John Laband, Pieterrnaritzburg, 31 March 1995.
5. The most incisive piece in this debate is C A Hamilton, 'A Positional Gambit: Shaka Zulu and the Conflict in South Africa', Radical History Review, no 44 (1989), pp 5-31.
6. Easily the most detailed historical account is Frederick Hale, 'The Missionary Career and Spiritual Odyssey of Otto Witt', Doctor of Philosophy thesis, University of Cape Town, 1991.
7. Otto Witt (Basel) to Missions-Tidning, 15 February 1876, in Missions-Tidning, I, no, 2 (1876), pp 28-31.
8. Church of Sweden Mission Archives, A II: 1, Bilagor till Svenska Kyrkans Missionsstyrelses Protokoll 1874-1879, Otto Witt (Alexandria) to unspecified uncle, 7 March 1876.
9. Otto Witt (Untunjambili Mission Station) to Missions-Tidning, 30 May 1876, in Missions-Tidning, I, no 8 (1876), p 126.
10. Witt, Märkliga livserfarenheter, p 12.
11. Church of Sweden Missions Archives, A II: 1, Bilagor till Svenska Kyrkans Missionsstyrelses Protokoll 1874-1879, Otto Witt (Ntumeni Mission Station) to CSM Steering Committee, 10 October 1876.
12. C L Flygare (Durban), to Missions-Tidning, 31 December 1878, in Missions-Tidning, LV, no 5 (1879), p 100.
13. Church of Sweden Mission Archives, A II: 1, Bilagor till Svenska Kyrkans Missionsstyrelses Protokoll 1874-1879, Otto Witt (Greytown), to CSM Steering Committee, 11 January 1878. Ian Knight's recent history of the 1879 battle at the station continues a long tradition of unreliability in summarising the history of the origins of Oscarsberg. He writes that 'the new owner of Rorke's Drift was a Swedish missionary the Reverend Otto Witt... He had, however, christened Shiyane "Oskarberg", after the King of Sweden', see Nothing Remains but to Fight, p 32.
14. Otto Witt (Oscarsberg Mission Station) to Missions-Tidning, 21 August 1878, in Missions-Tidning, [II, no 10 (1878), pp 206-213.
15. 'Ulla Jacobsson död', Dagens Nyheter (Stockholm), 24 August 1982, p 18; '100 miljoner människor såg henne i filmsuccén, Göteborgs-Posten, 24 August 1982, p 35.
16. The allusion is to Matthew 11:8, where Jesus apparently is referring to John the Baptist. Witt's quoting of this verse is thus entirely inappropriate and decontextualised.
17. Church of Sweden Mission Archives, A II:1, Bilagor till Svenska Kyrkans Missionsstyrelses Protokoll 1874-1879, Otto Witt(Stockholm) to CSM Steering Committee, 2 May 1879.
18. Otto Witt, Märkliga livserfarenheter. Minnen ur det flydda (Stockholm, privately published, 1922), pp 19-22.
19. The Times (London), 6 March 1879.
20. The Times, 6 March 1879.
21. The Daily News (London), 8 March 1879.
22. I wish to acknowledge my gratitude to F R Floan for invaluable technical assistance which facilitated my international research on the film Zulu.

Return to Journal Index OR Society's Home page

South African Military History Society / scribe@samilitaryhistory.org