The South African
Military History Society


---

Die Suid-Afrikaanse Krygshistoriese Vereniging
---
Military History Journal
Vol 10 No 2 - December 1995
(incorporating Museum Review)
PARATROOPING PIONEER
David McCombe, South Africa's first serving paratrooper
by Col McGill Alexander
Introduction
During the years of conflict in which South Africa was involved in Namibia and Angola, the South African Army built up a formidable airborne force in the shape of 44 Parachute Brigade. This formation had its origin in the establishment of 1 Parachute Battalion in Bloemfontein on 1 April 1961.(1)
Founded by fifteen South Africans who had been trained as parachutists in the United Kingdom in the previous year, 1 Parachute Brigade is popularly regarded as the first South African parachute unit. However, the Union Defence Forces (UDF) had already established a paratroop company during the Second World War.(2) In recent years some information has been published on this scarcely known paratroop company, which was formed as a sub-unit of the South African Air Force Regiment.(3) However, very little has been written about the individuals involved in the early efforts to provide South Africa with an airborne capability.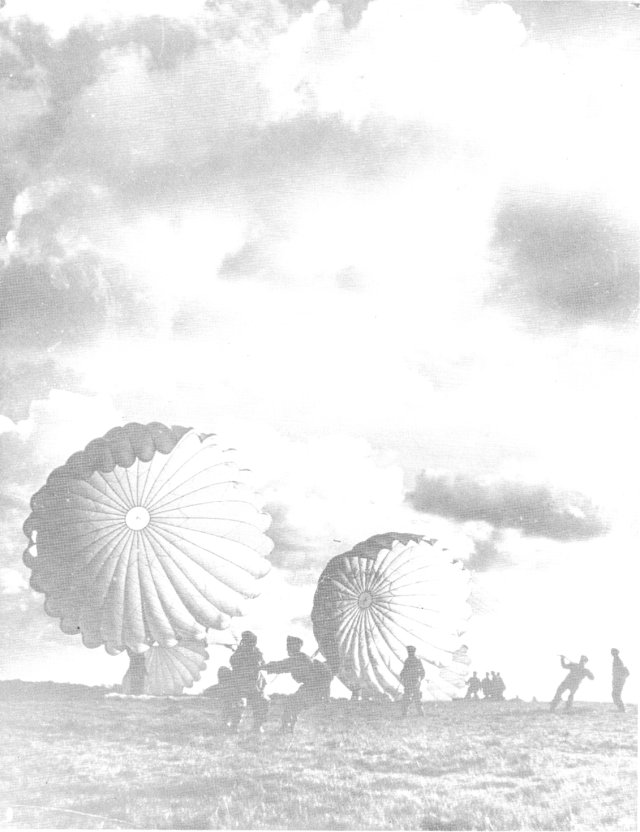 British paratroopers practice their landings
(Photo: SA National Musuem of Military History).
Captain David McCombe, the first South African serviceman to be trained as a paratrooper, was one of these men and played a crucial role in these efforts. His story is an interesting aside to the history of South Africa's airborne forces, as well as her participation in the Second World War.
McCombe was not the first South African to carry out a parachute descent; this honour went to a Professor Spender, who jumped from a balloon over Newlands in the Cape in 1895.(4) The first South African serviceman to do a jump was Colonel Sir Pierre van Ryneveld, Director of Air Services, in 1926.(5) Neither was McCombe the first South African to be trained as a paratrooper. This claim to fame belongs to a man who was trained by the Nazis in Germany in 1939. He was the notorious Robey Leibbrandt, who was studying in Berlin when South Africa declared war, and who later slipped back into this country to commence his Fifth Columnist activities.(6) However, David McCombe was the first South African to make a detailed study of the military application of vertical envelopment, and his contribution to airborne operations is examined in this article. Also discussed are the origins of the airborne concept in South African thinking, David McCombe the man, his feasibility studies, the founding and disbandment of the South African Paratroop Company and, finally, McCombe's own participation in the historic Battle of Arnhem.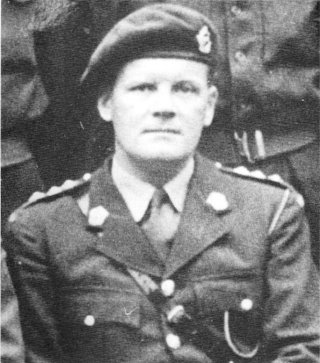 Captain David McCombe in England just before the battle of Arnhem, wears SAAF insignia on his red beret.
(From a group photo of the Headquarters Staff, 1st Airborne Division)
The airborne concept
At the start of the Second World War in 1939, the Allies had not yet developed an airborne doctrine. Airborne operations simply did not form part of their military thinking and no true airborne forces existed in the Allied Order of Battle. In contrast, the Germans had studied this form of warfare and had integrated it into their Blitzkrieg concept. During the invasion of the Low Countries and Norway in 1940, the Germans used their paratroops and gliderborne troops to exceptional effect. The Allies were dumbstruck and quickly began a frantic programme of research and training to build up a similar airborne capability themselves.
Interestingly, it is a little known fact that South Africa was well ahead of Britain and the other Allies in grasping the value of the airborne concept. As early as 25 June 1940, the Union Defence Force had conducted an airborne exercise, having commandeered a fleet of Junkers Ju52 trimotor aircraft from the South African Airways (SAA) for war service. 'A' Company, 1st Transvaal Scottish, was airlifted in eight aircraft from Swartkop to Pietersburg for the exercise and flown back on the same day.(8)
Although the exercise had many shortcomings, it illustrated a clear understanding of the essence of airborne operations - speed of deployment over a long distance, culminating in an unexpected direction of approach across all natural obstacles and concluding with a quick extraction. This exercise was a precursor to the detailed planning of an actual airborne operation by South Africa, after intelligence reports had indicated that the Germans were planning to seize Delagoa Bay.
To prevent this, South Africa had to prepare a contingency plan for the occupation of Lourenzo Marques (now Maputo). The newly formed 6th South African Infantry Brigade (the Police Brigade), commanded by Col F W Cooper, was instructed to train two police battalions to carry out an airlanded operation.(9)
A series of exercises were held between 9 and 15 July 1940, during which these troops were airlifted from Waterkloof Air Station, mock attacks by Hawker Hartbees aircraft were carried out on the Wonderboom airfield, and the troops were then airlanded from Ju52 aircraft approaching at 50 feet (15,25 metres) above ground level. The troops deplaned on landing and 'captured' aircraft hangars and other key buildings. The brigade subsequently worked out detailed load manifests, weights and loading tables in preparation for the actual operation.(10)
Although the airborne occupation of Lourenzo Marques was ultimately never necessary, much can be said for South Africa that such an imaginative operation had been planned at a time when the Allies had not yet carried out any airborne operations.
David McCombe
David McCombe was a Scotsman who came to South Africa in 1936 for the Empire Exhibition.(11) Born in the County of Dumbarton, he was an accountant by profession and, as a widower, he was looking for a new life. He clearly liked South Africa, as he decided to stay on and adopt the country as his own. Working for the Board of Executors Trust, he became an estate agent. When South Africa declared war on Nazi Germany in 1939, McCombe joined the Union Defence Force in a civilian capacity. The following year, on 10 June 1940, he joined the South African Air Force and was commissioned as a 2nd lieutenant in the Radio Signals Company, at the ripe old age of 34, after only one month in uniform.(12)
Having attested in Johannesburg, McCombe initially served with the SAAF Radio Signal Company at the Showgrounds in Pretoria, where he had probably been involved in a civilian capacity prior to this. McCombe was promoted to the temporary rank of lieutenant in January 1941 and the next month was transferred to the SAAF Signal Training School in Tempe, Bloemfontein (the current base of 44 Parachute Brigade). He was not there for long, however, and was then posted to Air Force Station, Kimberley. He was promoted to the acting rank of captain in May 1941 and to temporary captain in October of that year.
McCombe's feasibility studies
In the meantime, in the upper echelons of the UDF, the concept of airborne operations continued to receive serious consideration. Perhaps the idea was kept alive because, in December 1941, a frantic request from the Middle East had been received in Pretoria for details of the airborne training carried out by the Police Brigade earlier that year.(l3) This information was apparently required by the British, who were in the process of building up their own airborne forces.
By March 1942 the Chief of General Staff, Lt-Gen Sir Pierre van Ryneveld, was propagating the establishment of an airborne brigade in the Union.(14) Although this was a pipe dream, given South Africa's shortage of manpower and Britain's inability to provide the required equipment, the idea of an airborne force persisted.
David McCombe was then recalled from Kimberley to Pretoria and briefed for a special mission. He was to investigate the viability of establishing an airborne force in South Africa and, for this purpose, he would be detached for Special Duties to the United Kingdom Forces in July 1942. According to his widow, Mrs Doris McCombe, the driving force behind his appointment for this task was Air Commodore 'Bunty' Frew, DSO, MC, AFC (later Air Vice-Marshal Sir Matthew Frew), head of the British Air Liaison Mission in South Africa.(15)
On 26 July 1942 McCombe embarked on the SS Stratheard and, on his arrival in Britain, he reported to the High Commissioner at South Africa House in London.(16) During the next six months he undertook an exhaustive study of every known aspect of airborne operations then available in Britain. He gathered masses of documentation, including blueprints for erecting parachute training apparatus, and detailed content of parachute course programmes. All this he forwarded to the Union Defence Force authorities via the office of the High Commissioner. In addition, McCombe qualified as a parachutist at the Royal Air Force's Central Landing Establishment in Ringway, Manchester, becoming the first South African serviceman to have undergone parachute training. He also received training in gliders. Badgered by the Defence Headquarters to provide recommendations regarding gliders and glider pilot training, he consulted the British Ministry of Aircraft Production at Millbank about the possibility of manufacturing the Horsa troop-carrying glider in South Africa.(17)
Unfortunately, the non-availability in South Africa of aircraft spruce, the only type of wood from which the Horsa glider could be manufactured, put an end to that possibility. The British recommended that the South Africans try the US-built Waco (Hadrian) glider, which was produced largely from steel tubing and canvas fabric.(18) This too, came to naught, as the Allies did not regard the development of airborne forces by South Africa as a priority.
McCombe, adhering doggedly to his task, also obtained information on US paratroop training. He made contact with the Polish engineers who had constructed some of the British parachute training apparatus. Lt-Col George Iwanowski of the Polish Forces' Engineer Training Centre in Falkirk had designed and erected three parachute training towers for the British Airborne Forces. He provided McCombe with photographs and drawings of his towers and expressed his willingness to help in any other way possible.(19)
By 15 December 1942, McCombe had produced an incredibly comprehensive 'Report on British Airborne Troops with Special Reference to Training and Equipment of Parachute Troops and Air Landing Troops.'(20) It was a monumental study: a fine example of thorough and detailed staff work which had eleven files of documents as appendices. Included were aspects such as organisation, training, equipment, air support, operational exercises and a host of technical data, as well as US training techniques.
Having arrived back in South Africa on 26 January 1943, McCombe took leave to marry Doris Roberts, a South African girl living in Johannesburg.
Within a month, the dour South African Scot's report was being acted upon. In February 1943, the Chief of General Staff issued instructions that the Director-General of the Air Force and Captain McCombe were to be involved in consultations to consider the means and equipment required for the establishment of a South African airborne unit consisting of two companies - one of parachute troops and the other of gliderborne troops.(21) The initial grandiose ideal of an entire airborne brigade, just a year previously, had by then shrunk more soberly to the size of an under-strength battalion.
On 6 March 1943, McCombe, again illustrating his penchant for impeccable staff work, submitted a 'Memorandum on Requirements for a Proposed Parachute and Glider Training Unit Establishment.'(22) As before, he concentrated on the crucial technical issues of training, rather than on the operational unit itself. However, this report clearly indicated that the project would be neither cost nor time effective. Reality, it seems, had caught up with the idealists and the idea of a South African airborne force appears to have been shelved.(23)
The first South African parachute unit:
Stillborn in adversity
Unexpectedly, a new development in the Allied strategy injected fresh hope for the proponents of a South African airborne capability. The success of British and US paratroops in North Africa in November 1942 had resulted in a concerted effort by the Allies to increase their capabilities for airborne operations. With the invasion of Europe by the Allies becoming an ever more imminent likelihood and with the assault on Sicily already being planned, a call went out for more volunteers for the paratroops.
The Imperial General Staff in London instituted a scheme to recruit volunteers from the Dominions for the British Airborne Forces. South Africa was requested to raise a parachute company for service with a British parachute battalion in the Middle East.(24)
In South Africa, the scheme was approved in principle by Field-Marshal Smuts. However, owing to the shortage of manpower and the need to bring the 6th South African Armoured Division up to full strength, Defence Headquarters in Pretoria ruled that no volunteers could be drawn from armoured, infantry or artillery units in the Union, and that the South African Air Force would have to provide the company. The 9th Battalion, Reserve Brigade, which was serving as a reinforcement and training unit in the Middle East, was also made available for this purpose. Unfortunately, however, members of this unit were only permitted to come forward as volunteers until the end of July 1943.(25)
On 1 August 1943, the South African Air Force Regiment (Armoured and Airborne) was established. Its airborne component, the Paratroop Company, was to be formed at 75 Air School, Lyttelton (the present location of the 101 Air Supply Unit).(26)
There was a quick response to the call for volunteers in the Middle East, and 36 were soon recruited. More than half of these were drawn from the 9th Reserve Battalion, but others had managed to worm themselves in from other units, including six from the 6th SA Armoured Division and several SAAF personnel. Three officers had also made themselves available for the new unit.(27)
While recruiting in the Union commenced, Captain McCombe was sent to the Middle East to look into possible alternatives for the training of the paratroop company. He left Pretoria by air on 3 August 1943 and arrived at South African Base Helwan in Egypt on 6 August. For the purposes of his investigation, he was entitled to the local acting rank of major for one week.
He then returned to the Union, arriving back at Swartkop Air Station on 3 September. In his by then expected professional manner, he submitted a report spelling out all the options and their implications. It was very clear, however, that the only viable course of action would be to train those volunteers already in the Middle East at the British Parachute School at Ramat David, in Palestine, while volunteers undergoing infantry training at Lyttelton, Pretoria, could later also be sent to Palestine to undergo their parachute training there.(28)
As the volunteers in each group completed their training, they would be attached to the British 11 Parachute Brigade, initially as a South African platoon and ultimately as a company. This was the battalion with which these men were earmarked to eventually go into action.(29) The SAAF Parachute Company at Lyttelton had, in the meantime, been recruiting hard from the limited source at its disposal. By the end of October, it had managed to gather some 66 volunteers.(30) According to one of the officers who served with the company, Captain Ossie Baker, the volunteers included many veterans of the returned 1st South African Infantry Division, as well as a number of 'new-boys' who had been 'washed' from the pilot's course.(31) However, given the manpower demands of the 6th SA Armoured Division in Egypt at the time, and the decision of Defence Headquarters, it seems unlikely that they came from any source other than the Air Force.
Officers, obviously, were another matter, as there was a need for experienced combat veterans as leaders. The company commander, Captain Tony van Niekerk, MC, had served in the 4th SA Armoured Car Regiment in the Western Desert. Captain Ossie Baker, himself a veteran of the 1st SA Infantry Division, had been an instructor at the Armoured Corps Battle School at Premier Mine and, when the Paratroop Company had been put through a one-month course at the school, he had been recruited to join them as the second-in-command. Following Tony van Niekerk's death when he rolled a Jeep on the parade square of the Military College, Ossie Baker took over command of the company.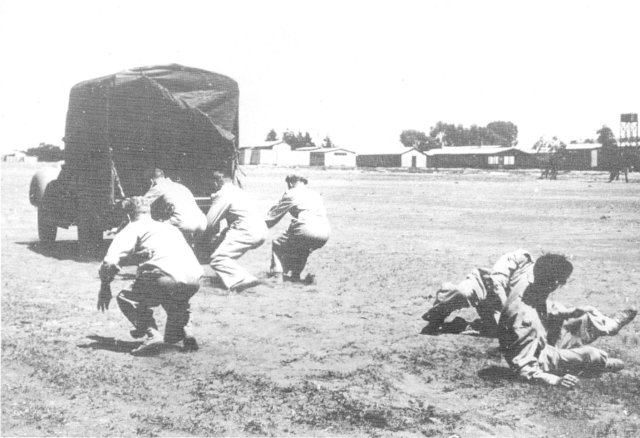 Prospective paratroopers jump from a moving truck in an effort by the SAAF Paratroop Company to simulate a parachute landing.
(Photo: Ossie Baker).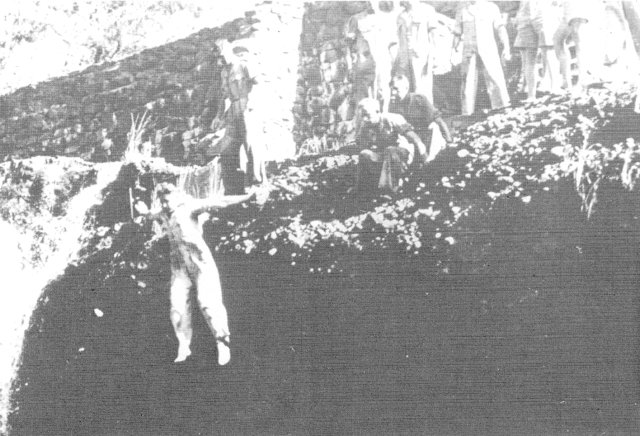 Volunteers for the SAAF Paratroop Company leap from a 17-meter high cliff into a deep pool of water at Premier Mine Battle School in 1943.
(Photo: Ossie Baker).
The company trained hard, simulating parachuting by jumping from the top of a 17-metre high cliff into a deep pool of water and from the back of a truck moving at speed across a parade square.(32) Unfortunately, this training proved in vain. At the end of November 1943, the battle for manpower resulted in a mortal blow to the SAAF Paratroop Company when the Chief of General Staff decided to cancel all plans for an airborne company and the SAAF Regiment was ordered forward to provide reinforcements for the 6th SA Armoured Division.(33) The unit amalgamated with the Natal Mounted Rifles to form an armoured regiment. The South African 'paratroopers' had not even completed a single parachute jump.
The volunteers from the 9th Reserve Battalion and other Middle East units, whose numbers had by then dwindled to nineteen, had been left waiting expectantly at Mustapha Barracks in Alexandria, Egypt, from July until the end of November. They were never sent on a parachute course and were eventually also posted out as reinforcements to the 6th SA Armoured Division in Italy.(34)
Ossie Baker and one other officer were the only ones to eventually serve in action as paratroopers. Contrary to the position of other ranks, the Union Defence Force had a surfeit of officers, so about 65 were permitted to volunteer for service in British airborne units. Twenty-six of these, including Baker, served in units of the 2nd Independent Parachute Brigade Group in Italy, the south of France and in Greece.(35)
The Battle of Arnhem
David McCombe had never served in the short-lived Paratroop Company. Nevertheless, he remained in demand as a paratrooper. Whether this was due to his special skill as a radio signals officer, or his unquestionable thoroughness as a staff officer, or simply because he had connections in high places, can only be surmised. According to his widow, he was 'recalled' to Britain because of his specialist knowledge. Whatever the reason, McCombe underwent a medical examination at Mobile Air Force (MAF) Depot on 24 March 1944 and on 4 April he emplaned at Swartkop Air Station: destination - Cairo. He arrived there three days later and on 14 April was seconded to the British Army for duty with Headquarters, Airborne Forces. At the same time, he was transferred from the SAAF to the General Service Corps (Volunteer). He had already signed the General Service Oath nearly a year earlier, on 3 May 1943.
McCombe soon found himself back in England and on 20 April he was granted paratroop pay of 2/6 per day. No doubt he expected to participate in the D-Day Landings, but that was not to be. By 22 June 1944, with the 6th British Airborne Division having jumped into France ahead of the amphibious landings on 6 June, McCombe had been posted to the 1st British Airborne Division, which had been left behind.
He reported to the Divisional Commander, Maj-Gen Roy Urquhart, to take up his appointment as GS03 (Air) at Divisional Headquarters.(36) There he was involved in the planning of airborne operations. Some, such as Operation COMET, never came off. Early in September 1944, however, the real thing occurred: the hurried planning of Operation MARKET-GARDEN, the ill-fated 'Bridge too far'.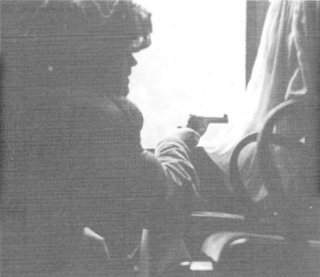 An officer, thought to be Captain David McCombe, inside the Hartenstein Hotel, Oosterbeek,
which housed the Headquarters, 1st Airborne Division, during the Battle of Arnhem
(Photo by courtesy of Mrs Doris McCombe).
On 17 September, McCombe parachuted with the first wave of the division onto a dropping zone near Arnhem in Holland. He was subsequently involved in some of the heaviest fighting in and around the Divisional Headquarters at the Hartenstein Hotel in Oosterbeek. The division was cut off by the Germans when the British link-up force was unable to break through to them. The Allies' bold plan of laying an 'airborne carpet' of three divisions, two American and one British, across the rivers and canals of Holland to enable an armoured force to roll over into Germany, had been thwarted.
After nine days of almost continuous combat, the division had effectively been annihilated. Only some 2 000 remnants of the 10 000 who had landed succeeded in escaping across the Rhine River to rejoin the Allies. McCombe was one of these.(37) However, he had been injured in the jaw during the fighting, although it did not appear to have been a very serious injury at the time. Four days later, David McCombe was flown back to England where he was immediately hospitalised for treatment of his lacerated chin. His one compensation was the award, on 1 October 1944, of an increment of 2/6 per day on completion of three years in the rank of captain. Six weeks later, he was granted a ration allowance of 2/- per day and a lodging allowance of 3/- per day. This would indicate that he had been discharged from hospital on 18 November and had to find his own billet.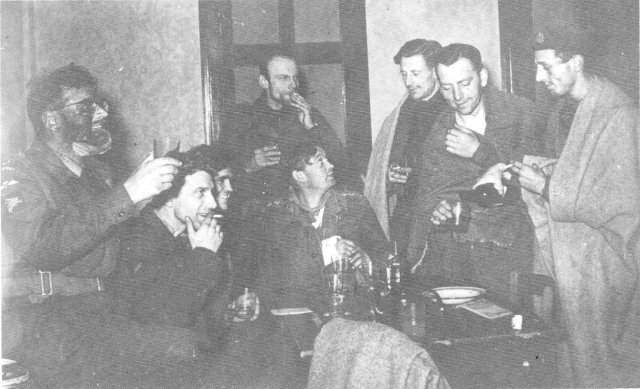 David McCombe (far left) toasts his comrades who managed to cross the Rhine River with him
and escape the closing net. The rough bandage on his chin bears testimony to his wound.
His "South African" shoulder title, parachute badge and Airborne flash appear on his right upper arm.
(Photo: Imperial War Museum).

However, on 20 December, he was informed that he had been posted back to the MAF Depot in Voortrekkerhoogte - the SAAF had finally caught up with him. He was unable, in wartime Britain, to arrange a flight home in time for Christmas, but, by New Year's Day, he had managed to get to Egypt and on that day he emplaned at Almaza for the Union. He did this, despite officially still being on sick leave from the British Army.

McCombe arrived back in Pretoria on 3 January 1945 and barely had time to be reunited with his wife before he was admitted to No 133 Military Hospital on 12 January 1945. Thereafter, constantly troubled by his wound, he spent the rest of the year in and out of hospital, fluctuating between admissions, discharges and sick leave.

The war ended and McCombe awaited his turn as the thousands of volunteer soldiers were demobilised. He was eventually released from full-time service at the Johannesburg Demobilisation Depot on 3 May 1946, having served in uniform just a month short of six years.

Epilogue

David McCombe returned to the Board of Executors after the war. Later he and his wife Doris moved to what was then Salisbury, Rhodesia (now Harare, Zimbabwe). He continued to work for the Board of Executors there, while he also did occasional work for Safmarine. He played a significant, though typically low-profile role in Rhodesia, particularly with regard to facilitating contracts with the South African Government.

For the rest of his life, McCombe suffered from blackouts and memory lapses as a result of the head wound he had sustained during the Battle of Arnhem. He died in 1972, at the age of 66. His widow continues to live in Harare, Zimbabwe.

Captain David McCombe was an unknown and unsung pioneer of airborne operations. While few have heard of him, even fewer realise that he made what was probably the most comprehensive study ever undertaken by a South African of a concept that is today the key to rapid deployment of military forces. Not only a theoretician and an outstanding staff officer, McComhe also insisted on a 'hands-on' approach and gained practical experience in what is arguably considered the most famous of all airborne battles.(38)

Sadly, David McCombe's experience and knowledge was never tapped by South Africa when 1 Parachute Battalion was finally established in the sixties, less than twenty years later. Owing to the international isolation of South Africa which was commencing at this time, all the technical data required to set up a parachute training facility was not freely available. Nevertheless, Commandant Willem Louw and his fourteen fellow paratroopers demonstrated admirable innovation in the design and construction of the necessary apparatus. All this time, however, McCombe's blueprints and voluminous reports lay stacked on shelves, gathering dust, in the Defence Force Archives.

Even though his labours bore no fruit, the debt owed to the memory of David McCombe as a pioneer of paratroops in South Africa cannot be denied.

References

1. Trooping the Colour brochure, 1 Parachute Battalion, Bloemfontein, 1 April 1982.
2. SANDF Archives File 'UDF Paratroop Company', 23 July 1943, available at the South African National Defence Force Directorate Documentation Services and Personnel Records Section.
3. Baker, Ossie 'These were the first of the Springbok Paras' in Home Front, Johannesburg, June 1990, pp 6-7.
4. Kraft, L The Conquest of the Air: Part Two - Parachutes, radio broadcast transcript, 7 February 1940, held by SANDF Directorate Documentation Services.
5. 'Sir Pierre Parachutes' in Pretoria News, Pretoria, 20 April 1927, p 10.
6. Leibbrandt, S R Geen Genade (Robey Leibbrandt, Bloemfontein, 1966), p 59; see also Strydom, H For Volk and Führer (Jonathan Ball, Johannesburg, 1982), p 76.
7. Edwards, R German Airborne Troops (Macdonald and Jane's, London, 1974), pp 71-5.
8. SANDF Archives File 'Movement of Troops by Air Exercise', 26 June 1940.
9. Cooper, Brig F W, DSO The Police Brigade (Constantia Publishers, Cape Town, 1972), pp 16-17.
10. SANDF Archives File 'Employment of Aircraft with Police Battalion', 12 July 1940.

11. Interview with Mrs Doris McCombe in Johannesburg, 18 January 1994. Mrs McCombe, the widow of David McCombe, provided much of the personal detail on her late husband.
12. The personal wartime file of Captain David McCombe, containing his record of service, held in the SANDF Personnel Records Section, provided the details of McCombe's official movements, appointments, remuneration and hospitalisations.
13. SANDF Archives File 'Training: Airborne Troops', 2 January 1942.
14. SANDF Archives, COS File, 8 April 1942.
15. Uys, Ian South Afican Military Who's Who (Fortress, Germiston, 1992), p 84; and Brown, J A Eagles Strike (Purnell, Cape Town, 1974),p 17.
16. During a telephone interview on 1 February 1994 with Dr Brand Fourie, who served at the South African High Commission during the Second World War, he confirmed McCombe's visits over this period.
17. SANDF Archives File 'Paratroop Training', 14 December 1942.
18. SANDF Archives, Letter from Ministry of Aircraft Production to the Secretary, Office of the High Commissioner for the Union of South Africa, 5 October 1942.
19. SANDF Archives, Letter from Lt-Col Geo Iwanowski, 24 October 1942.
20. SANDF Archives, Report dated 15 December 1942.

21. SANDF Archives File 'Paratroop Training', 12 February 1943.
22. SANDF Archives, CGS File, 6 March 1943.
23. SANDF Archives, Minutes of the General Staff Conference, 2 June 1943.
24. SANDF Archives, CGS File, 18 and 21 June 1943.
25. SANDF Archives File 'Paratroop Training', 21 June - 27 July 1943.
26. SANDF Archives File 'Air Borne Company', 30 July 1943; and File 'UDF Para Coy'.
27. SANDF Archives File 'Paratroop Training', 26 July 1943.
28. SANDF Archives File 'Paratroop Training', 18 August 1943.
29. SANDF Archives File 'Paratroop Training', 4 August 1943.
30. 'SA Paratroops complete course' in Rand Daily Mail, Johannesburg, 28 October 1943.

31. Baker, Ossie 'These were the first of the Springbok Paras', p 6; also an interview with Cmdt O Baker in 1990.
32. 'Truck-jumping champion' in The Star, Johannesburg, 29 October 1943; 'Air Force Paratroops "Coney Island"' in The Star, 6 November 1943.
33. SANDF Archives File 'UDF Para Coy', 29 November 1943.
34. SANDF Archives Files 'UDF Para Coy', 'Paratroop Coy Vol 1', 'Paratroop Training'.
35. SANDF Archives, personal wartime files of the officers concerned.
36. Van Roekel, C Who was Who during the Battle of Arnhem (Society of Friends of the Airborne Museum, Oosterbeek, 1992), p 3.
37. Van Roekel, Who was Who during the Battle of Arnhem, p 12.
38. On 17 September 1994, on the 50th anniversary of the Battle of Arnhem, the author and four other South African paratroopers jumped at Arnhem with the British paratroopers to commemorate the participation of David McCombe and seven other South Africans in the battle. Two of the South Africans (one of whom was a Dutchman who had been living in South Africa before the war) were killed during the battle.

Return to Journal Index OR Society's Home page

South African Military History Society / scribe@samilitaryhistory.org