The South African
Military History Society


---

Die Suid-Afrikaanse Krygshistoriese Vereniging
---
Military History Journal
Vol 9 No 2 - December 1992
(incorporating Museum Review)
'GENERAL PIENAAR, TELL YOUR SOUTH AFRICAN DIVISION THEY HAVE DONE WELL' - General Montgomery 24 October 1942.
by A B Theunissen

'We were there': Major A B Theunissen MBE, a General Staff Officer on the Operations Staff of 1 SA Division, recalls the momentous events leading up to the great victory at Alamein.

General Montgomery's congratulatory signal to General Dan Pienaar acknowledged that 1 SA Division had met all its objectives set for the great Battle of Alamein fifty years ago.

There were significant military events during the four months leading up to the battle.

This was the period when Rommel was making great attempts to break through to Alexandria (less than 100 km away) and to the Nile Delta. Not to mention the flesh-pots of Cairo!

This article puts the battle of Alamein into perspective by giving a meaningful insight into the historical background and circumstances under which we veterans operated in the desert from 27 June 1942.

The initial desperate defence of the Alamein Box (30 June - 3 July), the arrival in the desert of General Montgomery, and the Battle of Alam Halfa will be highlighted.

The first battle at Alamein

From 15 June 1942 Eighth Army was in headlong retreat from the GAZALA Line, leaving 2 SA Division and other troops to their fate in TOBRUK (which surrendered on 20 June).

On 27 June 1 SA Division's advanced troops occupied the Alamein Box. These defences had been constructed by 2 SA Division (including 3 SA Inf Bde) a year previously. There was little time to lay mines and prepare for Rommel's attack.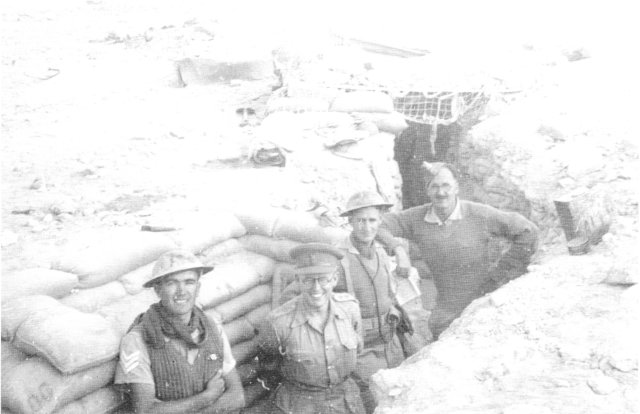 Entrance to General Pienaar's Tactical Battle HQ at Alamein S/Sgt Turner (who typed the operation order) at left, with the author (with cap - and victory smile!) early on 24 October 1942

From 30 June to 3 July Brigadier Bobby Palmer's 3 SA Brigade Group (with its core of the RLI, ILH and RDLI) courageously and successfully halted the Afrika Korps' continuous attacks on the Alamein Box. The artillery and air force gave superb support.

Brigadier Palmer held a line some 10 km long with only 1 000 infantrymen.

Mussolini had flown to a nearby enemy held airfield so as not to miss out on a triumphal Roman entry into Cairo! Had the defiant thin line of red-tabbed Springboks been breached, we certainly would not now be about to celebrate the 50th anniversary of the historically acknowledged turning point of World War II.

There were continuing but not large-scale operations during July, including aggressive patrolling to capture prisoners. On 5 August Mr Churchill paid a surprise visit to the Division. He informally met small groups. He remarked: 'It is a long time since I was in South Africa.' One of the men replied: 'Yes Sir, you were in the bag then, weren't you?'

General Montgomery takes over On 13 August General Montgomery signalled GHQ Cairo from Eighth Army's desert HQ stating that he had 'assumed command of Eighth Army from 2 p.m. this day.' - a sudden seizure of command two days earlier than his orders!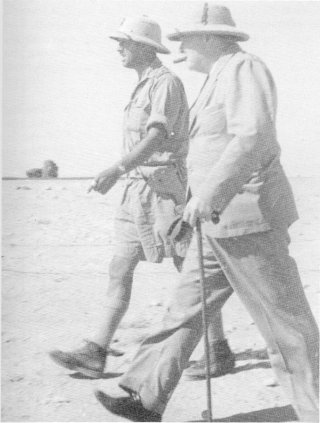 Mr Churchill striding across the desert at Alamein on 5 August 1942 with Brig Matie du Toit to meet some First Division desert veterans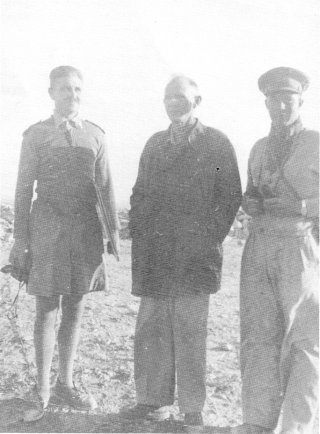 Lt Col Harry Cilliers GSO I, General Dan Pienaar and ADC Capt Bairnsfather-Cloete outside 1 SA Division's Tactical HQ early on the morning after the Alamein battle
(Photo: Frank Turner)

He then cancelled all previous plans for possible withdrawal to the Delta. In the event of enemy attack there would be NO WITHDRAWAL. ALL transport must be sent back to rear areas. (Gee chaps, this is serious!)

From then on there was to be no uncertainty about orders from Eighth Army. (Thank goodness this General means business.) The very next day - 14 August - General Montgomery visited 1 SA Division on a tour of inspection. He also visited other front line formations. We were not impressed by his white knees!

On Thursday 20 August General Harold Alexander - Montgomery's superior - paid a long comprehensive five-hour visit to the Division. My diary records: 'I believe he was impressed.' General Montgomery immediately commenced his planning to carry out the task General Alexander had given him: 'to destroy the enemy forces now opposing Eighth Army.'

There was to be an interruption which would be very valuable for General Montgomery.

A second battle at Alamein: Alam Halfa Ridge

By mid August it became clear that Rommel was planning another major attack, possibly taking advantage of the full moon at month end. The tactically important (but undefended) Alam Halfa Ridge was the key to any attempt to by-pass the main Alamein defences.

Montgomery insisted that GHQ give him 44 Division. The ridge could certainly be held with a division of infantry well dug in, and supported by armour. Montgomery planned his dispositions to ensure a resounding defeat for Rommel, should he attack Alam Halfa Ridge.

On 31 August Rommel's attack developed exactly as Monty had anticipated.

With the splendid planned co-operation of the Desert Air Force and Monty's masterly control of the armour, Rommel suffered such a defeat as to destroy the myth of his invincibility. Montgomery had proved himself in battle, resulting in his complete acceptance thereafter.

General Montgomery's Battle Plans

Monty decided on arrival in Egypt to take a leaf out of Rommel's book. Eighth Army must have its own 'Panzer Army' - a corps d'élite, strong in armour, to spearhead his offensives. 10 Corps was quickly formed - 1, 8 and 10 Armoured Divisions. General Montgomery's plan was helped by his knowledge that 300 Sherman tanks (superior to Rommel's) would arrive early in September!

He issued his first MOST SECRET plan on 14 September and the second on 28 September.

The code word for what was initially to be a huge and dangerous mine-lifting operation was LIGHTFOOT. This brilliantly anticipated any tingling feeling when one was moving warily through a 'cleared' gap!

General Montgomery's plans placed great emphasis on deception, secrecy and training. The main difficulty was to obtain surprise. A main feature of the deception plan was to mislead the enemy regarding the sector of the main thrust. Normal activity was thus maintained in the northern sector, which was where we and the other three attacking divisions (9 Australian, 51 Highland and 2 New Zealand) were in the front line.

In the south a long (dummy) pipe-line, together with a dummy petrol supply point, was built and 'camouflaged', and dummy tanks were set up under 'camouflage'. 1 SA Division even planned a radio training exercise down there!

The Eighth Army Camouflage Units and the Divisional Engineer companies (including our own) did a magnificent job.

When the battle started, the Afrika Korps was waiting for us in the south!!

Secrecy was obtained by informing only those who needed the information for planning, and generally relying on verbal orders only. All leave was quietly stopped before D-Day on the grounds that we were expecting an enemy attack! Training was started immediately. Infantry would practise advancing with the close support of artillery and mortars using live ammunition. Full use was made of 'sand-table' models of the respective areas of operations.

In General Montgomery's caravan he had pinned up a quotation from Henry V, Act IV: 'O God of battles! steel my soldiers' hearts.' 1 SA Division Operation Order No 46

On 15 September my diary records 'we are digging a grand little dugout'. A few days later Lt Col Harry Cilliers GSO I (our Chief of Staff) told me that I would be working with him on the Order (in the dugout). The Order (including annexures, 17 foolscap pages, single spacing) was expertly typed by S/Sgt Frank Turner, the division's Chief Clerk. He ran the Divisional Office from Alamein to the Alps! The Order was signed at 02:00 on Sunday 18 October - exactly fifty years ago today.

I wrote in my diary: 'It must and will work - the big test.' With 3 SA Brigade (Brig Palmer) on the left, and 2 SA Brigade (Brig Poole) on the right, the 1 SA Division, despite heavy casualties, was secure on its objectives by early on 24 October. General Montgomery's generous signal was well received by us all.

[This article contains the correction printed in Vol 9 No 3]

Return to Journal Index OR Society's Home page
---
South African Military History Society / scribe@samilitaryhistory.org