The South African
Military History Society


---

Die Suid-Afrikaanse Krygshistoriese Vereniging
---
Military History Journal
Vol 8 No 4 - December 1990
Lieutenant J A Roberts - Natal Native Horse, 1878-1879
by J J Hulme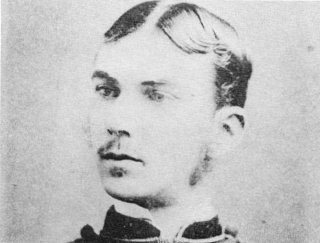 The accompanying photograph is an enlarged copy of a carte de visite taken by Kisch Bros, Photographers and Artists, Natal. Written in ink on the back of the original is 'Lieut. Roberts, Natal Native Contingent. Killed at Isandhlwana Jan 22nd 1879.' On the front is written 'Taken Dec 1878.'
The Natal Mercury states:
'Lieutenant Roberts of the Mounted Contingent, has, it is feared, been killed. Lieutenant Vause saw him just before they commenced to retire; but up to the time of the other officers leaving Helpmekaar nothing had been seen of him. Lieutenant Roberts was well-known in Durban, having for some time been connected with one of the business establishments here. He was a courageous and smart young officer, and his numerous friends in Durban still entertain hopes that he will turn up."(1)
It seems that little was known about Roberts at the time of his death. It follows, therefore that he was a recent arrival in Natal. Had he been a member of an established Colonial family no doubt an obituary of some length would have been published.
Roberts was an officer in Sikali's Horse, part of the Natal Native Horse, a unit distinct from the Natal Native Contingent, and which emerged from the Anglo-Zulu War with a respectable fighting record.(2)
Mention of Roberts is made by Morris as having been sent with his troop and that of Raw northwards from the camp up on the Nqutu Plateau to scout for the main Zulu force.(3) Whether he was killed during the withdrawal from the plateau to the camp, at the camp or during the retreat to Fugitives Drift is not stated.
The uniform Roberts wears is the undress blue frock, widely used by British officers at that time as campaign kit, with black braiding, frogs, olivets and shoulder cords. The colour of the garment can only be guessed as blue of some shade. The collar is darker and could have been black velvet. The leather pouch belt could have been black or brown.
McBride has a coloured illustration of the upper half of an officer of the NNH showing the jacket as a fairly bright blue and the collar and braiding black and the pouch belt brown.(4)
NOTES
p 58, under date 1 February, 1879. The Natal Mercury at the end of the war published a bound volume covering all its reports on the war. This is cited here.
Narrative of the Field Operations connected with the Zulu War of 1879, p 157. Roberts is given as the only casualty in Sikali's Horse.
DR Morris, The Washing of the Spears, 1st Ed. 1966, pp 357, 359 and 363. The position of Roberts' troop is marked on the map at p358.
A McBride, The Zulu War, Men-At-Arms series, Osprey Books, London, 1976, coloured illustration on Plate G. Unfortunately the author does not state authority for his drawings.
Return to Journal Index OR Society's Home page

South African Military History Society / scribe@samilitaryhistory.org