The South African
Military History Society


---

Die Suid-Afrikaanse Krygshistoriese Vereniging
---
Military History Journal
Vol 8 No 3 - June 1990
ITALY REVISITED - 1958
by Lionel Wulfsohn

In 1958 my wife and I were privileged to do a grand tour of Europe for a three-month period. When planning the itinerary we came to the conclusion that we should spend at least a month in Italy, to straddle the country by CIT coach from Rome to Naples via Formia on the Gulf of Gaeta, then back again to Rome via Cassino. From Rome we would go to Venice by way of Assisi, Perugia, Arezzo, Florence, Sienna and Padua.

As this article relates primarily to revisiting areas where I had been in the Witwatersrand Rifles/De la Rey Regiment in the Italian campaign of 1944, it will focus on Rome, Cassino, Assisi, Arezzo, Sienna, Florence and the Appenines.

We landed at the then main Rome airport and were whisked to our hotel, the Pace Helvetia, which is centrally situated, and on a very busy street. Unfortunately, we were allocated a room abutting on the Via Veneto, and the noise of the Vespas, Lambrettas etc., kept us awake until the early hours of the morning. There would be a respite in this traffic din for about half an hour, and then the people going to work early would roar by again.

The Eternal City had changed since the war. It was no more the city of vino and lovely senoritas, but a city of tiny Fiats, bum-freezer jackets and men's patent leather pointed shoes. Soap (sapone) and cigarettes were no longer considered as currency, and for a pound sterling one got approximately 1 700 lire.

Cassino had been completely rebuilt, although, in my humble opinion, not very aesthetically. I suppose in the post-war era the non-availability of funds was a major factor. The only trace of the terrible destruction of 1943/44 was a heap of rubble and a tank, which had been deliberately left behind on a city square as a war memorial. I looked in vain for the Hove Ammunition Dump near Monte Cifalco, but all the debris had been neatly removed. The Benedictine Monastery on the Monte Cassino had been beautifully rebuilt.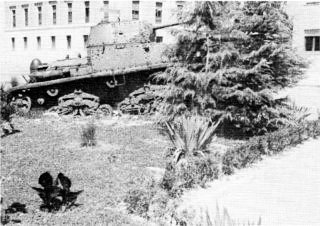 The War Memorial, Cassino.
From Rome we went via Assisi, which in late 1944 was the railhead for the hospital trains taking wounded men to Rome and cities further south. Our coach stopped at Arezzo where I had been a patient in the 31st British General Hospital from mid-October to mid-December 1944, but our stop was not long enough to enable me to visit the hospital.
In Florence we stayed at the Jennings Riccioli Hotel - very close to the River Arno, which was as slow moving as ever. The city had not changed much since the war years, and was not nearly as busy as Rome or Naples. We did the usual tourist route, such as the Wild Boar Fountain, the Ponte Vecchio, the Michelangelo Square, Il Bianchoni, the Pitti Palace, the Uffizi Art Gallery and so on. I observed that our guide, a young Italian by the name of Nils Montelucci spoke in English with a very strong South African accent. In reply to my question as to how he had acquired such an accent, he replied that during the war he had worked in the South African Soldiers' Club in Florence, controlling the issue of blankets.
We went by coach via San Gimignano to Sienna, which to me was like returning home, because in August 1944 the 6th South African Armoured Division had been quartered in the Sienna area after the fighting from Cassino to Florence. In Sienna we did the tour of this lovely medieval city and among other places, saw the Campanile in the Piazza Vecchio, the Cathedral and the beautiful Duomo.
The Tuscan countryside was as beautiful as ever. The farmers had cut their wheat and were busy making hay. Although most cities had advanced tremendously since the war, the farmers were still using hand scythes and wooden ploughs drawn by their beautiful large white oxen.
We then returned to Florence, and as we had a few free days, decided to hire a taxi and do a pilgrimage tour to Castiglione Dei Pepoli, and pay homage to my fallen comrades in the 6th South African Armoured Division War Cemetery nearby. This was going to be a real eye-opener to me, as although I had been wounded at the Battle of Monte Stanco - at 04:45 on Friday, 13 October 1944, I knew very little of this area. The reason for this ignorance can be explained by the fact that our battalion had been resting and re-equipping in the Figline area from early October 1944, and we were rushed by troop carriers through Castiglione to an area about sixteen kilometres south of Monte Stanco. In our march to Monte Stanco on 12 October, the entire countryside was shrouded in mist and visibility was just about nil. I had fortunately bought a tourist map of northern Italy, and this precaution was to become very useful when our taxi driver got hopelessly lost in his attempt to take a short cut from Prato to Castiglione.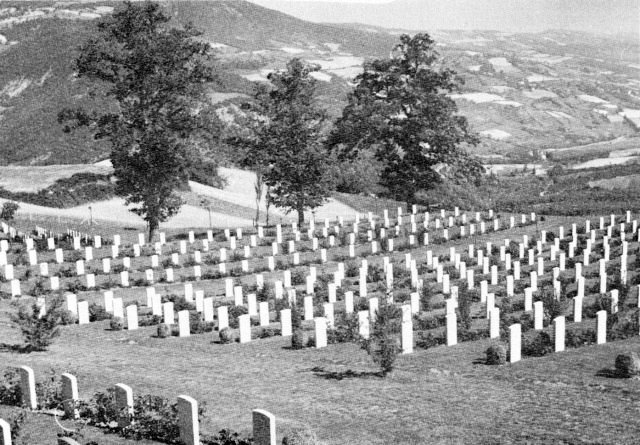 The 6th South African Armoured Division Cemetery, Castiglione, Italy, 1958.
The wooden crosses had been replaced by beautifully engraved Carrara marble headstones, and the lawns and cluster roses between the graves were meticulously kept. The cemetery is maintained by the British Commonwealth War Graves Commission, and their Italian-employed caretaker/gardener, noticing that I was looking intently at a headstone with the Star of David engraved thereon, asked me if I were Jewish. I replied in the affirmative and he told me that he was half Jewish himself, and wrote his name in my little diary - Isaia Bichnogli.
At this stage I would like to quote directly from the notes I had made in my diary: 'Although it is a rather warm day, as I walked through our cemetery, I felt goose-flesh on my arms and legs as I read the names of men from my section, platoon and regiment who are buried here. Afterwards, sitting under a tall shady tree overlooking the beautiful Brasimone valley, a cool breeze is blowing gently in the trees, and birds are twittering in the orchards nearby. The dappled patchwork quilt of this scene has a beauty I have not seen anywhere else in Italy. Our chaps rest gently on this lovely slope which shall for ever be a piece of South Africa. Here lie Afrikaans and English-speaking South Africans, Jewish lads, Cape Coloureds, Indians from the Frontier Force Rifles, Britishers from the 24th Guards Brigade (which was a constituent part of our Division) Privates, NCOs and officers all united in death. As it is Sunday, the people of Castiglione, after the morning church service, are walking between the graves, placing small bunches of flowers at the base of headstones of men whom they might have known. They look upon this cemetery as if it was their own, silently paying homage to our glorious war-dead.'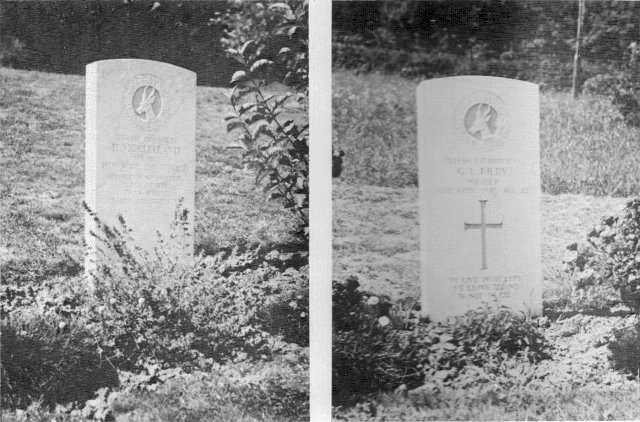 On my way back to Florence I decided to call on the Italian people in Figline with whom we were billeted in early October 1944. My wife protested, as she claimed that I would never find the place, and in any case they would not remember me. In both instances she was wrong, as subsequent events will reveal.
As we drove into the village of Figline, which is off the main road between Prato and Castiglione, I saw two Italian peasants and asked them in my limited Italian 'Dove fornace?' (Where is the furnace?) They replied that there were two furnaces, one in the town and the other in a small farming area nearby, but that the old man who ran the latter furnace had recently died. As my old friend, Signor Alberto, had been 80 years old in 1944, I knew that his furnace and farm area was our destination.
Let me explain to the uninitiated the nature of an Italian furnace. In the hills nearby the operator has a fairly large grate on which limestone is heaped, and under which he lights a timber fire. The limestone then converts into limewash, mason lime and possibly a type of cement.
We drove through a small stream (spruit) and came across a large colonica of farmhouses. I asked the taxi driver to stop adjacent to an open-sided shed in which the farm implements were stored, and told my wife that this had been the sleeping and eating quarters of my platoon.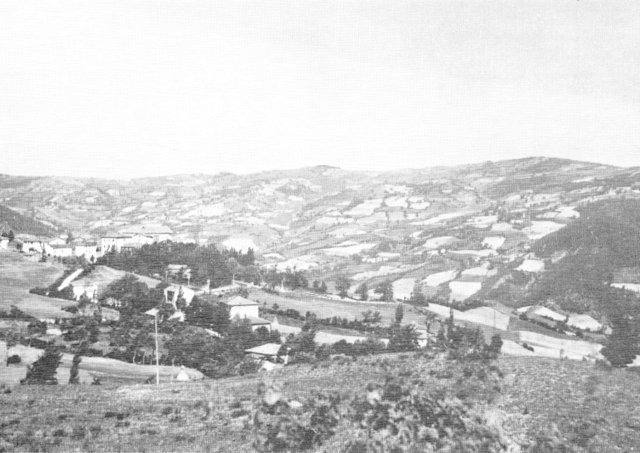 The 6th SA Armoured Division cemetery in the Castiglione valley, visible in the centre of the photograph.
While we were looking at the shed, a young man of about 24 came out of the main house. He couldn't remember me as he was too young during the war, and I asked him to call his Papa, who was a son of my old friend. Consorti Alberto came out of the house and took one look at me and shouted, 'Amico, amico', embraced and hugged me. I can assure readers of this article that this was a most emotional scene, and both of us had tears in our eyes.
I was the first South African soldier to have returned to the colonica since the war, and he called the members of his family and other people nearby to meet 'un soldato del Sud Africa'. From that moment onwards I was constantly quizzed about the fate of fellow members of my section and platoon, whom they still remembered by their nicknames.
I reminded Consorti that I had had frequent discussions with a deserter from the Italian Army, who had arrived at the colonica when Mussolini was removed from office in 1943. Consorti replied that this man, who hailed from Brescia, was still there, as he had married a daughter of the house.
People came from neighbouring colonicas and warm wine on a warm day began flowing like water. As the afternoon progressed I began running out of my Italian phrases, and as we were all becoming more and more 'ubriaco' (drunk), I reluctantly told my friends that we had to go back to Florence. They would only let us go provided that we 'ritornate domani' (returned tomorrow). I said yes, but I knew in my heart that we could never repeat the performance.
In the great floods which ravaged the Arno River Valley in 1966 I sent Consorti Alberto a food parcel, which he graciously acknowledged.
To sum up this Italian tour, it was most memorable and probably the highlight of our entire overseas sojourn. Sadly, due to a variety of reasons - none of which really carry water - I have never repeated the tour.
---
Return to Journal Index OR Society's Home page

South African Military History Society / scribe@samilitaryhistory.org