The South African
Military History Society


---

Die Suid-Afrikaanse Krygshistoriese Vereniging
---
Military History Journal
Vol 7 No 6 - December 1988
LETTERS/BRIEWE
1. South African POWs: Turncoats?
In a book I recently read, A Travellers Life by Eric Newby (Picador. 1982) the author describes his experiences as a POW in Italy. I enclose [extracts] of the relevant paragraphs where he alleges that South African troops changed sides. This seem an astonishing claim. Is there any evidence to substantiate it?
... 'However, we did not go directly to Germany. Instead we were taken to Mantova, where we were accommodated with numbers of other re-captured prisoners-of-war in some extremely spooky army transport garages on the edge of one of the freezing, fogbound lakes that surrounded the city. It was staffed by renegade South Africans who were either genuine sergeants or else had assumed the rank. They had invented for themselves a horrible pastiche of their real uniforms to demonstrate their sympathy with their new German masters, British khaki battledress, dyed black.
The temptation to do away with these monsters was very strong and we might have done so if the guards had been Italians, but they were not even Germans. They were Mongols, apostates from the Russian Army, dressed in German uniforms, hideously cruel descendants of Genghis Khan's wild horsemen who, in Italy, had already established a similar reputation to that enjoyed by the Goums, the Moroccans in the Free French Army, so we swallowed our pride but not our anger and contented ourselves with refusing to acknowledge their existence when they tried to give us orders.' ... (pp. 130,131)
Later, when the snow melted, the earth was disposed of by prisoners who walked round the camp with sacks suspended round their necks beneath their coats, gently leaking it on to the ground as they pursued their endless, apparently aimless, perambulations. Other stooges, as they were known, acted as look-outs for the working parties and for The Canary, the clandestine radio that had been built in the camp and which defied every effort by the Germans to discover it even when, later that year, it moved with us to another camp.
In order to discover tbe locations of these tunnels and The Canary, the whereabouts of which was known only to a handful of prisoners, the Germans sent in what were called Ferrets. Gestapo and other lesser persons, disguised as workmen, and on one or two occasions these Ferrets were lured into cellars where keys were turned on them. When Ferrets entered the camp there was often no time to get the men working in the tunnels to the surface before the lids were replaced, and it was an eerie experience lying at the bottom of a shaft listening to the Ferrets as they hammered on the floor above, and often on the lid itself, while searching for it, and to hear their dogs panting and scratching.
Those lids were works of art. Some of them were the work of South African mining engineers - only a very few of the large numbers of South Africans in prisoner-of-war camps changed sides, in spite of all the inducements offered them by the Italians and Germans. To make a lid, a section of tiled floor, or whatever materials it was constructed with, was taken up and set in a block of concrete in such a way that if it was struck with a hammer it would give off the same sound as the surrounding floor. Special tools had to be devised to lift and replace these lids as they were extremely heavy.' ... (p. 134)
- W S Yeowart
2. Ford Model Ts, NOT Reo's
Just to keep the record straight, the railcar shown in the June 1988 issue (Vol 7 No. 5) has been constructed from a Ford, Model T, not a Reo as stated.
As in South West Africa, the East African forces began by using mainly British motor transport with the exception of the ubiquitous Ford. With America not yet in the war, the Union Government was able to import shipments of American cars and trucks for the campaign. The Reo car was a popular make, and one was used by General van Deventer in the later stages. Other makes used were Maxwell, Oakland and Hupmobile. Trucks included Autocar, Packard and Peerless.
The Ford Model T passenger car chassis, fitted with a light truck body, was truly the Jeep of the First World War.
- R H Johnston
3. Most decorated South African woman?
Who is the woman to have been awarded the most decorations and medals in the history of the wars in South Africa? I am of the opinion that this distinction belongs to one who was at one time Matron-in-Chief of the then South African Military Nursing Services, the late Mrs Elizabeth Rymer Stanford (formerly Creagh, born Sherriff). Incidentally this lady has the additional distinction of having served in three wars with a different surname in each - surely another record!
Born in Herefordshire, England on 19 December 1872 Miss Sherriff took to nursing somewhat late in life and did not complete her training until February 1900. On qualifying she lost no time in enrolling in The Princess Christian's Army Nursing Service and arrived in Natal during April 1900. Her first posting was to No. 4, Stationary Field Hospital at Chievely but later also served in British Military Hospitals at Newcastle and Standerton. It was during this war that she married her first husband, Lt Creagh, before returning to England soon after the end of the Anglo-Boer War.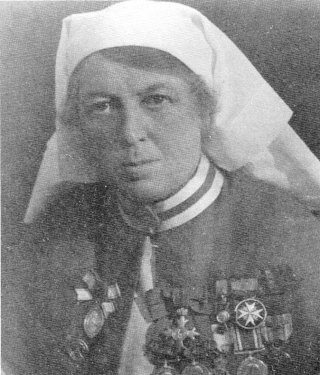 Matron E R Stanford, OBE, ARRC

During 1906 she returned to this country and in June the following year was appointed Matron of Pretoria Mental Hospital as Weskoppies, a post which she held at the outbreak of World War 1.

With the formation of the South African Military Nursing Service she was appointed Matron-in-Chief as from 14 August 1914. She visited our hospitals in South West Africa before proceeding overseas with the first contingent of the SAMNS during September 1919[?], and a little later accompanied the personnel of No 1 SA General Hospital which was opened near Abbeville, France. She did not return to South Africa until May 1919.

On demobilisation Mrs Creagh returned to her old post at Weskoppies and while there married Major Stanford, a Head Male Nurse at the same hospital. However, in October 1919 she was back in uniform as Matron-in-Chief - which post she held until her retirement in April 1925. During most of these years she was at No. 1 Military Hospital, Roberts Heights (now Voortrekkerhoogte).

During World War II Mrs Stanford againserved as Deputy Matron-in-Chief from 22 August 1940 (at 67 years of age) until November 1941, when she finally left the service. During this period one of the nurses who accompanied her with the first SAMNS contingent in September 1915, Miss Constance A Nothard, was Matron-in-Chief.

Mrs Stanford's list of twelve decorations and medals are:

Decorations:

Medalle de la Florence Nightingale. (1920). She was the first nurse in South Africa to have been awarded this high honour, for her services with the South African Forces during World War I.

Officer of the Order of the British Empire. (1914-1918). Associate of the Royal Red Cross. (1st Class - 1914-1918). Order of St John of Jerusalem. (1914-1918)

Medals

The Queen's South Africa Medal.
The King's South Africa Medal.
1914-1915 Star.
British War Medal.
Victory Medal with Oak Leaf. (Mentioned in Despatches - 1914-1918).
The War Medal (1939-1945).
The Africa Service Medal. (1939-1945).
The King's Silver Jubilee Medal. (1935).

The above must come close to being a world record for women, but I do recollect reading somewhere of a Canadian (or American?) woman who had thirteen or fourteen to her name. Perhaps one of your readers could verify or furnish details.

- D O Stratford

Return to Journal Index OR Society's Home page

South African Military History Society / scribe@samilitaryhistory.org