The South African
Military History Society


---

Die Suid-Afrikaanse Krygshistoriese Vereniging
---
Military History Journal
Vol 7 No 4 - December 1987
A Machine Gunner's Odyssey Through German East Africa: The Diary of E S Thompson, Part I.
17 January - 24 May 1916
by Col E S Thompson, ED
A prefatory article in the previous issue of the Journal (Vol 7 No 3) provided the background to Col F S Thompson's diary which is to be published in this and the next issue. In that article the circumstances in which Col (then Private) Thompson joined the 7th SA Infantry regiment: his mustering and training as a machine gunner; his association and friendship with J (Jock) W Young and Emile 'Bibby' Heimann: an overview of the forces deployed in German Fast Africa and the campaign in general, was described. The 7th SA Infantry landed at Kilindini (Mombasa) in January 1916.
THE JOURNEY TO THE FRONT
The March to Salaita Hill
17-21 January
These days were spent at Mashoti our time being occupied in filling ammunition into the machine gun belts. receiving our field dressings, etc., doing gun drill and becoming acclimatised to some extent. One afternoon some chaps took their rifles and went into the bush with the purpose of shooting some buck. They were not away long, however, having been shocked at seeing a 'huge' python in the act of swallowing a buck. During the nights we heard many sounds of game including lions. We were informed that our strength was about 1 250, well above the establishment.
25-31 January
We were on the march early on the 25th for Maktau, a distance of 7 miles [11 km]. The road was dusty and mostly through close thorn bush. Maktau is a large supply depot surrounded by a high boma of branches of thorn trees. It was very dry and dusty and we were not sorry to move on when the time came.
1 February (Tuesday)
Went for route march by compass through the bush south of our camp. B Company caught a small buck, which is going to be kept as a regimental pet. Returned to camp about 12.30 [12h30] to find that a field wireless had been erected next to our camp. There is another one here at Maktau but smaller. While out on our march we heard an explosion which they say was a shell which exploded and killed an Indian, blowing off his head. Rotten windy, dusty day. All the water in the tanks got finished so the gates to the tanks had to be closed to allow the tanks to refill. Mule guard during night. Bibby surmised as to whether the aeroplanes would go up tomorrow as they did when we were last on mule-guard.
2 February (Wednesday)
Woke up to find blankets wet from mist and dew. Saw an aeroplane start off to the German lines to the south of Kilimanjaro. Another aeroplane rose about 10 minutes after and after flying round in a large circle suddenly swooped down. The propellers hit the ground and broke and the plane swerved round and then turned completely over. Neither of the 2 airmen were hurt: This is the second plane we have lost this week. Bibby and I bought some Eno's fruit salts, potted meat, preserved pineapple, chocolates, unsweetened lime juice, and stood ourselves some cake and soda water as it is his birthday tomorrow. Invited Dick Heard to lunch and enjoyed ourselves. Took photo of aeroplane about 2 minutes before it smashed up. Dirty night.
7 February (Monday)
Started on the march for Mbuyuni at 5.30 [05h30] with the light just coming in the sky. Road very dusty. Passed Bibi 6 miles [8 km] and when we had marched 10 miles [12 km] rested and had some skoff. Much pleasanter marching without having to lead mules. Resaddled and had to lead the mule for the rest of the way to Mbuyuni. Very hot but came in fine sty le. This is a very fine camp. The Germans evacuated it about a fortnight ago.
The 5th band [i.e. band of 5th SA Infantry Regiment] played us in and we got a good reception. Heard wonderful yarns of the 4th and 6th doing the same march from Mashoti to here in less time than we did and of having scraps with the enemy. All rot. Heard that a Rhodesian had got lost while on patrol and had been found with his arms cut off and his eyes taken out by the Askaris. Pitched tents and tidied up. During the night heard firing in the bush. Loyal North Lancashires startled the camp by having night target practice. Arrived here at 2 pm [14h00].
8 February (Tuesday)
Jock took physical drill and gave us weird orders. Had rifle inspection and afterwards feet inspection. Digging gun implacements all the morning... .Before going to bed received orders for the next day but at about 8 o'clock [20h00] our lieutenant told us that reveille would be at 3.30 [03h30] and that we had to be ready for marching at S [05h00]. Great bustle getting ready...
Tired out when in bed... Told we were to attack and hold a bridge. Great excitement...
9 February (Wednesday)
Reveille 3.30 [03h30] Saddled the mules. Breakfast. On the road 5.30 [05h30]. Fine morning for marching. The 5th, 6th and 7th Regiments were accompanied by a Baluchi Regiment and Field Telegraph Corps. Marched past the railway construction gang and when we had got about half a mile past we extended on a long line on a ridge. We were on the extreme right flank. We advanced through the bush which was very tedious going.
Firing was heard on the left flank (5th Regiment) and we afterwards heard that they met an Askari patrol. No casualties. We could now see that there was a German fort on a hill about 3 miles [5 km] away flying 2 flags. We all thought we were to attack this and so loaded our rifle magazines. We advanced for another hour through the bush and then came into a clearing. We passed their 1 500 yds (1 372 metre) range indicator and as they could see us quite well we expected every minute they would open fire but they never did. Our range finders found the range to be 1 450 yds (1 326 metres). Suddenly the word was passed along that the enemy was sighted 400 yds (366 metres) ahead so we doubled into cover and unpacked the guns. The range was now 800 yds (732 metres). The Askaris could be seen running down the hill from the fort to man the trenches. The fort was right on top of a small hill and had 3 lines of trenches. It ought to be a tough place to take as the ground is so exposed. After about 15 minutes wait we were given the order to pack up and retire and then began to feel tired and disgusted. We trekked back through the bush and long grass, and on the way had a row with the Sergeant over the telephone wires. When all the regiments had come in we started on the way home. When we got up to the railway line we noticed that they had advanced about a mile since we passed them in the morning. We came through the Baluchis advanced camp about 4 miles [6 km] from Mluguni and there the chaps began falling out. I got a bit of stick in my boot at that camp and had it under my sole all the way from there to camp. It hurt but I didn't want to fall out. 3 miles [5 km] from camp they gave us 10 minutes rest. I have never struck such a long 3 miles as the last 3. Felt so tired when we got back that I could have cried at the least thing. After I had changed my shoes and a sort of bath felt much better and was glad I hadn't fallen out. It is reckoned we went 24 miles [38 km] altogether. The mules were pretty tired as they had the heavy guns and saddles on from 4 [04h00] till 3.30 [15h30] nearly 12 hours. We never took our packs off once. Later we heard that General Beves was very pleased with us. He wanted to attack but it would have been no good as the railway was not near enough...
10 February (Thursday)
Got up with a thick head. Bibby a bit feverish. Van der Spuy did some more flying about. Cooked our bacon. Got entrenching tools. A lot of firing is going on in the bush to the west about a mile away. Heard we are to attack the German Fort tomorrow...
11 February (Friday)
Reveille 5.30 [05h30]. Sorted out kit bags which were left at the base. Took 1 blanket, slacks, shin, socks, belt and Cholera Belt. Saddled up mules. Great fun watching mules that hadn't been broken in. Marched to Serengeti (41/2 miles) and made temporary camp. Came to rain about 1 o'clock [13h00] and got under canvas covers. A good many of the chaps from the regiment took their clothes off and tried to get a bath in the rain but they were worse off than before. We have begun business properly now. At night got marching orders and were told that we were to attack Sileta [Salaita] Fort. Great excitement.
THE BATTLE OF SALAITA HILL
The first major engagement in which South African troops were involved was the action at Salaita Hill. This mainly involved Brig Gen P S Beves's 2nd SA Infantry Brigade. At the time that the battle was fought 2nd SA Infantry Brigade formed part of the 2nd Division, then commanded by Brig Gen W Malleson. Beves' brigade formed a component of a force which also consisted of 1 East African Brigade (comprising 2nd Bn Loyal North Lancashire Regiment, 2nd Bn Rhodesia Regiment and Both Baluchis) and various divisional troops and artillery (the ethnic basis of these troops being Indian); a total of 6 000 personnel, 41 machine guns and 18 field guns.
Salaita was one of the principal German centres for railway communication and was situated near Taveta. The German force was seriously underestimated. It was thought to consist of some 300 men with machine guns but no artillery. In actual fact, the German forces, under the local command of Maj Kraut, amounted to between 1 300 and 1 400 men. A further six field companies (approxiately 1000 men) were distributed between Taveta and Salaita. The German force defending Salaita Hill was, moreover, amply equipped with artillery.
The Allied force commenced its advance at 05h00 on 12 February, supported by scouts, armoured cars, artillery and machine guns. Shortly after 07h00, when 2 000 metres short of Salaita, Beves' brigade, now employed in a loose formation, came under sporadic fire from enemy artillery. The brigade deployed, with 7th SA Infantry Regiment leading, 5th SA Infantry Regiment echeloned on its left, and 6th SA Infantry Regiment extending the line on its right. These units penetrated the forward positions of the enemy, but were ordered to withdraw due to the heavy enemy fire to which they were then subjected. However, whilst withdrawing they were attacked in the right flank by a German relieving force, under Capt Schultz, from Taveta, and the brigade withdrew in some disorder towards the northeast, having sustained some 138 casualties. One of the principal reasons for the reverse was the lack of co-ordination between the South African and East African brigades, combined with the fact that their respective starting times for the attack were separated by some three hours, although the same objective was being attacked.
Included among the casualties at Salaita Hill was Jock Young, with whom Thompson had enlisted (cf. Introduction). Col Thompson writes in the introductory notes to his diary:
'The South African losses at Salaita Hill are given as 138, of which 83 were from the 7th SAI, viz. 6 killed, 47 wounded and 30 missing (only 3 of those missing were ever heard of again). Jock Young was one of them and I feel sure that his lack of a sense of direction caused him to wander into the thick bush where he probably got lost, in spite of Mount Kilimajaro being such a wondertful beacon for direction. Of course, he may have been killed or wounded or left in the bush. No news was heard of him, in spite of inquiries to the Germans through the Red Cross Society and a commission of enquiry some months later I was surprised, therefore, in 1954, when I visited the area, to find his grave next to my cousin's in the Taveta cemetery, to which place all dead in that area were brought together These two graves were the last two in the last row. My cousin, Bob Thompson, was a signaller in the 7th and died of wounds received in the battle of Latema-Reata [cf. Editor's note preceding diary entry dated 11 March]
I have never been able to solve this mystery, in spite of inquiries at War Records.'
EST.
12 February (Saturday)
Reveille 2.30 [02h30]. Marched on to the road and waited for daylight when we advanced and struck off to the right through the bush. After we had advanced about an hour we halted and an aeroplane came flying overhead and flew round the fort. We again advanced and when we had gone about 400 yards [366 metres] Jock Young found that he had left his rifle behind and went back to get it but couldn't find it. We still advanced with the 6th Regiment on our right and the Armoured Motors and Headquarters Staff on our left. We had advanced into an open space when suddenly we heard shells whistling over our heads and bursting about 30 yds [28 metres] behind us. At first there was a momentary pause then we all scampered for cover and a few more shells came along. For my part I was too excited to be frightened. After 5 minutes we were given the order to advance through the bush. Our howitzers now began firing and it was a fine sight seeing the shells bursting round the trenches. When we got closer up they began firing at us with rifles so we got into cover and unpacked the guns. We kept on advancing and then the wounded began coming back. The 5th Regiment then began to retire and acted disgracefully, refusing to halt and lie down when ordered. Our Corporal then told us to retire right back so we retired till they began shelling us again so we lay flat down. It was at this point that I last saw Jock and Bob Thompson. We retired further and got behind some tall trees but they again shelled us so we doubled across an open space to the right and got in amongst the Indian Mountain Battery. We lay down for about half an hour with bullets zipping past all the time. The firing seemed to be coming nearer, then the 6th retired behind us so we retired right back and then to the right. My mule here bolted for the German lines so I let him go and loaded my rifle and got behind an ant hill and there felt much more comfortable. I waited a few minutes, but as I could not see the enemy I retired further back as the snipers were getting all round us. I happened to find Lieutenant Parsons and a few other chaps with the guns but no mules. A few minutes later Sober came up with his mule and to my surprise mine behind it. We saddled up as well as we could and then the Baluchis who were guarding our rear got behind us so we retired further and got behind some trees but they began shelling us again so we got right out of it. There was still one fairly sized exposed patch to cross but The Germans shelled us with 4 pounders but as far as I could see no damage was done. By this time I had finished my water and was terribly thirsty and tired. When we got to railhead there were some tanks so I had good drink and filled my water bottle. After a short rest I walked back to camp slowly and felt too tired for anything. I did not see Bibby after the first shots were fired so felt relieved when I saw him in camp. After our chaps unpacked the mules they took the guns right up to the firing line and fired into the trenches. Several men of 'D' Company of the 7th got into the first line of trenches but as the 5th would not support them had to evacuate the place. Hans Gosch was killed during the retreat. He was bending over when he was shot through the back, the bullet coming through his jaw and smashing it. The poor fellow said 'Take me out of this, I guessed this would happen as it is my birthday'. We must have had a lot of casualties. When the first shots were fired at us I was too surprised to be frightened and although I was scared when the bullets were whizzing round us I was not so much afraid as what I thought I would be. Towards the end of the day I was so tired that I felt as though I didn't care what happened. We had nothing to eat all day except 3 biscuits and a cup of coffee at about 3 in the morning before we left camp. Although I expect some more fighting I hope we never get under such heavy fire again. When we got to camp we had to entrench ourselves and bury the poor chaps who had been killed. Brigade Machine Gun Officer Captain Hazeldene was wounded in the leg and arm. But after he was bandaged up he came back to the firing line. Rifles and ammunition were left all over the place, which I suppose the Germans picked up and will use against us next time. Everybody reckons that although it was a very hard position to storm we would have won had it not been for the 5th retiring. Rum issued.
On reading this entry recently, I would say that we had been rather harsh about the behaviour of the 5th SAI. As far as I recall it was a case of a few young chaps going into a panic and that should not be interpreted as a reflection of the whole regiment. The 5th did good work during the progress down the Pangani River and through Handeni to below the central railway. This Regiment was the first of the 2nd Brigade to be repatriated to the Union, which happened in October 1916, but later, strongly reinforced, they operated again in the south-eastern section of East Africa.
With regard to the 30 missing men, one of whom was an officer, and much more than the other regiments involved, this was cause for great debate by the rank and file. There were assertions that some of the missing had enlisted with the express purpose of getting away from their domestic affairs and so 'getting lost to the world' at the first opportunity. If this was the case, they would have had a hazardous journey through the lion-infested country to the Nairobi railway line - and subsequent difficulties. However, it remains a mystery.
EST.
13 February (Sunday)
Very chilly night. Early in the morning hear 3 big explosions. Thought they were our artillery firing again. When we got up we heard that the Germans had blow up our line and some of our water tanks at railhead. Heard that Hans Gosch died early this morning and went to his funeral at 12.30 [12h30] which was very sad. Jock Young and Ben Thompson never turned up so we fear the worst. A long hospital train came into take away the wounded. Early in the morning a construction train went out to repair the line and the Baluchis, Rhodesians and Loyal North Lancashires went out to see what could be found. They brought in three men who had their throats cut. The Colonel addressed us and told us he was proud to command us. In the afternoon we marched back to Mbuyuni owing to lack of water at Serengeti. Felt very tired when we arrived here. We arrived first then the 6th, then the 5th. The band played the 5th in as though they were the conquerors of the world. We had no band to play us in....
14 February (Monday)
...Had a refreshing bath. Had an interesting talk with 2 mechanics from the S. African Aviation Corps who said that the pilot in the aeroplane dropped a note to the General advising him not to attack as Salaita Fort was too strongly fortified and they also asked if they could drop bombs on the German trains bringing up reinforcements but the General wouldn't let them for some reason or other....
15 February (Tuesday)
At the 9 o'clock [09h00] parade today we were told that we were undisciplined and that we had to have some more training before we could advance. By that time the 3rd Brigade and General Smuts ought to be here and with him here things ought to go alright. We expect some burghers will come up with him. They would be useful. It was awfully hot and tiring work having drill in the bush and by the time we had finished I was in a dangerous mood. We were told that we are getting people from the 3rd Brigade to act as muleteers. I only hope this is true. At about 1 o'clock [13h00] the sentries told us to stand to arms as the communication wires had been cut outside the eastern gate. We went to sleep again and nothing happened.
16 February (Wednesday)
Parade again at 9 o'clock [09h00] but without packs and it is such a relief. We have to run about without our water bottles for 4 hours in the hot sun and it is an unenviable job. I suppose it is for our own good in the end although we make up for lost time when get back. 4 Guns on perimeter guard. Mule guard. Motor car arrived to have a machine gun mounted on it.
17 February (Thursday)
...Aeroplane dropped a bomb and gave everybody a mighty schrik....
20 February (Sunday)
General Smuts arrived this morning. An aeroplane dropped a 100 lb bomb on the German camp on the other side of Sileto [i.e. Salaita] Ridge. The aviator said that there was so much dust that he could not see what effect it had.... Mule guard. Looks like rain. About 5 o'clock [17h00] the aeroplane went to see what damage had been done in the German Camp. Smuts left again for Nairobi 2.30 pm.[14h30] ....
22 February (Tuesday)
Acted No 3 and No 2 gun. Had a sham fight and found a machine gun ammunition box which had been left in the bush when Mbuyuni was attacked by our troops. When I returned I found that No 3 and 4 guns were off for a 25 mile [40 km] march somewhere. They don't expect to be back till 2 pm [14h00] tomorrow....
23 February (Wednesday)
Acting tent orderly. Spent the morning in the bush talking instead of parading as there was only one gun. Nos 3 and 4 Guns returned from their march about 5.30 pm. [17h30]. They had marched to a hill about 12 miles [18 km] north to try and establish a signalling post, but no result.... A German patrol was seen by the companies marching out to the hill so we were told that we had to leave camp tomorrow to keep them on the move. Was put on mule guard much to my disgust and had 3rd guard.
24 February (Thursday)
Reveille 5.15 [05h15]. left camp 7am [07h00] and marched about 3 miles [5 km] into the bush. When we had our first halt we heard 2 shots so halted for sometime to see what was happening but nothing did so we got on the march again and reached the hill at 9.45 [09h45] and off-saddled till 12 [12h00]. I found a German cigarette tin and a few pages from a German book...... We zig-zagged through the bush and got home about 2.30 [14h30].... Went on perimeter guard with No 4 Gun....
27 February (Sunday)
...During the night some Germans blew up our boreholes at Vuria from where we get our water so we marched out 12 miles [19 km] north of the camp leaving 2 long lines of men all the way so that if the Germans passed that way we would intercept them. I hope our water supply won't be interrupted. At about 3 pm [15h00] we were told that we had to stay the night in the bush so each man dug himself a little trench to sleep in.. A motor car brought our waterproofs and some food out....heard one shot from the next patrolling party before going to bed....
28 February (Monday)
On guard from 3 [03h00] to 4.30 [04h30] and then stood to arms till daylight. Rather cold. Get a beautiful clear view of Kilimanjaro. A white German and Askari were captured by No.1 Platoon during breakfast. The German looked very dirty and his clothes were shabby. We took a revolver, water bottle and a good many papers off him. Heard a few more were captured further down the line... .The 8th Regiment arrived at 1.30 [13h30] to relieve us. Sloppy crowd. Started for home 2 pm [14h00] and got home at 6 [18h00].12-14 miles [19-22 km] in 4 hours is very good marching. Rum dished out... . Had first good night's rest for 5 nights. Heard that a German had been caught in our camp in one of our uniforms.He is liable to be shot.
29 February (Tuesday)
Slack morning. Went Shooting in the afternoon with the machine guns. Had 6 shots out of my rifle which kicks a bit more than the long ones but very true. Missed my turn at the machine gun as we had to return to camp for perimeter guard. Had second guard from [20h00] to [22h00]. ...
1 March (Wednesday)
Saw run-away train. Were told Nos 2 and 4 Guns had to go on patrol next morning.
2 March (Thursday)
Reveille 5 am[05h00] Paraded 7 [07h00] and marched to first hill north of camp.... Got back to camp about 3 [15h00] and had a fine shave and bath...3 March (Thursday) Reveille 4.30 [04h30] Paraded 5.30 [05h30] for an inspection by General Tighe. Had to roll blankets and thought we were moving but it was only an inspection. Was told at 5 pm [17h00] that we had to be on perimeter guard at 5.15 [17h15] so there was a great rush to get skoff and get changed so rather fed up. Rushed for guard and got 4th guard. Later we were told we could sleep all through then Major Thompson told us we had to help guard so I went on guard from 2 [02h00] to 3 [03h00]... .
5 March (Sunday)
Major Wedgwood drilled the 2nd SA Infantry Brigade Machine Guns all morning. Very short of water and very hot day.... 3rd SA Infantry Brigade (9th to 12th Regiments) arrived here in the afternoon. Looking very scraggy. We felt very happy as from what the papers said about the 9th we thought they were absolutely perfect. We can safely say that up till now we are the best regiment...
Ray came over to see me after tea and told me that he was to get the D.C.M. (Distinguished Conduct Medal) for pulling the burning tarpaulin off the ammunition in German West. Gave him my paper money to spend at the Y.M.C.A. as we were told we were moving on tomorrow...
6 March (Monday)
Reveille 5 [05h00]. Rolled overcoats putting on slacks, shin, 2 socks, mosquito net, shaving kit. Packed our kit bags 12 1/2 lbs weight and sent surplus kit to the depot at Maktau. Paraded at 3 pm [15h00] when the Colonel presented Sergeant Freeman and Corporal Jacobs with a revolver each taken from the German prisoners they captured last Monday. We left camp at 3.30 [15h30] and marched to Serengeti (4 miles) [6 km] and camped for the night. They have been boring for water here and have found a good supply. 10 overcoats were packed in 1 blanket and we drew for the one who was to supply the blanket. I was the lucky one as Bibby and I shared the blanket to sleep under. Had a good night's rest but a bit cold in the morning. Very big camp.
7 March (Tuesday)
Dusty night and woke up feeling and looking filthy. Rolled blankets and had breakfast which consisted of oatmeal porridge, coffee and bread and jam. Still dusty....Guns and packages kept on coming up all day. In the afternoon there was a rumour by the SAH (South African Horse) 160 Askaris had been captured but no confirmation could be got. We moved out of camp in a northerly direction at 6.30 pm [18h30] and marched all night. We force reserve.
8 March (Wednesday)
We marched all night escorting 2 batteries of the SA Field Artillery. Every 100 yards [91m] or so we halted momentarily which helped to make us more tired. We halted for an hour before daylight and I then managed to get a few winks. At daylight we moved off again and marched for about 2 hours then halted and had breakfast. We must have marched about 20 miles [32 km] during the night passing Salaita Fort about 4 miles [6km] on the left. The first river we had seen since our arrival at Mashoti was about 3/4 miles (4/6 km) off from where we halted for breakfast so Rose and I went down to get some water and have a bath. It was a lovely spot. Fair sized stream ran along a deep gulley with huge trees overhanging. We were absolutely filthy from the dust from the march so we got in and had a beautiful bath. What we enjoyed was the amount of water we could use. When we got back to camp we heard that Salaita Fort had been evacuated and that the 3rd Brigade had occupied it so we pitched camp at the river at the foot of Kilimanjaro. During the march Bibby complained of diarrhoea. We then made trenches round the camp [forming] a little shallow dugout for each man. About three o'clock [15h00] in the afternoon we heard heavy firing about 2 miles [3km] north of camp. A scout then came in and said the enemy were advancing so we got into the trenches and got ready for them. The firing got nearer and nearer so the Colonel sent out Regiment in skirmishing order. The Indian Pioneer Regiment also manned our trenches and they got the order to give overhead rapid fire which frightened the Germans away, but nearly hit our men. The SA Horse finally drove the Askaris away and the Regiment returned to camp and finished the trenches. We went to sleep in our trenches but were woken up 5 times during the night by false alarms in the shape of furious firing at nothing, which was rather bad for the nerves being a pitch-dark night and in the middle of the bush. Name of place Lumi.
9 March (Thursday)
Had a good sleep and had a good breakfast. Nos 3 and 4 Guns were warned to be ready to go off into the forest but later on the order was cancelled. During lunch Mr Parsons told us we were going out at once so we hurried through lunch and started out with about 50 SAH (South African Horse) and 2 companies of the Regiment. It was the hottest afternoon I have ever experienced with not a breath of wind and the dust was cruel. We had marched about a mile when we came across one of our men dead under a bush. He had been shot through the side and must have died instantly. The Askaris had taken all his kit and his helmet. It was a gruesome sight and what with the heat and dust it made us depressed. We continued marching for about 6 miles [8 km] then halted beside the river and took up a very good position. We could see a German fort on a hill about 2 miles [3 km] off which our Field Artillery bombarded yesterday. We stayed in this position for about an hour and a half then we saw that the fort had been set alight and was burning...[We] then returned to camp marching beside the river. We got back to camp about 7 [19h00] and had a good feed. As Bibby had been feeling rather bad he had not come out with us and was very weak when we got back. During the night we were troubled with one alarm of rapid fire which lasted for about 5 minutes and was again bad for the nerves. About 10 o'clock [22h00] we had a big storm with drops of rain about the size of birds eggs. I got under my waterproof and managed to keep dry except for one sleeve. During the morning a wounded man was brought in shot through the knee. He had been lying in the bush all night. The Askaris had taken all his kit but had not hurt him. Very pleased to hear that Taveta and Salaita had been bombarded and both taken.
10 March (Friday)
Bibby rather bad with his dysentery during the night, passing blood. He reported to the Dr Captain Henderson, who decided to send him to the hospital at Serengeti. Rose and I carried his things for him to the Indian Field Ambulance then wished him good-bye as we had to get ready to move. We moved off and crossed the river at 5 pm [17h00] and then marched about 7 miles [10 km] to Lake Chala. We arrived at dark and entrenched ourselves. Jock had lost his waterproof so I shared mine with him and had a good night's rest without any alarms... .The scenery was grand, very tropical looking. We walked back through a banana plantation and saw some monkeys running about in the trees.
11 March (Saturday)
Reveille at day break. Dick Heard and I climbed the hill to see Lake Chala. It was a lovely sight. The lake is in a crater and its size about 4 square miles. Kilimanjaro was in the background and was a fine sight with its snow-capped peak. After breakfast I went up again and took 2 photos on my camera and 3 on Bibby's. Later on Victor Rose and I went down to the stream to get some drinking water. The water filters through the hill and is perfect. After lunch we got on the march again and reached Taveta (about 6 miles) [8 km] at about 4 pm [16h00]. Our Naval guns and howitzers were bombarding a range of hills about 4 miles [6 km] off where the Germans were supposed to be. Rose and I went to fill our water bottles and walked through the village. The Germans had built forts on 3 little hills in front of the camp. They were thoroughly and strongly fortified and one had been badly knocked about by our guns. A block-house built in a very 'square-headed' fashion had been made into the telegraphic headquarters. A good many grass huts in the village had been burnt by our shells. It looked as though the place had been evacuated in a hurry as mealie meal and other supplies had been thrown about the ground. No sooner had tea been eaten when we got the order to saddle up. We knew we were off for a scrap and a night one at that so were none too happy as we knew it was going to be heavy. We marched out and wounded men on stretchers kept on passing us on the road. The casualties must have been very heavy. We marched along when suddenly heavy firing began in the front so we extended in skirmishing order and advanced. We had gone about a mile when I was sent back for Stirling and had to walk over 2 miles [3 km] to the firing line with a box of ammunition, a tiring job. About 3 minutes after finding the gun, firing began in earnest. The bullets came awfully quick and uncomfortably near. Snipers and machine guns were very prominent. I kept my head behind the ammunition box as low as possible. Bullets whizzed around. After the moon went down the firing slackened so I slid back on my tummy for about 50 yds [46m] and found a little trench so got into it and began digging deeper with a bayonet. A bullet hit the side of the trench and knocked the sand over me. After stopping for about a quarter of an hour I heard an officer say that the 5th and 7th Regiments had retired so I decided to go back too as the firing had practically ceased. I found the road and later on the other gun teams. One of our young muleteers, Mennie had been shot through the head and was carried away unconscious. At 4 o'clock [16h00] we entrenched ourselves and had sleep for about half an hour. 4 Weeks since Salaita. Name of pass Ratea Latena. [i.e. Reata Latema].
THE BATTLE OF LATEMA-REATA HILLS
Von Lettow-Vorbeck had perceived the movement of 2nd Division towards Salaita where, supported by his artillery, he intended to entrench a line facing the hill on the morning of 8 March 1916. The German commander decided to deploy his troops for a fresh stand on the heights which seal the gap between the North Pare mountains and Kilimanjaro to the west of Taveta. Latema and Reata Hills, which command a nek through which the road to Kahe passes, were selected at as the positions for the German defence. On the night of 8-9 March Maj Kraut and his detachment manned these natural defences. The two hills rose 700 ft [213m] above the level of the plain which intervened between them and Taveta. They were blanketed with dense bush which concealed virtually every movement on the hills save for occasional points on the skyline. The plain between the nek and the bush was open except for scattered bush, and thus concealment of any movement by day from an observer on Latema or Reata was impossible. As the bush approached the nek it gradually became thicker. Save for the fact that, on this occasion, two hills were involved instead of one, the problems confronting the assaulting troops were virtaally identical to those facing them at Salaita Hill. In each instance the German forces were defending ground that they had held for the greater part of two years. As such, it is reasonable to assume that their knowledge of the terrain was in equal proportion to the ignorance of the attackers. On 11 March the attack on Reata Hill was initiated by Malleson 's 2nd Division. At the time that the first assault was launched, Beves's 2nd SA Infantry Brigade (forming the force reserve) was on the march from Lumi to Taveta, and was nearing its destination. The method of attack adopted by Brig Gen Malleson assumed the form of a frontal assault unrelieved by any local movement on either flank. The extreme denseness of the bush and swamp of the country to the south precluded any flank attack from that direction. In any event, exhaustive reconnaissance and preparation would have revealed such an intention to the enemy at an early juncture. Malleson's attack, predictably, was repulsed and shortly afterwards he was relieved by Brig Gen Tighe, due to the former's illness. At approximately 17h00 the force reserve reached Taveta. Tighe ordered a further frontal attack, supported by 5th SA Infantry Regiment (Lt Col Byron). This assault was also beaten back without reaching its objective - the Latema ridge near the nek - and the troops engaged in the action were ordered to consolidate such ground as they had gained by entrenching.
Smuts ordered 7th SA Infantry Regiment (Lt Col Freeth) to be placed at the disposal of Brig Gen Tighe, whom it reached at 20h00. At 21h15 the two South African battalions, together with 2nd Division, engaged in a third assault (once again a frontal bayonet attack). That it failed is hardly surprising, involving as it did an advance through dense bush, up a steep slope, at night, in the face of machine guns placed (as was invariably the case) in deliberately selected and carefully prepared positions. However, detachments of 5th and 7th SA Infantry Regiments did reach the two heights of Latema and Reata; a tribute both to the leadership of the advance (Lt Cols Byron and Freeth) and to the resilience of the rank and file. (Both Byron and Freeth were, at one point, regarded as missing). Byron, slightly wounded, had reached the nek with 20 men, but was forced to retire. However, he had ordered Lt Col Freeth and Maj Thompson (second-in-command of 7th SA Infantry Regiment), with detachments of their regiment, to consolidate the slopes of Latema and Reata respectively. Ensuing events were to prove that this decision reflected sound tactical judgement. On the morning of 12 March it was observed that the Germans had withdrawn and that Latema Hill was in actual fact held by Freeth with 18 men and Reata by Thompson with 170 men. (Both officers were immediately awarded the Distinguished Service Order (DSO)). Accordingly, 2nd Division advanced and completed the occupation of the hills. The gallantry of the South African forces in this action is clearly beyond dispute, rectifying the impression created at Salaita Hill. However, it is doubtful as to whether the South African troops could in fact have held the hills had not von Lettow-Vorbeck decided to withdraw in order to improve his overall tactical position. This withdrawal was motivated by an over-estimation of Thompson's force on Reata; which von Lettow-Vorbeck thought would advance on the following day and cut off his lines of communication. In any event, the German commander's position would become untenable 12 hours later as the result of the outflanking movements of van Deventer's Mounted Brigade, supported by Berrange's 3rd SA Infantry Brigade; these movements were in a northward encircling form, directed towards Lake Chala. On 9 March Berrange had occupied the south eastern edge of Lake Chala. These movements precipitated a general German retreat towards Lake Kahe.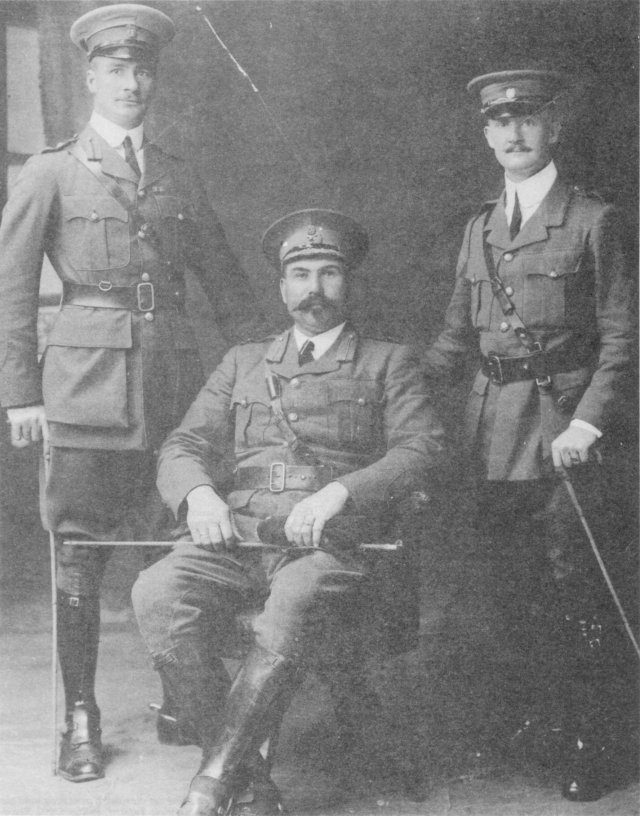 Lt Gen J L van Deventer (centre), General Officer Commanding Imperial Forces, German East Africa, 1917-1918.

12 March (Sunday)
Just before daylight they woke us up and we marched back to Taveta very tired. Noticed the hospital was overflowing with wounded. I am still not in love with fighting and I suppose never will be. The Colonel came in and reported that he and Major Thompson with 50 and 120 men respectively had occupied the hills on either side of Taveta Nek. The 8th Regiment were sent out to relieve them. Most of the enemy had retired during the night but about 250 Askaris and 2 machine guns were still there. He told us that our section had worked splendidly. Mr Lowden, and Archie Cohen are amongst the dead, Douglas Waugh is missing and my second cousin Signaller Thompson is wounded. Went to Mennie's funeral about 12 o'clock. The 'Last Post' was being sounded all day. Probably due to weariness on the day after the battle, I did not do justice to the Regiment's role in this action. After Colonel Freeth received his orders to attack, which was at dusk, he gathered the whole battalion in close formation around him and told us what our task was and how he intended to do it. Then we got on the march and soon encountered troops and many wounded coming back from the firing line. We noticed one party carrying Maxim guns and, being curious, challenged them 'Who are you?'; their reply was 'Calcutta Volunteer Machine Guns - or rather what is left of them'.
Eventually we extended into the firing line at about one metre intervals (not the usual intervals on account of the darkness), the riflemen with fixed bayonets and the Maxim guns at intervals along the line. The plan was that when the order was given (by means of a rifle shot in the centre of the line) each man was to fire '10 rounds rapid' to the front into the bush and immediately thereafter to charge cheering as they ran. After about 100 yards [91m] the process was to be repeated but, of course, the Maxim guns could not join in the charge. To those left behind it was thrilling to hear the cheering fading into the distance.
It was noticed how the enemy fire from the front stopped during the charge, though enemy firing continued from the heights from each side of the valley. Some of the enemy troops were using elephant guns and the heavy slugs could be heard hurtling through the air.
EST

13 March (Monday)
Started on the march at 9.30 [09h30] on the road to Moshi. Did not feel inclinded for marching and it was so awfully hot. At 11.10 [11h10] we crossed the border which was marked by a pile of stones, (the German telegraph was rather a novelty being a tree pole with the wire round a beer bottle neck as insulator) a white pole and a sign board with German colours on like a barber's pole. We were very happy and marched through very different scenery to what we were accustomed to. We ate some kaffir plums which taste like steen-vruchte and allay the thirst. We had to leave the road as a bridge had been blown up and the motor car got broken so had to be sent back. Our gun mule got the colic so the porters had to carry the guns. I had started out with 1/3 of a water bottle full and suffered from thirst very much. The Indian Pioneer Regiment were repairing the road and building bridges all the way along. After we had marched 10 miles [16 km] we came across a coffee plantation and got some dirty water to drink. After a brief halt we trekked on for another 2 miles [3 km] and met the 3rd Brigade who had been marching on our right flank... Hamo [Himo] river is about 100 yards [91m] off. We were marched to our company ground and then Rose and I got some water from the river which is a lovely one and made some tea. Before the water boiled we were told to fall in as General Beves wanted to speak to us. He said that General [Tighe] wanted him to tell us that he had gone over the ground we had fought over on Saturday night and said we had done very well under very difficult conditions. He also said that if we had not taken the hills that night we would very likely still be fighting for Taveta Nek.
He also said that General Smuts was very pleased with us. We then gave Colonel Freeth, General Beves and General Smuts 3 cheers each and dismissed. Slept with Dick in the gun position. It began to rain at about 9 o'clock [21h00] so we shared my waterproof and Dick's old one between the 3 of us but we couldn't keep the rain out and spent a rather uncomfortable night. Hear Moshi had been evacuated. Suffered from blistered heel. Rum issued.

14 March (Tuesday)
Made some coffee. Orders were that we were to wash ourselves and our clothes in the river as we could not move till the bridge over the river which had been blown up by the Germans was repaired. the water was fine but very chilly as the water is from the snow from Kilimanjaro. It is a lovely river with ferns all round and very steep banks and dense undergrowth. We had a good bath then washed our clothes. While having lunch General Smuts came near our position with his field glasses and had a look at the surrounding country. He then climbed up a tree to see more clearly. We got our overcoats during the morning so had a change of clothes. After tea we had a long talk with Lieutenant Strathern about the fight. He was half dopey and talked and swayed very much. When bed-time came it looked like rain so we got under a transport cart but the rain washed us out so I stood in front of the fire from [02h00] in the morning till daybreak during which Dick made some oxo.

15 March (Wednesday)
Bridge not finished so cannot move off. Went across the river to see Ralph but his regiment moved offjust as I got up. Took a photo of the river and Taveta Nek. Fixed up shelter with waterproofs. Looks like rain again. I think the wet season has set in again. The 4th SAH [South African Horse] told Rose and I that they had captured Moshi with some rolling stock. Some civilians were still in the town but they had to return owing to lack of food.... Another very wet night but slept in spite of it.

16 March (Thursday)
Went for a bath in the morning. After lunch we moved to a better position for camp and entrenched ourselves. At 12 in the night [24h00] we were awakened by shots and a few bullets whizzed overhead. It appears that a few snipers had fired into the camp but nobody was hurt. This is the first dry night we have had at this camp and we have not seen Kilimanjaro free from clouds yet. Orders were read out at 5.30 [05h30] and it said that Signaller E J Thompson had died of wounds. Very sorry to hear it as he was a very decent chap and my second cousin. He had been reported as missing after Salaita.

17 March (Friday)
St Patrick's day. Dull morning but became lovely afterwards. Rose and I finished our dug-out and put a roof over it with grass. Great improvement and very shady. All day long natives have been coming in from different farms as the Germans are taking their stock. They are a vile looking filthy lot, and seem very interested in the camp especially the food. Telephone wires are being put up so it looks as though we may stay here some time, very probably till the railway arrives... .

18 March (Saturday)
Bellfield's scouts were fired on from a little hill about 4 miles [6 km] from our camp so we were sent out to chase the enemy off. We started off, the 8th Regiment being in advance and the 5th on the left flank. We were made rear guard much to our relief and guarded the Artillery. The guns put shrapnel on to the hill all morning and the naval guns bombarded it from Latema Reata Nek. Later in the afternoon we advanced the guns shooting over our heads making an awful noise. We could see the 8th Regiment running up the hill over shells landing neatly in front of them keeping the bush clean. One Askari (wounded) was captured. The 8th and 5th remained on the hill for the night while we returned to camp at about 8 [08h00].

19 March (Sunday)
Reveille 5 am [05h00]. Packed our kits. Moved out about 8.30 [08h30] and marched to the hill which we took yesterday and which is called Alta Latema. At 2.30 [14h30] we marched off going through the bush which was real jungle and our arms and knees were scratched badly by thorns. We came across the remains of a corpse of an Askari who must have been killed by a lion as we saw its den close by. We trekked for about 2 miles [3 km] down the river then halted. We could hear our guns bombarding a little kopje called Rusthaus. About 5.30 [17h30] we returned to Alta Latema and entrenched ourselves. We could hear our Maxims and rifle fire going in the bush at night. Had to sleep with my head on a side and my neck twisted consequently woke up with a sore neck.

20 March (Monday)
Neck giving a lot of trouble and very painful. Heard 3rd Brigade had taken Rusthaus Kopje. 14 men returned who had been lost in the bush and spent the night there. 1st Brigade took over Alta Latema hill so we returned to Himo River camp. Very hot dusty and tiring march and I had to keep my head on a side all the the time.... Slept in trench and was woken up at about 12 [24h00] by hearing very heavy firing about 4 miles [5 km] off.

21 March (Tuesday)
Neck a bit better. Heard that General Sheppard's lot had defeated the Germans last night killing a good many white Germans. Our casualties were 21. Built a hut. All day long our guns bombarded a hill about 15 miles [24 km] distant and the surrounding bush. The Germans are supposed to be surrounded. We could see the shells bursting all over the place. It was expected the Germans would try to break through somewhere during the night so we entrenched ourselves strongly. 'D' Company made General Smuts's bodyguard.

22 March (Wednesday)
Paraded at 9 [09h00] doing proper garrison work. Flour and baking powder issued in place of bread so made some batter cakes in bacon fat. Suffered from pains in the stomach a good deal. Found some potatoes so boiled them and had them with our stew. Saw a good few wounded chaps come in on motors amongst them bringing Duffie Anderson who had a flesh wound in the thigh. It is reported we have captured their big Koeningberg [i.e. Konigsberg] gun.
The Konigsbergi> was a German light cruiser, launched at Kiel in 1907, which arrived at Dar-es-Salaam on 6 June 1914. Commanded by Cdr (later Capt) Max Looff, it embarked on an unsuccessful career as a commerce raider before seeking refuge in the fever ridden swampy vastness of the Rufiji river delta in September 1914 (after sinking the Pegasus, an antiquated British cruiser, on 20 September 1914, in the Zanzibar Channel). After being blockaded by the Royal Navy for eight months, she was eventually sunk, on 11 July 1915, by two British monitors (shallow draft vessels), the Severn and Mersey. However, the cruiser's ten 4,1 inch [105 mm] guns were, with characteristic resourcefulness and tenacity, salvaged by the Konigsberg's crew and accompanied the German land forces. These guns (the heaviest artillery in action in the German East African campaign) defended German held Kahe in March 1916 and bombarded the South African forces at Kondoa Irangi in May-June 1916. The capture of the gun, to which Col Thompson refers, probably occured at Kahe. (Probably the only one of the guns captured by the South African forces is now displayed near the Union Buildings at Pretoria). Ed.

23 March (Thursday)
Suffered from pains in the stomach during the night and felt I was sickening for something so went sick this morning and took 2 cascaras. Rifle drill at 9 [09h00] . Dick got a fresh liver for lunch and cooked it. Quite tasty. After lunch found that I was suffering from diarrhoea. Issue of rum eased the pain a bit.

24 March (Friday)
Spent a wretched night so went to the Dr in the morning who gave me some chlorodyne. Moved our camp to the front line of the trenches and rebuilt our hut. Had nothing to eat all day and vomited twice. Dopey gave me a quinine tablet and I felt a bit better later. Hassett returned from Maktau and said that Bibby was very bad with dysentery and had been sent to Nairobi... .

25 March (Sunday)
Woke up feeling a bit better but with pains in the kidneys. had some porridge for breakfast. Lay on my back most of the day. Rained in the afternoon and soaked us out of our shelter... . Felt very weak towards night but made myself comfortable as possible on the wet ground and slept like a log though it started raining again during the night.

26 March (Sunday)
Porridge for breakfast again. Kilimanjaro simply covered with snow, a fine sight... . Rained again in the afternoon. Did not rain during the night for a wonder.

29 March (Wednesday)
Cutting grass fatigue and cooking our own food most of the day. Flour issued instead of bread so made dumplings which were quite tasty but rather heavy. Tents arrived and had to move our hut which collapsed in the process so slept under another. Heard Tanga had fallen.

31 March (Friday)
Tidied up and made our tent as dry proof as possible. Tent orderly for the day. Suffered a bit from diarrhoea. Best stew and roast for a long time thanks to Dat Lester. Half ration of rum and quinine issued, gave Dick mine... .

1 April (Saturday)
A good many 'April Fools' in camp. Cooked the mealie meal then read my letters. Still bad with diarrhoea. Grass-cutting fatigue all the morning in the hot sun which made me feel crook. In the afternoon Victor Rose and I got a touch of fever and we felt pretty rotten. Before going to sleep Dick Heard gave us a quinine tablet each. Got our kit bags and spare kit so had a blanket to lie on and one to cover me. A pitch black night with not a breath of wind and stuffy.

2 April (Sunday)
Woke up feeling a bit better from the fever but still weak from diarrhoea so resolved to diet myself and rest all day. Spent restless night.

3 April (Monday)
Feeling weak and dejected so reported sick to the Doctor who gave me 2 quinine tablets and light duties. Victor Rose got fever again. Both feeling pretty bad. Had some milk and rice for lunch. Experienced one of my longest and wretchedest nights.

4 April (Tuesday)
Taken to the Indian Hospital on a stretcher. Put in a tent on the ground. Given no food.

5 April (Wednesday)
No food for 18 hours. Hospital cook then brought round half a loaf of bread and some jam. Given some quinine and epsom salts and during the night my clothes were simply soaked with perspiration.

6 April (Thursday)
Feeling much better but very weak. Dr said I could go back to camp if I would like to. Waited all day for my discharge but it never came so had to stay another night.

7 April (Friday)
Packed up my things and returned to camp without waiting for discharge, feeling better from fever but still weak with diarrhoea....

8 April (Saturday)
Slacked most of the day.... Feeling pains in the stomach again after nightfall.

9 April (Sunday)
Read nearly all day. In the evening heard that we were moving to Aruscha 67 miles [106 km] West in the morning. Had good night's rest.

THE JOURNEY TO NEW MOSCHI

10 April (Monday)
Rose and I went to the Doctor who said we had better not go on the march... Legg promised to take us on in the motor in 2 days time. Drew 15 rupees pay. Don't feel inclined for marching. Rained during the afternoon...

12 April (Wednesday)
... We resolved to go on to Moschi as we heard the Regiment was staying there on account of the bad state of the roads... . Rum issued but spoilt by quinine. Legg got a kidney so we had bacon, kidney and onion fried with bread for lunch. At about 2 o'clock [14h00] we began to pack up taking two mail bags. The car was very full and heavy but we started at 2.50 pm [14h50] and got along very well. We had gone about 3 miles [5 km] when we met the machine gun car of the 5th Regiment which stopped and dropped a chap of the 7th Regiment who had been sent back by the Adjutant to bring the car up. Legg naturally was very indignant and as the car was full up told the chap to wait for a motor lorry which was coming on behind. We then proceeded and after going about another 3 miles [5 km] further 2 partridges walked across the road so Legg stopped the car and shot one. We were hoping to pot another one later but although we saw a good few more conditions were not suitable. I enjoyed the trip very much although the roads were in a shocking state. Just before entering Neu-Moschi I saw Nighty helping to get a motor lorry out of a mud drift. Neu-Moschi is quite a respectably sized village with some decent houses about, but with decidedly German architecture. Little trollies are pushed about the streets as at Mombasa. The station is again decidedly Germany with a light rail... .

IMPRESSIONS OF NEW MOSCHI.

13 April (Thursday)
Had a good sleep but woke up to find a dull damp morning. Had bread soaked in milk and coffee for breakfast. It became fine about 9.30 [09h30] so I took my camera and after taking a photo of us at breakfast we walked into Moschi to have a look around. The roads were very slippery with mud which made us wonder whether we could leave today. We had a look at the Post Office, a double-storeyed building then went down to the station. Legg took a photo of Rose and I standing in front of Neu-Moschi station. We then went past the Arab Stores to the market place. I exchanged a rupee for some German money from a coolie who wanted to go back to India through Mombasa. Before leaving I took a photo of the market. The Indians seemed to be selling nothing but German cigarettes, tobacco,... cheap knives and curry cakes. The Cape Coloured Corps are garrisoning this place for the present. They seem quite a serviceable lot. We walked back to camp through the town and saw about 50 Askari prisoners sitting in front of a house... . It came on to rain in the afternoon so we covered up the motor as well as we could and got under shelter which leaked badly. We had dinner with the mechanics which consisted of soup and curry and rice and it warmed us up nicely. Just before retiring to bed some German snipers fired into the town so our patrols were sent out after them. A good many shots were fired and we thought we would have some trouble during the night but everything passed off well. Victor Rose and I slept on the dining table which consisted of 2 boards on petrol tins. We slept well but the dripping made us feel very damp. It poured the whole night.

16 April (Palm Sunday)
Woke up at 7 [07h00] to find it damp and drizzly.... Sergeant Snow of Mechanical Transport, after breakfast asked us to cut down a few trees and stumps so as to make a road for the cars to the workshops. Legg and I got on a Reo [Reo refers to the manufacturer of a particular type of truck used in East Africa in World War I.] about 11 am and went down to the first river on Himo road to help tow some other cars out of the mud. The road was in a hopeless state the car slipping all over the place. Mud and water lay on the road inches thick, and consequently bottom gear had to be used so that when we arrived the water in the radiator was boiling. I took a walk down to the river to see the bridge which had been pushed into a curve by the force of the water but was still strong. Just then it began to rain, making things sloppier than ever. We got about 5 Reos out of the mud and sent them on their way, then returned to camp slipping about worse than ever.
Once or twice I thought the car would turn right over but bar sticking on a hill for about 5 minutes everything went well. When we got back to camp we found that one of the Reos we had pulled out of the mud before had sunk her back wheels in the mud down to the differentials. We got this motor out in due course but it was 2.30 [14h30] before we could have lunch. Soon after lunch the rain stopped and it began clearing up. About 4 o'clock [16h00] Sergeant Snow asked us to dig a latrine so we did and were very glad when it was over.

17 April (Monday, beginning of Holy Week)
Woke up to find a lovely morning... . I stayed behind and did the washing and got the leg of mutton ready for boiling. When the motor returned we moved our things to another tree by. After lunch we made a bench in the garage and spent the rest of the afternoon putting a roof on. Legg drew some comforts which consisted of 6 packets of Flag cigarettes, a small tin of Acid Drops, a tin of sardines and some tobacco. Managed to buy a few bananas from a native at a cent each. After tea went for a stroll into town and spoke to a motor driver who said that he had just come from Aruscha and that the roads were still impassable for a Talbot. Rained hard during the night but kept dry.

18 April (Tuesday)
... Began to rain hard again so got diary up to date and wrote letters. Washed up and got lunch ready which was a plain one consisting of bread and jam and tea. After lunch washed up again and was going to roast leg of mutton but found it was bad. Rose and Legg drew rations and came back with a good supply of bread, cheese, oatmeal, tea, jam and 2 tins of bully one of which was blown so had to be thrown away. Tidied up our spare kit and had just finished it when the Adjutant of the Mechanical Transport came along and told me to tell Legg that the road to Aruscha was now passable. We had a lovely tea consisting of bully beef on toast with onion sauce spread over it. It was most enjoyable. We had scarcely finished tea when we were asked to take 2 of the Mechanical Transport men down to the hospital, suffering from fever. We lit up and took them both down making 2 trips of it. The hospital was formerly Kilimanjaro Hotel and is a weird building not at all comfortable looking. I saw Goblin Thompson there who told me he was being sent to Nairobi to tomorrow to have his nose operated on. The motor ride was most enjoyable in the cool evening air.... Rained very hard during the night and got my blankets very damp but managed to sleep all the same.

19 April (Wednesday)
...We were stopped at the first bridge for about a quarter of an hour as an ox wagon had got stuck across the bridge. Then teams of donkeys used for transport hindered us a good deal. The roads were pretty bad in parts but not so bad as we expected... . The car was giving a good deal of trouble losing power when most required. Legg took the carburettor off a good many times but bar a bit of water and a piece of straw we could find nothing wrong. After crossing one bridge we stuck and had to get some natives to help in pushing. From there we managed fairly well till the car bumped into a mud hole and stuck We managed to get hold of 13 natives and after a good deal of pushing and coaxing got out. As it was then near 6 [18h00] and there was a farmhouse close by we drove the car under the verandah and resolved to stay for the night. We presented a bag of tobacco to the 13 natives and it was a picture seeing their happy smiling faces... .

20 April (Thursday) (Maundy Thursday)
. ..Rose and I started to pack the car and Legg cleaned the magnetos. We started to let the petrol out of the tank so as to be able to separate the water and to our consternation found that there were only about 4 cupfiils of petrol left (about enough to take us half a mile on a level road) Rose and I went to see if we could borrow some but everybody was short. We met a friend of Legg's who promised to get some from Workshop No.2 (7 miles away) [11 km]. If we cannot get petrol things will be serious for us as we have only 2 days rations and we are far from any base where we can draw any supplies. One comfon is being in a house, we can keep dry and there is drinkable water close by in the river. We managed to get 8 gallons of petrol from a passing convoy so started at once. Rose and I went across the river with our kit in a small aerial railway business. Legg went into the river with the motor and got pulled through with a good many bumps and stoppages by a crowd of natives and with a good many swear words from the officer commanding the transport which was going through. We had some difficulty in starting up again as water had got into the carburettor and crank case. The car was still giving some trouble but we managed to get to the next river on the other side of which was No.2 workshop. The river runs through ... densely wooded [country] and a drift is approached by a very tortuous road. As we were too late to be pulled across we stopped and had tea. After tea we thought we would try to spear some fish with a fork so took an acetylene lamp down to the river, but we got nothing. As we thought it might rain we slept on the mail bags and put a sort of tent over the car and slept fairly comfortably, except when we were wakened in the middle of the night by some Indian transport getting across the river.

21 April (Good Friday)
Woke up early and unpacked the motor, sending some kit across the footbridge by the natives. We then had breakfast but the mule transport coming along then held us up as we had to give it preference. When the first wagon went through the drift a mule got entangled in its harness and got drowned and it was a nasty sight seeing it struggle. We were hung up the whole morning doing nothing, but managed to get across just before lunch. After lunch Legg with the aid of mechanics got the motor in good running order and we decided to start tomorrow morning. All day long wagons and lorries were pulled through the drift. First 5 Reo lorries then some limbers of the Field Telegraph Corps from England. Fine horses pulled them through without the aid of the natives. We had a good dinner then went to bed. It threatened to rain during the night but nothing happened and Black, a mechanic of No. 2 Workshop, played the violin while we were in bed and it was like old times.

22 April (Saturday)
....We loaded up, filled up with petrol and carbide and drew rations for 3 days. We started at 10 [l0h00] and had a stiff pull to begin with. The road was very bumpy and very muddy in parts. There is a bog right on top of a hill so we left the road striking through the bush to an old road and were thus able to get along without getting stuck. After passing another smaller bog we ran into open country just like the veld in South Africa and it was a fine sight after seeing so much bush for so many months. At 11.30 [11h30] we arrived at a small river and had to get through on our own power but the engine stuck and we had to pull it out with a rope. On the other side of the river we had lunch then tried to get the motor right but could not find out what was wrong. We then found that Roses's overcoat and mine had dropped off the car somewhere and consequently lost. It is very awkward as it is the rainy season but it can't be helped. The trouble is we won't be able to get new ones as the quartermaster does not carry them. We got the motor right so started off again about half past 2 [14h30]. The roads were fair and dry for about 8 miles [12 km] then our trouble began. We ran into a soft sort of boggy country with any amount of steep drifts to cross. We skidded and bumped and side-slipped all over the place to get out. The mule transport had by now got in front of us and we halted and had tea to allow them to get ahead. As this part was supposed to be infested with lions we did not wish to camp by ourselves so lit up and proceeded. The second drift was rushed at and we got through first shot. The third one was very steep with rocks in the road but that was rushed too and the car went through first time but broke the right-hand back spring. We camped with the mule transport and just before going to bed heard a lion roaring about a mile away. It rained during the night but as I was dead tired I slept well.

23 April (Easter Sunday)
Woke up to find it a dull day and the road as slippery as ice. We had breakfast and then unloaded everything as soon as the mule transport had moved off ... intending to get the car forward over the drift then returning and carrying the lot over. The car was started and after a great deal of skidding slid into a deep net and stuck. We spied another mule wagon and we asked the conductor to lend us some mules to pull the car out. He very kindly did and the car was pulled into the bush at the side of the road on harder ground. Legg then went further along and came back and reported that it was impossible to get through so we decided to wait till the road was a bit drier then turn back.... On getting back to the car I found that there was an ox convoy passing, empty and returning. We asked if they would tow us out of the bad parts but they said they couldn't so we took French leave and threw all the spare [equipment] on to each wagon as it passed. We then had lunch, packed up our private kit and started. The car got on fairly well, the wheels slipping round a good bit. As the car had practically nothing on she sailed through the first and third drifts and got through the second one in 2 shots. We then had an enjoyable run back to the next camp stopping on the way for tea. We did not cross the river but made ourselves as comfortable as possible for the night.

24 April (Easter Monday)
Woke up to find it a dull day. After breakfast Rose and Legg went to get the kit off the convoy which had just come in. While they were away it began to rain hard as I got under a sail. When the rain stopped we made a tent and took everything off the car. Towards 4 o'clock [16h00] Rose drew rations for 5 days from the Post Commandant consisting of Bully Beef, Flour, Sugar, Rice, Tea and Coffee... .Rained a bit during the night but we kept dry.

25 April (Tuesday)
Just after breakfast a mule convoy came through and I saw Nighty with it. He had been sent to Nairobi for 6 weeks with fever and was rejoining his Regiment. Rest of the morning tidied up the tent. Had only tea for lunch. Had a chat with Nighty before he left, then Legg and I had a cross-country ride in the motor to a German farm house about 4 miles [6 km] north to get some galvanised iron to make a dry proof dwelling for ourselves. Things were pretty badly smashed up but we managed to get some iron and poles. The journey back was pretty noisy and bumpy... .

27 April (Thursday)
... Legg went back to workshop No.2 to see if he could get his spring fixed up and also to see if he could get some rations. He got stuck in the river while going across but with the aid of Sergeant Grey and his section and a motor lorry we soon got him out. After lunch I went out shooting. ... I...walked on... to the German Farmhouse. There were a crowd of savages there taking galvanised iron off the house to make themselves huts with. I walked amongst these boldly with my rifle over my shoulder and had a look round... It rained pretty heavily during the night but I managed to keep dry as I slept in Legg's waterproof shelter.

29 April (Saturday)
Woken up by an Indian with a telegram from Colonel Freeth saying that we were to come on as soon as possible as the car was urgently required. Am afraid it will be a very difficult job as there has been a lot of rain the last 2 days and looks like more to come. Legg has not come back with the motor yet so we shall not be able to move off for another day or two yet. The S African Indian Field ambulance marched on about 9 o'clock [09h00] making an awful coolie noise... .

30 April (Sunday)
... At about 4.30 [16h30] some ammunition Transport carts passed by with major Haseldene in charge... .

1 May (Monday)
Woke up early to find it a dull day and raining heavily. Rose went to Major Haseldene to ask if he was going to trek to-day and he said he would if it cleared up later... . We started about 12.15 pm [12h15] and did 8 miles [12 km] in about 4 hrs outspanning for half an hour halfway. We covered the good road then camped at the edge of the bad road. Rose and I were given a bivouac to ourselves and as there was room for 3 Padworth came in. We just managed to get it pitched before dark. Rose and I were put on guard with 3 others as it was a lion district. I had 4th guard from 1.30 [01h30] to 3.30 [03h30]. It began to rain during dinner and continued on and off the whole night through. I stayed in my tent when it rained during my guard. We heard a hyena howling during the first guard and a weird sound it made, making the first guard rather scared.

RETURN TO THE REGIMENT

2 May (Tuesday)
...Started on the way at about 7.45 am [07h45] and in spite of the shocking state of the roads made fair progress. All the drifts were passed without much trouble... .

3 May (Wednesday)
Reveille 5.30 [05h30]. Packed up, had early coffee made of muddy water, inspanned and started on the road. For the first mile the road was good but steep. Then every 100 yards [91 m] we had to walk through overflowing spruits. A good many up to the knees. These lasted for about 2 miles [3 km] then we came to a deep swift river. The first wagon went in with our blankets on which got wet as the water was deep and swift. The second and third carts were off-loaded and the porters carried the stuff over the bridge... I got my blankets and spread them out to dry. Major Haseldene asked me to help him pack his whiskey on the cart. He seems to be more keen on keeping his whiskey dry than our blankets.
After breakfast we packed up again and got on the march. The Lieutenant being faddy made us march with our magazines charged with 5 rounds and a rear guard and advance guard. All rubbish, even the major was amused... We continued making fair progress the roads being not too bad till we struck a rotten patch and had to carry our own kits across so as to lighten the cart... Padworth told us that the Major had managed to get some porters to carry our kit to Aruscha tomorrow so we went to bed happily and slept well... .

4 May (Thursday)
Got up late and had a good breakfast. Packed up our kits and tents tightly. There were about 500 porters altogether and 50 were given to us. They make an awful row and chatter like monkeys. We sent the carts on about an hour ahead. We started and had awful roads to traverse slipping and sliding all over the place. Every few hundred yards we would have to wade through a river thus never giving our boots the chance to dry. We must have marched about 12 miles [18 kin] stopping at 3 o'clock [15h00] for lunch. My feet were pretty sore but I managed to keep up. We passed any amount of motor cars stuck in the mud including 2 Armoured Machine Gun Motors. We arrived at Aruscha about 5 [17h00] and marched to our quarters. From what I could see of it it looks quite a decent town or village.

ARUSCHA

5 May (Friday)
Slept in a room so slept dry... Had a shave and wash then had to run about town to find the Machine Gun Corps who were buying cigarettes. Had to wait a long time then went to draw rations and got mixed up badly ... . Aruscha is a pretty town with a picturesque Fort or prison. There are primitive sort of gutters along the main streets. There are a fair number of Dutch people and German children and women still left in town. A S.A.H. [South African Horse] man told me that there were a good many Dutchmen fighting with the Germans against us. After lunch the Major and Lieutenant Crothall left for the camp where the Regiment is 8 miles [12 km] off....

RE-UNITED WITH THE REGIMENT

6 May (Saturday)
Reveille 6 am [06h00] ... Decided to leave after lunch... After lunch packed up and set out. Owing to the 2 days' fine weather the road was quite hard though still bad in parts. We had gone about 3 miles [4 km] when it began to pour and having no overcoat I was soaked through and through. It rained for about an hour but we kept on marching and it was the best thing too as it kept us warm. After about 3 hours marching we got to the camp. The section were very glad to see us back and the officers were very glad to see the cases of whiskey... . An extra big tent was pitched for Rose and I.

7 May (Sunday)
... Packed up blankets and tents and moved off to a new camp. Found that Wackrill had joined our Machine Gun Section. Marched off to a new camp about 3 miles [4 km] South of the old one. I was itching all over when we arrived so took off my vest and to my horror found that I was lousy - I had been troubled from itches for over a fortnight but didn't know this vermin was the cause... .

11 May (Thursday)
... Mr Parsons came round and told us to get up early as we were moving off to-morrow. Name of place is Kumbulum.

THE ADVANCE TO KONDOA IRANGI

12 May (Friday)
... Tents struck and all packed up. Fell in and moved out of camp at about 10 am [l0h00]. Halted at the main camp for supplies and kept waiting some time as the oxen for the transport stampeded and could not be caught. Rather heavily laden with 2 day's rations and overcoats besides pumpkins, stew etc.

13 May (Saturday)
... After saddling up we started at 2-30 [14h30] and marched 12 miles [18 km]. The road was in a very bad state being mostly dried mud in ridges. Every few hundred yards we came across some dead animal. We were the rear-guard. We marched till 7-30 [19h30] [and it was] pretty rough going in the dark. Wood and water were very scarce but we managed to get a fire going and had some coffee and bully beef. Went to bed at 9 [21h00] slept comfortably behind a pack saddle.

14 May (Sunday)
Reveille 5.15 [05h15]. Saddled up at once in the dark then got on the march again till we came to some water and a camp when we halted for breakfast... . After filling our water bottles we moved off and did 6 miles [8 km] before lunch. My feet were beginning to feel rather tender by now. ... While we were waiting we were entertained by the amusing scene of natives boxing ... .We marched about 6 miles [8 km] escorting mules and horses for the S. A. Horse. On the last 3 miles [4 km] I carried the stew... . Tea just ready when we were ordered to saddle up and moved off to a camp about 200 yards [182m] South of the road. ... During the afternoon we did another 6 miles [8 km] to... Lolkissale, thus totalling 15 miles [24 km] for the day... . Slept like a log and woke to strains of reveille on a bugle, a very unusual thing on active service... .

15 May (Sunday)
Packed up tents and spare kits after breakfast. Overcoats much to our relief were put on the transport. Drew bread and got our water-bottles full then started about 9 o'clock [09h00]. Dull and drizzling day and roads very slippery and muddy. Halted for lunch after marching 5 miles [8 km]. Ordered to saddle up at 3 [15h00] but no sooner finished when we were told to off saddle so made our fires... .

16 May (Tuesday)
Reveille 5 am [05h00]... Started marching at 7 am [07h00] and marched till 11.30 [11h30] doing about 11 miles [16 km]. The roads were fairly good but a bit dusty in parts. We passed some Dutch refugees on the road going up to Aruscha. Marching much comfier but my feet very tender and blistering by lunch time... Saddled up at 2 [14h00] and moved off marching 3 hours and doing 8 miles [12 km] thus totalling 19 [30km] for the day, our best march so far... .

17 May (Wednesday)
Reveille 5 am [05h00]. Smith made some coffee and we packed up our overcoats and got on the move again. Marched for 3 hours before coming to water doing about 6 miles [8 km]. We then came to some water-holes with good water and stopped for breakfast at 9 [09h00]. Many chaps fell out on the way as it is not at all nice marching on an empty stomach... . Most of the transport went across the river during the night... .

18 May (Thursday)
Reveille 4.15 [04h15]... Moved off at 6.15 [06h15] after sending spare kits and overcoats across the river to the wagons. Thought we had to walk through the river as we were ordered to leave our putties off, but we crossed on A-3 carts which were used as a bridge. Started on the march at 7.30 [07h30] leaving my putties off and marched for 3 hours doing 7 miles [10 km]. We passed a Dutch refugee party and several native refugee parties. The transport that helped us pull the motor car out of the drifts passed us returning empty and told us that the Germans were attacking v de Venter and that the XIth Regiment were giving a good account of themselves. When we camped we had a drink of tea and put the stew on. As soon as the oxen came up they killed our meat and issued rations. Mr Parsons told us that v d Venter has been scrapping for 6 days and that the German Commander-in-Chief was with the force against us and that they outnumbered us. Of course this news didn't go to cheer us but we were quite cheerful all the same. We got on the march again at 4 pm [16h00] and marched well into the night doing 10 miles [16 km] and arriving at Ufiome at which place there is a mission station. At the second halt we were startled by hearing some shots quite close. Our native carriers began to run into the bush and some of us were startled; but it was only some of our men shooting guinea fowl... . We halted for a quarter of an hour to wait for the moon to come up... . Marched 17 miles [28 km] during the day. Name of place Ufiome. Mission Gwansawe.

19 May (Friday)
... After packing up our things on the wagons we marched off at 4 pm [16h00]... . We marched for 3 hours doing 7 miles [10 km] and it was dark when we camped. We had a frightfully steep hill to climb which graded about 1 in 4 feet and it seemed as if we would never get to the top. We ultimately passed the Xth Regiment who were camped on the right of the road and we camped on the left. It was bitterly cold and I was fair beat but we off-saddled and got some dinner going in the shape of coffee and fried steak. After knocking round and shivering we built a nice fire and prepared to doss down at about 11 o'clock [23h00]... . Early in the morning they told us that the transport had come in so we could draw our overcoats. Dick got them and I was glad to have mine with my sleeping cap and slept fairly well after that.

20 May (Saturday)
Reveille 4.30 [04h30] dark... . Orders came out that we were to move at 1 pm [13h00]. Found that I had diarrhoea. Lost my way in the fog twice during the morning... . I felt very 'crook' during the last two hours' marching but managed to keep up by walking slower. We were camped in some very long grass on the left of the road and were told we would have to march again in 2 hours... . Later on we were told we could stay for the night so took the saddles off the mules and got our stew to boil. The scenes on the road were lovely but the road was steep and tortuous but on the whole well graded. As before we never got our coats but I slept under a blanket with Paddon and Dick.

21 May (Sunday)
Reveille 5 am [5h00]. Misty and dark as usual. Late in saddling up due to half the chaps being on outpost. Marched 3 miles [4 km] then halted for the day... Still suffering from diarrhoea and pains in the stomach... .

22 May (Monday)
Reveille 4.30 [04h30]... . Saddled up and moved off at 7 [07h00] and marched for 3 hours doing 7 miles [10 km]. Dick and I being both crook, marched on slowly at our own pace. When we camped we just had time to make some tea when we were told to move off again and marched 4 miles [6 km] to Galley Camp, a lovely place on top of the hills... . Drew rations and saddled up again at 4 pm [16h00]... . Our next camp was at 5 miles [8 km] in an open space. Boiled vegetables and cold bully comprised our dinner. All lights had to be out at 8 pm [20h00] and some of our chaps were sent out on outpost. Very cold night and no overcoats. Total 16 miles [24 km] for the day.

23 May (Tuesday)
Reveille 5.45 [05h45]. Cold but clear morning... We moved off at 9 [09h00] marched 3 hours doing 8 miles [12 km]. I marched at my own pace and sometimes was behind and sometimes in front of the Regiment. When I finally reached camp I was feeling done in and had to lie down... . When sick parade came on I went sick and on the way to the Doctor vomited. The Doctor examined me, said I was very anaemic and told me to sleep in the hospital tent much to my surprise as I only wanted permission to ride on a wagon to-morrow... . There was a Sergeant Brown of the 8th Regiment in the tent who was suffering from internal injuries received from a field gun falling on him. The poor fellow woke me up several times during the night with his moans. He must have been in pain.

24 May (Wednesday)
... Started trekking at 7-15 [07h15]. I being allowed to ride in the ambulance. Sergeant Brown suffered very much from the jolting of the ambulance. We travelled on for about 2 miles [3 km] then stopped as the transport ahead had stuck. I was given about an egg-cupful of milk to drink. We got on the move again negotiating very sandy roads and arrived in Kondoa Irangi at about 2 o'clock [14h00]. Our distance for the day was about 8 miles [12 km]. Coming into the town we were expecting to be shelled and were relieved when we were not. I went down to see my mess-mates and an S.A.H. [South African Horse] man told me that van der Venter had advanced 35 miles [56 km] beyond Kondoa Irangi and had to retire back to this town as the 3rd Brigade was too far behind. We had a 15 mile [24 km] front in a half moon on the hills round the camp. Returned to the hospital tent and got milk and arrowroot as well as tea. All lights were extinguished as soon after dark as possible. Before dark both sides began shelling and the Germans gave us a 'good-night' shell which burst about half a mile from the camp. Slept fairly comfortably but had pains in the stomach in the middle of the night. Total for the day 10 miles [16 km] thus finishing a 140 mile [222km] trek much to our relief.

Return to Journal Index OR Society's Home page

South African Military History Society / scribe@samilitaryhistory.org