The South African
Military History Society


---

Die Suid-Afrikaanse Krygshistoriese Vereniging
---
Military History Journal
Vol 7 No 3 - June 1987
A Machine Gunner's Odyssey Through German East Africa:
The Diary of E S Thompson
January 1916 - February 1917
EDITORS PREFACE
Col E S Thompson, ED
In the Military History Journal Vol 6 No 6, December 1985, there was published the diary of Capt F E Jackson, MC, within an article entitled 'The German East African Campaign 1914-1918'. The article quoted the comments of Col E S Thompson, relating his personal experience of the campaign: 'Next month I shall attain the age of 90, but in 1915 I was 20 and a machine gunner in the 7th South African Infantry, in which I served for 2.5 years (1915-1918). When we landed in Mombasa in January 1916 our strength was in excess of 1 000; in December of that year, in Iringa, we numbered less than 100. (I was one of those).'
The editors of the Military History Journal are privileged to publish the personal diary of Pte (as he then was) E S Thompson, contributing a fruitful skein of personal experience to our knowledge and impressions of the war in German East Africa in 1916. This diary will be published in two parts; in the forthcoming December 1987 and June 1988 issues of the Military History Journal. In this issue, it is intended to provide the biographical and historical context of the diary; the object being to create the outer historical shell, within which the inner core of personal experience recorded in the diary may be ordered.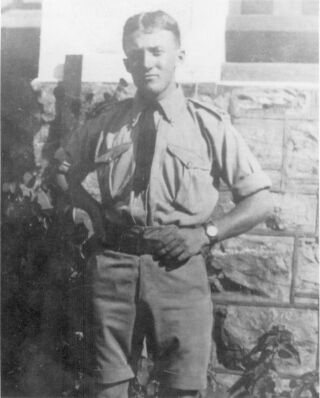 Private E S Thompson, 7 SA Infantry, 1915.
Eric Speechly Thompson was born on 20 August 1895, in Durban, and educated at St John's College, Johannesburg. On 23 November 1915, aged 20 years, he attested for service in East Africa, enlisting in 7 SA Infantry Regiment. The published extracts from his diary, to appear in the succeeding two issues of the Military History Journal, encompass the period January 1916-February 1917, and graphically record his experiences as a member of that regiment; traversing the extremely hostile terrain and enduring the disease infested environment of German East Africa. Subsequent to this service in German East Africa (in the course of which he was wounded), he attained a distinguished military career. Serving in the Transvaal Scottish for 30 years (1921-1951) he rose from the rank of Private to that of Lieut Colonel (Officer Commanding 2 Bn of the Regiment). Col Thompson served in the Rand Revolt of 1922 and was commissioned in 1927. In 1942, whilst serving as second-in-command of 2 Bn Transvaal Scottish, he was appointed Officer Commanding the Battalion. He was captured when Tobruk fell in June 1942 and was Mentioned in Despatches. He again served as Officer Commanding the resuscitated 2 Bn Transvaal Scottish during the period 1946-1951. He was subsequently appointed Honorary Colonel of this Battalion. In 1986 his long and distinguished association with the Transvaal Scottish was recognized by the award of the Order of the Star of South Africa in the rank of officer. In civil life he was actively concerned in commerce and industry.
Col Thompson has prefaced his diary with the background to his initial attestation and subsequent training. He attended the medical examination at the Drill Hall, Johannesburg, together with an employee of his father (who was Foreign News Editor of the Rand Daily Mail and Sunday Times); viz J [Jock] W Young, a junior editor, then in his mid-thirties. (There can be little doubt that Col Thompson's father viewed Young as the guide and mentor of the former's son; ironically, Young survived only two months of the East African campaign.) Whilst Young passed, Thompson was failed, on the grounds that two of his back teeth were missing. He was, however, informed that, if he was provided with a dental plate, he would be passed as medically fit. A light dental plate was accordingly provided and Thompson passed the medical examination, enlisting on 23 November 1915; the dental plate was never used again. He and Young proceeded to Potchefstroom, where the training was to be undertaken. The camp was reached on 24 November, and that night they and their comrades were provided with a foretaste of the conditions that they were to confront in the East African theatre. Col Thompson writes:
'About 50 other recruits were with us, we being the first arrivals. We were given tents to pitch on a football field and drew rations, blankets, etc. That night a typical Transvaal thunderstorm approached about 8 p.m. [20h00]. It was preceded by a swarm of large hairy spiders who invaded our tents. There were hundreds of them in the tents and the curses and exclamations from the occupants were remarkable to hear! Just as the storm was about to break, these spiders vanished completely, and the rain came down in torrents, flooding the tents because we had no time to dig trenches around them to lead off the water. The result was a very uncomfortable wet and muddy night.'
A particular friend of Thompson's, and one who is frequently mentioned in the diary, was Emile Heimann ('Bibby'), who had wanted to enlist with him. But, Col Thompson writes, 'he was my junior and his family was against it. He sent himself a white feather through the post and his family fell for it and agreed to his joining and so he arrived in Potchefstroom and was included with the machine gunners.
Thompson and Young were allocated places in 4 Platoon of A Company. The machine gun section was approximately 50 strong; its members varied widely in terms of age and military experience. Some half were, like Thompson, complete novices, whilst others had had previous experience in the South West African Campaign of 1914-1915.
There is an amusing observation in Col Thompson's introductory remarks regarding contemporary knowledge (or rather ignorance) of tropical health:
'Many of us had acquired, from private sources, helmet flaps and spine pads. Concerned citizens had told us that the sun, being so near to the equator, was dangerous to white men. The spine pad had a red lining which was supposed to nullify the harmful rays of the sun. My mother provided me with two cholera belts to "keep my stomach warm" and made me promise to wear one at all times. All these gadgets were worn religiously for a month or two but were discarded when it was realised that they formed happy hunting grounds for body lice - and we suffered no ill effects after discarding them.
South African participation in German East Africa 1916-1918
The campaign in German East Africa may be broadly divided into three phases. The period spanning the outbreak of World War 1 in 1914 until the end of 1915 saw British forces in German East Africa sustain some serious reverses; including a heavy defeat at Tanga in the north east in November 1914. These setbacks forced the British forces to assume a strictly defensive role whilst they awaited reinforcements from the territories of the British Empire. The second clearly definable phase was initiated in 1916, during which, under the overall command of Lt Gen the Hon J C Smuts, the British forces, powerfully reinforced by troops of the Union Defence Forces, and with valuable Belgian co-operation, occupied the greater part of the territory and captured all the enemy's railways and sea ports. The third phase encompassed the period from the beginning of 1917 until the Armistice of November 1918 during which, as the consequence of the disappearance of clearly defined strategic objectives in East Africa, the campaign assumed the form of guerrilla warfare. Col Thompson's diary thus embraces the second phase of the East African Campaign.
Prior to 1916 only a detachment of Union troops had been despatched to Nyasaland, where they remained (with some small reinforcements) with Brig Gen E Northey. By the Autumn of 1915 a sense of urgency had arisen within the British War Cabinet with regard to German East Africa, and it was ready to take effective action. In the past they had been inhibited in this regard due to lack of effective troops. No British, Canadian, Indian or Australian troops were available, due to their commitment in what was considered to be more important theatres. The only possible source had been the Union of South Africa, but its involvement in the Rebellion of 1914 and the conquest of German South West Africa had at the time precluded this source. However, after July 1915 South Africa was in a position to despatch an overseas contingent to East Africa, as well as to Europe. It bears emphasis that the East African Contingent was, like its counterpart on the Western Front (1 SA Infantry Brigade), an Imperial Service formation. The same provisions within the Defence Act of 1912 which precluded Active Citizen Force units serving in Europe applied equally to German East Africa. (These provisions stipulated that South African military forces could only serve within the confines of Southern Africa.) The Union Government stated in mid-November 1915 that the following troops would be immediately committed to the East African theatre:
- One brigade of infantry (numbering 4 000 men)
- Four mounted corps (2 400 men)
- One Indian infantry battalion (800 men)
- An artillery detachment
- Four double companies of Cape Coloured personnel (800 men)
The brigade of infantry destined for East Africa was designated 2 SA Infantry Brigade. The Brigade, commanded by Brig Gen P S Beves, comprised four infantry regiments, each of battalion strength with four companies. These were:
- 5 SA Infantry Regiment; recruited in the main from the Cape Province (commanded by Lt Col the Hon J J Byron)
- 6 SA Infantry Regiment; recruited mainly from Natal and the Orange Free State, but predominantly from the Durban Light Infantry (commanded by Lt Col G M J Molyneux)
- 7 SA Infantry Regiment; recruited in the main from the Transvaal (commanded by Lt Col J C Freeth)
- 8 SA Infantry Regiment; the majority of whose members were recruited from SA Railways and Harbours, mainly in the Transvaal (commanded by Lt Col A J Taylor)
Each regiment possessed its own distinctive cloth flash worn on the side of the helmet: 5 Regiment's being green and white; 6 Regiment's blue and yellow; 7 Regiment's red and white; and 8 Regiment's maroon and gold.
It should be noted that the formation of these four battalions constituted but the first phase in the formation of the South African contingent; as is evidenced by Col Thompson's reference to two brigades (eight battalions) being housed at Potchefstroom by the time that 7 SA Infantry Regiment had departed for East Africa. The second brigade thus established prior to 7 SA Infantry Regiment's departure for East Africa was 3 SA Infantry Brigade (comprising 9, 10, 11 and 12 SA Infantry Regiments), commanded by Brig Gen C A L Berrange). Subsequent to the formation of 2 and 3 SA Infantry Brigades the following units were also raised for service in German East Africa:
- South African Mounted Brigade (Maj Gen J L van Deventer)
- 1 South African Horse
- 2 South African Horse
- 3 South African Horse
Approximate strength of 3 SA Infantry Brigade and SA Mounted Brigade: 5 900.
- Unbrigaded mounted regiment
- 4 South African Horse
- Artillery
- 2 SA Field Brigade (2 and 4 Batteries)
- 28 Mountain Battery
- 5 SA Field Battery
- 12 Howitzer Battery
- SA Division ammunition column
Strength: 20 field guns
Command of the East African Field Force initially devolved upon Gen Sir Horace Smith-Dorrien. He left England in late December 1915 but, before he could leave Cape Town to take up his appointment, he was stricken with pneumonia and compelled to return to England. The vacant post was offered to, and accepted by, Lt Gen J C Smuts (largely on the basis of his reputation in the Anglo-Boer War 1899-1902). In addition to the South African forces cited above, Smuts had overall command of two British divisions: 1 Division under Brig Gen J M Stewart (numbering approximately 4 000 troops) and 2 Division under Brig Gen W Malleson (succeeded by Maj Gen G M Tigh) (numbering some 4 700 troops). (It is of interest to note that the British estimated that 8 000 troops would suffice to reduce the German Protectorate. In actual fact, by March 1916 the South African contingent in East Africa had increased to 18 700 troops and, at the time of the Armistice in November 1918, the total strength of the Allied expeditionary force was a staggering 111 731).
7 SA Infantry Regiment
Within 7 SA Infantry Regiment A Coy contained a heavy representation of former members of 11 Infantry (Rand Light Infantry), and also a few former members of the Transvaal Scottish; B Coy was the 'Sportsman's Company', which was so popular that its overflow formed the majority of 9 Regiment within 3 SA Infantry Brigade; C Coy contained a strong nucleus of former 10 Infantry (Witwatersrand Rifles) personnel; whilst D Coy, Col Thompson writes: 'was the Anzac company with a number of Australians and New Zealanders (residents of the Transvaal), and a handful of ex-convicts on parole, who proved to be good soldiers and companions'.
The Regiment also contained sections of signallers, maxim gunners, medical personnel, pioneers and transport. Col Thompson writes:
'The Regiment landed at Kilindini (Mombasa) in January 1916 with a strength in excess of 1 200. Its original strength had been 1 528 and in December of that year, at Iringa, their strength was under 100, when they were declared medically unfit, and again in January 1917. This averages a loss of about 100 per month, which would indicate the severity of the conditions they encountered.'
The movements of 7 SA Infantry Regiment which are traced in Col Thompson's diary embody Smuts's strategy, which was conceived in terms of a pincer movement by forces from British East Africa, the Belgian Congo and Nyasaland. Smuts would lead one column and Maj Gen van Deventer another from British East Africa; whilst the Belgians under Tombeur would attack from the West and still another British force under Northey would assault German East Africa from Nyasaland. Included in the column commanded by Smuts was 2 SA Infantry Brigade (Brig Gen P S Beves), of which 7 SA Infantry Regiment formed a component; together with 2 East African Division (Brig Gen Malleson, succeeded by Brig Gen Tigh) and 1 East African Division (Brig Gen Stewart) (the latter operating to the west as a detached force.) Van Deventer's column comprised 3 SA Infantry Brigade (Brig Gen C A L Berrange) and the SA Mounted Brigade (personally commanded by himself). On 23 February 1916 Smuts cabled the War Office declaring his readiness to occupy the Kilimanjaro region prior to the advent of the rainy season. Approval of this course was received two days later.
Part 1 of Col Thompson's diary spans the period 17 January - 24 May 1916. It thus encompasses the offensive operations undertaken by 7 SA Infantry Regiment southwards from Mount Kilimanjaro until 7 and 8 SA Infantry Regiments reinforced van Deventer's 3 SA Infantry Brigade at Kondoa Irangi during the final week of May. In this advance, Col Thompson's diary contains an eye-witness account of the ill-starred battle of Salaita Hill (12 February 1916) and the capture of the Latema-Reata hills (11 March 1916); as well as the crossing of the Himo River in the course of his regiment's progress through the Kilimanjaro foothills.
After the capture of the Latema-Reata hills Smuts planned the resumption of his advance farther south, the advent of the rainy season notwithstanding. The plan was as follows: 2 South African Division (van Deventer) with 1 South African Mounted Brigade (Brig Gen H M Botha) and 3 SA Infantry Brigade (Berrange) were to advance south from Aruscha to Kondoa Irangi, to be followed after the rainy season by Smuts's main force further to the east. The ultimate objective in both cases was the central German East African railway from Dar-es-Salaam to the interior. (The 2nd South African Division had been created by Smuts during the final week of March 1916, as part of the general re-organization of his forces. This re-structuring process involved the formation of three divisions).
The fortunes and movements of 7 and 8 SA Infantry Regiments were directly affected by the German attack on van Deventer's forces at Kondoa Irangi on 9 May 1916. The German attacking force comprised approximate[y 4 000 men, opposed to which was van Deventer's 2 South African Division, numbering some 3 000. The brunt of the assault was borne by some 1 000 men of 11 and 12 SA Infantry Regiments. These battalions held their positions and beat off continual attacks with comparative ease. Von Lettow Vorbeck (commander of German forces in East Africa) eventually abandoned the attack immediately prior to daybreak on 10 May, at which time 186 Germans had been killed; in return for South African casualties of six killed and 18 wounded. Van Deventer, realizing that he was confronted with a considerable enemy force opposite to him, requested reinforcements. Accordingly, 7 and 8 SA Infantry Regiments, under Lt Col Taylor, were despatched to van Deventer's force, which they reached during the latter part of May 1916. The entries spanning the period 12 May - 24 May 1916 in Col Thompson's diary, covering the 222 km trek of 7 SA Infantry Regiment, embody the advance to van Deventer's position at Kondoa Irangi. They were thenceforth components of 3 SA Infantry Brigade. This is the point at which Part 1 of the diary ends. The transfer to 3 SA Infantry Brigade and the severance from 5 and 6 SA Infantry Regiments was to be a permanent feature of 7 SA Infantry Regiment's activities until the end of the first phase of its East African campaign in December 1916.
Part II of Col Thompson's diary spans the period 25 May - 26 February 1917; during which 7 SA Infantry Regiment was involved in the march southwards from Dodoma to Morogoro (a movement which embodied van Deventer's objective of cutting the central railway between Morogoro and Tabora); finally reaching Kilossa in October 1916. The Regiment left Iringa for the Central Railway at Dodoma, arriving there on 31 January 1917, and proceeded thence to the Union, where recuperative leave was granted to all ranks at the end of March 1917. Those members of the Regiment who were fit to return to East Africa rejoined at Potchefstroom during April and May 1917, but a large number of officers and other ranks had to remain behind owing to ill health (included among which was Lt Col Freeth, who was succeeded as OC 7 SA Infantry Regiment by Maj WJ Thompson, the former second-in-command; Maj F Haselden thenceforth serving as second-in-command). The Transvaal character of the Regiment could no longer be maintained, recruits being obtained from throughout the Union. The Regiment left Potchefstroom on 16 June 1917, with a total complement of 728, sailing from Durban on 18 June 1917 and disembarking at Kilwa Kiswani on 24 June. Attached to No 2 Column, it participated in the skirmishes at Mnindi (6 July 1917), Matandawala (14 July 1917) and the engagement at Narungombe (19 July 1917). After the action at Narungombe the Regiment was transferred to Force Reserve and did not see action again as a unit, although its patrols frequently encoun tered the enemy. The Regiment finally returned to the Union (via Dar-es-Salaam), under orders for demobilization, on 25 December 1917.
Col Thompson writes of this second phase of 7 SA Infantry Regiment's activities thus:
'For the second phase of the campaign the strength was about 800, but the Kilwa area was notorious as being an unhealthy part of the country, and the heavier fighting and disease rapidly diminished the numbers, so that at the battle of Narungombe on 19 July, 1917, companies were down to platoon strength and at Mahiwa in October, even less.
In the second phase the number of maxim guns for the Regiment was increased considerably and Lewis guns were available, which virtually made the 7th a machine gun battalion ...
In May, 1917, a Regimental Colour (Union Jack) was presented to the Regiment by next-of-kin and friends and hung, with Colours of other regiments, in the main City Hall. On completion of St Mary's Cathedral, the Colour was laid-up there and it is, at present, in the beautiful All Soul's Chapel where can be seen the Regiment's Roll of Honour bearing 132 names of those who died on service for various causes, of whom eight are maxim gunners.
The Regiment's Battle Honours are:

KILIMANJARO
KONDOA-IRANGI
IRINGA
NARUNGOMBE
In 1918 efforts were made by some officers to collect information with the object of compiling a history of the Regiment, but none has been published.'

The value of Col Thompson's diary

Col Thompson's diary enriches our knowledge of the German East African Campaign in 1916 in several major respects. It furnishes graphic eye witness accounts of the battles of Salaita and the Latema-Reata Hills. These testimonies of personal experience of these battles possess an added significance in so far as they are recorded by a member of 7 SA Infantry Regiment, of which, as Col Thompson reminds us, there is no published history. Furthermore the diary graphically captures the temper and mood of the campaign in German East Africa.

It should be borne in mind that the East African theatre in World War 1 was quite distinct from that of the Western Front in so far as violent clashes with the enemy were a comparatively rare and isolated experience in the service of the troops involved in the campaign. The environment of East Africa was characterized by two central factors. The first was the appalling state of the communications. The area which features in Col Thompson's diary lay between Kilimanjaro and the foothills of the south. The dominant physical feature was the huge mountain of Kilimanjaro, which totally barred all movement save on the lower extremi ties of the foothills. Along these mountains extended the Ruwu River, which emerged from Lake Jipe. This lake is situated on the eastern side of the Pare mountains, and measures 16 km in length and 3 km in width. The river was unfordable (as, indeed, were all rivers of any substance in German East Africa), and infested with crocodiles. Extending westwards to the larger Pangani, which it ultimately joined, the river combined with the mountain range, fever infested swamps and dense bush to produce as formidable an obstacle to movement in the south of the theatre of operations as did Kilimanjaro in the north. The river formed a powerful defence, covering the enemy front from Kilimanjaro to Lake Jipe. To the south flowed the Lumi River, crossed by the only extant road and leading to Taveta. To the west of Taveta lay two hills, Latema and Reata, which also constituted a very strong natural position. A high spur of Kilimanjaro, Chala (at the foot of which lay the lake), overlooked the ensuing theatre of operations. To the north and south the boundaries of the Chala spur were Kilimanjaro and the Pare mountains; and to the east and west of Lumi River and the Latema-Reata hills respectively. It should be borne in mind that the German commander (Lt Col - subsequently Maj Gen - von Lettow Vorbeck) enjoyed very considerable advantages in the operations related in Col Thompson's diary. First, his troops were entirely concealed, for air reconnaissance revealed no sign whatever of their presence in the dense bush. Second, the German forces held every height which rose from the dense vegetation, on ground which they had previously thoroughly reconnoitred. The Germans could thus observe any significant movement made by the Allied forces, who were almost as ignorant of the terrain as the German forces were knowledgeable. For the greater part of the ground was covered in dense bush, although occasionally thinning out to comparatively open ground.

Col Thompson's diary is prolific in its references to the harrassing problem of traversing even comparatively short distances. Particularly relevant within this context are the following diary entries:
10 April - 2 May, relating the journey to New Moschi by motor and lorry, during which the diarist was temporarily detached from his regiment; and 12-24 May, covering the arduous 222 km trek to Kondoa Irangi.
It is apparent that such terrain presents enormous logistical problems. Col Thompson's diary is graphic testimony to the fact that the roads were, to all intents and purposes, non-existent. Writing of this problem, JJ Collyer states:

'At best they were broad tracks cut in the bush which in fine weather allowed of the passage of motor transport. The soil was black or red cotton soil, and in no instance was a road metalled, and, as a consequence, the rainy season converted these roads into their worst condition. In the case of black soil the tracks became stretches of liquid mud rendering any movement of transport impossible; the red soil, if on high ground, would occasionally allow of the passage of light vehicles. Heavy transport, and indeed any continuous flow of transport, would reduce the soil in dry weather to powder, and all kinds of devices had to be resorted to to get vehicles along.
A "road" in East Africa usually was determined, in respect of lay out, by the track made by advancing troops in and out of tree trunks and bush, and was at first merely a winding track. A rough removal of the greater obstacles to straight forward movement reduced the bends and twists, and, if the route was to be used to any great extent, a further obliteration of obstacles and rough levelling produced the finished article.
A month or so, however, if the route were abandoned, would see the work all undone by the rapid growth of the bush, and sometimes an effort to find a track along which hundreds of troops and waggons had passed was futile.'

The second major feature of the East African theatre during World War 1 was the extremely high incidence of disease. The frequent references in Col Thompson's diary to diarrhoea bears eloquent testimony to this aspect of the campaign (as do his introductory comments). A plethora of tropical diseases plagued Col Thompson and his comrades. The War Diary of 7 SA Infantry Regiment, in the entry dated 4 November 1916, records the total strength of the Regiment as being a meagre 226 of all ranks, of which 42 were returned fit and 184 sick. (The original complement, when the Regiment had been formed was, to reiterate, 1 528). Malaria of a severe strain extended over the entire country except in the highest altitudes; as did blackwater fever. African relapsing fever was another serious scourge. Dysentery and hook-worm disease (helminthiasis) were also rife. (Thompson's diarrhoea may, indeed, have been symptomatic of dysentery). Prickly heat and the jigger flea (the female species of which burrows beneath the skin near the toe nail and creates a painful wound unless the egg sac which it deposits is quickly removed) proved less serious, if irritating afflictions. With regard to the animals, the tsetse fly proved a deadly scourge. Every horse and ox bitten by the tsetse fly died within six weeks and thousands of animals (28 000 oxen alone) died from the tsetse fly bite, which was inevitable when they passed through the tsetse zone. The impact of this state of affairs upon the transportation system and the horses of the mounted units may well be imagined.

Such was the combat environment faced by South African troops in German East Africa, vividly captured in the pages of Col Thompson's diary: tropical disease; enervating climate; dense bush (almost impenetrable in many areas, in which the difficulties of the Allied troops could be easily observed by their German adversaries, often in possession of the heights); huge mountains and, in the rainy season, appalling seas of thick slimy mud; and frightfully inadequate communications.

Return to Journal Index OR Society's Home page

South African Military History Society / scribe@samilitaryhistory.org