The South African
Military History Society


---

Die Suid-Afrikaanse Krygshistoriese Vereniging
---
Military History Journal
Vol 7 No 2 - December 1986
KEEPING THE FLAG FLYING
The story of the South African War Veterans' Association of Great Britain
by Stephen Dance
Portland Place, London, 28 February 1967. In the bitterly cold wind a group of elderly men are gathered by an imposing equestrian statue conducting a short ceremony as the traffic roars by. Most people hardly give them a second glance but one equally elderly lady realises what day it is and stops to watch. It is Ladysmith Day and members of the South African War Veterans' Association are commemorating the relief of Ladysmith at the statue of Sir George White, commander of the besieged garrision.
The Anglo-Boer War of 1899-1902, or, as the veterans knew it, the South African War, had once dominated world headlines but by the 1960s it had become little more than a memory; a few paragraphs in a school history book, a handful of fading photographs in a family album. To the old men gathered on Ladysmith Day, however, it remains as real as ever as they listen, thoughts far removed from London, to one of their number as he reads the exhortation:
Will you come with me in silent thought to the
battlefields of South Africa, to the lonely graves
scattered over the veldt, and to the thousands of
those who had died of wounds, disease and sickness
since that Great Adventure.

This is the story of the old comrades' association formed by those who did return: the South African War Veterans' Association.
Few records survive from the early days of the Association, but it would appear that the SAWVA came into being in 1929. The idea arose from an earlier chance meeting of three Godalming veterans in their local hostelry. Lt Col H.A.D. Richards, Major James A. Patton (a Canadian) and former Sergeant Major Walters were chatting over a drink when they discovered that they had all fought in South Africa between the years 1899 and 1902. Old memories stirred and they set about organising a dinner for South African War Veterans in nearby Guildford. Some 60 local veterans attended and the success of this gathering led to the formal establishment of the South African War Veterans' Association in London.
Such an association was not in fact new, for, in addition to individual regimental reunions, there had previously functioned in Birmingham and a number of other West Midlands towns in England, an organisation under the title of the National Association of South African Servicemen. The NASASM began in April 1906 as the Birmingham Association of South African servicemen and was the brainchild of one Harry J. Sabin, a public accountant who had served with the Birmingham City Division of the St John's Ambulance Brigade in the Wan Another medical man was also active in the affairs of the Association at this time. He was Dr J.F Hall-Edwards, former X-ray specialist at the Deelfontein Imperial Yeomanry Hospital. Field Marshal Earl Roberts agreed to be President.
The Association adopted the word National in its title at a special meeting held in September 1907, in anticipation of a national extension of its activities. These included: regular smoking concerts and reunions; benevolence to needy veterans; the maintenance of a club room; library (suitably equipped with works of military and patriotic interest) and air rifle range at their Headquarters, the King Edward VII Hotel in Birmingham's New Corporation Street; and the establishment of ambulance and signalling corps. A register of members was kept to provide the authorities with a list of men with experience of active service who could be called upon in a time of national emergency.
Membership of the National Association was limited to ex-servicemen who had served in the late Anglo-Boer War or any previous South African campaign.
A further change of title is believed to have taken place in 1911 when NASASM became the Active Servicemen's Association, but the association largely became defunct when the bulk of its members, along with a good many other men who had served in South Africa, rejoined the colours in 1914.
During the 12 years separating the Anglo-Boer War from World War I, men and women who had served in South Africa continued to be celebrities, but 1914 changed that. Faced with devastating casualty lists and large numbers of crippled and maimed servicemen returning from the front, the British public began to forget events that had once brought the Empire to crisis point a decade or so earlier. The war with the Boers seemed almost a minor colonial campaign when viewed against the carnage which was taking place in Europe.
In the aftermath of the Great War it was, perhaps, this indifference to veterans of the Anglo-Boer War, coupled with the fact that the British Legion was intended for veterans of the 1914-18 War, which led to the revival of interest in an association for South African War veterans in the late 1920s. The new title chosen was The South African War Veterans' Association.
Membership of the SAWVA was open to any officer, NCO, man or woman, who had served as a sailor, soldier, marine or nursing sister in the South African War of 1899-1902, or in any previous or subsequent campaign, south of the Zambesi River, up to 1906. In the early days of the Association it was, therefore, not unusual to find Zulu War Veterans marching alongside heroes of the battle for the Tugela Heights. Branches were, as a rule, centred in large towns, with coverage of surrounding districts, and most of the larger branches were in being by the early 1930s. By 1949, there were 58 branches in the United Kingdom, London and Birmingham being the largest, having 500 and 100 paid-up members respectively. By 1970 they would be the only two branches still functioning.
The post of Grand President of the Association was held by a member of distinguished soldiers with pre-1906 South African War service. First, Sir Josceline Wodehouse (a Zulu War Veteran), Ian Hamilton, Field Marshal Earl Wavell, Field Marshal Lord Ironside and Lord Wilson of Libya. Patrons included the Earl of Athlone (with Jan Smuts as Vice-Patron), Winston Churchill and Her Majesty Queen Elizabeth II. National SAWVA Headquarters was established within the London Branch in 1956 when existing branches were grouped together into six regions based on the then Army Commands.
South African War veterans who had fought for Queen Victoria and King Edward VII also formed associations in Australia, Canada, New Zealand and South Africa, but it would be incorrect to regard them simply as branches of the U K organisation. The New Zealand SAWVA was, for example, formed in 1920, nearly a decade before its U K namesake. These overseas organisations incorporated in their membership not only men and women who had served in the 'home' contingents but also those who had served in British regular and volunteer units and had subsequently settled in the country concerned.
Although, as might be expected, the SAWVA was essentially a male organisation, ladies who had served as nurses in South Africa were always welcomed as members, and this gallant little band were held in special affection by the membership. Some ladies discovered the Association rather late in life, however Nurse Le Travis received her membership badge at a Tunbridge Wells nursing home on the day before her 100th birthday!
Veterans' daughters were to play an important part in the work of the Association and there were also a number of honorary lady members, among them Princess Alice, Countess of Athlone, Lady Ironside and Miss Georgina White, daughter of the Defender of Ladysmith. Miss White was a sparkling, delightful old lady, who spent a lifetime keeping green the memory of her father, Sir George White, and the defenders and relievers of Ladysmith. Miss White maintained a keen interest in the welfare of those who had served in South Africa, and it was her practice to take veterans to dinner after Ladysmith Day wreath layings.
But, what was the purpose of the SAWVA? First, it kept former comrades in touch with one another through reunions, meetings and other commemorative events. Secondly, it promoted a spirit of patriotism and loyalty to the British Crown. Thirdly, and perhaps most importantly, it existed to help distressed South African War veterans and their dependents.
The 1930s were particularly hard times for exsoldiers, and it is interesting to find the following in a surviving example of a 1933 rules book issued by the Isle of Wight Branch: 'To assist when possible any members to obtain employment, members knowing of a vacancy will please inform the Hon. Secretary, who will keep a roll of unemployed members: Benevolence of course requires funds and on 1 December 1936 a special matinee was organised at a London theatre by Mrs Worthington, wife of a London Branch member, in aid of distressed South African veterans, and a sum of 2 500 UK Pounds was raised. This subsequently became the core of the SAWVA benevolent fund, which was called the Lord Methuen Fund.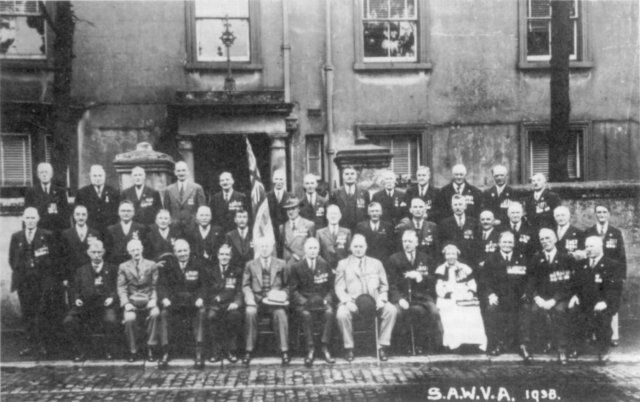 A typical SAWVA Branch (Southampton) in 1938. Note the veteran nurse in the front row (National Army Museum).
SAWVA records provide some touching examples of the assistance granted to those in need, such as that of a former CIV who had fallen on hard times and had had to pawn his medals, and a veteran's widow in a Stanmore hospital found to be in need of a dressing gown and slippers. Very often the assistance provided was for basic necessities such as food and clothing, though absence of tobacco was also deemed a deprivation for the soldiers of Queen Victoria. At Christmas time small gifts of money and sometimes presents (Christmas Cheer) were distributed as widely as funds allowed, with special attention being given to veterans in Council homes. Welfare visits were conducted by veterans themselves.
Regular parades and gatherings of veterans were a feature of the work of the Association for some 40 years. Certain dates from the war of 1899-1902 had a particular significance and, of these, probably the two most important were 28 February (Ladysmith Day) and 31 May (cessation of hostilities).
The largest SAWVA gathering appears to have taken place in July 1949, when for three days South African War veterans from home and abroad converged on London to commemorate the 50th anniversary of the events which had shaped, and in some cases ended, so many young lives.
On the third and final day, 17 July 1949, some 2 000 veterans assembled at St Paul's Cathedral for a special service. What a grand and extraordinary sight they must have made, these bemedalled and bewhiskered veterans from a forgotten army, as they marched, banners aloft, medals glinting in the sunlight, through parts of the City which still bore the scars of a more recent, more terrible conflict.
The daughter of one of the veterans was there, with other members of her family, watching her father march by. She recalled the excitement and pride felt by the relatives as the column passed, some veterans on sticks being assisted by others but all marching bravely in the close heat of that July day. An image which has remained with her over the years is that of the veritable sea of bald heads which greeted the relatives as they went into St Paul's to join the veterans for part of the service!
We know of at least one veteran who turned up in full uniform, and perhaps there were others who searched their attics for kit stored for half a century. He was Major Clarence F Carey, who had fought against the Boers with the 1st Battalion, South Lancashire Regiment. A picture exists showing him climbing the steps to St Paul's in full Boer War khaki, complete with spurs and with his foreign service helmet by his side. Winston Churchill was an honoured guest that day, and even the Lord Mayor of London, who was present, had served in South Africa.
Each branch of the SAWVA had its own colourful standard, generally consisting of a small Union Flag in one corner in the style of regimental colours, with the branch identification being given against the background of horizontal bands reflecting the colours used for the QSA (Queen's South Africa) and KSA (King's South Africa) medal ribbons. As branches closed down these standards were laid up in parish churches across the country, with a smaller number finding their way into regimental and local museums.
There was also a special Headquarters standard which can clearly be seen in some of the photographs of SAWVA events. This differed from the pattern adopted for branch standards in that it had vertical rather than horizontal bands. Its present whereabouts are unknown.
The conditions of war graves in South Africa was a matter in which the SAWVA took a keen interest, particulary the policy adopted by the South African authorities of exhuming remains from isolated graves and arranging reinterrment at central locations where the graves could be properly looked after. The veterans, probably, had mixed feelings about this; on the one hand regretting that the last resting places of fallen comrades were being disturbed, yet welcoming the policy as a positive expression of the South African Government's desire to deal with a huge problem in a sensible and sensitive manner.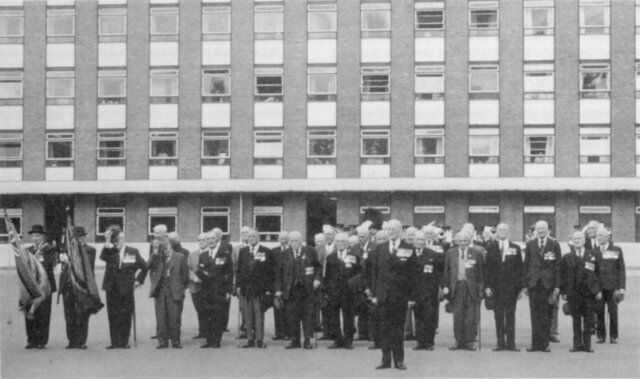 "The Thin Grey Line': Veterans on parade at Chelsea Barracks, July 1968 (National Army Museum).

In 1969 the South African Ambassador attended one of the veterans' reunion dinners in London and received a formal vote of thanks from the members on behalf of his Government.

Time, of course, eventually caught up with the Association and, in view of declining numbers and the increasing infirmity of members, a decision was reluctantly taken to wind up the affairs of London (HQ) Branch in December 1971. The final ceremonies at the Royal Hospital, Chelsea, were featured at the start of Kenneth Griffiths' four part television series 'Sons of the Blood' screened in Britain in 1972. Following the closure of London Branch, the Birmingham and District Branch carried on for a while, then it, too, closed. It was perhaps fitting for Birmingham to be the last, for it had been in that city, where the light of Victorian civic achievement still shines brightly, that South African War veterans had first come together back in 1906.

Some veterans did not take easily to the idea of their Association standing down. The writing had been on the wall for some time, but even an earlier fairly innocent proposal to cut down the number of Winter meetings had caused one member to declare, somewhat emotively, 'I say we should carry on every month until the last survivor salutes the flag and drops dead'.

But the end of the Association did not mean an end to assistance for veterans, for, with the authority of the Charity Commissioners, the Army Benevolent Fund took over the assets and responsibilities of London (HQ) Branch. The Fund made sure that the remaining veterans were being well looked after and helped widows and dependents of veterans, a task it continues to this day.

The ABF also continued to organise reunions for those veterans who could get to London, with the assistance of the British Red Cross. The last official reunion took place on 29 May 1981 in a blaze of publicity at the Duke of York's HQ, Chelsea. Six veterans attended, their ages ranging from 98 to 103, and one even gave an impromptu song! Most readers will, however, be unaware of the two further reunions which took place quietly and without publicity in 1982 and 1983. The 1982 gathering took place at a time when other 'Gentlemen in Khaki' had been ordered South; this time to the Falklands. The similarities were not lost on the old soldiers gathered in London.

I had the rare privilege of knowing several veterans in these closing years and of attending their reunions. How would they react to questions from someone a mere quarter of their age? I need not have worried; the old gentlemen seemed to take great pleasure in describing the events of long ago and the respect they had for their former enemy 'Johnny Boer' made a lasting impression to me.

Their recollections were many and varied; surprise night attacks on tented camps, Boers found wearing sacking and women's bonnets, near starving soldiers begging scraps of food from officers, running fights, armoured trains with their searchlights piercing starlit skies, Australian troops returning by train to the coast pelting passers-by with shoes looted from a store up the line. Above all, the awe-inspiring vastness and grandeur of the terrain. Despite the deprivation, the death and the sheer tragedy of it all, it remained for many the Great Adventure.

For them the Anglo-Boer War meant Colenso, Magersfontein, Modder River, Paardeberg, Spioenkop and Wagon Hill; hcttiourable if often costly engagements. They took no pride in the destruction of Boer farms and the concentrations camps which characterised the latter stages of the War; although many had fought in the guerilla phase. SAWVA publications did not seek to hide the stark figures for deaths of non-combatants.

With the exception of the standards mentioned earlier, little evidence remains of the South African War Veterans' Association, which had been such a part of local life in Britain for some 40 years. Most branch records disappeared as secretaries passed away and, although London Branch Veterans had discussed taking steps to preserve their records, no action appears to have been taken.

In 1985 the Victorian Military Society initiated a project to locate, collate and preserve surviving SAWVA records and artefacts before they were lost forever. Following a nationwide appeal, the Society presented comprehensive records to the National Army Museum on 28 February 1986 - Ladysmith Day

An item more difficult to locate was an example of the embroidered SAWVA blazer pocket badge. Few veterans had these but one was eventually tracked down to a veteran's daughter living in New Zealand, and she was glad to offer it to the archives. It had belonged to her father; Veteran Charles H. Rolfe, of the Manchester Branch. He had gone to South Africa with the Middlesex Regiment when only 13 years old.

Within the archives a collection of London Branch membership cards happily survive and, with a little research, it is possible to build on the brief but tantalising details of service noted on them. Member BiSS was, for example, Veteran Edward Forder Bonny who, as 7451 Private E.F. Bonny, served with the first active service contingent of West Kent Yeomanry (36 Coy, Imperial Yeomanry) in South Africa from the Spring of 1900 through to the summer of 1901. Private Bonny took part in the operations leading up to the capture of Prinsloo and 4 000 Boers in the Brandwater Basin, arguably one of the most successful feats of British arms in the campaigns of 1899-1902. In addition to the Queen's South Africa Medal (four clasps including Wittebergen) and the usual World War I group, Veteran Bonny was also the recipient of a Greek Military Cross (Third Class) for running a field ambulance in Salonika whilst a temporary Captain in the RASC. Like so many other Boer War veterans, Mr Bonny was anxious to join up again in 1939 but had to be content with serving in the Home Guard.

In October 1966 he met up with fellow West Kents, No.7462 Pte Sydney Clark and No. 7467 William Johnny' Corp in a Maidstone hotel for a final reunion and chat over old times. Their experiences were in fact a good deal happier than those of the contingent of West Kents (New Yeomanry) which took their place; they received a severe mauling at the battle of Tweefontein on Christmas morning, 1901, at the hands of Christiaan de Wet.

Each card has its own story to tell and it is to be hoped that the archives as a whole will provide interesting source material for all those who have an interest in the Anglo-Boer War; and in what became of the men and women who had served with Lord Roberts of Kandahar and Lord Kitchener of Khartoum, when the sun did finally set on the Empire.

The last words of this article are left to the late Field Marshal Earl Wavell, one-time Grand President of the South African War Veterans' Association who addressed the following message to the fellow veterans in 1949:
'The South African War has been called by a military writer 'The last of the Gentlemen's Wars': There is some truth in this. The South African War was fought generally with humanity and respect on both sides, and without hatred.
We are old now, and our war has been forgotten by most or never known to them; but we shall not forget it. We shall not forget the long and thirsty treks in sun and dust, the slow plodding ox-wagons, the sudden terrific storms, the drifts over the rivers, the bully beef and biscuits that were our staple diet, the long-range fights with our elusive enemies, the barbed wire and the blockhouses, the moments of excitement and peril, the long periods of monotony and weariness.
We did a good job of work for the British Empire fifty years ago, and we can be proud of it.'

Acknowledgement
The author gratefully acknowledges the information and assistance provided by Mark Abbott, Col John Dilliway (ABF), Mrs Eileen Howard, Mrs Margaret Jenkins, Jean and George King, Major Ken Vink and Mrs Kathleen Warringen The photographs illustrating this article are reproduced by kind permission of the National Army Museum, London.

Return to Journal Index OR Society's Home page

South African Military History Society / scribe@samilitaryhistory.org