The South African
Military History Society


---

Die Suid-Afrikaanse Krygshistoriese Vereniging
---
Military History Journal
Vol 6 No 6 - December 1985
THE GERMAN EAST AFRICA CAMPAIGN - 1914-1918
It is often stated that history is an interwoven fabric, in which the different skeins fuse to create a coherent picture or image. These skeins, or threads, mainly comprise personal experiences and the written records in which they are embodied. The editors have been fortunate in securing access to several distinct skeins of experience relating to the German East African Campaign of 1914-1918.
Col E S Thompson
The first of these threads was presented in the form of a letter from Col E S Thompson, who writes:
'At this time of the year we remember with pride and respect the heroes of Delville Wood and rightly so because, in my opinion, it was and is South Africa's finest single achievement in our military history. While Delville Wood was in progress in 1916, however, there were many thousands of South Africans doing their share of the war in German East Africa under the command of our very respected Jannie Smuts. In his foreword to The South Africans with General Smut in German East Africa 1916, by Brigadier-General J.J. Collyer, Smuts praised our opponents (the Germans), the Belgians and other Allied forces who took part in the campaign . . Next month I shall attain the age of 90, but in 1915 I was 20 and a machine gunner in the 7th South African Infantry, in which I served for 2.5 years (1915-1918). When we landed in Mombasa in January 1916, our strength was in excess of 1 000; in December of that year, in Iringa, we numbered less than 100 (I was one of those). This diminished number was proof enough of what we had to contend with and justified Smuts' comments in his Foreword. I think the Foreword is worth recording somehow in our Military History Journal and would form a belated acknowledgment of the struggles and efforts in that campaign of 70 years ago. Further, it would warm the hearts of the few East African veterans still in the land of the living . . .'
In a postscript Col Thompson states that he kept a diary during the campaign and, upon recently re-reading it, wonders if the narrator was indeed himself, and is incredulous that he actually survived.
General Smuts' Foreword
Col Thompson has kindly appended to his letter an extract from Gen J C Smuts' Foreword to The South Africans with General Smut in German East Africa 1916, by Brig Gen J J Collyer (Pretoria, Govt Printer, 1939). The theme of this extract is a tribute to those South Africans who were involved in the Campaign. Gen Smuts makes the extremely important point that, although to the detached historian the campaign in East Africa was a 'sideshow', to the South Africans who fought in the campaign it was a very hard-fought war indeed. The severe casualties which Col Thompson hints at - due in large measure to disease - are ample testimony to this fact. Although those South Africans who fought in France (and especially at Delville Wood) have enjoyed greater renown, their comrades who endured the East African Campaign are equally deserving of respect, in view of what they too had to endure. Possibly one of the reasons why the East African Campaign has been relegated to the shadows when compared with Delville Wood and other battles of the Western Front is that, in the struggle against von Lettow-Vorbeck's courageous German troops, there were very few clearly defined clashes of arms, and these were of a largely indecisive character. As Gen Smuts states, the Campaign was a protracted, harsh test of endurance and pursuit, in which the German forces only surrendered after the Armistice in Europe. It bears many resemblances to the guerilla wars - in terms of both terrain and tactics - which have characterized the post-World War II period; von Lettow-Vorbeck's object not being victory but the absorption of as many Allied troops as possible into the East African theatre by a strategy of evasion and ambush, thus preventing these Allied troops from being utilized on the Western Front. In this respect, the added historical perspective generated by the insurgency wars in Africa during the past decade have certainly added a new relevance to Gen Smuts' foreword and we can now view the East African Campaign in a different light from those writing in the post-World War 1 period.
The Foreword to Brig Gen Collyer's book reads as follows:
'To these, one and all, officers and men, I would respectfully pay my grateful tribute. Thousands of them sleep in East African soil. But to me the real hero of the East African campaign is the South African Citizen soldier. I know my other comrades will not mind my saying so. They were mostly young men, civilian volunteers from the veld and the towns, from the open country and unrivalled climate of their native land, with scanty military training, with no knowledge or thought in any quarter of what awaited them in East Africa, either in the manner of fighting or in the climatic or biotic conditions of nature. Immediately on arrival they were flung against military positions skilfully prepared for more than a year; they had to face a well-led army, skilled in bush-fighting; they had to make acquaintance with unknown devastating tropical diseases. As they fought their way through, and lines of communication rapidly lengthened, hospital equipment, transport, and supply arrangements proved inadequate, reduced rations became an effective ally to malaria and the host of other tropical diseases. Bush and forests, mountains, rivers and deserts proved far more formidable than the enemy army. The Equatorial sun blazed on them from above, disease and hunger sapped them from within. All around spread the endless bush, cutting off vision, full of lurking invisible danger, fear-inspiring, heart-breaking. With this went hard labour in long marches, in road and bridge-making in cutting their way through endless obstacles. And all this immense exertion under conditions of intolerable lassitude, and weakness from disease. It was their greatness of spirit, the high tension of their effort that kept them going, kept them from faltering. And supporting them there was the immense drive which was necessary to keep so great a machine from slowing down in the face of such obstacles. They kept marching and fighting on. From the Lumi to the Rufiji, from the Indian Ocean to the Great Lakes they fought their way through, and in eleven months had mastered a huge stretch of primeval Africa. They stood a test almost beyond human endurance. East Africa is in line with the effort of the Great Trek and of the Boer War.
They have received scant recognition. After all, was East Africa not one of the little side-shows of the Great War? The honours have gone to those of their comrades who went to the Western Front. Delville Wood, Marrieres Wood and other battle centres in France are the highlights in the South African War record. Let us not grudge the heroes of the Western Front the glory that is theirs, and that is South Africa's. But equally, let us not forget that there was no less heroism in East Africa, no less endurance to the utmost limits of human nature, no less a contribution to the heroic record of South Africa.
Thousands of them lie there, in the furthest north of our African Trek. This book, with its ample record of their achievements, will help to keep the memory of their service green.
J C SMUTS
Capt F E Jackson's Diary of the East African Campaign
The third interwoven skein in capturing the South African effort in German East Africa was provided by Mr P L Gooderham, who has submitted a diary of the campaign kept by Capt (as he then was) F E Jackson, MC, VD, a Brigade Signals Officer of the 1st South African Mounted Brigade It is most fortuitous, and a remarkable synthesis between Maj Jackson's experiences and the Museum collections, that the South African Museum of Military History is privileged to possess Maj Jackson's medal group. This medal group embodies the distinguished career briefly elucidated by Mr Gooderham. Maj Jackson's medal group comprises the following awards:-

Military Cross (MC)

Queen's South Africa Medal; Clasps - Cape Colony, Orange Free State, Johannesburg, South Africa 1901

Natal Rebellion Medal 1906; Clasp - 1906

1914-15 Star

British War Medal 1914-1920

Allied Victory Medal with Oak Leaf Cluster (Mentioned in Despatches)

South African Medal for War Services

Colonial Officers' Auxiliary Forces Decoration (VD)

Volunteer Long Service Medal

Croix de Guerre (France) with Palm Leaf

There is no doubt that this is the same officer whose diary is published in extracts below, as the Military Cross is inscribed: Captain F.E. Jackson, S A Engineers (Signals) East Africa 4.6.1917. Maj Jackson donated his medals to the Museum in 1960.
Some further details of Maj Jackson's career might be of interest to our readers. He was granted the acting rank of Major on 28 September 1917 but relinquished this acting rank upon the disbandment of the Northern Signals Company, SA Corps of Signals, on 10 December 1917. On 27 February 1919 he relinquished his Imperial Commission by a decision of the medical board. Following the close of World War 1 he continued his military career with 10 Infantry Regiment (Witwatersrand Rifles), and was called up for active service in the Rand Revolt of 1922. On 30 August 1924 he was granted the temporary rank of Major and appointed second-in-command of the Regiment. He was granted the honorary rank of Major on 1 February 1925. He was placed on the Retired List on 23 February 1937.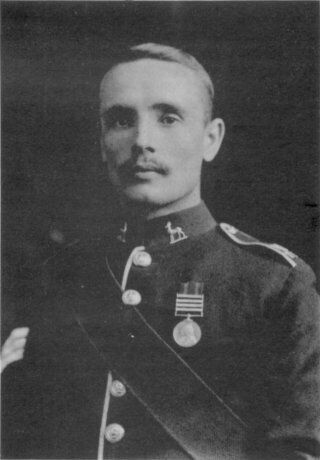 F.E. Jackson as a Sergeant in the Transvaal Light Infantry

Maj Jackson's diary is a graphic and vivid record which illuminates Gen Smuts' Foreword in terms of personal experience, as well as fulfilling Col Thompson's wish that the efforts of veterans of this Campaign be brought to the attention of the present generation.

CHASING THE ELUSIVE VON LETTOW-VORBECK:
SIDELIGHTS ON THE EAST AFRICAN CAMPAIGN OF WORLD WAR I

Extract from a diary kept by the Brigade Signals Officer of the 1st South African Mounted Brigade, Capt F E Jackson, MC
Introduction, by P L Gooderham

General Paul Emil von Lettow-Vorbeck, Commander-in-Chief of German Forces in East Africa during World War I is, by military standards, a legendary character. For over four years during World War I he kept a large allied army chasing him, but always succeeded in repulsing attacks and threatening further guerilla action. The action took place over a stretch of East Africa then known as Kenya, Tanganyika and Uganda some 1 200km in length and 500km in breadth. At one time the Germans were operating south of the present Mozambique border. Von Lettow finally surrendered on 25 November 1918, days after the official armistice of 11 November, at Abercorn in present day Zambia. At most, the German forces numbered approximately 3 000 white troops and 11 000 Askari. At the time of the surrender 155 white troops and 1168 Askari laid down their arms and were allowed the honours of war.

The topography of the country, the climate and the heavy rain were an onerous handicap to the allied forces which were drawn from South Africa, Great Britain, Belgium, India and Portugal. Malaria, dysentery and other tropical diseases took their toll of unacclimatised troops. By the end of 1916, it is recorded, 12 000 white troops had succumbed and been repatriated. If the objective of war is to nullify the fighting ability of the opposition, disease was certainly a factor which assisted von Lettow-Vorbeck.

Hostilities in the East African theatre commenced in August 1914 when the Royal Navy bombarded Dar-es-Salaam. The German forces responded by the occupation of Taveta and Longido in British East Africa (now Kenya). The local British forces were too few and. too ill-equipped to counter-attack on a large scale. Help had earlier been sought from India and in November 1914, an Anglo-Indian landing was attempted at Tanga which was repulsed.

A period of inconclusive skirmishing followed with the Germans enjoying a slight advantage after their victory at the battle of Jasini in January 1915. The future pattern of hostilities was, however, clearly predictable. Britain, with her command of the seas could, given time, provide reinforcements. Von Lettow-Vorbeck, on the other hand, could not expect similar support and would be forced to adopt guerilla tactics.

The next event of significance occurred in October 1915. The British Government, mindful perhaps of events fourteen years earlier when General J C Smuts (now Minister of Defence in the Union Government) was himself waging a guerilla campaign against the British Army in the Anglo-Boer War, sought his assistance. Would he raise an expeditionary force in South Africa to fight in East Africa and assume overall command of Allied forces in that theatre? His response was positive. South Africa would accede to Britain's request for aid a second time. The first time was, of course, the conquest of German South West Africa which was completed by July 1915. On conclusion of the South West African campaign, a substantial expeditionary force of volunteers had been formed, equipped and despatched for service in the European theatre.

The latest request was still within the capabilities of the country. Within a few months yet another substantial force had been planned, the first elements assembled and sent on their way north.

General Smuts arrived in Mombasa on 19 February 1916, a week after the first contact between South African and German forces.

Movement of the remainder of the expeditionary force continued through the months of March and April. Thus it was that Captain F E Jackson, newly appointed Brigade Signals Officer of the 1st South African Mounted Brigade commanded by Brigadier General Manie Botha, left Durban aboard the transport Huntscliffe bound for Mombasa. He is the author of the diary from which the following extracts have been taken.

Captain Jackson was a part-time, volunteer soldier, then aged 39 years with previous experience of campaigning. He had served in the Anglo-Boer War as a private in the North Staffordshire Regiment. On his return to England he had rejoined the volunteers. Two years later he returned to South Africa to take up employment in the Transvaal. His military record shows that he transferred from the 2nd (Volunteer) Battalion North Staffordshire Regiment to the Transvaal Light Infantry. In this regiment he attained the rank of sergeant and was later appointed a second lieutenant in the Witwatersrand Rifles (Transvaal Volunteers) on 1 November 1907.

In an earlier diary kept during his service in the Anglo-Boer War, Fred Jackson had expressed an interest in, and recorded the experience he had had, in regimental signalling. This interest clearly evolved over the years for, in 1913, his military record reveals, he transferred to the 10th Infantry Brigade as a signals officer. He had become a specialist. He would promptly gain experience in this post during the industrial strike which had erupted on the Witwatersrand and which was quelled by the intervention of the Union Defence Force.

A year later, with the outbreak of the First World War he was again on full time service in the South West African campaign during which he was promoted to the rank of Captain on 1 February 1915.

When recruiting started in the Union for a force to be sent to serve in Europe, Capt Jackson probably found that, as a specialist officer approaching the age of 39 years, preference was being given to younger volunteers. The first entry in his diary which reads 'Resign my position in the Robinson group of companies as from today' indicates that he had returned to civilian employment after the South West African campaign and, in its brevity, implies some satisfaction at getting back into uniform.

The intention behind the publication of these extracts is to provide the student of military history with side-lights on the day-to-day events in the life of a staff officer during the East African campaign, in the belief that these might serve to illuminate the major studies. It is felt that the descriptions of the terrain and the movement of certain units, the observations made on the inhabitants of the territory, and even the comments on personalities are all of them of historical interest. The extracts which follow are a transcript of the the original handwritten diary.

WAR DIARY, BRITISH EAST & GERMAN EAST AFRICA

April 17th 1916 (Monday)
Offered the Appointment of Brigade Signal Officer 1st Mounted Brigade under Brig-Genl Manie Botha, with my present rank of Captain & accept same. Resign my position on the Robinson Group of Companies as from today

April 18th 1916 (Tuesday)
Leave for Pretoria 8-05 am & report at Defence Headquarters, fill in all necessary papers & then proceed to Roberts Heights and arrange an allotment of 15/- per day to be paid to my wife to keep hearth & home going during my absence. Draw 30 UK Pounds (less certain deductions for equipment) as clothing and equipment allowance. The price of Sam Browne belt, revolver holster & lanyard was deducted, but not clothing. I draw 1 pair breeches, 1 British Warm, 1 shirt, & 1 Mackintosh from clothing stores on repayment. Engage native KLEINBOOI as my groom & take him back with me to Johannesburg. Maj Greenwood lunches with me at the Royal Hotel and I catch 6-30 pm train back to J'burg.

April 19th 1916 (Wednesday)
Get Power of Attorney drawn up at Messrs Tennant & Barbour's & see J.E. Seccull at 10 am. Put Life Insurance Policy & premium receipts & all other important documents in my Bank for safe keeping & hand receipt for same to my wife together with list of documents as deposited. Catch 12-25 pm train to Pretoria & fix up, finally returning by 5-20 pm train & finish packing. The Grahams, Marshalls & Hutchings come in for my farewell evening & Col Temple-Mursell looks in to see me also before I depart.

April 20th 1916 (Thursday)
Meet J.E. Seccull 9-15 am & get a cheque from him for 50 UK Pounds for monies lent to him & spent on his behalf not connected with farming operations (see farm books). Pay this 50 UK Pounds in Bank (also 30 UK Pounds odd received for equipment, clothing etc) & draw 17 UK Pounds out leaving about 120 UK Pounds credit balance in bank & April salary still to come. Buy Jaeger flea-bag, boots, leggings, mosquito net & two uniforms, also Quinine, snake poison outfit & other necessaries for the tropics, book seat on train & get kit to the station then go the rounds & say farewell at the Mayfair & Town Offices, Col Smyth & then to see JS Hancock & go home with him in his car & say good-bye to all of them (Jackie wanted to come with me & donned his Boy Scout uniform). Catch 8 pm train for Durban. Meg, Peggy, Grahams, Hutchings, Moons etc come to see me off & train is crowded as many people are going away for Easter holidays. Have to pay 13/7 for boys fare being the difference between 3rd & 2nd Class & no 3rd Class on the Mail train.

April 21st 1916 (Good-Friday)
Arrive Durban 8pm & go to stay at Fern Villa Hotel where Genl Manie Botha & the remainder of his staff are staying. Go to Criterion 9pm & meet Harry there, go & see Mr & Mrs Mumford afterwards, at the YMCA & return to Hotel l1-30pm.

April 22nd 1916 (Saturday)
Get up 7am & go on Beach, am introduced to Genl Manie Botha & his wife also Staff after breakfast, the latter include Maj C. Brink (Bde Maj) Capt G.E. Brink (Staff Capt) Lt De Wet (ADC) & Lt Neethling (Galloper). Go to station and get my boy & kit down to 'H' Shed then back to hotel & wait for Harry who is coming to take my valise etc down for me to docks in his car, we then drive round to his rooms & meet some of his friends & really the way they seem to take things one would not think there was a war on. Go to the Royal & have a drink then down to the beach & have a loaf about until Lunch-time. Proceed to the docks at 2-30 pm & go aboard, get vaccinated. The ship is the Huntscliffe (late Rufiji a German boat we captured & renamed) she was used by us in GSW as a transport. She has about 1 000 horses as cargo, they are for the 2nd Mtd Bde (Genl Brits) who are due to sail in a few weeks time. We sail 4pm, weather dull & very rough as we get well out.

April 23rd (Sunday)
Still very rough & most people quiet. I don't feel too bright but manage to take nourishment.

April 24th 1916 (Monday)
Hurricane blowing all day

April 25th 1916 (Tuesday)
Slightly calmer but getting much warmer, two horses die & are thrown overboard. Lieut Enslin (brother of Genl Enslin) is in charge of the horses on the boat but don't see much of him as he is nearly always in a state of semi-drunkenness, in fact the Genl has had a talk to him & forbidden him to enter the saloon & issued orders that no further drink be supplied to him & we next find him feeding, gambling at cards & drinking down below deck with the R[ank] & File.

April 26th 1916 (Wednesday)
Draw blankets, spine protector; field dressing & revolver ammunition today. Sleep on deck tonight as it is so hot & the fumes from the horses below something terrible.

April 27th 1916 (Thursday)
Get saddlery etc cleaned up today also pick my three horses, one is a little black Basuto that was ridden in GSWA by Genl Manie Botha. Play deck quoits & later Auction Bridge with the Genl, Capt McDonald (Ship's Skipper) & Neethling. Take a photo of Staff but stay out of it myself as I am having my clothes washed & am in slacks.

April 28th 1916 (Friday)
Write to Meg, also to Mr Barbour re drawing up a monthly statement of accounts from J E Seccull. So far we haven't sighted either boat or land since leaving Durban but should pass Zanzibar tonight & arrive at Kilindini tomorrow. Had to get a lot of horses up on deck today for fresh air as it is like a furnace down below & some are about on their last legs.

April 29th 1916 (Saturday)
Five horses die & are thrown in the sea. Pass Guildford Castle making for Zanzibar. Sight land at Mombasa & arrive there at 6pm.

April 30th 1916 (Sunday)
Go ashore with Genl & Staff & wire for instructions where to proceed & we return to boat & await a reply. I & Genl Botha get measured for drill uniform at Nazareths Mombasa, price Rs 17-00 = UK Pounds1-2-8. They are to be ready tomorrow night. Scenery around here is lovely; cocoanut trees, tropical palms, ferns etc & most gorgeous flowers; also, bananas, baobab trees (Cream of Tartar) & huge Bourgainvillea [sic] in full bloom. Horses are now being off-loaded in lighters.

May 1st 1916 (Monday)
Capt Smuts the Disembarkation Officer comes aboard with wire from the C-in-C in which he instructs us to catch 2 pm train & proceed to Moshi, so we get all kits ashore & then make a few purchases in Mombasa. Post letters to Meg, J A Barbour & F A Lott. Meet Capt Leake of the YMCA & have lunch with him then catch train. My uniform isn't ready so leave money with Lt Neethling & ask him to bring it when he brings horses. Genl Manie Botha's Zulu boy buys some cigarettes from Indian Store & gets a handful of cents in exchange for English coin, these have the appearance of the ordinary bolt washer & he makes such a fuss because he is under the impression they are trying the washer trick on him. I have a carriage to myself as far as VOI & there we all have to change & get in one 2nd class carriage. So far the country is very interesting there are coffee, cocoanut, rubber, cotton, banana, sisle [sic] & maybe other plantations, & further inland dense jungle bush.

May 2nd 1916 (Tuesday)
Now at VOI, have breakfast & then move off 8-30 am. Mostly Indian Troops & Kings African Rifles (Native) here, also a large hospital. A large European & Indian camp at BURA. The RFC & RNAS are here & I meet Capt Van der Spuy, he tells me one of their aeroplanes went out five days ago & nothing heard of since & they are afraid it has come to grief & been captured or got lost in the bush. Arrive at the famous SALEITA-HILL at 5pm, it is close to the line & we get a good view of the German fortifications; it is a clear Hill but the approach from all sides is through dense bush. Just before reaching TAVETA one of the Red Cross vans come off the line, it might have been a serious accident & luckily we were only just crawling along owing to the line running through Swamps here. This holds us up all night & the mosquitoes don't half punish me as I sleep without my net owing to the General having turned in early my net is in his bunk & I don't like to disturb him the result is no sleep & face & hands bitten all over. Moral, don't leave your kit lying about my boy.

May 3rd 1916 (Wednesday)
Breakdown repaired 7am & move off again, arrive at TAVETA & leave again at 8-30am but only to get two miles out when the engine jumps the line & we are hung up here until noon. Going through dense jungle forest which, we are told, teems with wild animals & the line being guarded by Indian Troops & Cape Corps. The country here is a swamp & the line an absolute switchback as the sleepers sink in the boggy soil under the weight of the train & Indian & Native troops are stretched along the line packing the rails with huge plantains & palm leaves before we can go over it in train. We arrive at NEW-MOSCHI at 5pm. Genl Manie Botha & the Brigade Major proceed to OLD-MOSCHI & stay at General Headquarters, the remainder of the Staff stay here & take over a house near the station. I meet Lt Dunlop & Lt Rishton & have a long chat about recent scraps; dine & then turn in 8pm out of the way of mosquitoes.

May 4th 1916 (Thursday)
Turn out 7am, put on a clean change & get clothing washed after the filthy journey by train, wile away the morning with Lt Rishton who is down with sun fever Commence wearing spine protector as there is an order out forbidding anyone between 7am & 6pm to be out without helmet & spinepad on. The natives in this part are of fair physique & are said to live on game, wild fruit & wild honey. Nearly all the large trees around here have beehives suspended from them, they consist of hollow trunks of trees about four feet long & one foot diameter & are suspended from the high branches in the following manner: [sketch] & honey is plentiful, also bananas, paw-paw & cocoanuts, There are hundreds of acres of coffee & rubber plantations on the slopes of KILIMANJARO & I am told they get two crops of mealies a year. Write to Meg, T Robson & Lt C D Twynam.

May 5th 1916 (Friday)
Killing time here & according to Maj Brink, likely to remain here ten days all our horses have been placed in quarantine due to an outbreak of Glanders. Our brigade is at KONDOA-IRANGI about 200 miles ahead.

May 6th 1916 (Saturday)
Get stores for Mess from YMCA then go & see J E Dennison, he is Signal Officer in Cape Corps. He comes back with me to our Mess & we have a 'smile'. Visit the Indian & Arab Bazaar & have a look round. Although we are camped on the foot slopes of KILIMANJARO the distance to the highest of the two snow clad peaks is 22 miles & 18 miles from OLD MOSCHI. There is a dense forest belt halfway up the mountain, this goes right round & is eight miles wide & teems with elephant & all kinds of wild animals & game.

May 7th 1916 (Sunday)
Lt de Wet, the Genl's ADC, proceeds to MAKTAU to see when horses will be fit to trek.

May 8th 1916 (Monday)
Go walk with Capt Brink towards OLD MOSCHI & examine sisle [sic], coffee, rubber, & paw-paw plantations & watch natives making ropes from sisle fibre. No rain for two days & lots of supplies now being pushed forward to ARUSCHA. Meet Lt Hastier, Bandmaster of the 12th SA Infantry (late of Wit Rifles).

May 9th 1916 (Tuesday)
Write P Stanley & get saddlery & kit cleaned as we may be moving off anytime now if horses are fit. Lt De Wet returns from MAKTAU. I go & hear Band play at 1 C C's Headquarters, 4 pm.

May 10th 1916 (Wednesday)
Lt Rishton & details leave l0am for the Himo River, get my uniform Nazareth's today. Capt Luckoff who is ADC to Genl Smuts comes & has tea with us. Post letter to W P Stanley.

May 11th 1916 (Thursday)
Little sleep last night for the noise of hyaenas but shall soon get used to these strange noises, I presume. Submit an application to Adjt Genl Union Defence Force, Pretoria, for an appointment on the Permanent Force Staff on conclusion of hostilities, preferably in connection with Signals. Our cook has been giving us spinach several times this week out of the garden & on investigating, we find that it is a weed, but as no harm has so far been done by its consumption we continue using it as a vegetable & it is quite a good substitute.

May 12th 1916 (Friday)
Get details of Genl Van Deventer's fight with Huns at Kondoa, our casualties 35; Germans known to have 60, & fight still continues by mainly artillery duels. The Huns are using 4.1 guns from the Koenigsberg which was sunk by us up the Rufiji River early in the War.

May 13th 1916 (Saturday)
Draw clothing from Ordnance for my groom. Our horses are out of quarantine & on the way here by road. We are to take 900 horses with us & all details available for rejoining their unit from hospitals & pick up all those of 1st Mtd Bde that fell out on the trek through to Kondoa.

May 14th 1916 (Sunday)
Lt Dennison asks me to dinner at Cape Corps Mess but cannot accept. All the rest of Staff get letters but none for me, but mail only up to 30/4/16.

May 15th 1916 (Monday)
Genl Botha & Maj Brink proceed to Mbuyuni. Genl Hannyngton & Genl Scott are here today. Lt De Wet down with malaria.

May 16th 1916 (Tuesday)
Two Buick cars arrive for the Genl & his Staff. The Genl & Maj Brink come to see us, really to get out of the way of Genl Smuts who takes them for long climbs up the mountain every day to keep fit. The Genl gets a set of leather buttons from me for his new uniform as I have a spare set. Nineteen sisters arrive here today from Egypt.

May 17th 1916 (Wednesday)
Lieut De Wet is removed to hospital in ambulance with malaria. I ring up Col Hawtrey DDAS & ask if there are any instructions before I go forward & am told to ascertain if there are any signal details here belonging to 1st Mtd Bde & if so take them forward with me.

May 18th (Thursday)
Signal Park have nothing to go forward & there is no trace of any signallers here to go forward. Lt Neethling arrives with all the horses. I play Auction Bridge tonight until 11pm.

May 19th 1916 (Friday)
Genl Botha, Maj Reitz & Capt Luckoff come & have tea with us 11 am. Getting horses shod. S A M C C [S A Motor Cycle Corps] under Col Fairweather, also some Indian Regts, move forward today. We draw 28 days rations to take with us, also purchase stores from YMCA as little chance of getting anything after leaving here. Looks like more rain. I try my horses & am quite pleased with two of them but this confounded boy of mine who told me he could ride cannot sit a horse & he has to ride on & lead the other so I'll guarantee he will be able to ride alright by the time we reach the Brigade. Cape Corps & Indian outposts arrive by train & the former have struck some liquor during their travels & many of them drunk, they have been pinching officers revolvers, field-glasses etc on the train & are accused of same by Indian troops with the result that things looked black at one time between the 29th Pathans & Cape Corps. Some reinforcements of 29th Pathans have just arrived & are greeted by their comrades; it is strange to see them embracing & kissing each other, Indian native officers too, also worshipping at sunrise & sunset, they do this anywhere, in the streets even. They have many strange customs according to caste, nearly all of them draw their meat rations on hoof & when trekking they always take their sheep & goats with them & when they want meat they take a sheep or goat to their own appointed butcher & if touched by any other person they won't eat it.
The Genl instructs us to have 11 wagons loaded 7am ready to move off.

May 20th 1916 (Saturday)
Lend Driver Stanton Rs30 (=2 UK Pounds) to buy cigarettes etc to take with him as he cannot draw any pay until issued with a paybook. Two naval guns & 2 howitzers, also ammunition section with motor lorry transport move off l0am & await our arrival at first halt as we have to escort them to Kondoa. We leave early tomorrow.

May 21st 1916 (Sunday)
Horses very fresh, move off 11am & experience our first transport difficulty at the Wuri Wuri River (Weary Willie); the water is about 4ft deep & cars & wagons are pulled through by hundreds of Swahili Natives & up a very steep bank the other side. Infantry are taken across in cages suspended from aerial wires. Trek until l0pm then halt for the night at Sanja River.

May 22nd 1916 (Monday)
The car driver, Stanton, & 3 native transport drivers down with fever & have to be taken into hospital here & mosquitoes are terrible. We rest animals until 4pm then move off. We branch off the Moschi-Aruscha main road here & get on the Lolkissale-Road which is just a beaten track through long grass & open country except for scattered bush. See lots of big game here & grass is 5ft high. There are thousands of Native Porters carrying forward supplies, they each carry 501b loads & supply dumps are established at intervals & supplies are thus sent forward on the relay system; each porter is paid Rs5 per month (=6/8, rather different to the Natives of S.A.). There are some very difficult drifts to negotiate & very often one false step on the part of the animals would send the horse & rider to kingdom come. The Genl has a Swahili toto (young boy), he is taking him with him as his mascot. We trek until 11pm when we reach Noisinak & camp for the night.

May 23rd 1916 (Tuesday)
Move off 5am & now in very interesting country, large thorn bush & long grass & simply teem with large game & wild animals of every description, we have seen today both Grants & Thomson gazelle, herds of zebra & several giraffe, also jackall [sic]. We camp at Alanga-Langkop-Bridge tonight. OC Post here is Capt Bagshaw of Cape Corps. (Editor of the Farmers Weekly at Bloemfontein in peacetime). He warns us not to bathe in river as it is full of crocodile, the trees on the banks are swarming with monkeys. This will be a very awkward drift to cross as water is 4'-6' deep & current swift. We have to take off all magnetos from cars & lorries & get pulled through by natives, we ride through on our horses & get wet. It was great fun watching the huge chain of boys tugging away at a motor lorry, when the tow rope broke & the whole string of them had full strain on & naturally were sent at all angles, some of them bumping each others heads & some getting washed a distance down the stream. The two naval guns with us are named Peggy III & Peggy IV they are off the HMS Pegasus that was sunk at Zanzibar by the Konigsberg early in the war, the Konigsberg was afterwards discovered by our Seaplanes up the Rifiji-delta & sunk by our ships & the Huns are using her guns at Kondoa. We had the guns from the Pegasus mounted for field use at Zanzibar & they will soon be in action against each other on land after having had a go at each other at Sea. The results will be interesting although the Huns guns are of a later type & outrange ours. We shoot two lovely Grants gazelle & it will be a change from bully. The different tribes of native have peculiar customs. I saw lots of them carrying heavy sticks & pieces of iron in holes made in their ear lobes & one boy carried an empty 1 lb jam tin in his. The Masai tribe let their hair grow long then plait it into cords at the back bunching the cords together & turning it into a pigtail similar to the noblemen of the early ages.
Kilimanjaro (nearly 20,000 feet) & Meru (15,000 odd feet) still in view though we have now been trekking away from them for three days, we can still see the smoke from the native huts on the slopes. I understand that at the last census there were over 60,000 native families residing on the slopes of Kilimanjaro alone & that many have never been off the mountain, in fact, after living in that altitude they die like flies if they come down to the plains. Move off 4pm & make for the next water at Loldiloi where we camp for the night.

May 24th 1916 (Wednesday)
Again we have to dismantle all motor transport to cross river owing to depth of water. We then push on another 12 miles & rest until 3 pm we then trek right through the night, pass one camp of Indian troops, & outspan 1 am about 3 miles from Lolkissale.

May 25th 1916 (Thursday)
Move in to Lolkissale 9am. I look up Capt Fergusson, Lt McMahon & Jeppe in detail camp. There are lots of native families trekking in here from the interior. The Bde Major is left behind in hospital here; we have now left 2 officers, 2 British ranks & 4 natives behind with fever & only 5 officers & 4 B[ritish] ranks & 7 natives left of staff to push on; this is in 5 days trek alone, & we have to borrow 2 white drivers from the SA Horse to enable us to push on with our transport while Maj Reitz has to drive one of the cars. The genl & Maj Reitz leave us here & push off by Motor to Kondoa; we move off 5pm, do 10 miles then halt for night on aerodrome ground. There are many lions around here & we have to light huge fires to keep them from coming in the camp after our horses & we are told that the further we move inland now, the more will be our trouble with lions & other wild animals; so this is cheery news.

Return to Journal Index OR Society's Home page

South African Military History Society / scribe@samilitaryhistory.org